"I have stored some important photos on my SD card; however, when I opened it on my computer and wanted to download the photos yesterday, it was said that the SD card is locked and read only. How to unlock my SD card and get my photos back? Please help."

Manufacturers introduced the SD card lock feature to help users prevent from data loss. But things are not always developing according to original plan. Any wrong activity could lead to SD card lock and make your data read only. In this post, we are going to tell you basic knowledge about SD card lock and how to recover locked SD card.
Part 1

: SD card is locked or write protected

There are two situations that users may receive the message said the card is write-protected.
Situation 1: Turn on the switch of SD card lock
Manufacturers have designed a switch for SD card lock. It means that users could lock and write protect their cards without external devices and software. Once you toggle the lock switch purposely or by accident, your SD card lock is turned on and you cannot edit and delete current files. It seems to be that your SD card stopped working.
Situation 2: SD card is locked due to improper handling Improper actions are another factor cause SD card lock and write protect. What make it worse is that your data will be damaged or cannot be accessed anymore.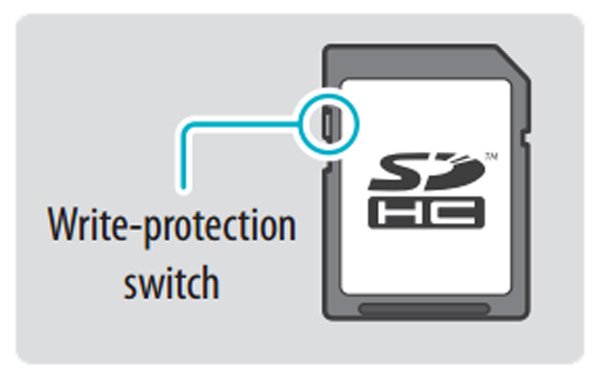 Part 2

: How to unlock or lock your SDHC/SD card

Of course, not all SDHC or SD cards have lock switch. When you want to lock your card or unlock it, take a close look at your card and make sure it has a switch.

Step 1. To lock your SD card, find the switch on it, which is usually on the left side of a SD card.

Step 2. Toggle the switch of SD card lock to the Lock position, your card is write-protected.

Step 3. If you want to edit the files on your SD card, you have to unlock it first. Moving the switch to unlock position could get rid of the SD card lock immediately.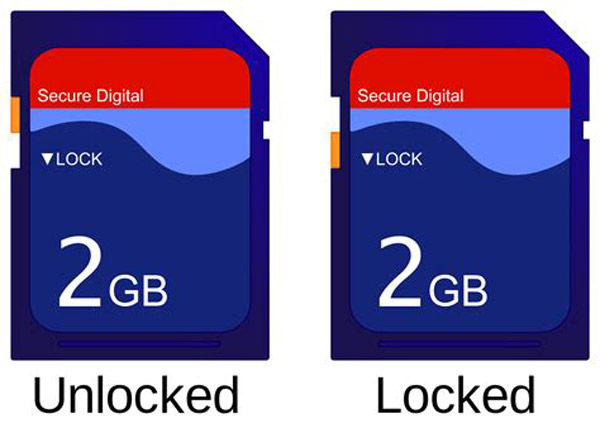 Part 3

: How to recover data when SD card is locked

If the SD card lock switch not working or your SD card is locked due to improper actions, you have to utilize a professional way to get back your data from the SD card, such as Apeaksoft Data Recovery. It is one of the best SD card recovery software with many useful features, such as:

1. Easy to use. This SD card lock recovery application is able to get back files from locked cards in one click, so even novices could grasp it in a few seconds.

2. File recovery in various situations. No matter your data lost due to improper operation, accidental deletion, virus attack, SD card corrupt, or format, it could recover them easily.

3. Support a variety of data types and formats. It works for all image, video, document, archive and audio formats, like JPG, ICO, PNG, BMP, GIF, PSD, TIFF, RAW, MP4, MP3, WAV, AVI, DOC, ZIP, etc.

4. Lossless recovery. With the locked SD card recovery application, you can restore deleted files in original conditions, including format and quality.

5. Preview for selectively recovery. After quick scanning, you can look at all lost files organized by categories and formats and decide to recover every file or specific items.

6. Quicker and lighter. This data recovery tool is lightweight and could restore lost files quickly and safely. You do not need to worry about privacy leakage.

7. Moreover, Data Recovery is available to 10/8.1/8/7/Vista/XP.

In short, it is the best option to get back lost files on your locked or write protected SD card.

Don't Miss: How to fix slide to unlock not working
How to recover data from locked SD card
In this part, we will show you how to do compact flash data recovery in detail. We use a 2GB SD card and Windows 10 as the example.
Step 1. Scan entire SD card to look for recoverable data
Download and install Data Recovery on your computer. Launch it and insert your SD card into your computer, when you found the SD card is locked or write-protected.
There are two parts on the main interface, data types and locations. Go to the data type section, select the file types by ticking the corresponding checkboxes, such as Image, Video, Audio, etc. Then navigate to the location section and select your SD card in Removable Devices area. Data Recovery will work as soon as you click the "Scan" button.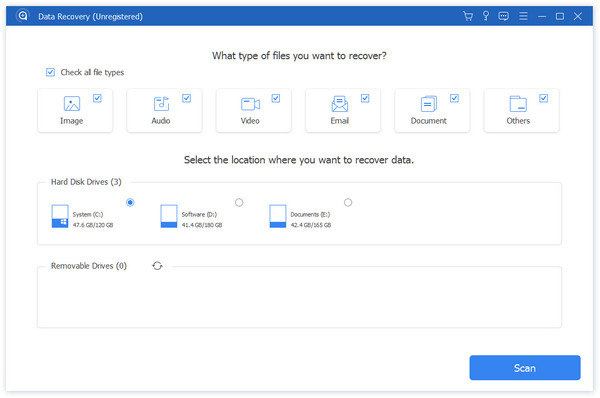 Step 2. Preview files before recovering
After standard scanning, you will be brought to the detail window.
For example, click on the "Video" option on left hand bar, you will get several folders titled AVI, MP4, FLV, etc. If not sure, you can open each folder and preview the recoverable files. Moreover, the "Filter" feature at top of the window could help you to locate the desired files quickly.
Tip: If you cannot find the desired files on locked SD card, click on the "Deep Scan" button at upper right corner to scan the system deeply and find more recoverable data.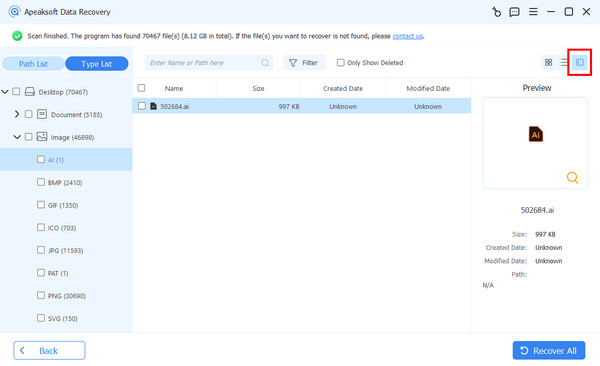 Step 3. Recover data from locked SD card in one click
In order to get back your files, check the box in front of each desired file. Click on the "Recover" button to start extracting data to your computer. When it is done, hit the "Open Folder" button on Recovery Finished window to redirect the destination. Then you can browse, copy and paste, or edit your files as usual.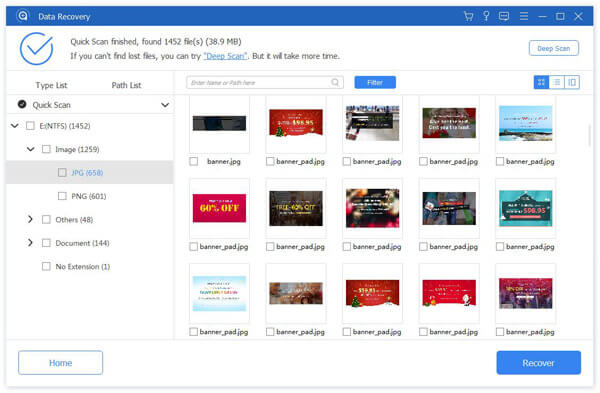 Don't Miss: How to repair damaged SD card without formatting
Conclusion:
In this tutorial, we have talked about everything you should know about SD card lock. First of all, we have showed you what could cause a SD card locked and reject editing or writing data. If you just turn on the SD card lock switch by accident, it is very simple and all you need to do is unlock it by toggling the switch. On the other hand, with the best SD card recovery tool, Apeaksoft Data Recovery, you can get back you data from a locked SD card easily, when the switch not working on unlocking your card. If you have more questions about SD card lock, please leave a message below.