As people like to work and communicate remotely, Zoom has become an indispensable tool for video conferencing. However, one of the most common problems users face is the Zoom camera not working. It can be frustrating when you're in the middle of an important meeting or catch-up with friends and family. This article will explore why the Zoom camera is not working and provide solutions to fix it.

Zoom Camera Not Working
Part 1: Why is Zoom Camera Not Working and How to Fix
There are various reasons why your Zoom camera is not working. When you know the reasons that cause your issue, you can handle it well with suitable solutions.
Check Camera Settings: Ensure your camera is turned on and selected as the video source in Zoom. You can go to the video settings in Zoom and check that the correct camera is selected.
Check the Camera: Check if the camera is working correctly by opening another app that uses the camera, such as Skype or FaceTime. If the camera works in other apps, the issue may be with Zoom.
Check the Internet Connection: A poor internet connection can cause issues with your camera. Try restarting your router and modem or moving closer to your wireless router.
Update Zoom: Ensure that the Zoom on your device is the latest version. And if it is not, you can update it, as this can often fix bugs and issues.
Check for Other Software Conflicts: Other programs running on your computer may be conflicting with Zoom and causing issues with your camera. Try closing other programs and restarting Zoom. If none of these steps work, uninstall and reinstall the Zoom application.
Check Camera Hardware: If none of the above steps work, there may be an issue with your camera hardware. Try unplugging and plugging in your camera or testing it with another program to see if it works. In this case, you should contact Zoom support or your computer manufacturer for further assistance.
Bonus Tips: Fix All Camera Issues with One Solution Software
If none of the above solutions can resolve your Zoom camera not working issue, you may try Apeaksoft iOS System Recovery. This software could fix any iPhone issue, including the software and settings issues that will cause your Zoom camera is not working. Apeaksoft provides three methods. So, whether it is a simple issue or a complex problem, you can all find a suitable mode to help you repair it.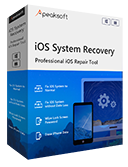 4,000,000+ Downloads
Provide two different methods to fix various iOS problems.
Detect the reason for the Zoom camera not working and fix it.
Work with all iOS systems and iPhone models to repair them.
Keep your software data safe while repairing the problem.
Step 1First, you should click the iOS System Recovery button on the main screen. And your iPhone information will be displayed on your screen.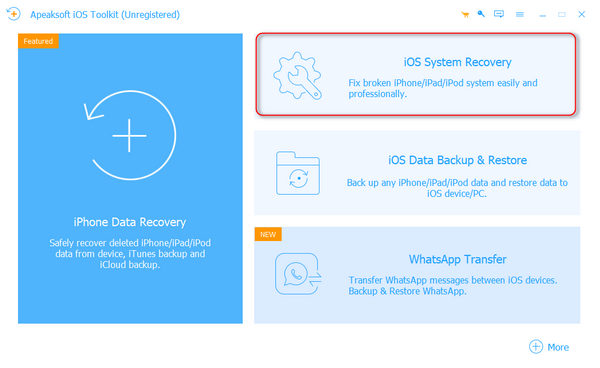 Step 2If the issue is simple, click the Standard Mode buttons to fix it. And if it cannot fix the Zoom camera is not working, you can click the Advanced Mode button.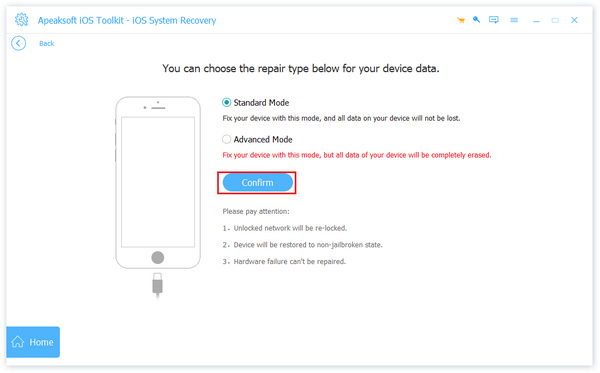 Step 3You can set the firmware for the device type and model. And then, you can click the Repair button to reinstall the iPhone system to fix the issue.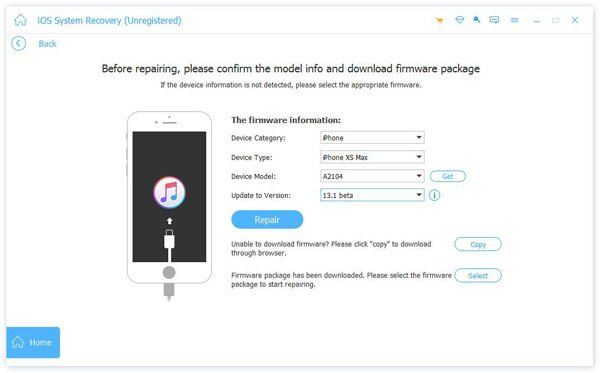 Part 2: FAQs about Zoom Camera Not Working
Question 1. Why is my Zoom camera not working on my laptop?
There could be several reasons for Windows or Mac cameras not working, including outdated software, privacy settings, or hardware issues. Try troubleshooting steps such as checking your camera settings, updating Zoom, or restarting your computer.
Question 2. Why is my Zoom camera blurry?
The issue could be due to a poor internet connection, a low-quality camera, or improper camera settings. Try troubleshooting steps such as checking your internet connection, adjusting camera settings, or upgrading your camera hardware.
Question 3. Why does my Zoom camera freeze or lag?
The reasons for your Zoom camera freezing or lag may be outdated software or high CPU usage. You can update your camera drivers or the Zoom software and try to close some software to speed up your Mac or Windows.
Conclusion
In conclusion, there are several reasons why your Zoom camera is not working, ranging from software issues to hardware problems. However, following the troubleshooting steps outlined in this article, you can quickly diagnose and solve the issue. Remember to check your camera settings, update your software, and ensure your hardware works correctly. With these tips, you can ensure that your Zoom calls are smooth and uninterrupted. And if you cannot fix the Zoom camera not working or the iPhone camera is not working either, you can use Apeaksoft iOS System Recovery to fix it.