MTS or short for MPEG Transport Stream, is a saved video in the Advanced Video Coding High Definition (AVCHD) container. This format is good for digital recording and has a HD video playback design. However, some devices including televisions and smartphones meet some issues when playing difficulties. Plus, files containing this format aren't supported by iOS devices. Lastly, a single file already contains 450 megabytes. It's a better choice to change your MTS to MP3. It's one of the most popular coding and formats for compressing digital audio. It reduces the file size into a small one. It can house hundreds to thousands of audio contents.
MTS to MP3
Part 1. Best MTS to MP3 Audio Converters
The top-ranked audio converter is the Apeaksoft Video Converter Ultimate. This tool can quickly convert MTS to MP3. It shares a common list of key features with other similar working tools. But the differentiating factor of this solution is its advanced capacities. For instance, the video and audio formats are listed with more than 300 file containers. The speed was made 30x faster. Batch conversion works well without any decrease in the original quality. The toolbox also contains editing and enhancing features. Explore without limits by simply following these quick steps.
Step 1Download and install the software
The first thing you need to do is to visit the official web page of Apeaksoft Video Converter Ultimate. On your device or desktop, look for the download buttons and immediately install.
Step 2Import the MTS videos
Then, import your local videos by clicking the Add Files button. You can absolutely upload individually or in a group.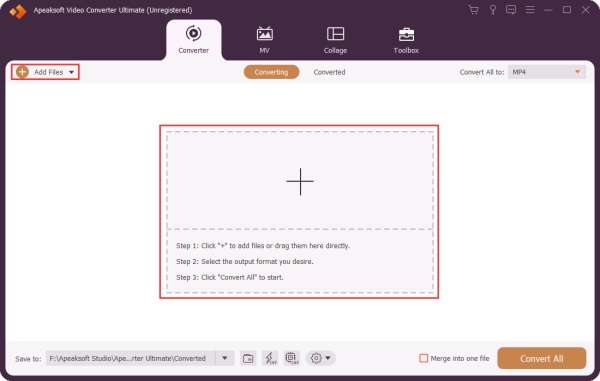 Step 3Select into MP3 format
On the menu bar, click the Audio button. Then, the audio formats will automatically appear. Click the MP3 audio format on the Convert All panel.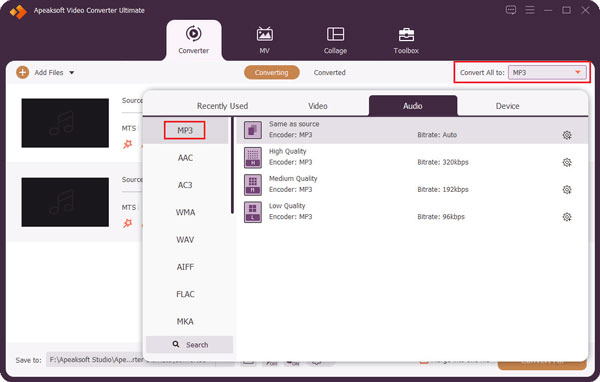 Step 4Begin the process
Afterwards, click the Convert All button to start the procedure of converting into a new format.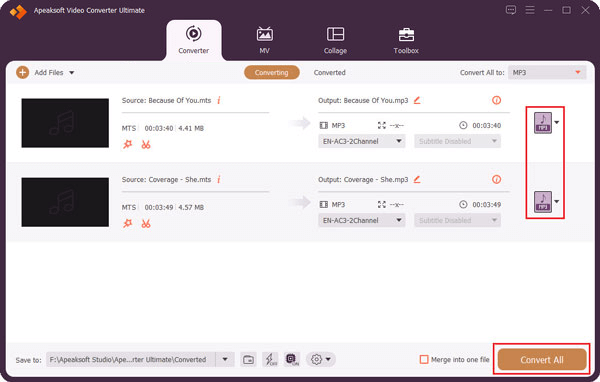 Step 5Check the saved MP3 files
Lastly, check your files on the local storage folder you set them to be saved.

Capacities of the Tool
Long list of audio and video file formats.
Made with advanced acceleration speed technology.
Works well in simultaneous group conversion.
High quality output.
User-friendly interface and intuitive procedures.
With added media toolbox.
Part 2. How to Convert MTS to MP3 on Using a Default Tool
1. iTunes
If you're searching for a default MTS to MP3 free converter, iTunes is the right tool to use. This can be used on your media management. Worry less because this is a freeware that doesn't need any charge to get access. Find out how you can use it by undertaking these few steps.
Step 1Access the freeware
The first thing to do is to click the File button located on the menu bar. Afterwards, click the Convert button.
Step 2Set up the new format
From the roster of audio file containers, click the MP3 Encoder button. Then, wait for the tool till it converts your MTS videos.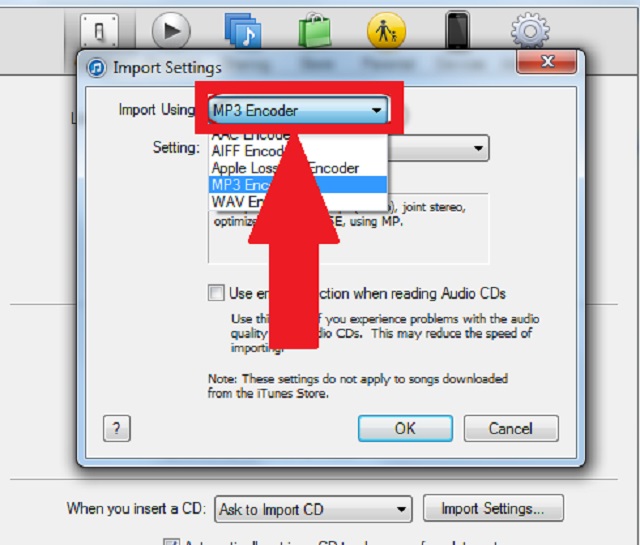 iTunes' Advantages

Popular media player especially on Mac.
Freeware.
iTunes' Disadvantages

Not comprehensive interface and buttons.
Formats are very limited.
2. HandBrake
Another way to convert MTS to MP3 is with the assistance of HandBrake. This is quite nostalgic, but this can totally provide what you need from a converter. This tool was already used by many and it's still functional up to this date. Explore the capacities of this freeware converter by using this simple guideline.
Step 1Download the software on your device
On the upper leftmost side of the panel, look for the Source button and simply click it.
Step 2Add your videos and change the format
Add your local video. Adjust to MPA and click the Start button.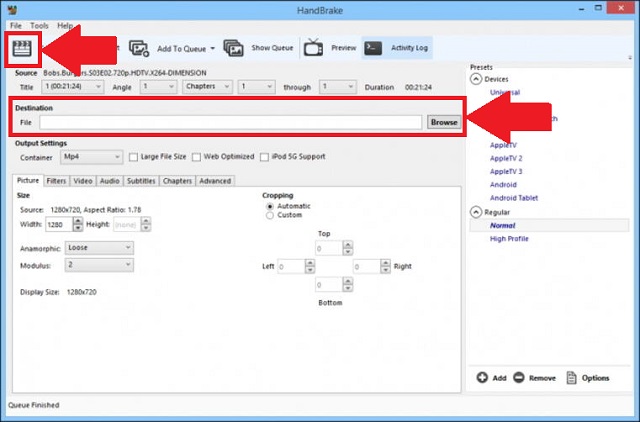 Pros of Using HandBrake

Handbrake is a freeware tool.
Cons of Using HandBrake

You might see the interface as an old-made tool.
Group conversion affects the speed of the process.
Part 3. How to Use an Online Tool to Convert MTS to MP3
If you're not a fan of downloading any software because you're protecting your device's malware, consider using an MTS to MP3 converter online like the Apeaksoft Free Video Converter. This tool is totally web-based. Plus, you only need a stable internet connection to get access to the tool. Just like the desktop version, this tool also possesses almost all its key features. Discover how it works by following these seamless procedures given below.
Step 1Get access on the official webpage
On the web browser of choice, simply go straight on the official website of Apeaksoft Free Video Converter. Once landed, the interface will aesthetically welcome you.

Step 2Add all the MTS files
Then, add all your selected MTS videos on the tool by clicking the Add Files to Convert button. You can freely import multiple files to undergo the process.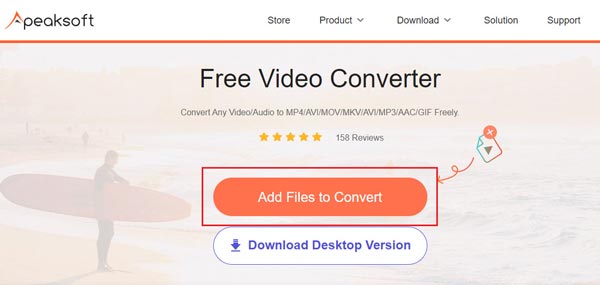 Step 3Change the old format
From the bottom part of the tool, click the audio icon to the appearance of all the offered audio formats. Look for the MP3 button and click it as your output.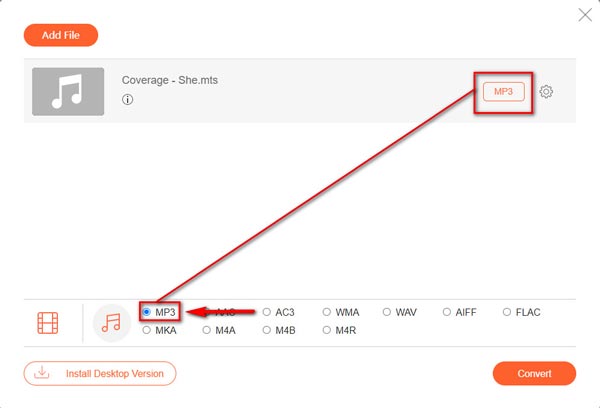 Step 4Start the conversion
To start the quick procedure, click the Convert button.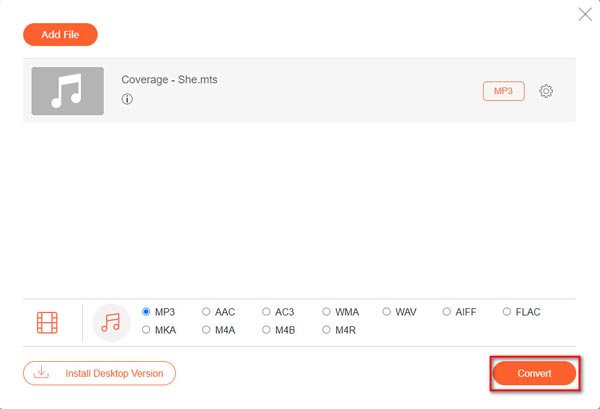 Step 5Check the audio output
This final step will simply help you automatically view your newly converted files. Click the given folder icon beside each output for your convenience.
Benefits of Utilizing Apeaksoft Free Video Converter

Fast-speed processing technology.
Comprehensive and appealing interface.
No fancy banners, ads, and watermark.
Conversion history is protected and safe
Downsides of Utilizing Apeaksoft Free Video Converter

Extra toolbox is not included.
People Also Ask:
Part 4. FAQs of MTS and MP3
What is the difference between MP3 and MP4?
MP3 was made to store any audio content with its appropriate format. While the MP4 is a video format that stores digital multimedia files.
How many megabytes does an MP3 song have?
A standard song with 3.5 minutes only holds 30.73 MB.
What is the size of an average MTS video?
An average video of MTS can contain up to 450 megabytes. Therefore, it would be an ideal choice to convert MTS to MP3. This can be possible with the help of an excellent and reliable tool like the Apeaksoft Video Converter Ultimate.
Conclusion
As a summary of this article, nothing can be more convenient knowing how to convert MTS to MP3. This can really help us maximize the usage of our tools. Suits to their compatible devices and operating systems. Needless to say, this can also be seamlessly possible by the help of Apeaksoft Video Converter Ultimate, iTunes, Handbrake, and Apeaksoft Free Video Converter. Among all these given solutions, only Apeaksoft Video Converter Ultimate contains all the essential key features everyone is looking at on a powerful audio converter.