"I get some videos saved in MTS files, but my PC cannot open them, how to convert MTS to MP4?" The mts is one of the file extensions used for AVCHD videos that are shoot by typical camcorders, such as Sony and Panasonic HD camcorders. It keeps all the metadata of your videos and records videos with HD quality. However, it is not supported by most digital devices, websites, or media players. Therefore, you'd better convert MTS files to MP4 following our guide.

Convert MTS to MP4
Part 1: How to Convert MTS to MP4 Offline
The best way to convert Sony MTS files to MP4 on Mac and Windows is reliable video converting software, such as Apeaksoft Video Converter Ultimate. It produces the best output quality using built-in AI technology. Moreover, the good design makes beginners navigate easily. The bonus features let advanced users generate the desired effects quickly.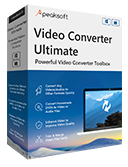 4,000,000+ Downloads
Convert multiple MTS files to MP4 at the same time.
Optimize video output quality automatically.
Support almost all video and audio formats.
Edit video files with a full set of the video editor.
If you are ready, let's convert your MTS files with the steps below:
Step 1Open MTS files
The best MTS to MP4 converter offers two versions, one for Windows 11/10/8/7 and the other for Mac OS X. Install the right one on your computer and launch it. Go to the Add Files menu and open the MTS files that you wish to convert. Or hit the big + icon in the center of the interface to open MTS files directly.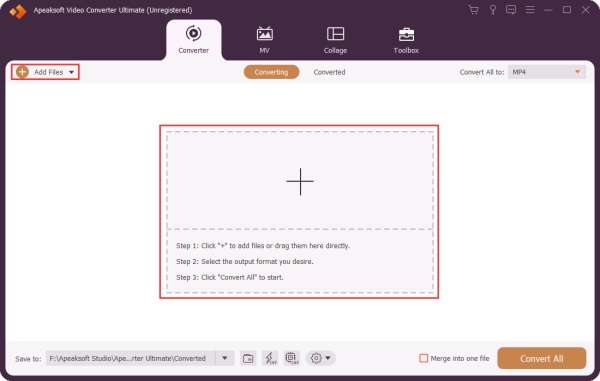 Step 2Set MP4 as the output format
As long as the MTS files load, you can see the titles in the main interface. Click the Convert All to menu at the top right corner to expand the profile dialog. Head to the Video tab, select MP4 and choose a preset. If you intend to play the videos on your mobile device, go to the Device tab, and select your phone model. To adjust parameters, such as quality, resolution, and more, click the Gear icon.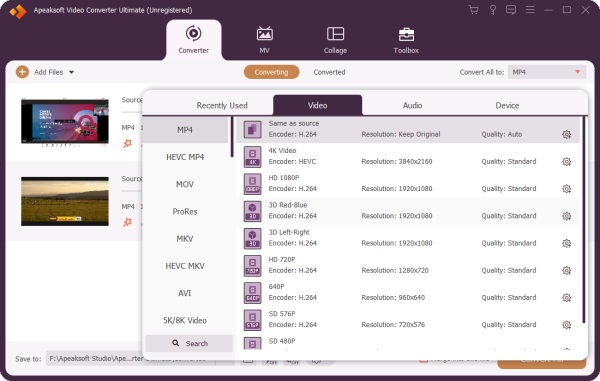 Step 3Convert MTS to MP4
After settings, go back to the main interface. Click the Folder button at the bottom and set a specific directory to save the output. At last, click on the Convert All button to start converting MTS files to MP4 format immediately.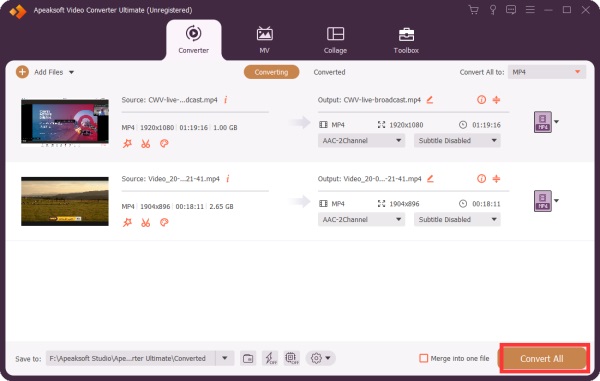 Part 2: How to Convert MTS to MP4 Online
Web-based video converters are another way to convert MTS files to MP4. Most of them are free to use with some limitations, such as watermarks. We recommend Apeaksoft Free Video Converter because it is completely free of charge without any restrictions, such as watermarks, file sizes, and more. More importantly, it is working well in most web browsers, like Google Chrome, Firefox, Safari, etc.
Step 1 Access https://www.apeaksoft.com/free-online-video-converter/ in your browser, and click the Add Files to Convert button to download the launcher.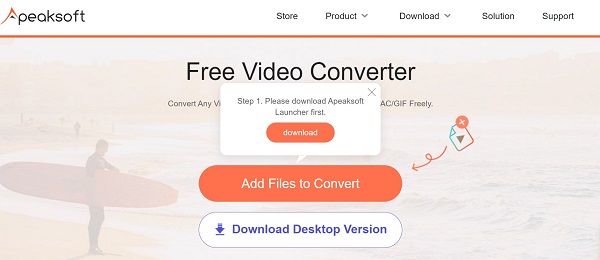 The first thing to do is to click the File button located on the menu bar. Afterwards, click the Convert button.
Step 2 After downloading, the launcher will pop up automatically. Hit the Add File button to add the target MTS files from your hard disk. The app supports batch conversion.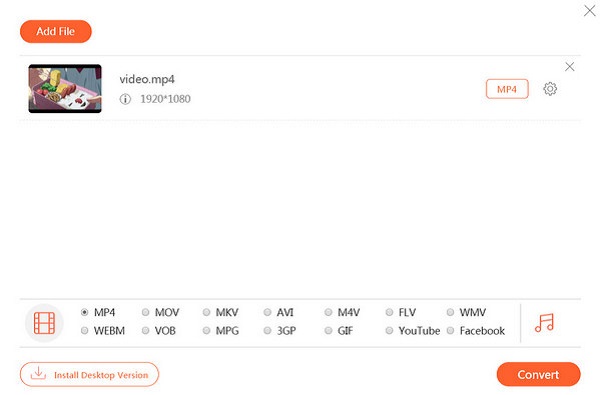 Step 3 Make sure to select MP4 at the bottom, and click the Convert button at the bottom right corner to initiate converting MTS to MP4 online.
Note : If you wish to adjust the video quality, resolution, and more, click the Gear icon to open the profile dialog.
Part 3: How to Convert MTS to MP4 on Linux
Most video converter software is not available on Linux. If you need to convert MTS files to MP4 format on Linux, FFMpeg is a nice option. Without GUI, it is a command-line video converting tool. It enables you to transform between video formats within the terminal window.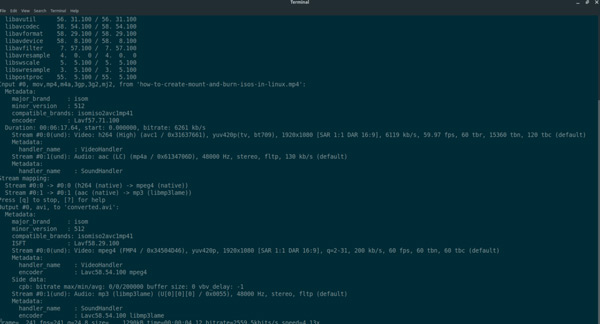 Step 1 Open a terminal window, and install the free MTS to MP4 converter on your Linux using the commands below:
On Ubuntu, install it with Apt: sudo apt install ffmpeg.
On Debian, install it with Apt-get: sudo apt-get install ffmpeg.
On Arch Linux, install it with Pacman: sudo pacman -S ffmpeg.
On Fedora, install it with Dnf: sudo dnf install ffmpeg.
On OpenSUSE, install it with Zypper: sudo zypper install ffmpeg.
Step 2 Once the video converter is installed on your machine, enter the command line to convert MTS to MP4 on Linux:
ffmpeg -i /path/to/original/videofile.mts /path/to/new/filename.mp4
Note :
The command line is the basic way to do the job on Linux. If you want more advanced commands, execute
ffmpeg –help
and you will get more suggestions.
Part 4: How to Convert MTS to MP4 on Android
If you play MTS videos on your Android phone, you will encounter a compatibility issue. Either the built-in media player or the Android system lacks the codec for MTS. In another word, Android cannot open MTS video files. Therefore, you must convert MTS to MP4 and play them on your phone. Fortunately, there are lots of video converter apps available in the Google Play Store. Plus, a part of video editing apps includes the feature of video converting. We use Timbre as an example to show you how it works.
Step 1 Make sure to install the video converter on your Android phone. It is free to download in Play Store.
Step 2 Open the video that you want to convert, and go to the toolbox screen. Tap the Convert tool under the Video section, and you will be taken to the next screen.
Step 3 Select MP4 under the Output format section. Then tap the Folder icon under the Export options area, and select the destination folder.
Step 4 At last, tap the Convert button to start converting MTS to MP4 on your Android immediately.
Note : After reading and replying text messages on your iOS device, these messages are usually remained in the conversation history. But sometimes you want to delete individual unnecessary messages to keep them away, or you are going to delete all text messages to free up more storage space on your iPhone, iPad or iPod Touch, you can follow the correct steps to achieve it.
You May Also Be Interested:
Part 5: FAQs about Converting MTS to MP4
Why convert MTS to MP4?
The major reason to convert MTS files to MP4 format is the compatibility issue. Although the MTS files store HD videos, not all digital devices or media players can decode them. MP4, on the other hand, is the most widely used video format currently.
How to open MTS on Windows 10?
First of all, you can try to open MTS videos with Windows Media Player, which is the built-in media player on Windows 10. If it is not available, you have to use a third-party video player, such as VLC, to open your MTS files.
Is MTS the same as MP4?
Both MTS and MP4 are video file containers. The biggest difference is that each frame in an MTS file has a presentation timestamp or PTS whereas MP4 doesn't.
Conclusion
This guide has demonstrated four easy ways to convert your MTS video files to MP4 format on Windows, Mac, Linux, and Android. You can pick an appropriate method according to your situation. We suggest you try Apeaksoft Video Converter Ultimate due to the impressive output quality. If you have other questions about this topic, please leave a message below this post.