After the launch of iOS 11, HEIC photos have been a hot topic among iOS users around the world. Taking this situation into account, right after the action of Apple Company, Google also follows suit. Apple users can upload and preview HEIC images via Google Photos or Google Drive.
However, when Apple users download the photos from Google Photos, photos are still saved as the original format such as HEIC, which only can be viewed on Apple devices, like iPhone, iPad, Mac and so on. If you want to convert these HEIC photos in Google Photos or Google Drive and view them on your Windows computer or Android phone, you will scratch your head. Fortunately, you are in the right page. Here are easy steps for you to convert HEIC to JPG photos in Google Drive or Google Photos. Let's check out these methods.

Convert HEIC to JPG
Part 1


How to Convert HEIC Google Photos to JPG with Free HEIC Converter
Still wondering how to convert HEIC to JPG in Google Drive or Google Photos? We highly recommend you Free HEIC Converter.
Free HEIC Converter
It is an excellent product that allows you to convert HEIC to JPG/PNG without any quality loss. Meanwhile, it supports Windows 11/10/8/7/Vista/XP (SP2 or later) and Mac OS X 10.6 or above. Last but not least, the software could keep the EXIF meta data of HEIC files optionally.
Step 1 Download, install the Free HEIC Converter on your computer.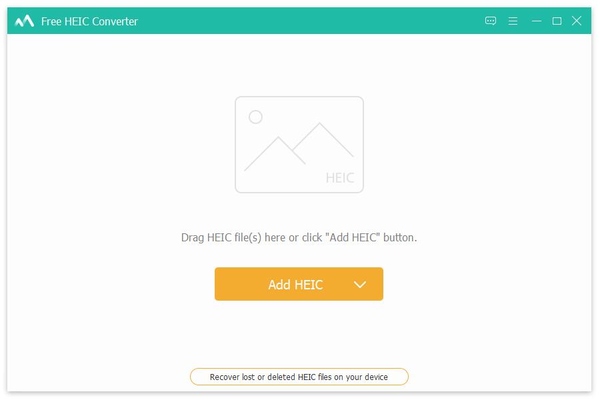 Step 2 Open the Google Photos or Google Drive and sign in to your own Google account. (If you have done already, ignore this step.)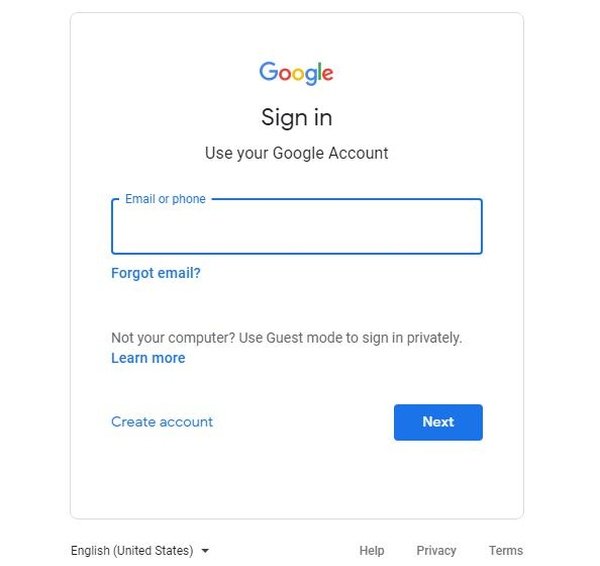 Step 3Select all the HEIC photos that you want and download them to your computer.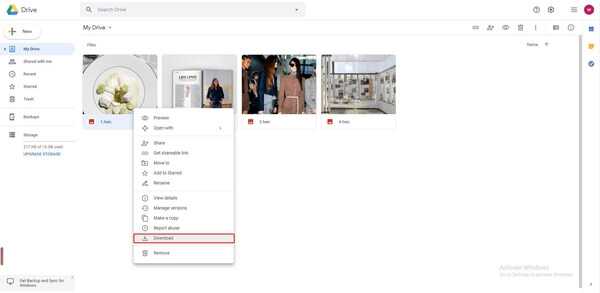 Step 4Run Free HEIC Converter and click "Add HEIC" button to import the HEIC photos you want to convert.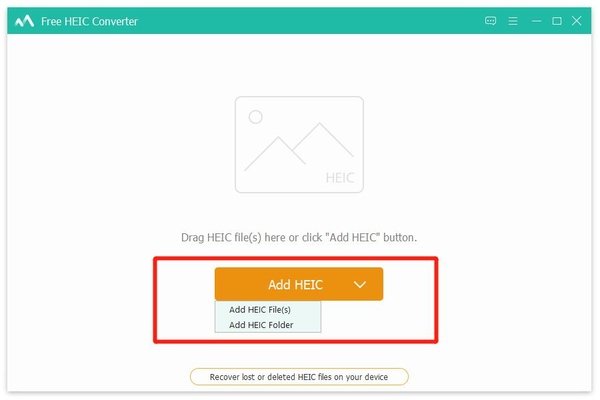 Step 5 Set the conversion format as JPG and click "Convert" button.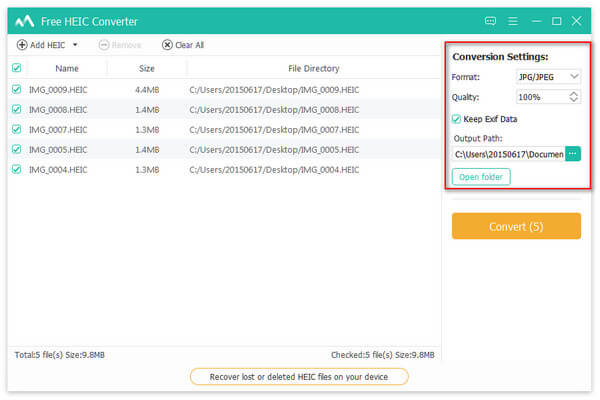 Step 6 After the conversion is finished, you can open Google Photos or Google Drive and upload JPG photos that you have already saved in your computer.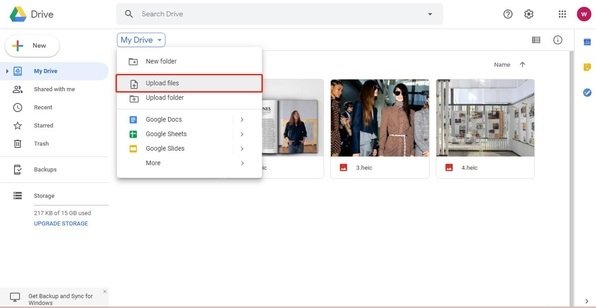 Congratulations! All steps have been completed. HEIC photos should be available in your Google Photos or Google Drive account as JPG photos. Now you could do whatever you want to do with JPG photos.
Do not miss the HEIC reader to open the HEIC files directly here.
Part 2


How to Convert Google Photos from HEIC to JPG Online
If you just want to convert one or two HEIC photos to JPG format, you don't want to download the software above, here is another tip for you to complete the conversion with free HEIC to JPG converter online.
It is an online HEIC to JPG converter. You can try the following steps.
Step 1 Open this free online HEIC to JPEG Converter on your web from Windows, Mac or iPhone.
Step 2 Click the +Add HEIC/HEIF File (s) button to upload one or more HEIC images online
Step 3 Then this free HEIC converter will convert the HEIC to JPG automatically. Wait seconds, and click the Download button to save the converted JPG files.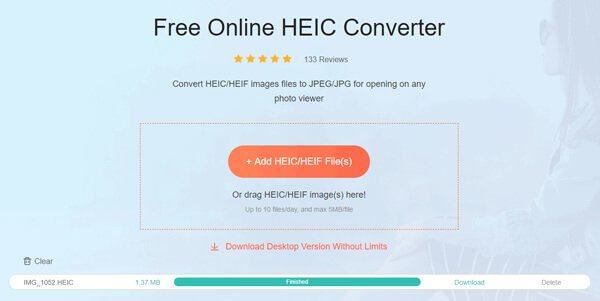 That is all! You have done all the job. You can see JPG photos in your account instead of HEIC format successfully.
Pros:

1. It is convenient for some users to convert fewer photos.
2. There is no need to download the software.
3. It is compatible with Windows, Mac and iPhone.
Cons:

1. The quantity of conversion is limited. You can just drag or drop less than 50 photos.
Part 3


How to Convert HEIC to JPG with E-mails in Google Drive or Google Photos
If you haven't tried the two ways above, you could also convert HEIC to JPG via e-mails. It is safe and convenient. When you own two e-mail accounts and don't want to bother yourself about downloading another software in order to convert two or three HEIC photos, this method is customized for you. You can select the HEIC photos you need to convert and send them as attachments to your own e-mail account. Finally, you could download the photos (that you upload as attachments) in your own e-mail account and get the JPG images easily. By doing so, the photos are compatible with almost all commonly used operating systems such as Windows, Mac, iOS, Android and more.
However, this method is not suitable for you all the time. If your photos are too large, it will be difficult to upload the photos. For example, Gmail has the size limit below 25MB. If your photos are large, you had better use the Free HEIC Converter recommended above to convert HEIC to JPG images.
Do not miss this post to send large photos via Email.
Part 4. FAQs about Converting HEIC to JPG
How do I convert HEIC files to JPEG on iPhone?
Firstly, you need to go to the Files app on your iPhone, select My iPhone, and create a new folder by tapping the more button. Then you can enter your Photos app and select the HEIC photo you want to change to JPG. Next, tap the Share button and choose Copy Photos. After that, you can go back to the Files app and paste your HEIC photo into the new folder. Then you can complete converting HEIC to JPEG on your iPhone.
Why did my photos become HEIC instead of JPG?
Apple replaced JPEG with HEIC as the default image format when it released iOS 11. So, if your iPhone runs iOS 11 or later, your photos will be saved as HEIC.
Can you open HEIC files on Windows?
If your computer runs Windows 10 18.09 or later, you can open HEIC photos on your Windows computer after installing HEIC image extensions in the Microsoft Store.
What app opens HEIC files on a PC?
You can open HEIC files on your PC with these apps: Google Photos, Microsoft Photos App, Dropbox, etc.
Conclution
With these 3 methods we recommended above, you must have got how to convert HEIC to JPG in Google Photos or Google Drive when you need to share HEIC photos over multiple operating systems. If you are looking for software to convert HEIC to JPG without quality loss, it is worthwhile downloading Free HEIC Converter and having a trial of it. If you have other recommendations, you can leave comments below.