How do I open a HEIC file on Windows 10?
If you are getting stuck in this issue, then you are coming to the right place.
HEIC images files are from Camera Roll on iPhone/iPad running in iOS 11 and later. Unlike JPEG or PNG files, this file type is not supported by many non-Apple devices, like Android phone, Windows computer, etc.
As a result, there are more and more people seeking for help to open HEIC files on Android, Windows, 10, 7, and Mac.
Here, we will show you the easy but full guide to read and free open HEIC files on Windows 10/8/7 and Android

How to Open HEIC File
Part 1. How to Free Open HEIC Files Directly on Mac/Android/iPhone
What is HEIC file?
HEIC, is the new iPhone photo format uses HEIF (High Efficiency Image Format) standard. It is adopted by many iOS users for its advanced compression by saving more than 50% on storage when taking photos, which is the biggest advantage of HEIC file, compared with JPEG or PNG file. (Check it in HEIC VS JPEG ).
Since HEIC file is developed by Apple, it is undoubtedly Apple devices can open HEIC file directly.
For viewing HEIC files on Mac or iOS devices, you just need to meet the following requirements:
iOS devices running iOS 11 or later.
Mac computer running in macOS High Sierra or later.
Moreover, for Android users, you could also open HEIC files directly on Android phones running in Android P and later.
You just need to use the native photos app to open the HEIC files on the devices above.
For Windows users, you will need to move the next part to view HEIC files.
Part 2. How to Free Open HEIC Files on Windows 10 with Codecs
Though Windows 10 users who are running in the Windows 10 version 1803, build 17123, can open files in High Efficiency Image File Format in Photos app, other versions in Windows 10 will miss this opportunity to open HEIC file.
There is a will, there is well.
Microsoft has updated its Windows OS, which makes it easy to open HEIC files by installing the HEIC codec. The steps are easy to follow.
Step 1Double-click to open a HEIC file on Windows 10, and a pop-up window will show up and gives you the option to "Download codecs at Microsoft Store". Just click it to go to Microsoft Store.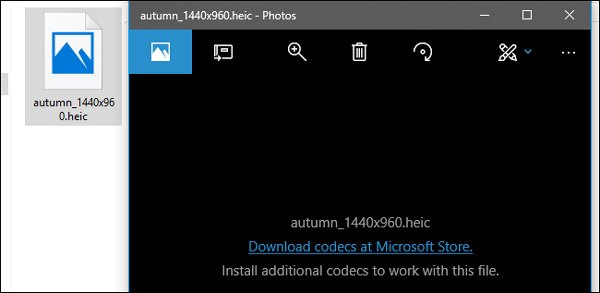 Step 2Click "Get" in Microsoft Store to download and install "HEIC Image Extensions".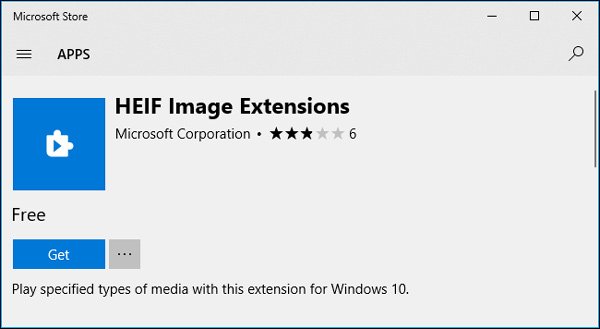 After the installation is done, you can open HEIC files like JPEG, PNG, etc., on Windows 10 in the Photos app, and you can see the HIEC thumbnails of HEIC images in the File Explorer.
Windows 10 users are fortunate because Microsoft upgrades its OS to facilitate the users. However, for old Windows 8/7 users, they are still in a dilemma, where they do not want to upgrade Windows 7/8 to 10, but wish to open HEIC files.
You may need: How to Convert Google Photos from HEIC to JPG
For solving the problem, just move the next part.
Part 3. How to Free Open HEIC Files on Windows 10/8/7 & Android (HEIC Converter)
As mentioned above, PNG or JPEG has more compatibility than HEIC, so the easiest way to open HEIC file is to convert HEIC to JPE or PNG.
Apeaksoft Free HEIC Converter is the professional HEIC converter software to convert HEIC image files to JPEG and PNG on Windows and Mac computer.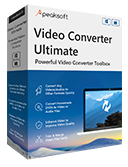 4,000,000+ Downloads
Convert HEIC photos to JPG/JPEG/PNG without any quality loss.
Keep the EXIF metadata of HEIC files optionally.
Totally free without any ads to convert HEIC files.
Support Windows 10/8/7 and Mac OS X 10.6 or above.
Step 1Download HEIC converter
For converting HEIC files, you should download this software on your computer. It has Windows and Mac version, and just select the exact version you need.
Then run this HEIC converter on your computer as the following interface.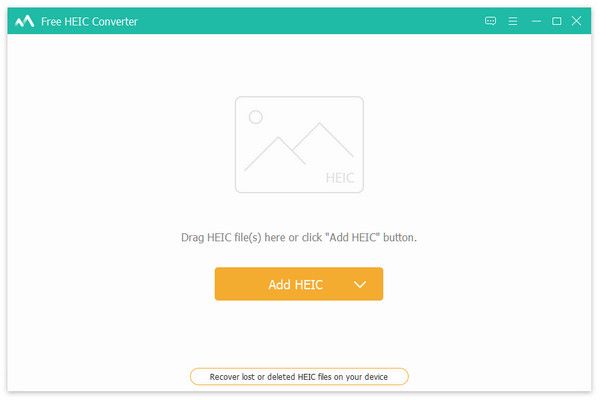 Step 2Add HEIC files
Click "Add HEIC" button to import one or more HEIC files into this program. Alternatively, you are able to drag the HEIC images files into this program.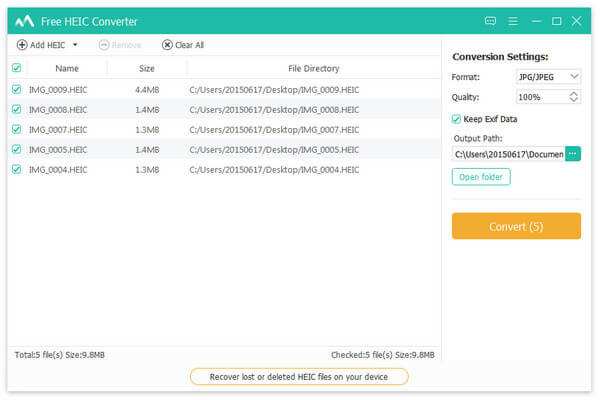 Step 3Convert HEIC files
After importing HEIC files, all the information of the HEIC files will show. You need to select the output format as JPEG/JPEG or PNG, adjust the quality, and optionally tick the box before "Keep Exif Data".
Before clicking the "Convert" button, do not forget to select the output file location to start converting HEIC files.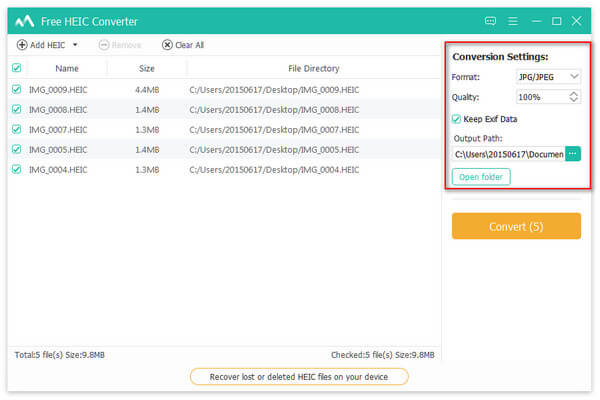 Very easy, right? Then you could transfer the images from computer to iPhone for storing storage or Android for opening the HEIC files easily.
Alternatively, Apeaksoft also offers a free online HEIC converter to help you convert HEIC to JPG/JPEG on the web, and you do not need to download any software.
Part 4. How to Open HEIC Files on Windows (HEIC Viewer)
Last but not the least way to open HEIC files is using the HEIC viewer online.
Apowersoft Free HEIC Viewer, as its name replies, is the free HEIC opener software for Windows users.
It is very easy to open HEIC files with this software by following the guide below.
Step 1After downloading this software on your computer, run it.
Step 2Locate your HEIC files on Windows computer; drag them into the main interface of this program. Then you could view the HEIC files on your Windows computer directly.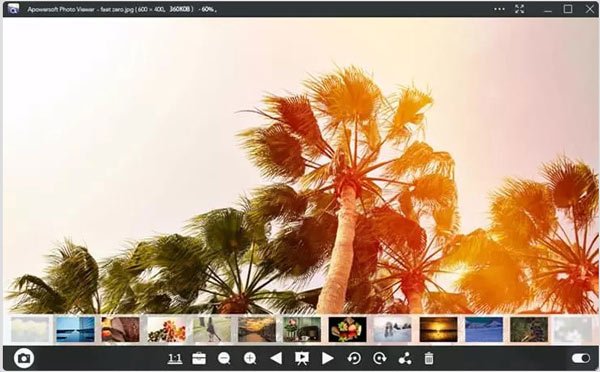 Note: You could choose this free HEIC viewer as the default photo app to open HEIC files automatically every time.
We mainly talk about how to open HEIC files on Windows 10/8/7, Mac, iOS device and Android. Mac and iOS device can open HEIC files directly with its Photos app. Windows 10 users need to download the HEIC codec to view the HEIC files easily. As for Windows 7/8, HIEC viewer is the key. However, if you want to open HEIC photos on Windows, Mac, Android, or other devices, the free HEIC converter is undoubtedly the best answer.
Any good solutions from you to open HEIC files?
Let me know by leaving your comments.