When you need to export a video format on Mac or digital camera, you might have two choices, MOV and MP4. Actually both MOV and MP4 are lossy video formats that widely used for different situations. What should be the major differences between MOV and MP4?
MOV V.S. MP4, in order to have a suitable choice, you can learn more detailed information about the comparison. If you have already saved or downloaded files in MP4 or MOV, you can still use some advanced video converters to get the desired video format.

Part 1: MOV V.S. MP4, which is the best choice?
The compatibility is major difference between MP4 and MOV video formats. Just in simple, in order to enjoy a video in Apple device in a high quality, MOV should be the choice. As for the other devices, MP4 might be the one you have to take into consideration.
1. MP4 is a video format based on QuickTime MOV by the Moving Pictures Experts Group formed by ISO. Just in simple, MOV is a proprietary file format while MP4 is an industry standard. MP4 is part of the ISO base media file format standard.
2. In MOV V.S. MP4 comparison, when the same video compression and codec, such as H.264 used for MOV or MP4, you can simply change the extension from MP4 to MOV, or vice verse. As for the case, the only difference between MP4 and MOV is the file extension.
3. If you just need to edit and play videos with QuickTime, iMovie, FCP or other Apple device, there will be compatibility issues with the codec of MOV, or else, you can you have to use MP4 video format to have a better compatibility for more devices.
MOV V.S. MP4 Chart
File Format
MOV
MP4
Developer
Apple Inc.
International Organization for Standardization
History
MOV came original streaming video file type container and today still serves well to encapsulate lossy video contents.
The first version of the MP4 was published in 2001 and replaced by MPEG-4 Part 14: MP4 file format in 2003.
Usage
Store lossy video contents with high quality.
Offer fast loading speed, high quality and compatibility with relatively small size.
Compatibility
Mainly used for Apple devices, such as iPhone, iPad, MacBook Pro/Air/iMac, Apple TV, and more.
Most widely used video format on any devices including mobile phone, tablet, PCs, Linux devices, portable devices, as well YouTube and other websites.
Metadata
Able to store metadata, but you cannot edit it with standard software. iTunes could use tags, annotations, album and artist to manage your videos.
Accommodate additional enhancing information, such as title, synopsis and more another information within the video format.
Advantages
1. Long-standing video format in use today.
2. Easy to use on any Apple platforms.
3. Add metadata simply.
1. Most universal and standardized video format.
2. Compatible with any operating systems and digital devices.
Disadvantages
You have to install extra codec if watching MOV on devices except Apple platforms.
Though it is a lossy video format, MP4 is not highly compressed.
Part 2: How to convert MOV to MP4, or vice verse
Just as mentioned, both MOV and MP4 are almost interchangeable in Apple environment. In order to take full advantages of the video files, you need to convert MOV to MP4, or vice verse instead. Apeaksoft Video Converter Ultimate, the professional media converter, would be your best choice.
Convert MOV to MP4 file format or vice verse without quality loss.
Support a wide range of video and audio video formats and presets.
Offer advanced editing functions, such as clip, rotate, effects, watermark, etc.
Adjust video resolution, frame rate, bitrate and other parameters.
Enhance the video quality during a video conversion process.
How to convert MOV to MP4, or vice verse
Step 1: Download and install MOV to MP4 converter
Once you installed the MOV to MP4 converter, you can launch the program and click the "Add File" menu and select "Add File" or "Add Folder" to import MOV files into the program. You can also drag-n-drop the videos into the program in batch.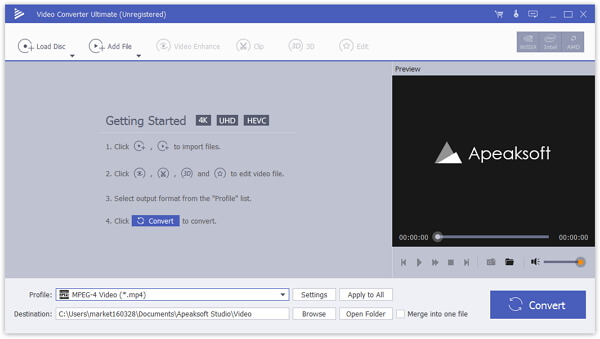 Step 2: Convert MOV to MP4 within the original quality
Click and expand the "Profile" dropdown menu, and select the output format as MP4 from the list. There are more other MP4 options, if you need to convert MOV to a desired Android phone or online website. You can also change MOV to MP4 HD formats.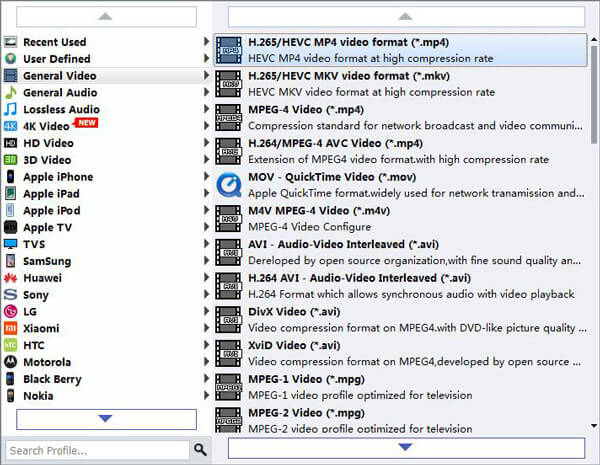 Step 3: Adjust the video quality for MP4 output file
Click the "Settings" button to adjust the different parameters in video and audio settings, such as video and audio encoder, frame rate, resolution, aspect ratio, video and audio bitrate, sample rate, audio channel and more others.
Step 4: Enhance the video quality for MOV to MP4 conversion
Beside the video codec, you can also select the "Video Enhance" menu to upscale resolution, optimize brightness and contrast, remove voice noise and reduce video shaking to optimize the video during the MOV to MP4 conversion process.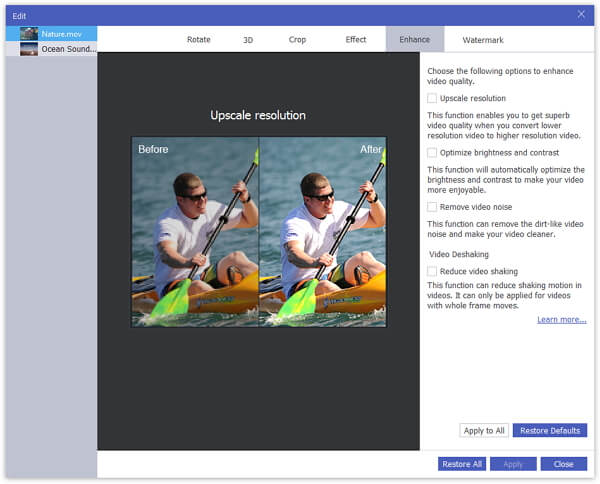 Step 5: More video editing features to output MP4 video
Choose the "Edit" button on top of the window. Then you can find the Rotate, Crop, Effect, Watermark and other tools. The 3D feature is used to turn 2D videos to 3D. You can also apply video effects and get more other features to get a desired output.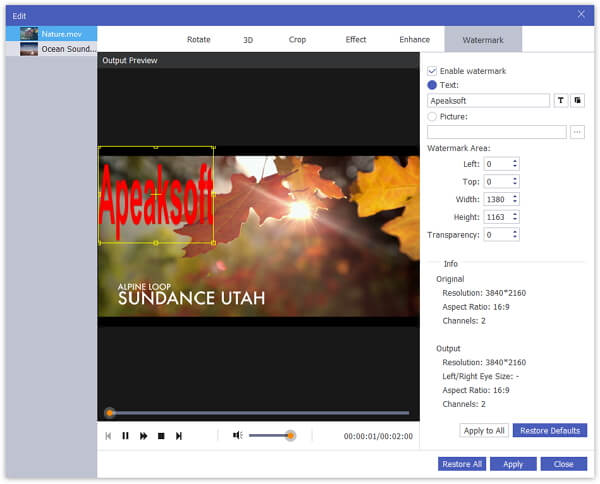 Step 6: Convert MOV to MP4 or vice verse
Finally, click the "Convert" button to start converting MOV to MP4. When you need to convert MP4 to MOV, you can follow the same process, the only difference is that you have to choose the MOV from Profile and select the best parameters accordingly.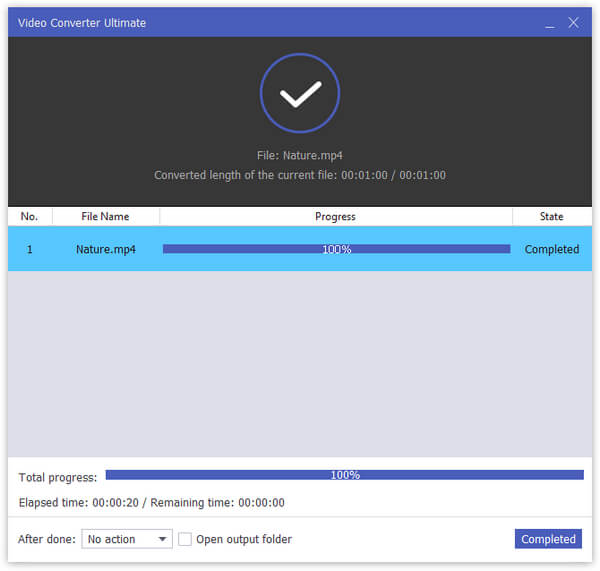 Moreover, you can also add or remove the subtitle of MP4 or MOV. When you take full advantage of the excellent features of video converter ultimate, you can get the output video with the original quality, or a better quality. Moreover, you can use the MOV video for any other device with the program. It should be the ultimate video converter for both MOV and MP4 video format.
Conclusion
The article shares the ultimate comparison between MOV and MP4 file formats. Though MP4 is developed based on MOV QuickTime file format, there are many differences, such as usage and codec standard. You can also get the information about the cons and pros for the two popular video formats from the article.
If you get a MOV video format for Android phone, transfer MP4 to iPad, or MP4 file for FCP, you can simply change MP4 to MOV, or MOV to MP4 with Apeaksoft Video Converter Ultimate, which is able to convert and enhance different video formats. If you have more queries about MOV V.S. MP4, you can feel free to let us know in the comment.