When you want to save or share a video, do you struggle with which format to choose? There are many mainstream formats nowadays, and their characteristics determine the suitable scenarios for use. MPG and MP4 are widely known formats and have been used for years.
We will analyze in detail with the theme of MPG VS MP4. Also, if you need to convert them, we will provide you with the best tools.

MPG VS MP4
Part 1. Introduction of MPG and MP4
What is MPG
MPG is a compressed format for storing video, audio, subtitles, and images. It was developed by the Moving Pictures Experts Group in 1988. MPG can compress VHS-quality videos without losing any quality. This format applies MPEG-1 or MPEG-2 codec, and MPG files always has the .mpg or .mpeg file extension. Most platforms like Windows, Mac, and other OS support MPG files. Many media players, such as Windows Media Player, iTunes, QuickTime Player, and VLC Media Player, support it. But you need to install a MPEG-2 encoder if you are using Windows.
PROS

MPG is compatible with most media players and web browsers.
MPG files have a small file size.
MPG format is the best choice for recording videos and burning DVDs.
CONS

As this format can offer small sizes, the quality of MPG videos is not that high.
The codecs it applies are very few, and they are already outdated.
What is MP4
The Moving Picture Experts Group also develops MP4. This format is the most widely used one among all mainstream formats, and it is used for sharing videos online. MP4 format include MPEG-4 Part 1 and MPEG-4 Part 14. MP4 files can be kept small and played on almost all platforms and media players smoothly. Also, it is a compressed file format that can store images, subtitles, and audio. Files are always saved with the .mp4 extension, but those with only audio might be saved with the .m4a extension.
PROS

MP4 format is the best for Internet video streaming and compressing video file size.
MP4 can provide a higher video quality.
MP4 supports a wide range of codecs, from old to advanced ones.
CONS

As MP4 files have higher quality, the file size is large.
Some media players do not support the MP4 format.
Part 2. MPG VS MP4
Quality
Since MP4 applies more advanced video compression and supports modern video codecs like H.265, it can improve video quality. However, MPG applies MPG-1 and MPG-2, which are relatively old types. When the two formats have the same bitrate level, MP4 is the winner, and MP4 videos have a higher quality than MPG ones.
File Size
The level of bitrate is the decisive factor in the size and quality of videos. Accordingly, the higher the bitrate, the bigger the size will be. H.265 codec is famous for its small size. It can compress a video more at the same quality as MPG-1 and MPG-2. That makes the files encoded in MP4 format cost less storage space.
Codecs
MP4 and MPG support different video codecs and apply different compression standards. MP4 supports a relatively wide range of popular codecs like H.264/AVC and H.265/HEVC and some unfamiliar codecs, including Cinepak, Theora, Dirac, VP9, AV1, and MVC. MPG only supports MPEG-1 or MPEG-2 video and audio codecs.
Compatibility
MP4 format is always focused on streaming online and Internet videos. Although it is very popular among online videos, some traditional media players ignore the MP4 format. In terms of MPG, it can be adapted by major media players. When talking about compatibility, MPG is the winner. But this is not absolute because some platforms still cannot recognize MPG format videos.
In short, both formats have their strengths so you can choose according to your needs. MP4 is perfect for playing files and uploading videos to social media platforms or YouTube. If you want to burn a DVD or VCD, MPG will be better.
Part 3. How to Convert MPG to MP4
For different needs, you can convert between MPG and MP4. Here we provide you with the best converter and another tool to help you.
Apeaksoft Video Converter Ultimate
Apeaksoft Video Converter Ultimate is a multifunctional software that works on various video files in input and output. Diverse formats are supported in this tool. You can download videos from different sources or convert videos to the formats supported by different devices. It also has various features and a user-friendly interface to help you edit or enhance your video. At the same time, this tool can also help you convert to a style suitable for various devices like iPhone and Samsung, and social media platforms like YouTube and Instagram. If you need to convert MPG to MP4, try Video Converter Ultimate.
Here are the detailed steps.
Step 1Download Video Converter Ultimate, install, and open it.
Step 2Choose Converter, and click Add Files to upload your files. You can also drag your video to the central space directly.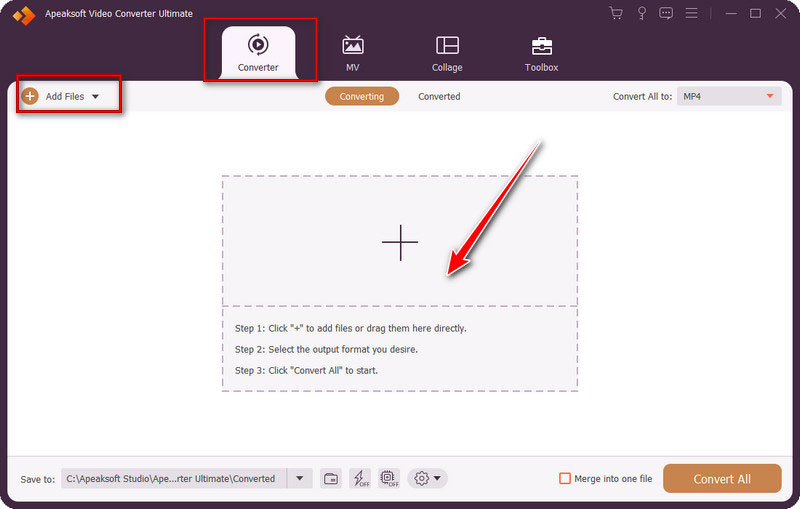 Step 3Press Convert All to the top of the right corner, and the convertible formats will be shown. Select the one you need.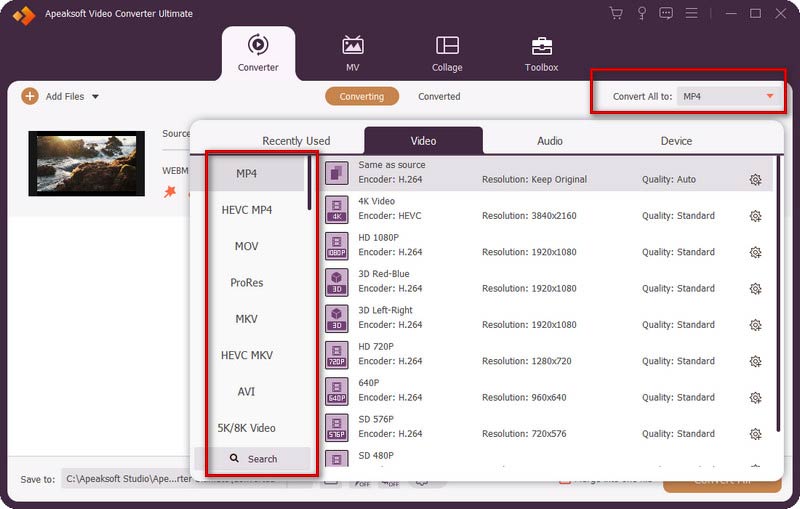 Step 4Choose your target folder to save your edited video by clicking Save to. After then, click the Convert All button.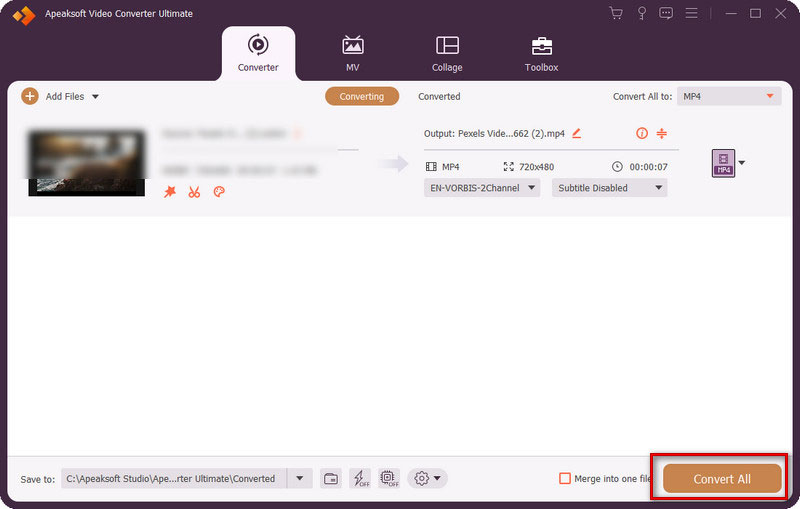 VLC Player
VLC Player is a cross-platform media player that supports all popular formats like MP4, AVI, MPG, MOV, etc. It also can be used for video conversion. In the conversion process, you can choose the file codec, frame rate, or other parameters. But at the same time, the operation is very complicated, it is difficult for beginners to control. It also supports a relatively limited number of formats and cannot be adapted to suit various devices or social media platforms.
Step 1Open the VLC Player and choose Convert/Save from the Media menu.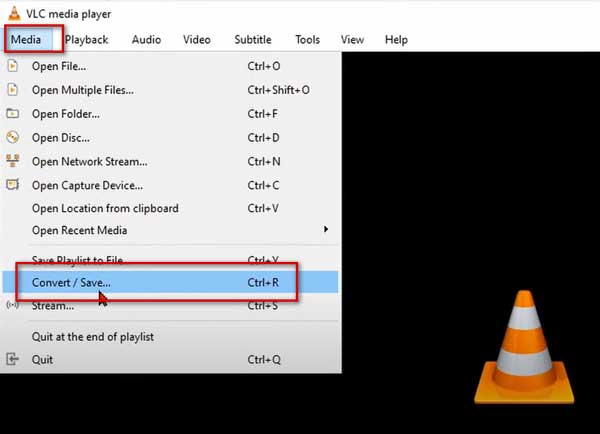 Step 2After opening a pop-up window, click +Add to import the files you want to convert. Then come to the Convert/Save menu on the bottom right corner, and choose Convert.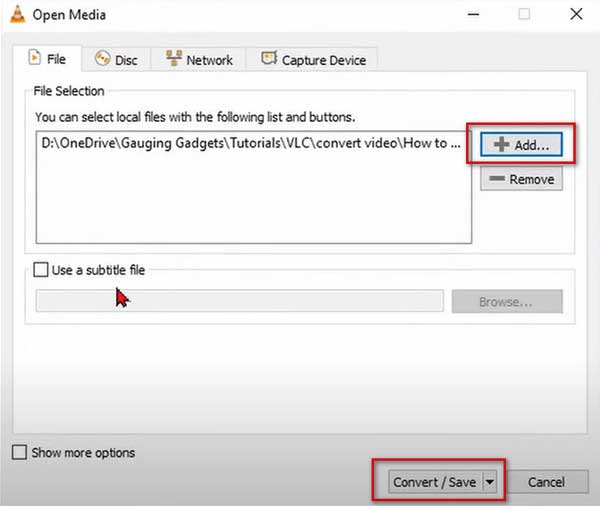 Step 3Now you can choose a folder to save your converted file by clicking Destination file. Expand the Profile section, and select your target format. If you want to edit your video, click the editing icon.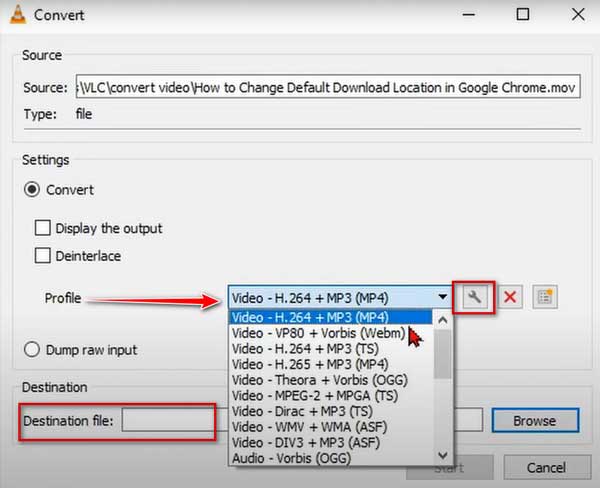 Step 4Click Start.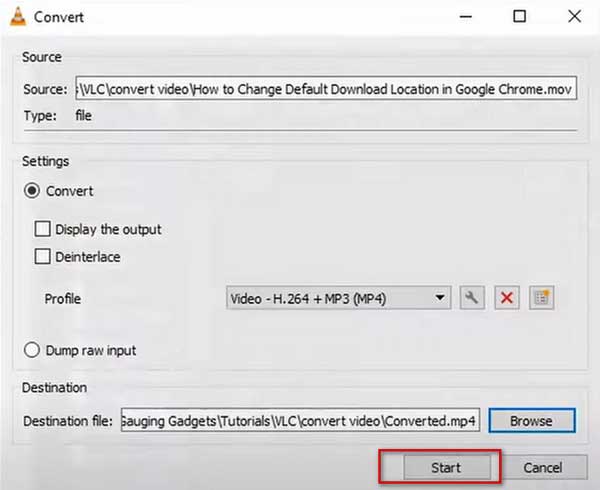 You May Also Be Interested:
Part 4. Frequently Asked Questions of MPG and MP4
Why are MPG files so large?
MPG normally applies MPEG2. It is an old compression format that requires pretty little processing power to encode but always creates large files. Nowadays, MPEG-2 is outdated for the most part, but it is still applied in some conditions like broadcast.
Is the MPG file lossy or lossless?
MPG applies a lossy compression. The quality of audio and video might be lost for easy downloading. The degree of compression can be adjusted by yourself. Accordingly, this format costs less space for storage.
Are all MP4 files the same?
Of course, No. MP4 is a format that can store different files, and sometimes, it is compressed with the MPEG-4 codec. MPEG-4 can be applied to various file formats, including MP4, MOV, OGG, AVI, etc.
Conclusion
Both formats have distinctive features. After analyzing MPG and MP4 from the aspects of quality, size, codecs, and compatibility, you can choose the one that suits you better. If you need to convert the format, try the method we recommend. We hope our content is helpful to you.