WebM is not a popular video format like MP4, AVI or MOV. So when you can't open it with your media player or video editor, you may not know how to deal with it.
WebM is an open, royaltyz-free, media file format which mainly designed for the web. Do you know how to convert WebM to MP4?

In fact, there are many WebM to MP4 converters including free online ones offered on the market that can help you convert your WebM files with ease. Here in this post, we like to share 4 simple and effective ways to help you convert WebM to MP4 without losing quality.
Part 1. How to Convert WebM to MP4 Free Online
When you Google how to convert WebM to MP4 on the internet, you can see many search results are related to online video converters. So at the first part, we like to share a free way to convert WebM to MP4 with online converter. Here we introduce you with a popular online WebM to MP4 converting tool, Convertio to help you get the job done.
Step 1 Open your browser and navigate to the official site of Convertio.
Step 2 Click Choose Files to select and upload the WebM file you want to convert to MP4. Here you are also allowed to upload a WebM video from Dropbox, Google Drive or URL.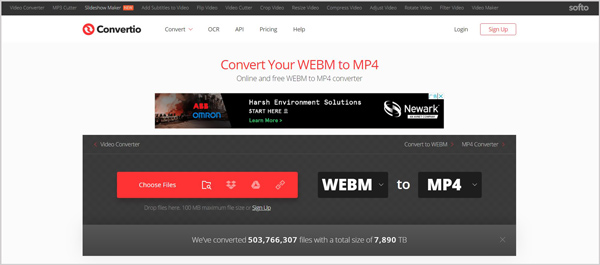 Step 3 Make sure the output format is MP4 and then click on the Convert button to start the converting process. It will take some time to complete the uploading and converting. After that, you need to click on the Download button to save the converted MP4 video on your computer.

Note that, if you want to free convert WebM to MP4 online, the file size will be limited to 100MB.
Part 2. Professional Way to Convert WebM to MP4 Without Quality Loss
If you want to convert a small-size WebM file, free online converter will definitely be a great choice. But online converter can not convert a large video. Considering that, here we introduce you with a powerful WebM to MP4 converter, Video Converter Ultimate to convert your videos.
Video Converter Ultimate is specially designed to convert video and audio in any popular formats. It is compatible with WebM, MP4, MKV, MOV, AVI, FLV, MPEG, AAC, MP3, M4A, WMV, FLAC and more. You can easily convert your WebM to MP4 with its help. More importantly, it guarantees that there won't be any image or sound quality loss during the conversion. Just free download it and take the following guide to make the video conversion from WebM to MP4.
Step 1 Double click the download button above and follow the instructions to free install and run this WebM to MP4 converting software on your computer. Ensure you download the right version.
Step 2 When you enter the main interface, choose the Converter function and then click the Add Files button to load the WebM file you want to convert to MP4. Here you are allowed to add one or more WebM videos according to your need. It is equipped with a bath conversion feature which can convert several WebM files at a time.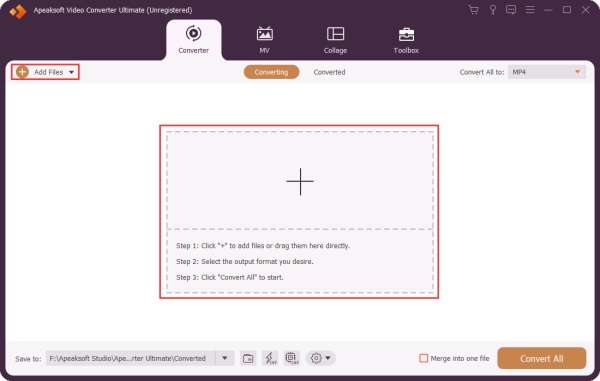 Step 3 Click Convert All to and then set MP4 as the target format from the drop-down list. Before the final WebM to MP4 conversion, you can edit video and custom the output effects.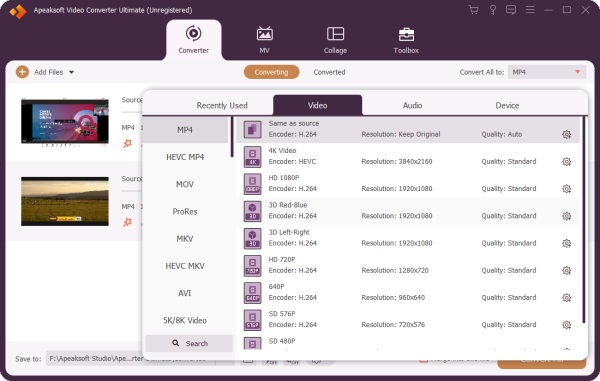 Step 4 Click on Convert All button to start converting WebM to MP4 on your computer.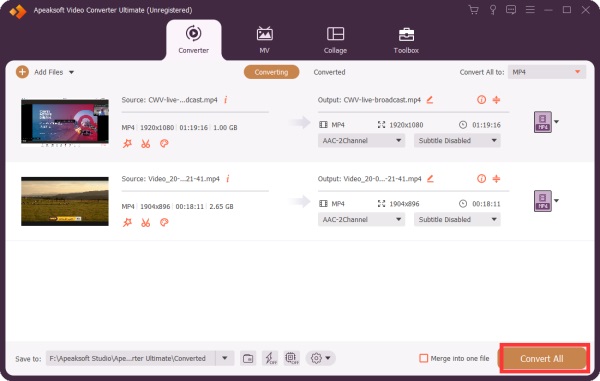 With the adoption of the latest accelerate technology, it allows you to convert WebM to MP4 at a super-fast speed.
Part 3. How to Free Convert WebM to MP4 with VLC Media Player
VLC Media Player is a very popular media file player which can help you play any video and audio files with great image effects. You should know that, besides playing, it also enables you to convert video. You can take the steps below to turn your WebM file to MP4 video with VLC.
Step 1 Open VLC Media Player on your computer and then click the Media (File for Mac) option on the menu bar. Then select the Convert/Save... or Convert/Stream... from the drop-down list.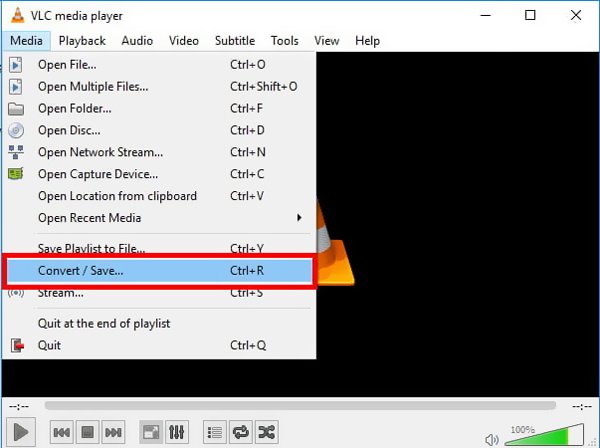 Step 2 Click the Add button to import the WebM file you want to convert. Then click the Convert/Save button at the bottom of the window.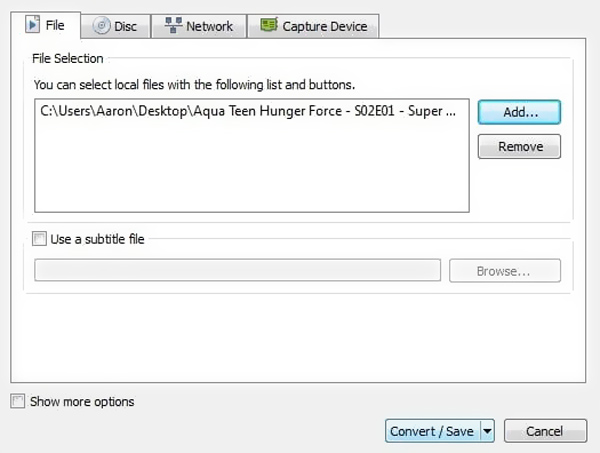 Step 3 Click the Profile and choose the H.264 + Mp3 (MP4) as the target output format. During this step, you can choose a suitable destination file folder for the converted MP4 video.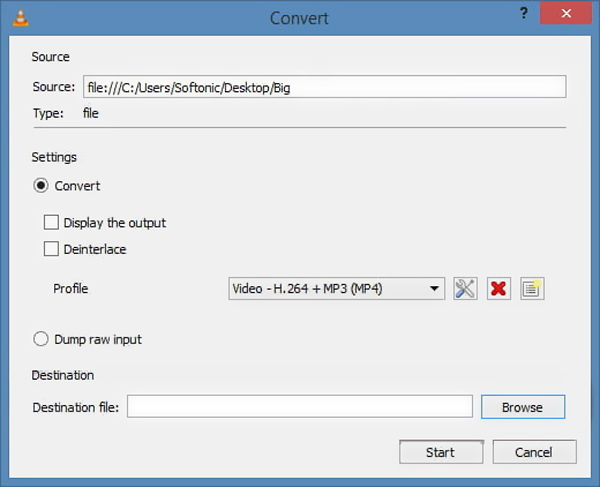 Step 4 After that, you can click Start button to confirm the operation of converting WebM to MP4 with VLC.
Part 4. How to Convert WebM to MP4 Using FFmpeg
FFmpeg is a leading multimedia framework which can decode, encode, transcode, mux, demux, stream, filter and play files. It is kind of a collection of different projects for handling multimedia files. FFmpeg is compatible with Microsoft Windows, macOS, Linux and more. The following guide will show you how to use FFmpeg to convert WebM to MP4.
Step 1 First, you need to download and install FFMpeg on your computer. To use ffmpeg in windows, you need to download the binaries from the website of FFmpeg Builds.
Step 2 You can either use a library or write your own commands of ffmpeg to execute them using shell_exec. In that case, you can interact FFMpeg with PHP. The Object Oriented library, PHP-FFmpeg allows you to convert video/audio files with FFmpeg/AVConv.
To add this FFmpeg wrapper to your project, you can execute the following command in your terminal, composer require php-ffmpeg/php-ffmpeg.
Step 3 You can use the -c:v copy option, ffmpeg -i video.webm -c:v copy video.mp4 to make the video conversion from WebM to MP4.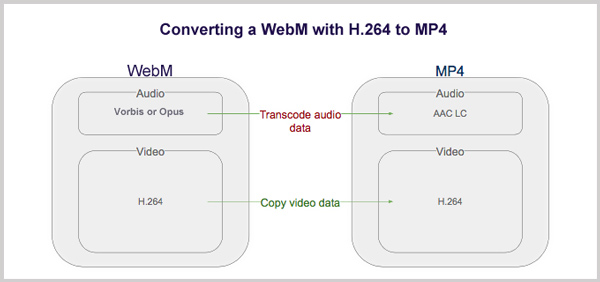 You can convert WebM to MP4 with FFmpeg. But you may feel quite complex to complete the whole converting process. So you'd better choose the first 3 methods to make the WebM to MP4 video conversion.
Part 5. FAQs of Converting WebM to MP4
What is WebM video format?
WebM is an open-source, 100% free, media container format which designed for the web. It is based on the Matroska container. It contains the video streams compressed with the VP8 or VP9 video codecs and audio streams compressed with the Vorbis or Opus audio codecs. One key benefit of WebM is that it is open for anyone to implement and improve. Webm is optimized for web with a simple container and low computational footprint. In that case, it can offer smooth playback on any device.
Why convert WebM to MP4?
WebM videos can be played only in Firefox, Google Chrome and Opera. Moreover, the Microsoft Edge 14 only supports WebM files containing VP9 video and Opus audio. And IE and Safari browsers don't offer any built-in support for WebM. So sometime, it is very difficult to play a WebM file on your device. Converting WebM to MP4 is a good solution to solve the playback problem.
Is WebM better than MP4?
Both WebM and MP4 offer relatively similar compression. The difference is the specific sizes of the same files of MP4 and WebM. In general, WebM files tend to be a bit smaller than MP4 files. But MP4 can be supported by almost all media players and devices. WebM is mainly used for the web. At this aspect, you can say that, MP4 is better than WebM.
Which player can play WebM video?
WebM file can be supported by Chrome v6, Opera 10.60, Firefox 4, and Internet Explorer 9. If you are a Windows user, you can also play the WebM file with Windows Media Player. Some popular media player like MPlayer, KMPlayer and Miro can also read and play WebM videos.
We have mainly talked about the WebM to MP4 conversion in this post. You can learn more information about the WebM format. What's more, you can get 4 simple methods to convert WebM to MP4 without losing much image or sound quality. Leave us a message if you still have any questions about the WebM to MP4 converting.