Summary
AVCHD (Advanced Video Codec High Definition) is a high-definition camcorder video format developed by Panasonic and Sony. The AVCHD format is capable to record HD video at a resolution of 1080p, 1080i and 720p. Thus, AVCHD produces large video files.
Free Download
Free Download
MTS and M2TS are both the file extensions for AVCHD. If you want to save space while maintaining the high video audio quality, you can compress AVCHD video files here. There is no need to delete your downloaded movies or other large files to free up space.
If you want to play your shots on your iPhone or Android device, you should also convert AVCHD to MP4 or other compatible formats. Generally speaking, all you need to do is convert the video from M2TS or MTS to MP4 and reducing the file size. Which one is your best MTS to MP4 converter to convert and reduce large MTS files? You can get the answer here.

Compress AVCHD Video
Part 1: How to Compress AVCHD Files Online for Free without Losing Quality
Though there are many online file compressors, they are not totally free to use. Maybe you can compress an AVCHD video no more than 100MB or 200MB for free. But when you need to compress AVCHD video in large file size, you need to subscribe or pay extra fees.
Is there any free AVCHD converter and compressor online? Well, Apeaksoft Free Online Video Compressor can be your nice choice. You can compress any MTS or M2TS video online for free, no matter how long the AVCHD file is.
The intuitive interface is friendly to all users. You can access all file compressing features directly. Furthermore, Free Online Video Compressor offers the 30x faster compression speed than other common online file compressors. You can get the one-stop solution to compress MTS files, as well as M2TS ones.
Step 1Visit the online MTS compressor at https://www.apeaksoft.com/free-online-video-compressor/. Click "Add Files to Compress" and run its launcher.
Step 2Add your AVCHD video in MTS or M2TS extension. In the "Size" section, you can reduce MTS file size online free by percentage. It is also supported to make an MTS file smaller by settings the current file size accurately.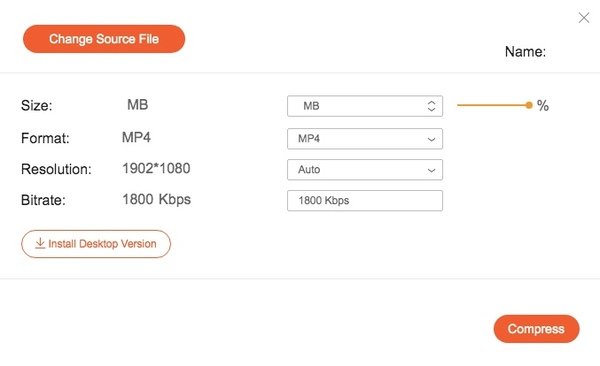 Step 3If you want to convert MTS to MP4 online, you need to select "MP4" from the "Format" list as the output format. There are many popular profiles you can get. Meanwhile, you can change the video resolution and bitrate too.
Step 4Click "Compress" and set the output folder. That's the final step of the MTS compression. Later, you can play MTS files on any device, player, or editor without the incompatibility issue.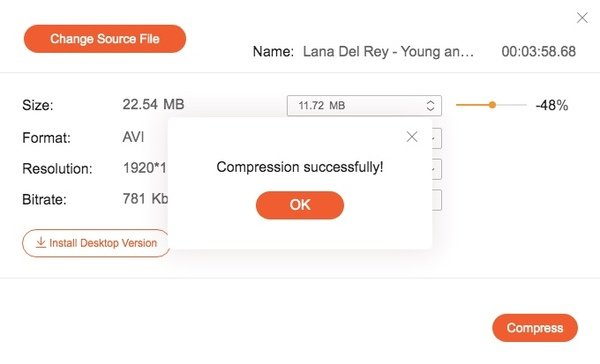 Check this tutorial to get more about the best MP4 converter here.
Part 2: How to Convert AVCHD to MP4 with VLC to Reduce File Size
MTS and M2TS files are accepted by VLC Media Player, Windows Media Player and more. You can use VLC as your MTS to MP4 converter app as well. Since VLC is a cross-platform media player, you can convert MTS to MP4 on Windows 10, Mac, iOS and Android for free. Well, you can use some tricks to compress MTS video too.
Step 1Run VLC Media Player. Choose "Convert/Save" from the "Media" list on the top. Click "Add" in the "File" section to add one or more MTS video. Then click "Convert/Save" to move on.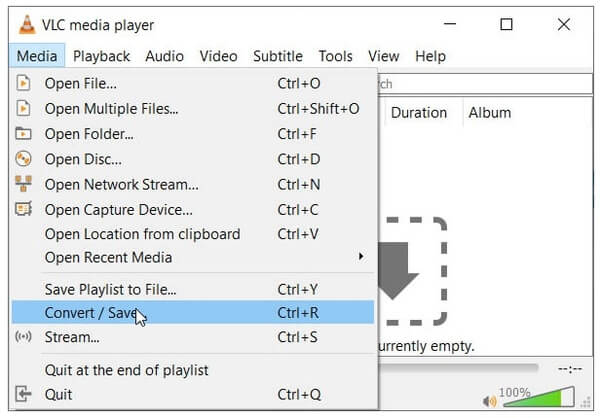 Step 2Choose the output MP4 format from the "Profile" list. You can also choose other specific profiles for Android, iPhone and more.
Step 3Click "Tools" next to "Profiles" to adjust video codec, bitrate, quality and frame rate. You can compress M2TS files approximately. But it is hard to control the video compression ratio.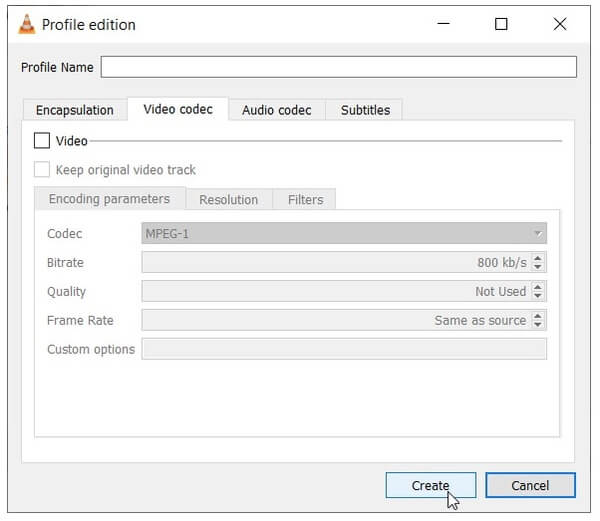 Step 4Click "Browse" to set your destination folder. At last, click "Start" to convert MTS files to MP4 and reduce video file size.
After that, you can easily send the large videos via Email, messages, or other apps.
Bonus Tips: M2TS VS MTS
The AVCHD camcorder records video in .mts. But when you import the RAW footage to your computer, it will become .m2ts. Just like what Wikipedia says, HD cameras record MTS but export as M2TS. To be more specific, M2TS is commonly used for storing HD video on AVCHD and Blu-ray disc. While MTS is the recording format used by Sony and Panasonic HD camcorders.
FAQs of AVCHD Compression
What does AVCHD format mean?
AVCHD stands for Advanced Video Coding High Definition, a recording format designed for recording high-definition video to media such as recordable DVD media, hard disk drives, and memory cards.
What is the best video compressor?
Here is a review of the top software for video compressing: Best Video Compressor.
How do I convert AVCHD to MP4 for free?
You can try a free online video converter to make the conversion from AVCHD to MP4. Free Online Video Converter does best in converting any video or audio to MP4, AVI, MOV, GIF, MP3, YouTube, etc. for free using your browser.
Conclusion
Apeaksoft Free Online Video Compressor is your ultimate solution to flexibly compress MTS files and convert to MP4 and other compatible formats. It is 100% free and safe to use. Considering about the file size and compatibility, many people choose to convert MTS to MPG or MPEG. Well, you can also check how to convert MKV to MP4, FLV to MP4 and AVI to MP4 here.