"We need to convert an AIFF file, produced by Sibelius into an MP3 file so that someone can play it on a 'boom box' CD player…"
Hey guys, what's the best converter for AIFF to MP3 that I can get for free?"
"I'm looking for a tool for AIFF to MP3 mass converting…"
By converting AIFF to MP3, you can get the same content with the pretty good audio quality and a small file size. There are many online and offline AIFF to MP3 audio converters in the market. This article will show you two awesome AIFF to MP3 converters for batch audio conversion. Thus, you can convert large AIFF files to MP3 in bulk quickly and easily. Just read and follow steps below to convert AIFF to MP3 for free online or offline.

Part 1

: AIFF VS MP3, What Is the Best Format for Music

To start with, let's figure out the battle of AIFF VS MP3. The main difference between AIFF and MP3 is compression. AIFF (Audio Interchange File Format) is the audio format developed by Apple with a long history. AIFF is lossless and uncompressed. Thus, AIFF format is widely used by professional level audio applications. Well, you can regard it as the major drawback of AIFF too. Because AIFF consumes about 10MB for per minute of audio at 44.1kHz.

As for compressed MP3 audio format, you can get about 1MB for every minute of audio recording. Generally speaking, you can get pretty good audio quality with lossy MP3 audio format. Of course, some not important portions of audio information will be discarded. By the way, MP3 is the worldwide popular audio formats that are supported by almost all audio players. If you do not use Apple iPhone/iPad/iPod, you need to convert AIFF to MP3 to fix the incompatible issue. All in all, compression and compatibility issues are advantages and disadvantages of AIFF VS MP3.
Part 2

: Best Way to Convert AIFF to MP3 Online for Free

It is true that you can find lots of AIFF to MP3 audio converters online. However, the file size limit is the one of the serious questions for most AIFF to MP3 online converters. During this time, you can use Apeaksoft Free Online Video Converter. It is a totally free AIFF to MP3 batch converter. You can convert large AIFF to MP3 or OGG to MP3 in a short time. Moreover, you can adjust audio settings before converting AIFF to MP3 online.

Main Features of the Online AIFF to MP3 Converter
Convert AIFF to MP3, AAC, AC3, WMA, WAV and other audio formats with super high speed and quality.
Customize the output AIFF to MP3 audio file with audio encoder, sampling rate, audio channel, audio bitrate and loop animation.
Upload more than one large AIFF file and convert to MP3 in bulk.
No platform or file size limit.
How to Convert Large AIFF Files to MP3 in Fast Speed and High Quality
Step 1. Visit the official site of Free Online Video Converter. Choose "Download Launcher" and follow its wizard to install Apeaksoft Launcher.

Step 2. Launcher the MP3 audio converter. Click "Add File" on the top left corner to import your AIFF audio file. There is no file size limit. Your large AIFF file will be imported to the AIFF to MP3 converter online quickly.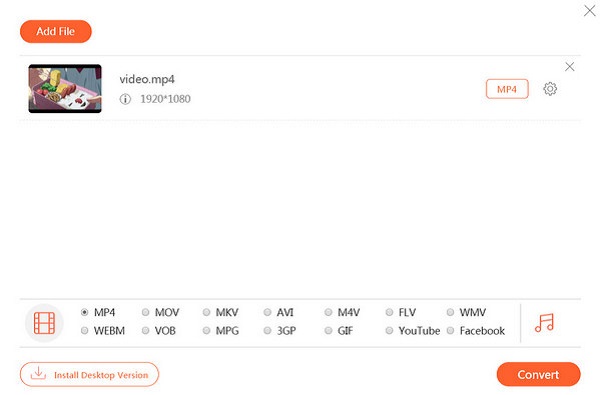 Step 3. Choose the "Music" icon near the bottom to get all available output audio formats. Select "MP3" from various choices.
Step 4. Click the "Settings" icon next to the output MP3 format. You can change "Profile" and "Audio Settings" based on your need. Then click "OK" to move on.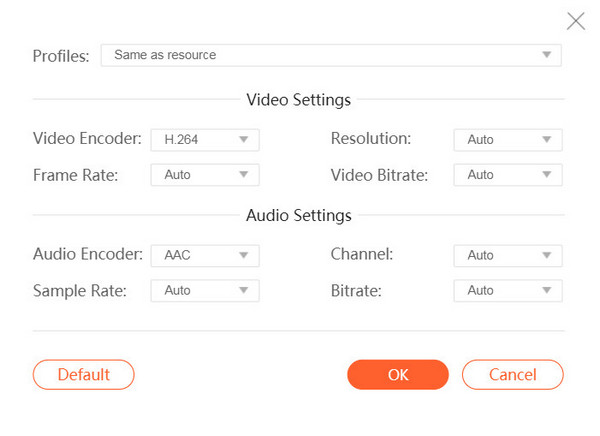 Step 5. Click the "Convert" button on the lower right corner. Sooner, you can convert AIFF to MP3 online for free.
You can upgrade to its pro version to get audio editor and more output profiles. The AIFF to MP3 converter software works for both Windows and Mac users.
Part 3

: How to Convert AIFF to MP3 with Audacity

Audacity is the free and open source audio converter for Windows and Mac. You can convert AIFF to MP3 and many other formats for free. Moreover, you can also get advanced audio editing functions to cut, copy, paste, multitrack mixing and many other functions. Its interface is not intuitive. Thus, beginners may have difficulties to convert AIFF to MP3 on Mac or Windows by using Audacity.

Step 1. Download, install and launch Audacity.

Step 2. Choose "Project" > "Import Audio" > the AIFF audio file you want to convert > "Open".

Step 3. Click "File" and select "MP3" as your output audio format.

Step 4. Set the file name and destination folder. then click "Save" to continue.

Step 5. Edit the AIFF to MP3 metadata with artist, album, genre and other audio information if necessary.

Step 6. Click "OK" to convert AIFF to MP3 with Audacity.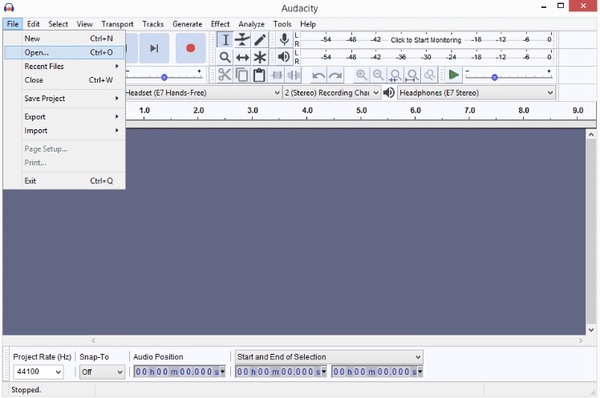 Free Online Video Converter and Audacity are both excellent AIFF to MP3 converters. You can use two programs as your 3GP to MP3 converter too. If you have no experience of converting audio to MP3 before, Free Online Video Converter will be the better choice due to its intuitive interface. After converting AIFF to MP3, you can transfer MP3 files from your computer to smart phone for offline listening. Well, you can also transfer music from iPhone to Android without incompatibility issues.