Transferring or uploading video files in large size online or via email and other sources will be a time-consuming case. So it'd be a good idea to reduce video size in an easy way or with some powerful video tools before sharing them out. Generally speaking, using a free online video compressor can be the easiest and most economical solution.

1. Apeaksoft Free Online Video Converter
Apeaksoft Free Online Video Converter is a totally free online video converting tool. It enables you to convert media files to any popular video/audio formats online quickly and safely. After converting the video, it allows you to upload the converted video to YouTube or Facebook. More over, it enables you to resize video by customizing the output file with various settings. In order to reduce the video size, you can change different parameters of the video file like video resolution, frame rate, video bitrate, etc. Follow the steps below to learn how to reduce video size with Apeaksoft Free Online Video Converter.
Step 1. Open Apeaksoft Free Online Video Converter, click "Add Files to Convert" button, then you will be asked to install a small launcher, which will only take you seconds to download and install.
Step 2. After you install the launcher, click the "Add Files to Convert" button again to upload the video file that you want to reduce size.
Step 3. If you only want to resize the video, there is a small Settings icon beside the video file. Click this icon, then you can change the video settings like Resolution, Frame Rate, and Video Bitrate to reduce video size.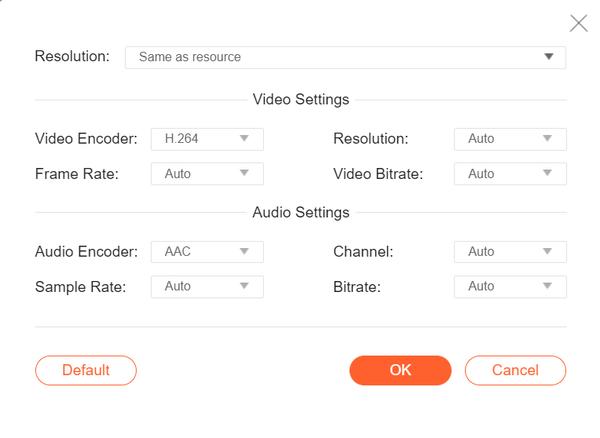 You can also choose the output format as MP4, MOV, MKV, AVI, M4V, WMV and more if you want to change video format. Plus, it's also feasible to change the video format as MP4 in order to reduce video size.
Step 4. After all the settings done, click the "Convert" button to choose a folder to save the converted video, then the video will be reduced size and saved to the folder you choose.
Pros:
This online video compressor is totally free and there is no watermark.
This free online video tool is compatible with any popular browser and computer.
It enables you to resize a video for Facebook and YouTube directly.
You are able to upload multiple videos and reduce their size simultaneously. More over, there is no size limit to the source video you upload.
If you want to edit your video with more powerful features, there is also a desktop version available for you, which is Apeaksoft Video Converter Ultimate.
Con:
The launcher is not stable sometimes, you need to be patient with it.
2. KAPWING Video Resizer
KAPWING is an online video resizer specially designed for Instagram, Twitter, and Facebook. You can perfectly reduce your video size to fit for popular social media platforms in just three clicks.
Step 1. Upload your video. Or if your video is from YouTube, Vimeo, or some other video sharing websites, you can paste the URL of the video to the box beside the upload button.

Step 2. Select the aspect ratio. You can resize the video to 1:1 for Instagram, 9:16 for Instagram Snap Story, 16:9 for YouTube, 4:5 for Facebook Twitter Portrait, or 5:4 for Facebook/Twitter Landscape.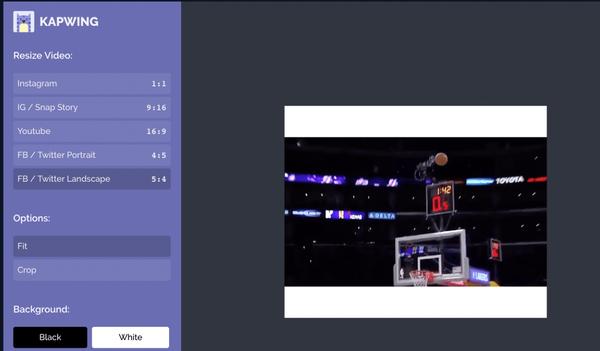 Step 3. Crop or trim video. You are also allowed to crop or trim the video length according to your need.
Step 4. Download the video you have resized to publish it on social media. There will be no quality loss because Kapwing maintains the video resolution.
Pros:
This online video resizer is free and professional to resize video for Instagram, Twitter, Facebook, and Facebook cover.
It helps you reduce video size without losing quality.
Cons:
It takes much time to upload the video if it's in large size.
KAPWING Video Resizer can only support very limited video formats, which include .mp4, .mov, .webm, .ogg formats.
It takes a while to wait for the video to be resized before you can download and upload it to social media platforms.
3. VideoSmaller
VideoSmaller is a free online video tool with clear intent to help users reduce video size without quality loss. To use this online video compressor smoothly, you'd better have a high bandwidth internet connection.
Step 1. Click the "Browse" button to upload the video you want to resize.
Step 2. Then you can choose whether to use low compression level to reduce video size yet not to degrade video quality. Additionally, you are allowed to scale video width and remove audio from video.
Step 3. After you make all settings ready, click the "Upload" button to upload and resize video.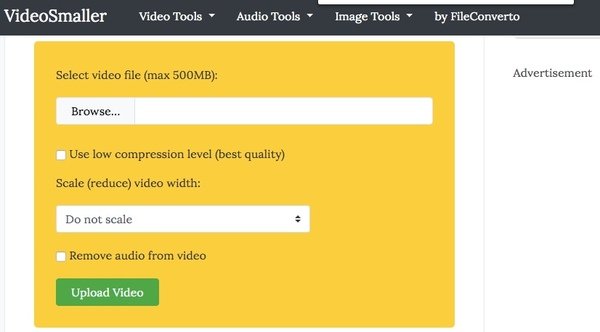 Pros:
This online video resizer is totally free and easy to use.
Your uploaded video files will be removed from its website hours later after you finish your work.
Cons:
You can only upload no more than 500MB video to this online video compressor.
4. Clipchamp
Clipchamp is a professional video compressor to help you compress videos to save storage, for easier sharing and faster uploads. It also allows you to convert video format or record video online. If you deal with video every day, this video tool is suitable for you.
Step 1. Click "Compress a video now", there are three versions available for you to choose, they are Basic, Business and Enterprise. If you only want to use it for free, please choose Basic and click "Get Started".

Step 2. In order to continue using the free version, you will be required to enter your email address to sign in. After you enter your email address and click "Send me magic link" button, your mail box will receive an email with the magic link. You can click the magic link to log in the website again and start to resize your video. Please note that the magic link is only valid for one hour.
Step 3. Click "Convert my video" to import your video. After the video is uploaded, click "Customize settings" to change the resolution, format and quality of your video to reduce its size.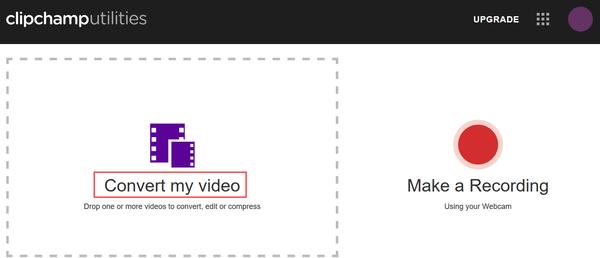 Step 4. Click "Start" button to resize your video. You are allowed to upload the converted video to YouTube, Vimeo, Facebook and Google Drive, or save it to local.
Pro:
Clipchamp is more powerful than other online video compressors in that it enables you to record video online.
Cons:
It's not easy to use this online video resizer because you need to sign in with your email address at first.
There is watermark with the converted video if you use the free version. And the free version only allows you to record video in 5 minutes.
5. Apowersoft Free Online Converter
Apowersoft Free Online Video Converter can also work as a free video compressor. It supports for various video formats like MP4, MOV, AVI, WMV, MKV, SWF, ASF, FLV, VOB, RM, 3GP, WEBM, and more. This free online video compressor will also ask you to install a launcher before uploading video files to the website. The operation step is similar to Apeaksoft Free Online Video Converter, so here we will skip the guide steps.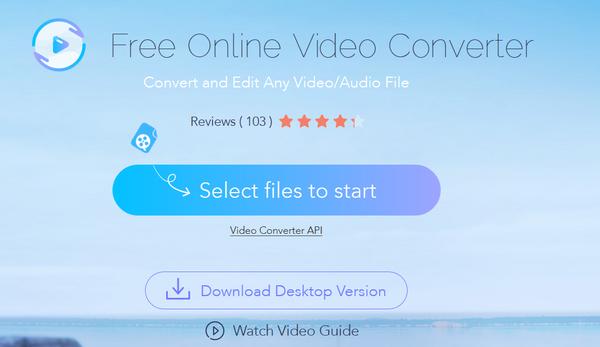 Pro:
There is no limit to the video length you upload, and there is no watermark on your converted video.
There are various output settings for you to choose from, like resolutions, output sizes, bitrates, and more.
Cons:
Sometimes you will be mad with the Apowersoft launcher, it often asks you to download the launcher again and again even if you have downloaded it already.
Conclusion
We have recommended the best 5 free online video compressors with both their advantages and drawbacks, hope some can do you a favor when you have the need to resize a video online. Generally speaking, if you only want to reduce video size and with the hope to keep the original video quality, Apeaksoft Free Online Video Converter can be the best choice, as it supports for various popular video formats. But if you want to resize video for sharing them to popular social media platforms, KAPWING Video Resizer is the best choice, since it's pecially designed to resize video for Instagram, Twitter, or Facebook. If you also have the need to record video in your computer, you can try Clipchamp.
You can try the 5 online video tools and pick the most suitable one according to your demand. Plus, you can also try some of their desktop version for more functions like video editing. Leave us a comment if you have other good tools to recommend.