3 steps to free convert video to GIF online
1

Click "Add File" button to download and install Apeaksoft Launcher.

2

Add one video format you want to convert and select converted video format "GIF".

3

Click "Convert" button. Wait for a few seconds, and the conversion will be completed.

Video VS GIF
In general, GIF and video are the same concept, but they differ in some aspects. Here are some differences between them.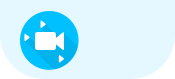 VIDEO
1.

A large variety of formats (MP4, WMV, AVI, FKV, etc.

2.

Video is an electronic medium for recording, broadcasting, and display of moving visual media with soundtrack.

3.

Some video formats show only the pixels that can change from frame to frame.

4.

Video contains visual and audio.

5.

Video is larger than GIF in file size, and has higher quality than GIF.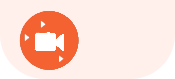 GIF
1.

A bitmap image format.

2.

A GIF is a lossless still-image or still-picture file format that has no sound.

3.

A GIF is animated image compressed to frames that loop around.

4.

GIF is background audio silent.

5.

GIF is not clear as video, usually shows in small file size.
How to convert Video to GIF with desktop version
When browsing the Internet, it is easy to see some interesting GIFs on the internet. How about making GIFs by yourself? If you have some interesting video materials, maybe you can convert them to GIFs. With Video Convertor Ultimate, it is much easier to convert videos to GIFs by following these steps.
Step 1. Download Apeaksoft Video Converter Ultimate to your computer. After that, install and Launch this program.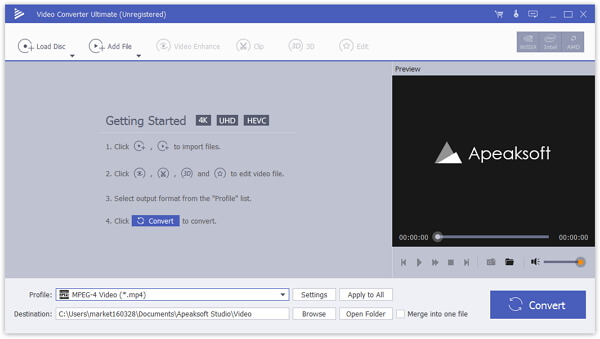 Step 2. Click "Add File" button from top menu and add a video file. Or you can drag the video file into the program.
Step 3. You are also allowed to edit your video by rotating, cropping, and adding watermark. You are also allowed to enhance your file by adjusting brightness, contrast, saturation, hue, and more.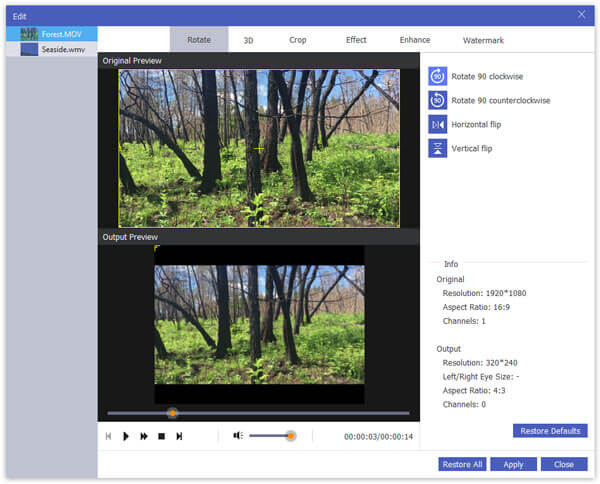 GIF file is made by combing several images or frames into a single file. If your video file lasts too long, you can clip your video file into several segments and merge them into one file.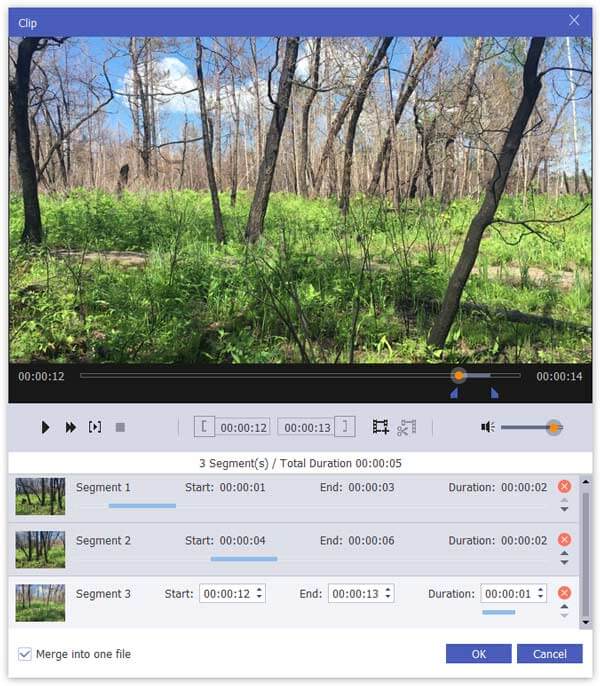 This program also enables you to crop your video. You can choose the area you want to crop and define your own GIF frames.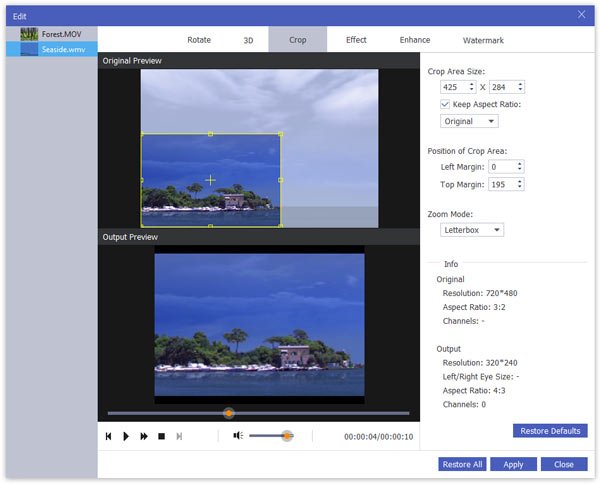 Step 4. Click "Profile" and choose GIF format. Then click "Browse" and choose the output folder where the converted GIF file will be saved temporarily. Click "Convert" button.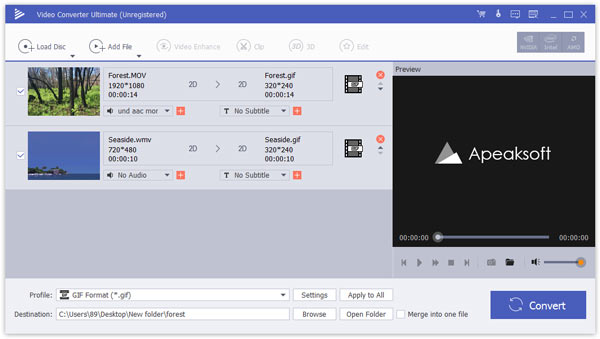 Wait for a few seconds, and your GIF file will be converted successfully. Then you can upload the GIF for sharing in Instagram, Facebook, Twiter, etc.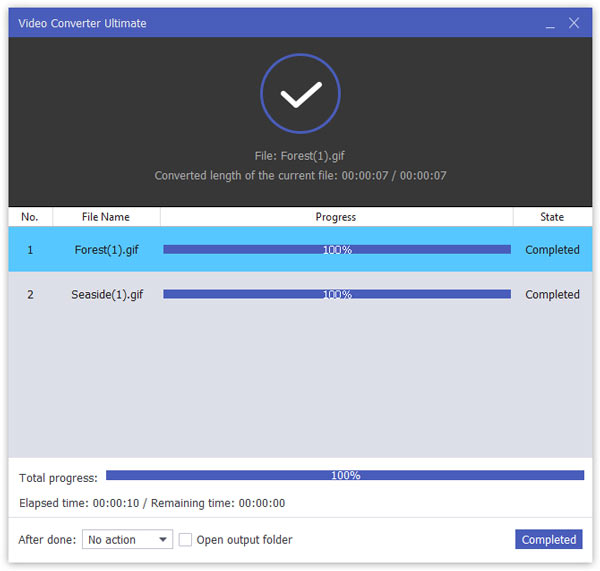 Check it here to learn more abour converting video to live photos on iPhone.
Free Online Video Converter VS Video Convertor Ultimate
When converting video to GIF, Video Converter Ultimate allows you to enhance video effects. You can clip, crop, rotate video, and enhance the effect by adjusting saturation, brightness, contrast, and more. Well, online video converter has limit in enhancing the effect.
Here are some detailed difference between Apeaksoft Free Online Video Converter and Video Converter Ultimate.
| | | |
| --- | --- | --- |
| Features | Free Online Video Converter | Video Converter Ultimate(Desktop) |
| Output video formats | Output video formats MP4, MOV, KV, AVI, M4V, FLV, WMA, WebM, VOB, MPG, 3GP, GIF, YouTube, Facebook | Over 1000 formats |
| Output audio formats | MP3, AAC, MKA, M4A, AC3, M4B, WMA, M4R, WAV, AIFF, FLAC | Over 1000 formats |
| Conversion speed | Depend on Internet | 30X faster |
| Conversion quality | Lossless quality | Good |
| File size limitation | Unlimited | Unlimited |
| Safety | Safe to use | Completely safe without any Internet connection |
| Edit video | No | Rotate, flip, crop, watermark, trim, merge |
| 4K supported | No | Yes |
| Batch converting | No | Yes |
| Require Internet | Yes | No |
| Convert DVD | No | Yes |
| Preview effects | No | Yes |
| | | DownloadBuy NowDownloadBuy Now |