- "Can an iPhone be fixed if it got wet?"
- "I dropped iPhone in water, how can I know if it was water damaged?"
- "How much does it cost to fix a water damaged iPhone from Apple?"
- "How do I dry out my iPhone 6 that has water damage?"
It is a disaster if you dropped an iPhone in water like toilet, bath, sea or other liquid. Sadly, liquid damage to iPhone or iPad is not covered by the Apple one-year limited warranty. As a result, you need to repair the wet iPhone as soon as possible. Instead of asking for help of water damage repair service, you can fix an iPhone dropped in water by yourself through this article.
Part 1

: How to Tell If Your iPhone has Water Damaged

Have you ever heard that the food dropped on the table is still clean within 5 seconds? At present, those new released iPhone X/8 Plus/8 generations are water-resistant, even though they are not waterproof entirely. To be more specific, the iPhone X, iPhone 8 and iPhone 8 Plus are rated IP67, which means they are waterproof up to 1 meter or approximately 3 feet. Therefore, it is possible thatyour iPhone can still survive from water damage.

Most iPhone and iPad are equipped with Liquid Contact Indicators (LCIs), which will be activated when your iPhone dropped in water or a liquid containing water. An LCI is white or silver in most cases. But when it turns fully red, it means your iPhone is water damaged and need to be repaired immediately. In a word, you can check the LCI of your wet iPhone to see if your iPhone has water damage or not. Thus, the most important thing is to find the red liquid contact indicator.

For iPhone X/8/8 Plus/7/7 Plus/SE/6s/6s Plus/6/6 Plus/5/5c/5s, the LCI indicator is in the right side of your Apple device. Use the paper clip or SIM tool to insert into the pinhole. Eject the SIM tray and shine a light to check the red indicator.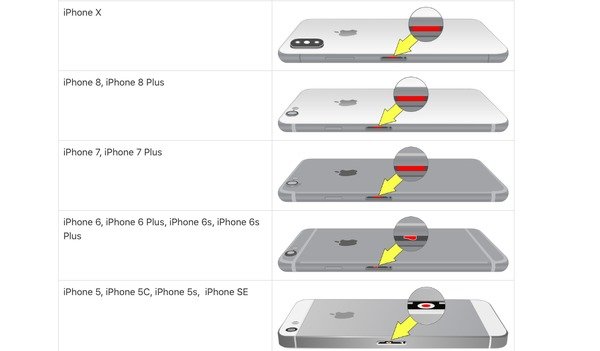 As for checking iPhone 4/4S/3GS models, the red water contact indicators are in different places including headphone jack and charging port. You can see a tiny red strip if you dropped iPhone into water and got wet unfortunately.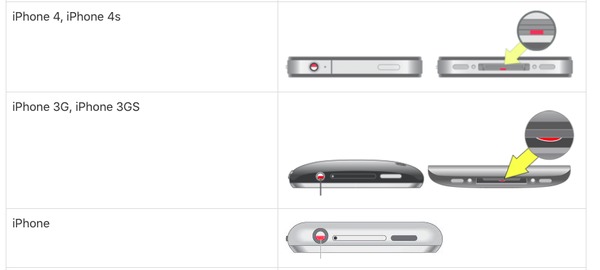 Part 2

: How to Fix a Water Damaged iPhone

Now it is time to fix a water damaged iPhone that won't charge or turn on. You can follow operations below to try iPhone water damage repair.

Step 1. Turn off your wet iPhone

Pick up your iPhone from the water immediately. Because the longer your iPhone dropped in water, the less possibility you own to fix and dry out a wet iPhone.

Power off your water damaged iPhone as soon as possible. Remember do not turn it on. Otherwise, it may cause more problems to your iPhone because of its water damage.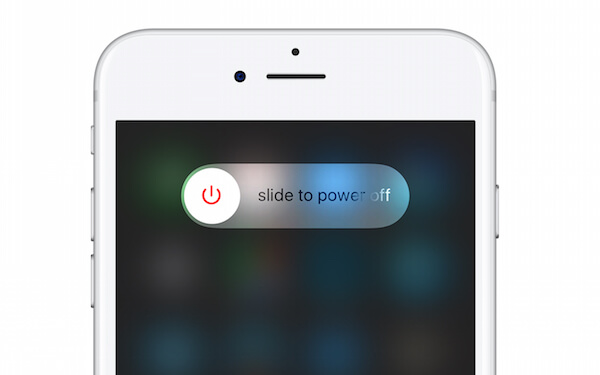 Step 2. Remove your SIM card
Take the SIM card out after iPhone dropped in water and won't turn on. Use an unbent paper clip or SIM removal tool, and then press the SIM tray. You had better leave the popping-up tray completely so that water can escape easier.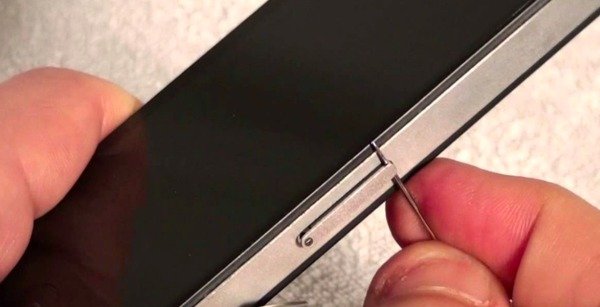 Step 3. Wipe down the wet iPhone
You need to prepare some tissue or a dry cotton cloth to absorb excess water gently and carefully. To dry out water from the charging port and headphone jack, you can use the Q-tip or other tiny cotton. It would be better if you keep the water damaged iPhone stationary during wiping.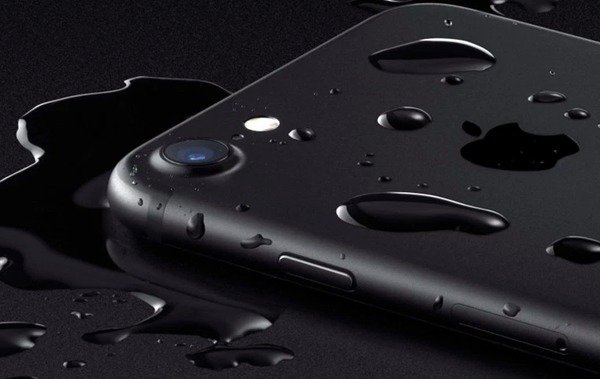 Step 4. Put the iPhone with water damage in a dry place
Putting iPhone in a soft and warm place is a good way to repair iPhone from water damage. It has been tested that placing an iPhone in a bag of rice is not helpful to fix a water damaged iPhone. And your wet iPhone should not be exposed to the sun directly, or it will be overheating and cause other related problems. So do not leave iPhone in rice and sunshine.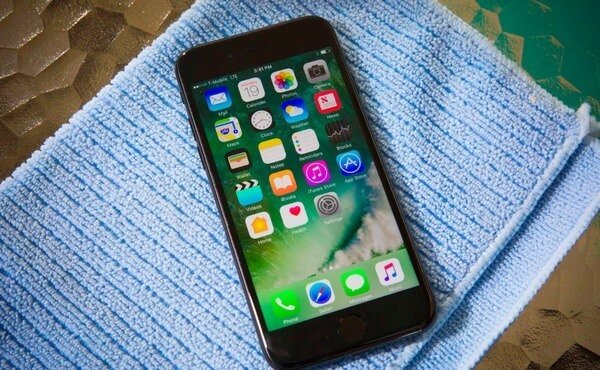 Wait at least 48 hours to dry out your iPhone after dropped in water. After that, check its LCI indicator againto see if it is fixed or not, and check if your iPhone is in service (iPhone says no service?). If you have some silica gel packets, then you can fix water damaged iPhone easier than before.
Part 3

: Recover Data from a Water Damaged iPhone

Whether you have fixed a wet iPhone from water damage or not, you can use Apeaksoft iPhone Data Recovery to get deleted or lost data back. With wide support of iOS devices, iPhone Data Recoveryis highly compatible with most popular Apple products including iPhone XS Max/XS/XR/X/8/8 Plus/7/7 Plus/SE/6s/6s Plus/6/6 Plus/5/5c/5s/4S/4 and other iOS models. Furthermore, you can recover data from an iPhone that dropped into the toilet, fish tank, swimming pool and elsewhere successfully.
Key Features of iPhone Data Recovery to Fix a Water Damaged iPhone
Recover data lost for various scenarios including water damage.
Recover and export data from any iOS device directly.
Selectively recover from iTunes backup to your computer in a snap.
Download and select up to 19 kinds of data from iCloud backups safely.
Preview and scan lost iOS data before recovery.
Free Download
Free Download
How to Recover Data after Dropped iPhone in Water and Dry It Out
You can learn that iPhone Data Recovery provides 3 different data recovery methods to help you recover data from water-damaged iPhone. If you have backed up iPhone data with iTunes or iCloud before, then you can run iPhone Data Recovery to get lost iPhone data back selectively and safely. In another word, you are able to recover data from iTunes or iCloud backups without data loss. And if your iPhone can still work after iPhone dropped in water anddried it out, it is supported to recover data from your iPhone directly. Just read and follow.
Step 1. Launch iPhone Data Recovery
Download and install iPhone Data Recovery program. Launch it and use a USB cable to connect iPhone with your computer. Then you will locate the default "Recover from iOS Device" mode.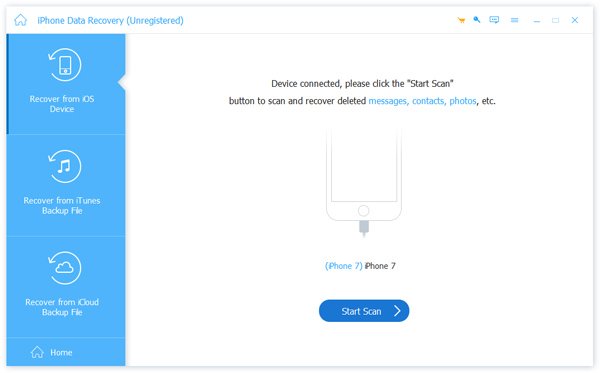 Step 2. Scan your connected iPhone
Hit "Start Scan" button to start scanning lost and deleted files including text messages, contacts, call logs, videos, photos and up to 19 kinds of iOS data. It will take you few minutes to detect your iPhone thoroughly.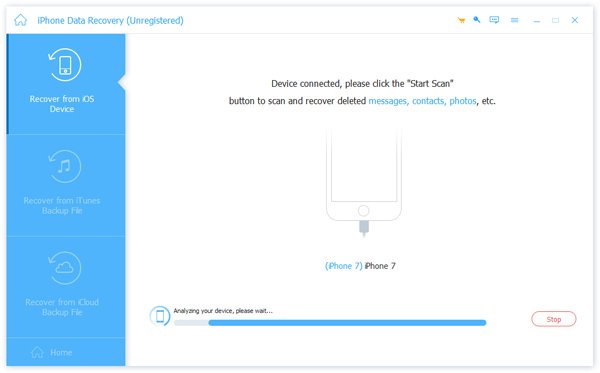 Step 3. Recover data safely to the iPhone fixed with water damage
All your available files display in categories. Choose any iOS data and then preview in detail. Turn on "Only display the deleted item" if you want to access deleted iPhone files only. Press "Recover" button and then set a destination folder to output those data to your computer without data loss.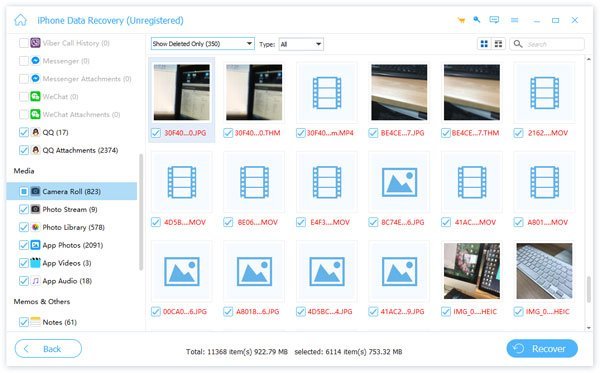 As we mentioned above, this powerful water damaged iPhone data recovering tool also enables you to access lost iOS data from iCloud or iTunes backup. In that case, even your iPhone is totally gone. All valuable data will still be easily found back.
After fixing iPhone dropped in water and recovering lost data, you can use your iPhone as usual. Remember to remove your iPhone from water immediately, and then dry the wet iPhone out with soft and warm tools. No rice bags and hairdryers, both of them are useless or even damage your water damaged iPhone worse. Visit a nearby Apple Repair Store if your iPhone won't turn on or flicker after being fixed.