- "What should I do if my iPhone 6 stuck in headphone mode?"
- "My iPhone 6 sound not working without headphones, please help!"
- "Why does my video have no sound on my iPhone?"
- "Why can't I hear sound on my iPhone videos?"

You can see similar questions about iPhone no sound raised among most popular forums, just like iPhone 6 volume not working, no sound on iPhone 6 YouTube videos, etc. Of course, iPhone no sound is a common problem for Apple users, it does not mean that only iPhone 6 users are stuck in headphone mode. Actually, they are just one part of the problem of no sound no videos on iPhone. So this article focuses on easy ways to help users get sound on iPhone again.
How to Fix iPhone No Sound Issue
iPhone no sound is a problem that differs among different people. For instance, some people report iPhone no sound on calls, which indicates that there is no sound or volume from speaker on iPhone. And some Apple users complain about iPhone no sound on video playback issue. So how to troubleshoot iPhone sound not working? You can learn from following cases.
Firstly, you should exclude the case that the sound files are good by changing iPhone notification sound, text tone, call ringtone, alarm sound, etc.. Then if the sound file is in good situation, just try the following solutions to fix iPhone no sound.
Solution 1

: Check the Mute Switch

When somebody complain about there is no sound on iPhone 7, it is important to take a look of the mute button on iPhone first. You cannot hear any sound definitely if you have triggered the mute button.

So you can locate the left side of your Apple iPhone, and then check the mute switch. If the mute button is on the downside with an orange line, then it means you have muted iPhone sound. Do not forget to adjust the volume level on iPhone to test.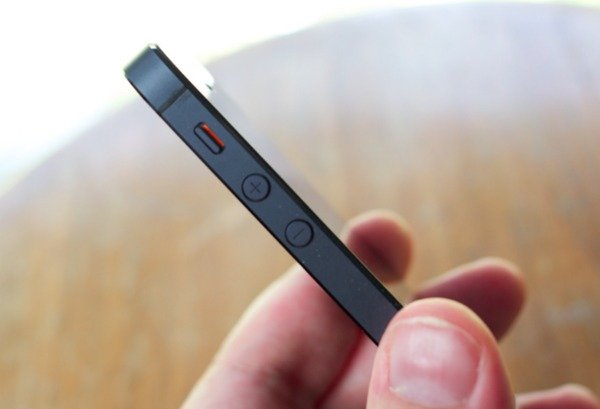 Solution 2

: Make Sure That Do Not Disturb Is Off

It is true that Do Not Disturb is useful during meetings, sleeping and other cases, but if you do not turn it off, then it will cause iPhone 6 volume not working and other iPhone no sound problems too.

When Do Not Disturb is enabled, you can see a little moon icon in the top bar. Go to "Settings" and choose "Do Not Disturb" to make sure "Manual" and "Scheduled" are turned off completely. Later, you can fix iPhone no sound when calling problem with ease.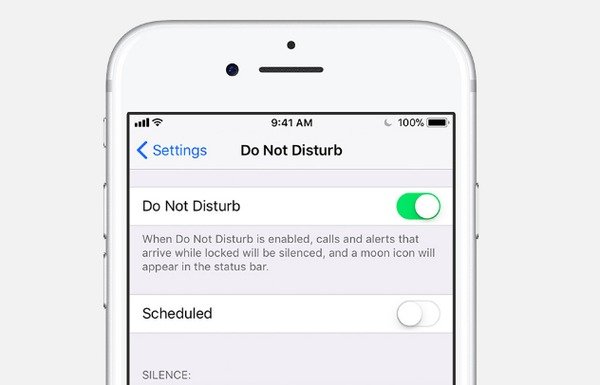 Solution 3

: Disable Bluetooth

If you use the Bluetooth headset, you need to turn off Bluetooth before fixing iPhone no sound on videos, apps, games, etc. Otherwise, the iPhone audio will be sent to a Bluetooth accessory instead of iPhone speaker.

Open "Settings" app on your iPhone. Click "Bluetooth" to switch it off and disconnect the Bluetooth headset. Then you can fix iPhone 7 video no sound and related issues quickly.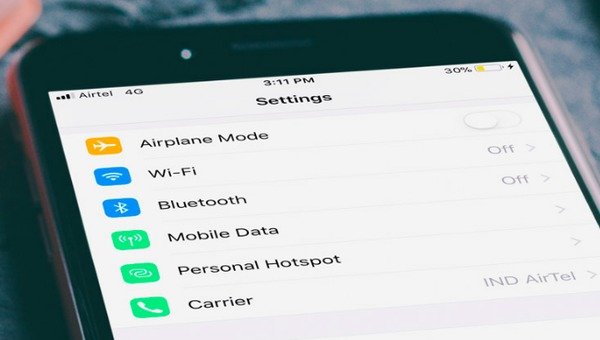 Solution 4

: Check The Notification Settings

If you have iPhone no sound problems like iPhone video no sound recorded, no sound on iPhone 5 video and other more, then you can check the notification settings as well. Maybe you have disallowed app sound and other audio settings by mistake.

Locate iPhone Settings, scroll down and select "Notifications". Then you can access all iPhone applications to have a check. Choose the certain app and make sure you have allowed the notifications. In addition, you should also set the sounds for this app.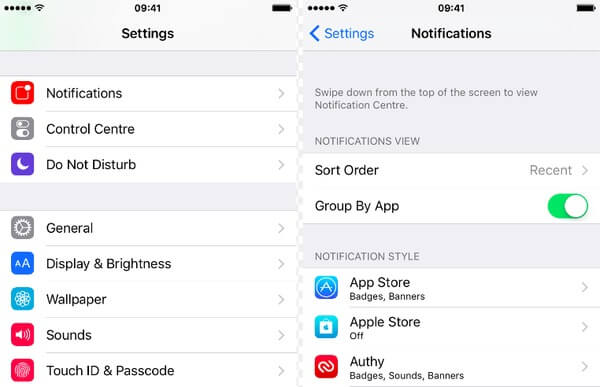 Solution 5

: Update iOS System

If you have not updated iPhone to the latest iOS version, then it may explain why iPhone sound not working without headphones. Updating iPhone system is a good way to fix software glitches automatically.

Charge your iPhone to a power source and connect to a Wi-Fi network first. Choose "Settings" to click "General" and "Software Update". Then you can check the latest iOS 11.2/11.1/11 update and tap "Install Now" button below.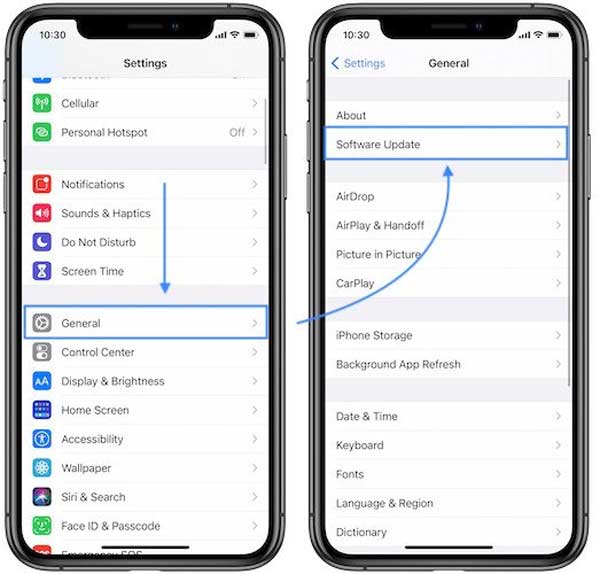 Solution 6

: Reboot or Reset iPhone

What if you have the problem of iPhone no sound after update or headphone mode, locked or other abnormal cases? Well, performing a reboot or reset on iPhone can solve the problem effectively.

To force restart your iPhone, hold and press Home button and Power button for about 10 seconds until the Apple logo appears. Then you can refresh your iPhone memory and erase the loading glitches and cache automatically.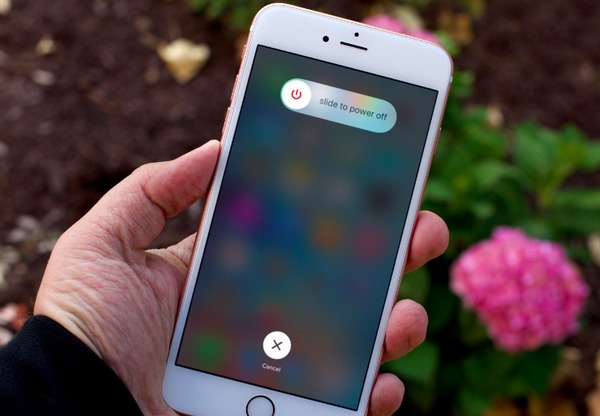 Otherwise, you can remove previous settings on iPhone to fix no sound on videos on iPhone issue. It will not delete any iPhone file or cause data loss. Choose "Settings" and hit "General". Scroll down to tap "Reset" and then press "Reset All Settings" to wipe iPhone settings back to the default state.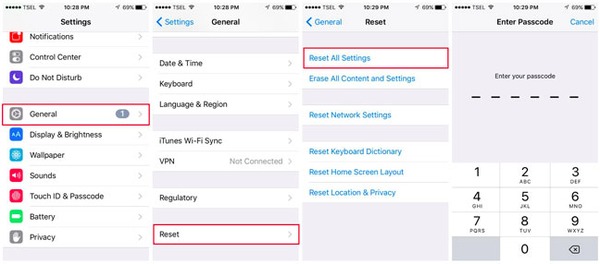 Solution 7

: Fix iPhone No Sound with iOS System Recovery

Actually, Apeaksoft iOS System Recovery can repair iPhone stuck in headphone mode and fix other iOS system errors safely and easily. In another word, iOS System Recovery can fix iPhone no sound caused by system problems without hassle. Therefore, feel free to hand sound and video issues to this versatile iPhone system recovery software.
Fix iPhone stuck in headphone mode, DFU mode, recovery mode, loop restart, etc. to normal state.
Highly compatible with all iOS devices including iPhone 14/13/12/11/XS/XR/X/8 Plus/8/7 Plus/7/SE/6S Plus/6S/6 Plus/6/5S/5C/5/4S, etc.
Easy to use and safe enough to fix iPhone no sound on video playback and related iPhone no sound problems.
Download for Win
Download for Mac
Step 1. Launch iOS System Recovery
Free download and install iPhone no sound fix software. Launch it and choose "iOS System Recovery" to enter its main interface on Mac or PC.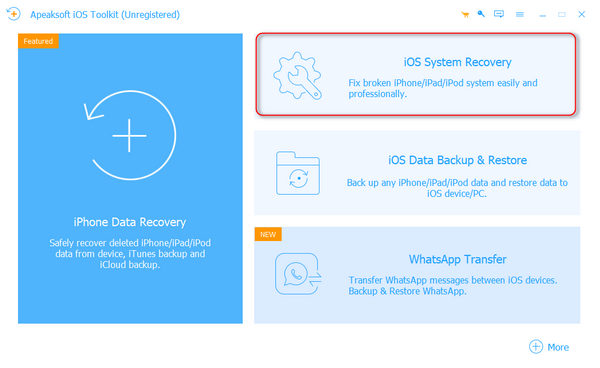 Step 2. Plugin iPhone to your computer
Use a USB cable to connect iPhone to your computer. Then press the right "Start" button to prepare for iPhone no sound fixing.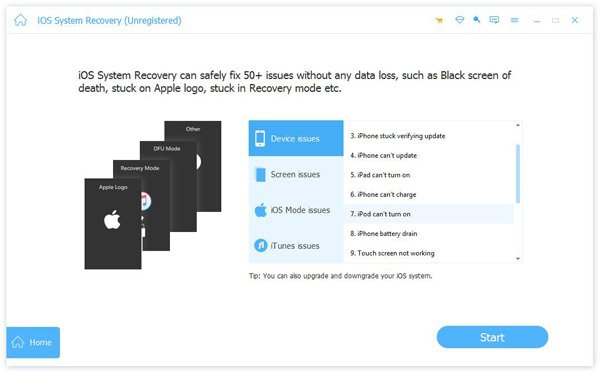 Step 3. Enter into DFU mode
Follow its step-by-step guide to put iPhone into DFU mode manually. As a result, your iPhone can be detected and then repaired successfully.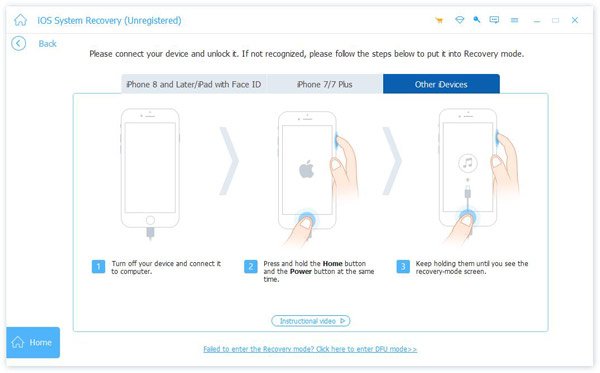 Step 4. Choose iPhone model
Check the detected iPhone information of iPhone model, type and category. Furthermore, you can also set which iOS version to update.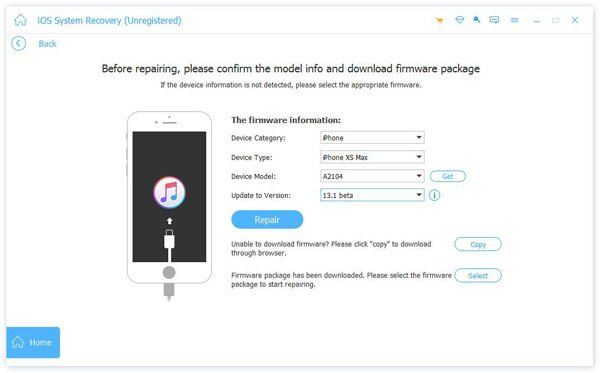 Step 5. Fix iPhone system without data loss
Click "Repair" button and then iOS System Recovery can download plugin and firmware automatically. Do not disconnect or use your iPhone during iPhone system recovery process. And it cost few minutes to repair iOS system and fix iPhone no sound problem.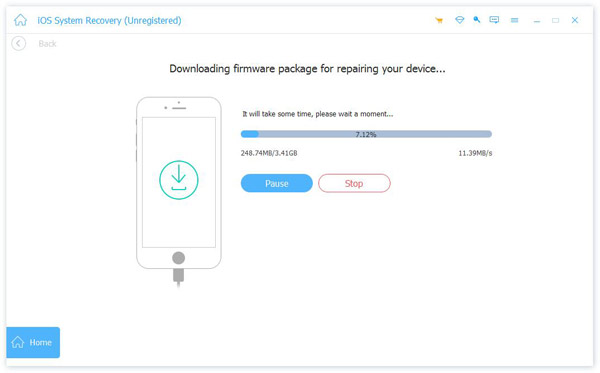 if none of those solutions work and the no sound on videos on iPhone problem still exists, then it should be the fault of hardware malfunctions. You had better take it to Apple Store for hardware check to fix iPhone no sound.