Apple released Find My iPhone app in 2013, which is able to provide location tracking data when an iPhone is stolen or lost. With high resale value, iPhone is always the desirable target for thieves. According to official data, cell phone-related thefts accounted for over 40 percent of serious crimes in San Francisco and New York City.
But Find My iPhone app increases the chances to get your phone back. How to reset a stolen iPhone when you find it back? In this tutorial, we are going to tell you the answers in detail. The solutions could help your device back to the factory status easily.

Part 1

: Best way to reset a stolen iPhone

After iPhone was stolen, the owner cannot access the device and do not want to reset a stolen iPhone with iTunes. Is there alternative solution to do factory reset? Yes, Apeaksoft iPhone Eraser is the answer you are looking for. It relies on advanced algorithm to bring an iPhone to the factory conditions. The biggest advantage is easy to use.

Step 1. Run iPhone reset program

Download Apeaksoft iPhone Eraser and install it on your PC. There is a dedicated version for Mac too. Plug your phone to the computer too.

Note: This program is able to reset multiple iOS devices at the same time.
Step 2. Choose an erasing level
Run iPhone Eraser program and it will detect your phone automatically. When presented the erasing level window, you get three erasing levels, "Low", "Medium" and "High". Follow the onscreen instructions and select a proper one.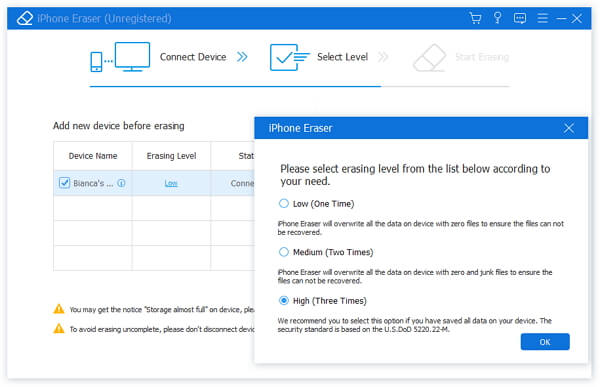 Step 3. Reset a stolen iPhone
Once click the "start" button, the resetting iPhone process will start. When the program said the process is done, you can restart your phone and set it up as a new one.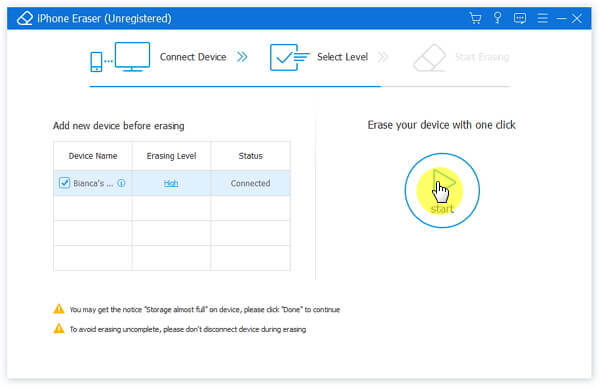 You can also follow this video tutorial below to reset your iPhone:
Part 2

: How to reset a stolen iPhone using iTunes

Apple suggests users to reset a stolen iPhone using iTunes, partly because it not only erases the information and settings on your iPhone, but also installs the latest version of iOS automatically.

Step 1. Preparations for resetting a stolen iPhone with iTunes

Check that if you have the latest version of iTunes on your PC or Mac. If you want to save your iPhone, make a backup first. Turn off "Find My iPhone" in Settings > [your Apple ID] > iCloud.

Step 2. Connect your iPhone to iTunes

Use the Lightning USB cable to connect your iPhone and the computer. Launch iTunes and wait for it to detect your iOS device. If iTunes does not recognize your phone, you can restart both your computer and your iPhone and connect again.

Step 3. Restore the stolen iPhone to factory settings
Select your phone name when it appears in upper left corner. Go to the "Summary" tab and then click "Restore iPhone". In the warning message, click "Restore" again to confirm it. Then iTunes will do the reset job.
Part 3

: How to restore iPhone data after stolen

It must be a very awful experience if your iPhone is stolen. What's worse is that, you may lose lots of important files. The good thing is, if you ever backed up iPhone data with iTunes or iCloud, you have a big chance to get them back. So after you reset a stolen iPhone, how to get these data from stolen iPhone to new iOS device?

Most people have turned on iTunes sync or iCloud backup features on their devices. It is easy to retrieve entire backup file to an iPhone. But restoring specific data to your iOS device from iTunes backup or iCloud backup is another story. You will need a third-party tool, such as iPhone Data Recovery.

Learn here to

In short, if you are looking for an easy way to selectively restore data from backup after resetting a stolen iPhone, it is the best one.