"I just updated my iPhone, but the Snapchat camera is suddenly not working, how to resolve this problem?" According to our research, users may experience a variety of issues when using the Snapchat camera, like black screen, no sound, poor quality, etc. Why is the Snapchat camera not working? The main reasons include software errors, outdated Snapchat app, insufficient space, poor internet connection, incorrect settings, and more. This article will share with you verified solutions to fix this problem quickly.

Snapchat Camera not Working
Part 1: Ultimate Way to Fix Snapchat Camera Not Working
The good news is that the Snapchat camera not working is usually caused by software issues. It means that you do not need to repair your iPhone. Apeaksoft iOS System Recovery, on the other hand, can help you resolve this problem quickly.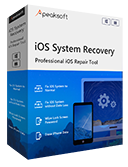 4,000,000+ Downloads
Fix Snapchat camera not working on iPhone.
Update or downgrade software to a proper version.
Protect your data and information.
Available to almost all iOS devices, like iPhone and iPad.
How to Fix Snapchat Front or Back Camera Not Working
Step 1Connect iPhone
Connect your iPhone to your computer with a USB cable when Snapchat allows camera access not to work. Install the iOS System Recovery on your machine and launch it. Select iOS System Recovery to move on.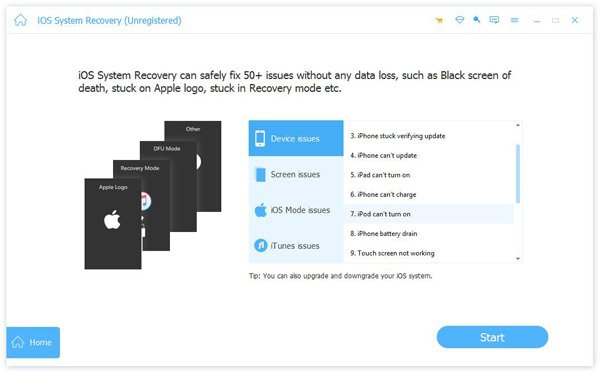 Step 2Put iPhone in Recovery Mode
Click the Start button to let the software detects the software problem on your iOS device. Next, click the Question icon and follow the instructions to put your device into Recovery Mode. Set the iOS model and other information according to your iPhone, and click Download to get the firmware.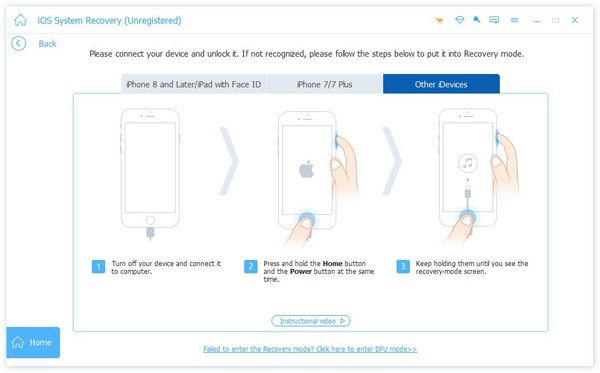 Step 3Fix Snapchat camera not working
When downloading finishes, the software will fix the problem that Snapchat front or back camera is not working. Wait for it to complete, and disconnect your iPhone. Now, the Snapchat app should work normally.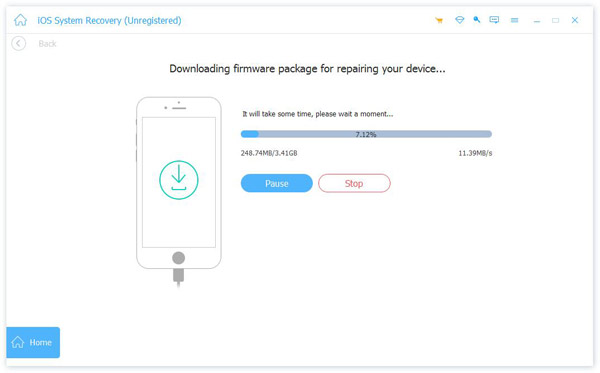 Part 2: Common Ways to Fix Snapchat Camera Not Working
Solution 1: Restart Snapchat App
The first thing you can do when the Snapchat camera is not working is restart the app. This way does not require any extra hardware or software.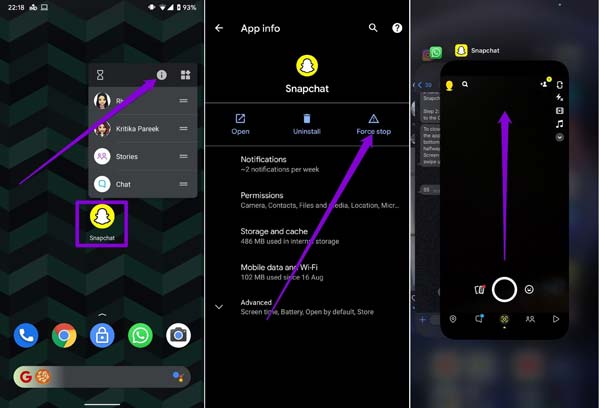 On Android: press and hold the Snapchat app, select App Info, and tap Force Stop. Restart your Android phone and open Snapchat again.
On iPhone: Enter the multi-task screen with gestures or from AssistiveTouch. Swipe the Snapchat app out of the screen. Restart iPhone and try the camera in Snapchat again.
Solution 2: Update Snapchat App
Old apps can lead to a lot of problems including the Snapchat camera is not working. The solution is very simple. You just need to update the app to the latest version from Play Store or Appl Store.
On Android: Open the Google Play Store app, select My apps & games in the Settings screen, find Snapchat, and tap UPDATE.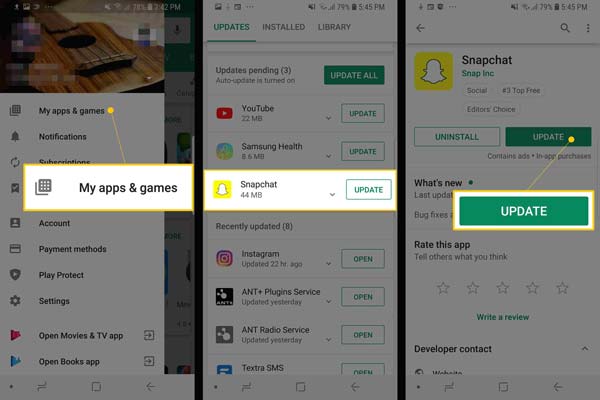 On iPhone: Run the App Store app, go to the Updates screen from the bottom, tap the UPDATE button if you find Snapchat.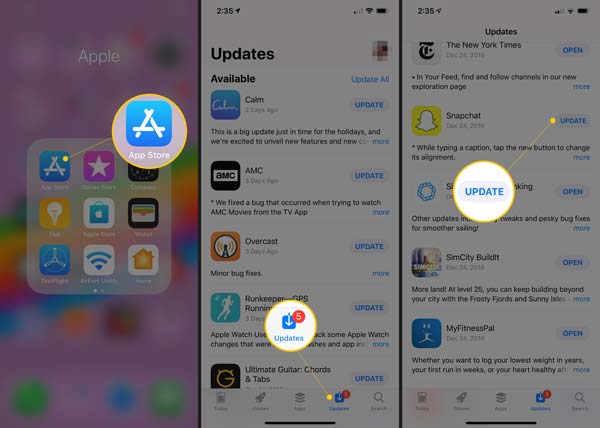 Solution 3: Set Snapchat Permission
The built-in camera in Snapchat needs to access your device camera when working. If you do not permit it, the Snapchat camera won't work at all. So, you'd better check the permissions carefully.
On Android: Go to the Settings app, tap Apps and notifications or relative items, select Snapchat, and tap Permissions. Choose Camera, and select Allow.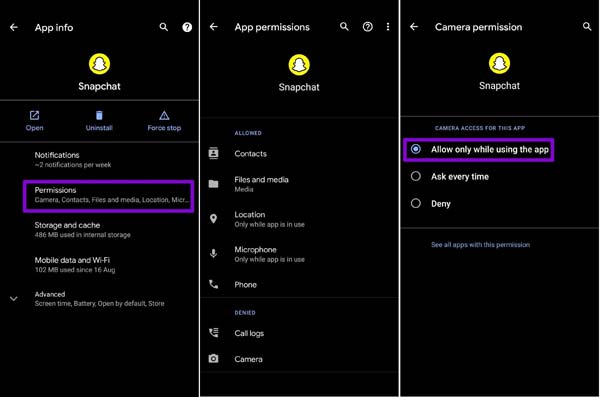 On iPhone: Run the Settings app, scroll down to find Snapchat, and select it, make sure to toggle on Camera.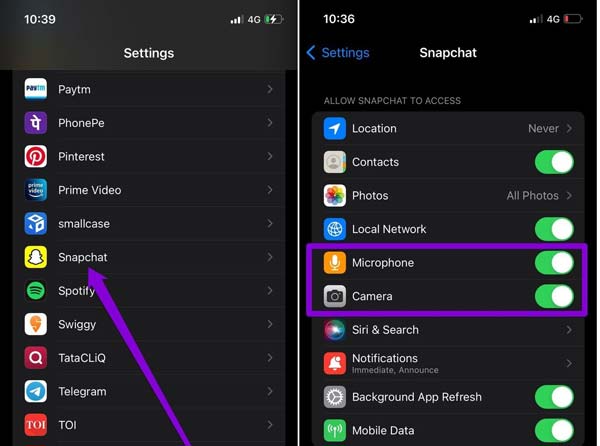 Solution 4: Clear Snapchat Cache
The last but not least solution is clearing Snapchat cache data. In fact, insufficient space is the main reason why the Snapchat camera is not working on mobile devices.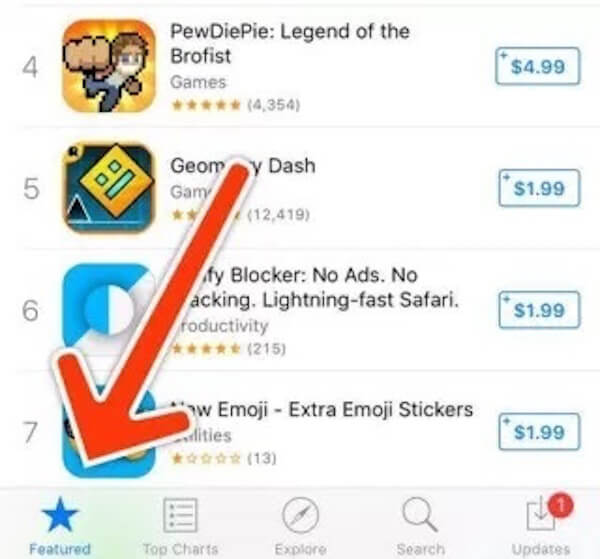 Step 1Tap the Settings button on Snapchat with a gear icon.
Step 2Scroll down to Account Actions area, and tap Clear Cache. If prompted, tap Clear.
Step 3Next, locate the WHO CAN section on the Settings screen, and tap the Lenses item.
Step 4Press Clear Local Lens Data. Now, check the built-in camera feature again.
Further Reading:
How to Recover Deleted Photos from Snapchat on iPhone
How to Delete Snapchat History on iPhone
Part 3: FAQs about Snapchat Camera Not Working
Why the Long Snap feature does not work?
Long Snap is also known as a multi-snap feature that allows you to record one minute of videos. You can update your app to the latest version to enjoy this new feature.
Can I enhance the Snapchat image and video quality?
When taking photos or videos on Snapchat, quit all other apps on your mobile device. So that the quality will surely improve.
How to fix Snapchat videos not include sound?
Make sure to disable your mobile device's silent mode. Then enable auto sound play for the Snapchat app.
Conclusion
Now, you should know what you can do when the Snapchat camera is not working on iPhone or Android devices. For average people, Apeaksoft iOS System Recovery is the best solution since it does not ask for technical skills. Of course, you can try the common solutions to resolve this problem manually. If you encounter other errors about Snapchat, please contact us by leaving your message below.