Why is my iPhone not ringing? Many users have such a question and have no idea about how to fix the problem. When your iPhone not ringing, you may miss some important calls or messages, which can cause a lot of troubles. In this case, you need to know why your iPhone does not ring and fix your iPhone not ringing at once.
The article lists some 6 best methods for you to solve this trouble. Just keep reading to find the reasons for iPhone not ringing and fix it by yourself.

Part 1

: Why is My iPhone Not Ringing

Before you fix your iPhone not ringing, you must consider this question, why is my iPhone not ringing. There are some reasons which will cause your iPhone ringer error, and here we list a part of them for your reference. Check these things when you face this problem. You can also fix your iPhone ringer not working based on these reasons.
Check if you turn off your Ring/Silent switch on the side of your iPhone by mistake. If you turn this switch off, it is sure your iPhone ringer not working.
Your iPhone not ringing if you accidentally turned on the Do Not Disturb feature in Settings.
Closing Allow Notifications should be one of the reasons that cause iPhone not working well.
Some hardware problems cause your ringer error. For example, when gunk or liquid gets into one of the ports like the headphone jack, your iPhone thinks there's something plugged into it and will be in headphone mode. So that your iPhone does not ring.
Part 2

: iPhone Not Ringing, How to Fix
Method 1

: Turn on the Ring/Silent Switch

When you check your iPhone before you fix iPhone not ring and find your "Ring/Silent" switch is turned off, you can fix this problem by simply turn this switch on. This switch is on the left side of your iPhone device. If the switch is pulled toward the screen, that means your iPhone's ringer is turned on, while it is pushed toward the back of the iPhone, your iPhone is on silent and you can see the small orange stripe on the top the switch.

Method 2

: Turn off Do Not Disturb

When you open Do Not Disturb on your iPhone, you will not receive any calls or messages. It is a good feature Apple developed for you when you want to have a good rest. If you turn it on, you may think your iPhone not ringing. To solve this problem, you can simply turn it off. You can go to Settings and then tap Do Not Disturb, and then make sure "Manual" and "Scheduled" are off. You can also flip up from the bottom of the screen and tap the moon icon to close DND when it is not highlighted.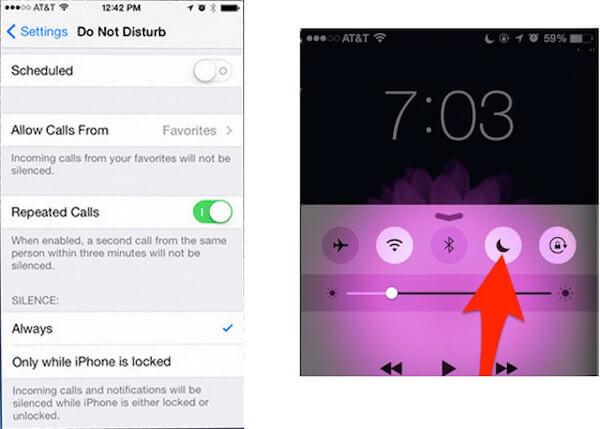 Method 3

: Turn on Allow Notifications

Like the reasons why your iPhone not ringing we mentioned above, if you find your Allow Notifications is disabled, you can turn it on to fix your iPhone ringer not working. Just go to Settings and then tap Notifications in Settings screen. Then find Phone option and tap it, next enable the Allow Notifications button.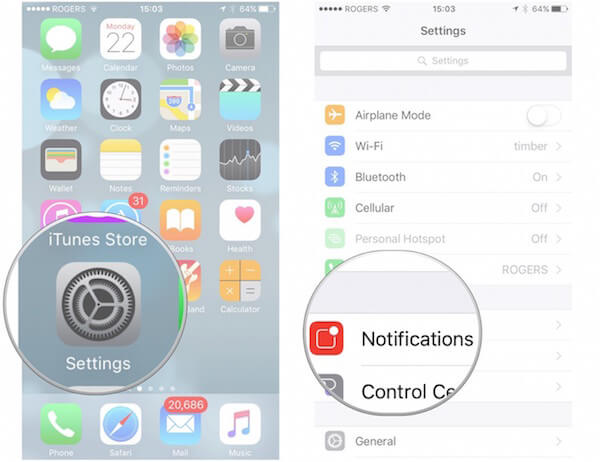 Method 4

: Restart Your iPhone

There is another easy way you can use to fix your iPhone ringer not working. Just restart your iPhone to solve this problem. There are some ways you can use to restart your iPhone and for different versions of iPhone devices, the methods of restarting are different. Here we introduce the easiest way for you and it suits all versions of iPhone devices. First press and hold Power button to turn your iPhone on. Then slide the slider to turn your iPhone off. When it is off, press and hold the Power button again until you see the Apple logo appears in your screen. Now you can test your iPhone ringer.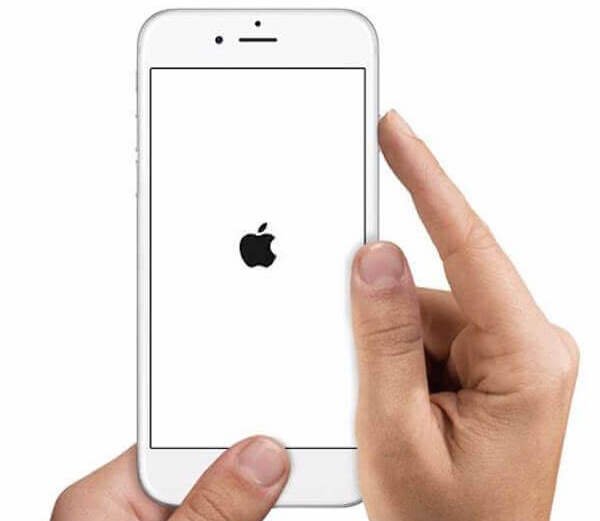 Method 5

: Try Performing a Backup and Restore on iPhone

If none of these methods we recommend to you worked, you can try to fix your iPhone not ringing by restoring it. Just download iTunes on your computer and then connect your iPhone to it via a USB cable. Then launch iTunes on your computer and you will see your iPhone's information in this program. Go to Device Tab and click Summary, then click on Restore iPhone in the showed windows. Just wait for the restoring process finished and you will factory your iPhone successfully.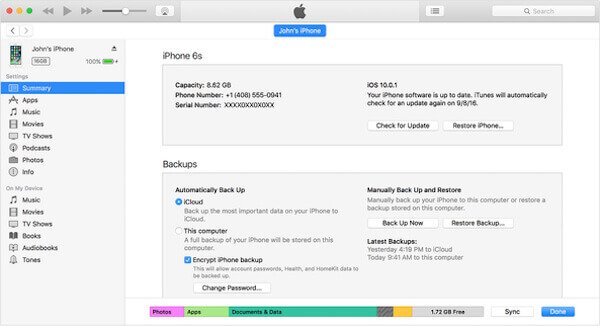 But you should know all the data saved in your iPhone will be lost and your iPhone will like a new one after these operations. So you need to back up the important data of your iPhone before you restore it to fix iPhone ringer not working. To back up your iPhone, here we recommend iPhone Data Recovery to you. It is the most professional iPhone data recovery software that gives you flexible ways to recover lost data form iPhone, iPad, iPod and more. What's more, it supports recover from all versions of iOS devices, including the latest iOS 16. The data you can retrieve with this wonderful recovery software is more than 20 types. And it also is a great iTunes data recovery tool you can use to preview, export and restore your lost data from iTunes backup. Both Windows and Mac users can enjoy this software on their computer. To fix your iPhone not ringing by restoring it, don't forget to download this fantastic software to back up your files first.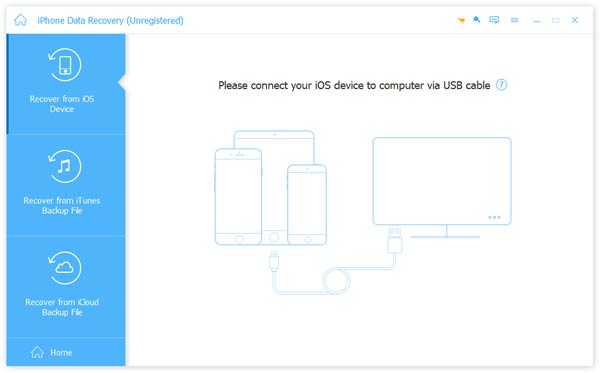 Method 6

: Fix iPhone Not Ring with iOS System Recovery

For those users who don't know the main reason causes this problem and have no idea to fix iPhone not ring, iOS System Recovery is the best software we strongly recommend to you. Whatever the iOS system problem is, this wonderful software can help you fix your iOS devices, like iPhone, iPad, iPod, back to normal. For example, if your device is stuck in recovery mode, black screen death, or your iPhone not ring, or other scenarios, iOS System Recovery can help you fix these problems easily and safely. Both Windows and Mac users can enjoy this professional software on their computer. Next is the detailed steps you can follow with.

Step 1. Download and launch iOS System Recovery

First of all, download iOS System Recovery on your computer and then finish the installation. When it is installed, launch it on your computer. Then click More Tools and choose iOS System Recovery to enter the main window.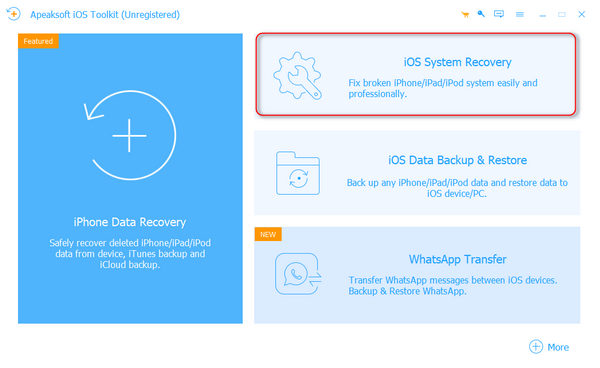 Step 2. Start iOS system recovery
Connect your iPhone to computer via a USB cable, and then click Start to begin this iOS system recovery. And this software will detect your iPhone automatically.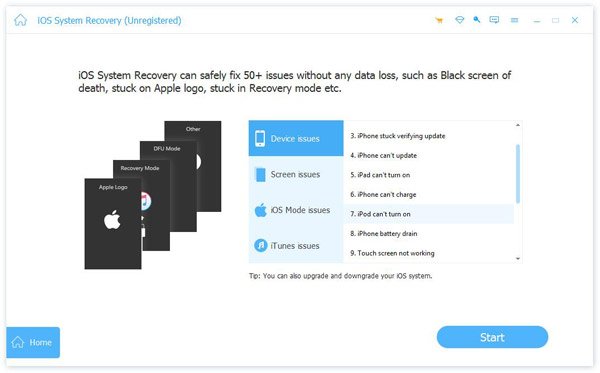 Step 3. Select the proper model
Now you need to click Question and follow the guide to put your iPhone into DFU mode. After that select the proper model of your device and click Download button to download the firmware.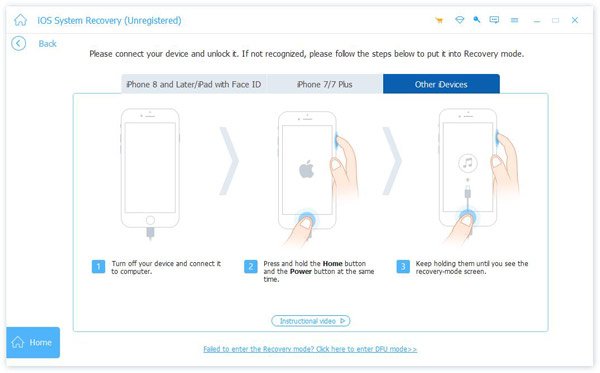 Step 4. Fix iPhone not ring
After the plug-in is downloaded, this software will help you fix your iPhone automatically. Just wait for this process patiently.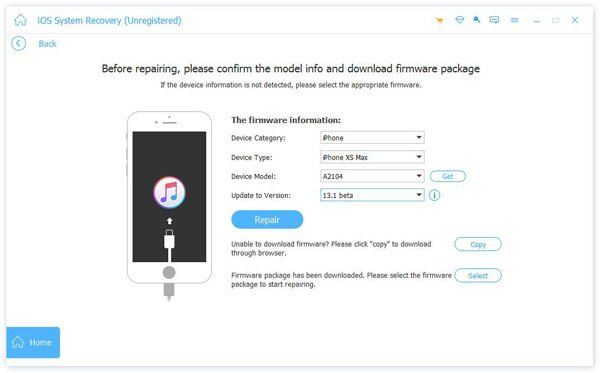 Don't Miss: 4 Best Methods to Fix iPhone Red Screen of Death
All in all, if you encounter similar problems of iCloud and iTunes, you can follow above methods to solve the problem with ease. Leave messages below if you have any problem during iCloud error fixing process. And you can also share this post if it is helpful to fix iCloud connection error.