When your iPhone says no service or searching, you cannot use it to communicate to anyone through texting, phone call, or use cellular data.
There are many causes for this problem.
1. Hardware problems. With a bad SIM card, SIM tray or sensors, your device cannot connect to service.
2. Improper placement. The signal cannot cover all corners, especially when your iPhone is in a signal dead zone.
3. Outdated iOS version, incorrect network settings and other unknown errors and bugs.
How do you fix the issue that iPhone says no service/searching?
This page collects the 7 efficient ways including hardware and software solutions, to help you get rid of the problem. All the solutions are hand-on and prove 99.8% success.

Method 1: Check SIM card
When iPhone says no service, the first thing you should do is to check your SIM card, and make sure that SIM card and SIM tray are fine. To take SIM card out, you need to prepare a paperclip or SIM eject tool.
Step 1. Press the Side button until you see the power off screen, move the slider and shut down your iPhone.
Step 2. Wait for at least 10 seconds. Pull the paperclip or SIM eject tool into the tray hole until the SIM tray pops out. Insert another SIM card, and if your iPhone works normally, it means your SIM card is broken. At this time, you have to contact your wireless carrier and replace the SIM card.
Step 3. Insert your SIM card to another mobile phone to check whether it is fine. If there is service coverage, something is wrong on your iPhone software or hardware.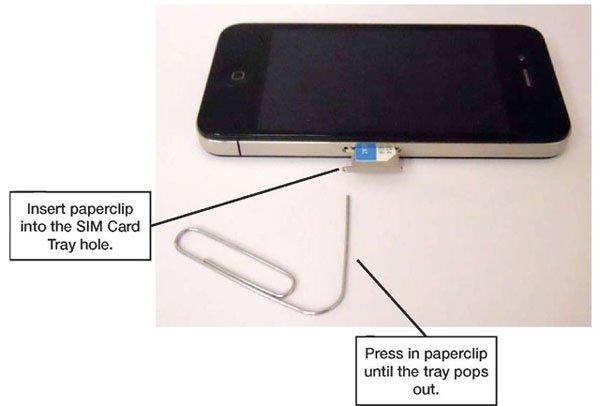 Method 2: Check your carrier service details and update
When you insert a new SIM card in your device and iPhone says no service, you need to download the carrier settings on your device. Generally speaking, your iPhone will install the update for carrier settings if there is a new one. In some cases, you have to update it manually.
Step 1. Open the Control Center and connect to a Wi-Fi network.
Step 2. Start the Settings app and navigate to "General" > "About" > "Carrier". Here you can check the information about you wireless carrier service.
Step 3. To update carrier settings manually, tap the "About" option in "General" submenu. If there is an update available, follow the onscreen instructions to install it on your device.
This way also works when your iPhone lags.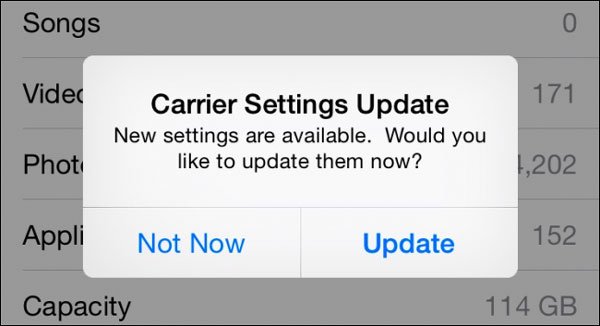 Method 3: Turn on Airplane mode and turn it off
Airplane mode is a preset option on iPhone. Once this feature is turned on, your iPhone will disconnect to carrier service. So, you should check whether you have turned on the Airplane mode accidentally. There are two ways to turn off Airplane mode.
1. Swipe upward from any screen to display the "Control Center". If the Airplane mode is turned on, tap the icon to turn it off. Otherwise, you can touch the icon to turn it on and then turn Airplane mode off.
2. Another place to check Airplane mode is the "Settings" app. Toggle the switch to turn on Airplane mode and turn it off again to find whether iPhone says no service still exists.
This solution also works to undisable your iPhone, because some apps do not work and iPhone seems to be disabled, when you turn on Airplane mode.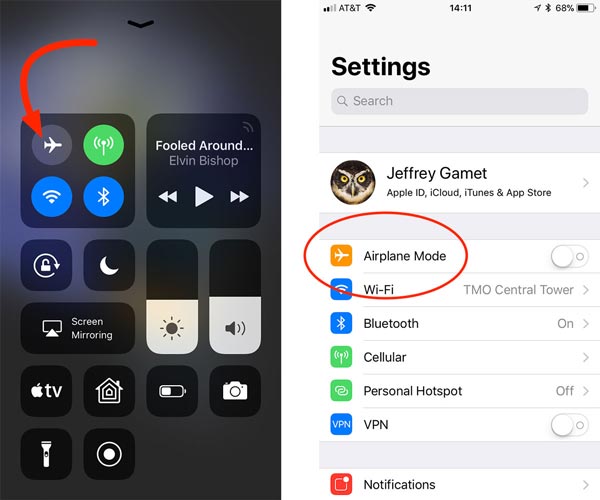 Method 4: Reset network settings
Resetting network settings is another way to fix the problem that iPhone says no service.
Step 1. Launch the "Settings" app from your home screen, head to "General" > "Reset", and tap on the option titled "Reset Network Settings".
Step 2. If prompt, input your passcode to verify you are the owner and tap "Reset Network Settings" again to trigger the process.
Step 3. When it is done, restart your iPhone and check whether the carrier service works fine.
Note: When you reset network, your iCloud restore or iCloud will be interrupted, and you need to manually resume the process after your Internet reset.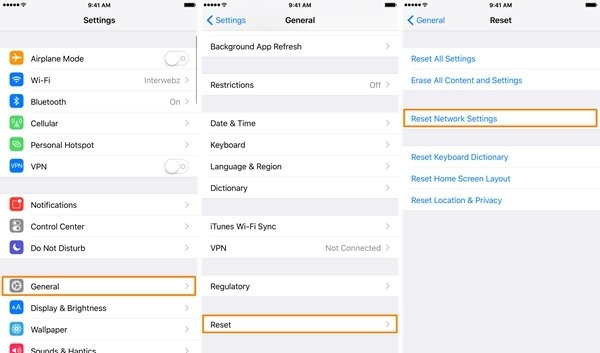 Method 5: Software update
Outdated iOS is another reason that iPhone says no service, so try to update your software when it happens.
Step 1. Go to "Settings" > "General" > "Software Update" to check if new iOS version is available.
Step 2. Tap the "Install Now" button and then follow the on-screen instructions to complete software update.
This solution also works when your iPhone says fail to backup to iCloud.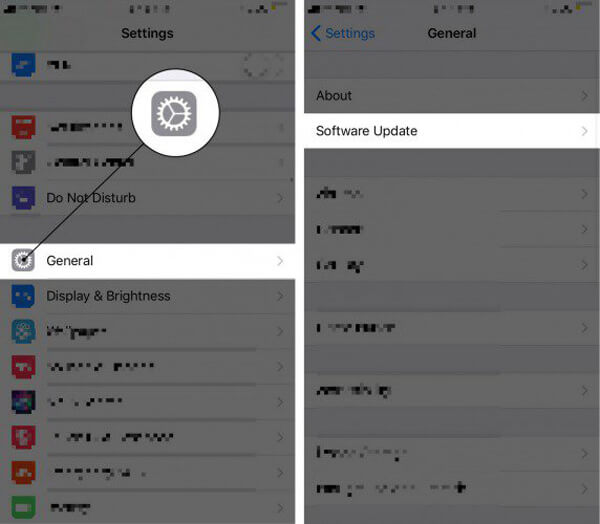 Method 6: Removing unnecessary accessories
If iPhone says no service when you connect to accessory, such as third-party headphones, you should remove the accessory and test the signal again. Though there is no explanation from Apple official, iPhone is sensitive to unauthenticated accessories.
Sometimes, the unnecessary accessories may lead to your iPhone blue screen, Apple logo, loop restart, etc. As a result, just remove them as possible.
Method 7: Fix iPhone saying no service (complete soft fixes)
For average people, an easy-to-use tool with rich features is important when fixing the problem iPhone says no service. Apeaksoft iOS System Recovery could meet these demands.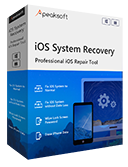 4,000,000+ Downloads
Diagnose iPhone saying no service caused by software issues automatically.
Repair iPhone system without losing data.
Fix iPhone no service stuck in DFU mode, Apple logo, white screen, etc.
Compatible with iPhone 14/13/12/11/XS/XR/8/7/6, iPad, iPod, etc.
Step 1. Install the best iPhone system recovery tool
Download and install the right version of iOS System Recovery to your computer according to the operating system. Connect your iPhone to the computer, launch the program, it will detect your device.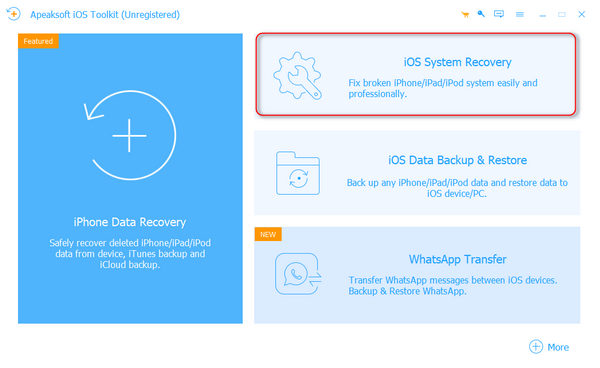 Step 2. Diagnose iPhone in DFU mode
Click the "Start" button to diagnose what cause iPhone says no service. If you are not sure, press the "Question" icon to display the guides how to put your iPhone to DFU mode.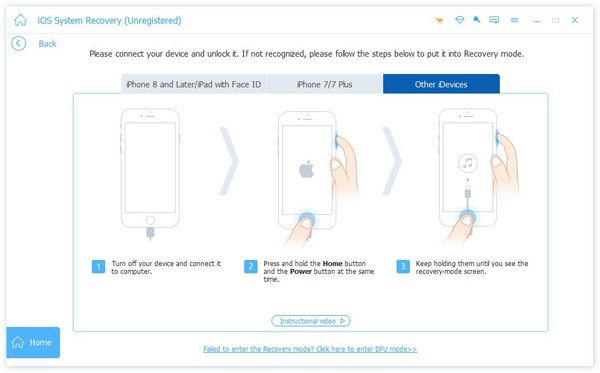 Step 3. Fix iPhone says no service
Select your iPhone model on the Info window and the click "Download" button to get corresponding firmware. After download, it will fix your iPhone automatically.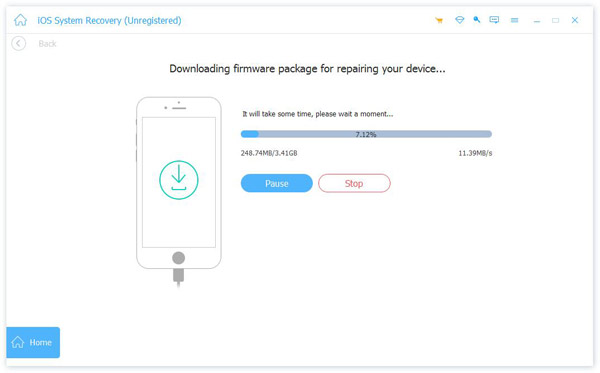 Check this tool can do for you:
Conclusion
You will do nothing with an iPhone that says no service or searching. However, you can take some actions to fix the problem firstly, and this page collects the best 7 real fixes to remove this problem. Among the solutions, they are almost hardware solutions, and Apeaksoft iOS System Recovery is the most complete way to diagnose and fix it.
Surely, if your iPhone network is not available for hardware issues, you had better go to Apple for professional repair.