Many users of iTunes Match have found that iTunes Match went wrong after they updated to the newest version. Some of them couldn't upload or sync their music files to their computers, Mac or Apple TV. To other users, the iTunes Match gives a greyed-out menu, which doesn't work anymore. So how to fix the problem of iTunes Match not working? First, you should know more about the iTunes Match. iTunes Match allows you to store a large amount of songs on your Apple devices, even including the music from other sources, like CDs. Once you get an Apple Music account, you can use iTunes Match to help you upload all music in your iPhone to your iCloud Music Library. For those who are music buffs, iTunes Match is the best choice to enjoy your collected music easily.
Want to know the solutions of fixing iTunes Match not working? In the passage below, there are 4 parts to introduce several easy but useful ways to address your emergent problems of iTunes Match not working. After reading the solutions carefully and follow them step by step, I am sure that you will make full use of iTunes Match again.

Part 1

: Sign in and out to fix iTunes Match not working

For most users, when encountering the problem of iTunes Match not working, the first solution coming out of them is to quit the application and log in again. That's right, logging in and out is the easiest way to fix iTunes Match not working, however, which might not take effect all the time. Now let's go through the detailed steps of signing in and out iTunes to fix iTunes Match not working.

Step 1. Launch the iTunes on your Mac or PC.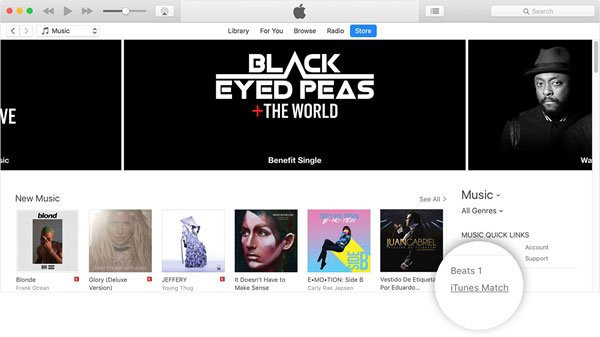 Step 2. On the top of the window, there is a button called Store. Tap it.
Step 3. Then there will be a list of choice and choose Sign out.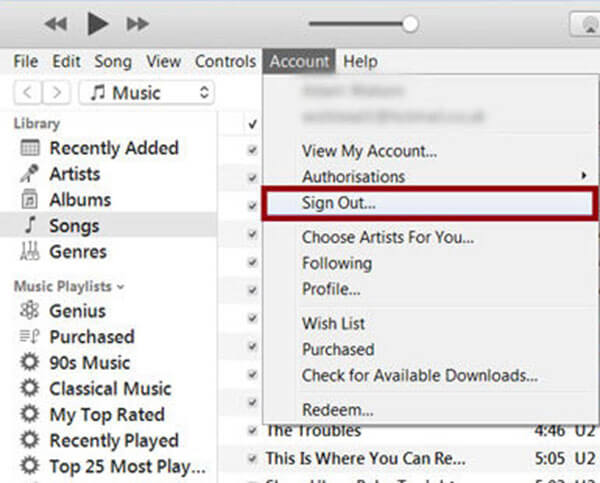 Step 4. Tap the button Store and select Sign in to restart iTunes Match.
Check if the iTunes Match is still not working. If so, continue reading to adapt other solutions.
After that, you can sign into your iTunes again for enjoyment. (iTunes is asking for password)
Part 2

: Update to fix iTunes Match not working

For most applications, updating is the simplest and most effective way to fix some errors since app providers offers new version to repair problems emerging in the old version. So, updating iTunes should be implemented to fix iTunes Match not working. Here's the main guidance.

Step 1. First, as usual, open up iTunes.

Step 2. Follow the steps: "Preference"> "General".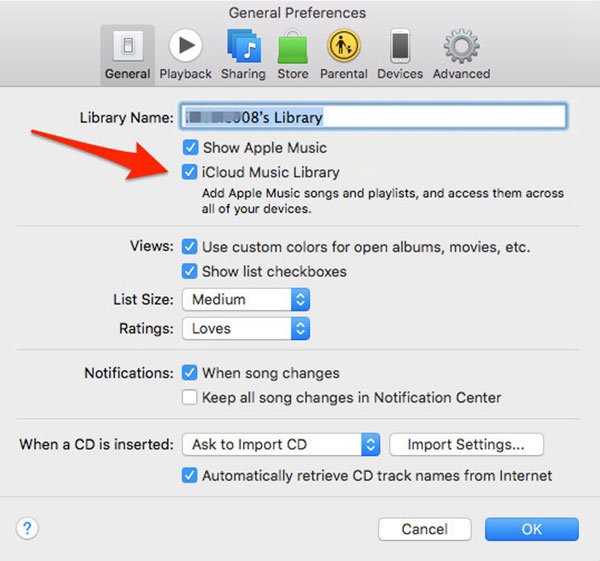 Step 3. Here under the column Library Name, click "iCloud Music Library".
Step 4. Then click File. You can direct to "Library" > "Update iCloud Music Library".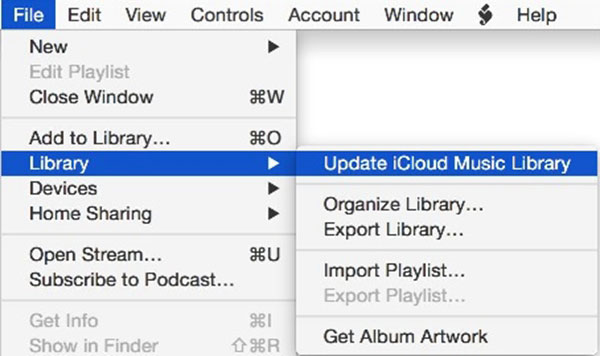 After finishing updating, launch it again to check if iTunes Match can work or not.
This solution also works when you cannot add music to iTunes or iTunes is slow.
iTunes is so powerful that almost every user of iOS system uses it. However, when iTunes or iTunes Match is not working or goes wrong, you may want to find an alternative to implement the function of uploading and streaming.
So, I would like to introduce a more versatile application to you, iPhone Transfer, which boasts the transferring function of iTunes and help to manage iOS files for you. You are allowed to transfer data from iPhone to iPhone, computer to iOS devices or sync from iOS devices to iTunes.
It is compatible with photos, auto files, contacts, text messages and so on, which is very useful. Although it owns so many functions, it is easy to operate. The interface of iPhone Transfer is clear and instructive, which means you can transfer data without hassle.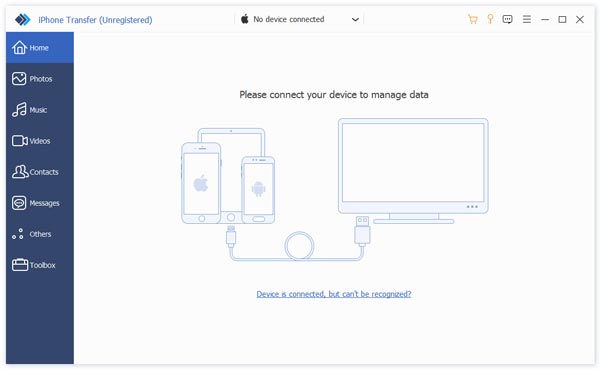 Key features of iPhone Transfer:
1. It supports iOS 6.0 and higher versions.
2. It is compatible with almost all the versions of iPhone, iPad, iPod and computer.
3. You are allowed to transfer photos, music files, contacts, video files, voice memos and so on.
4. It provides a better experience to transfer ePub novels or PDF to your iOS devices.
Check this video tutorial to help you learn how to backup iPhone data: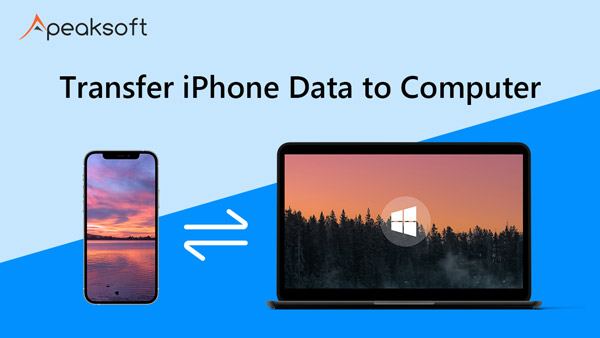 Part 3

: Fix iTunes Match not working with iCloud Music Library

Another way to fix iTunes Match not working is to alter the setting of iCloud Music Library. iCloud Music Library is a platform to help store all the music files, albums in your iOS devices, which allows you to sync and upload your music files on the other iOS devices, or your computer. However, turning iCloud Music Library on may prevent you from stream or sync music files to your iPhone manually, which results in your iTunes Match not working. In order to address the problem of iTunes Match not working, you had better try to turn off the iCloud Music Library. You are advised to follow the steps below.

Step 1. Find the setting button on your iOS devices and then tap into it.

Step 2. Draw down and find Music. Open up the Music column.

Step 3. You will find the iCloud Music Library button at the bottom of the interface.

Step 4. Click the green button to disable it.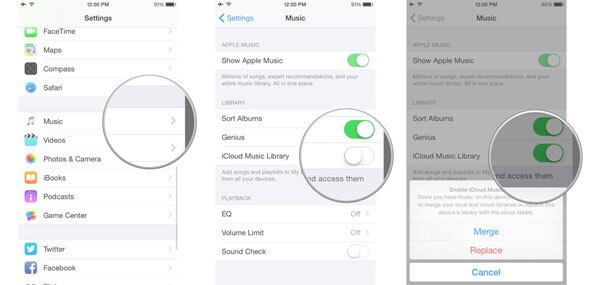 Once you turn it off, you will fail to open up the music files if there is no network, for all these files have been removed.
Part 4

: Other tips of Match iTunes

After providing 3 solutions to fix iTunes Match not working, I am going to offer some other tips about iTunes Match.

1. First you should know about the differences between Apple Music and iTunes Match. Apple Music enables you to get full music streaming catalog, which means users are allowed to enjoy all music files in the Apple Music catalog. While iTunes Match is an application that offers the function of matching music files from iTunes Library to iTunes Store.

2. Please note that if you enable iTunes match, using iTunes to sync or upload music files is not allowed.

3. With the subscription of iTunes Match, it is feasible to download or stream music from the iCloud Music Library.

4. The limitation of iTunes Match is 100,000 songs.

5. Those files larger than 200MB or longer than 2 hours will not be uploaded to iCloud Music Library.
Conclusion
Solutions provided above are all easy and simple to operate and I hope that they will help you address your emergent problem of iTunes Match not working. If you encounter some other errors of your iTunes Match, you might as well try these methods, too.