What is iTunes backup password? It is a password that protects your iPhone, iPad or iPod backup files in iTunes. Many people may be confused between iTunes password and iTunes backup password. This post shows everything about iTunes backup password.

iTunes encrypted backup password vs. iTunes password
iTunes backup password
It is also called as iTunes encrypted backup password, which is created for protecting iTunes backup files that you want to encrypt. The password is needed when you use the encrypted backup. Once such password is created, iTunes will automatically lock and encode your backup. Different with iTunes password, iTunes backup password needs no account.
iTunes password
It is an entrance password when you log in to iTunes Store. Actually, iTunes password is the same as the Apple ID password. And iTunes password is along with Apple ID account.
What data can you encrypt in iTunes?
You are able to encrypt any backup in iTunes to lock to protect your data, and this feature can do more than what you think. In addition to regular data like contacts, videos, music, etc., it can backup more, such as:
◆ Health data
◆ Website history
◆ Wi-Fi settings
◆ Saved passwords
How to encrypt your backup in iTunes?
How to create an iTunes backup password
iTunes won't automatically trigger encryption feature. For the first time when you want to make any encrypted backup for your iPhone, iPad or iPod touch, you need to enable the feature by creating an iTunes backup password. After that, iTunes will automatically encrypt the backup.
Step 1. Download and launch the latest iTunes on your computer.
Step 2. Connect your iOS device with computer, and then iTunes will detect it soon. iPhone is not connecting to iTunes?
Click the device icon in the top-left corner to enter the "Summary" window.
Step 3. From the main interface, you will see an "Encrypt iPhone/iPad/iPod backup" option.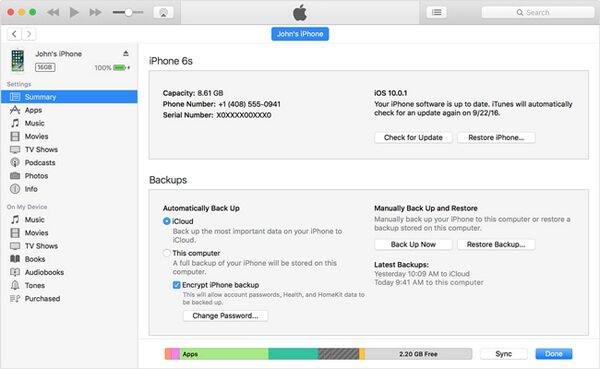 Step 4. After that, you need to create an iTunes backup password. Create one easy-to-remember password.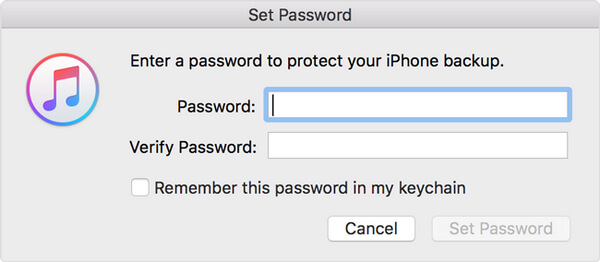 Step 5. Confirm the password. Then iTunes will overwrite your current backups and make encrypted backup afterwards.
Check if you manage to make an encrypted backup
Click "Edit" (for Windows) or "iTunes" (for Mac) in iTunes > "Preferences" > "Device", and then you will see a lock icon next to your device name, as well as the data time, etc.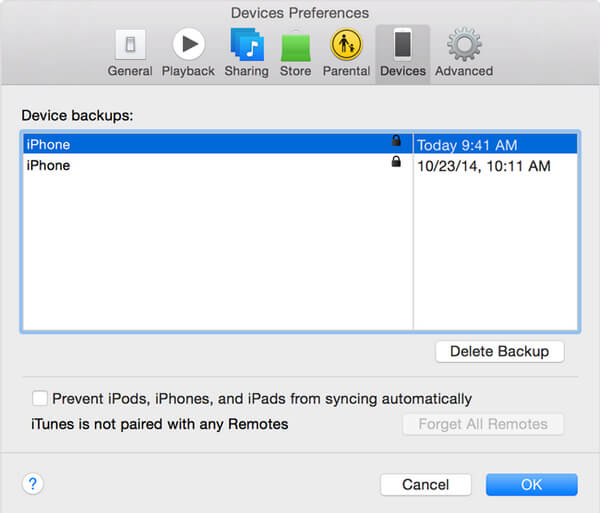 Turn off iTunes backup encryption
To turn off the iTunes encryption feature, you need to enter the password and not to check the box of encrypted backup. Then the iTunes backup password will be canceled.
If you don't remember the password, you have to recover iTunes backup password. In case of that, you'd better make an iCloud backup instead or reset your iOS device to factory settings.
What if you lose iTunes backup password?
iTunes backup password is must-have when you want to restore encrypted backup. What to do if you lose your iTunes backup password? Here are some ways:
◆ Yourself
◆ Someone who set up your iOS device or transferred your data to a new device
◆ An installed profile for business or education devices. If you're using an installed profile, contact your system administrator. to get the password.
If you don't have your password:
◆ Contact someone who set up your device to get the password.
◆ Adopt an iCloud backup instead.
◆ If it's still irrelevant, use an older iTunes backup.
You may also intrested in removing the protection of encrypted iTunes backup files.
FAQs of iTunes Backup Password
How to recover iTunes password?
iTunes password can be recovered through security questions or by sending a password reset email. You can check out this article to learn detailed information: iTunes password recovery.
What does iTunes backup?
iTunes can back up photos, media, settings, app data, and others.
Where does iTunes store backups on Windows 11?
In Windows 11, the iPhone backup files are stored at the following path:
\Users\YOURUSERNAME\AppData\Roaming\Apple Computer\MobileSync\Backup\