This article will talk about genograms. Similar to the family tree, a genogram displays the relationships of the members of a family. However, the latter is more complex and covers more information. Plus, genograms are more useful in a variety of industries, such as medicine, psychology, social work, genealogy, etc. Whatever your purpose is to learn genograms, you can get everything you should know about this kind of graphics from this single post.

Genogram Examples
Part 1: What Is in a Genogram
The genogram is a visual representation of the family structure, history, and more. It displays the familial relationships, key information of each member, and important dates. The information can be varied depending on your purpose. To analyze genetic diseases, for example, a genogram will include the medical and mental health histories.
The genogram was initially developed as a therapeutic tool by Murray Bowen, who created the Bowenian Family Therapy. Originally, genograms included binary transgender individuals but did not offer nonbinary options. Currently, researchers have addressed these limitations and expanded genograms to include nonbinary identities.
As mentioned previously, a genogram includes a wide range of information and elements. However, several items should be specifically noted on the genogram:
1. Family members including living and dead. A genogram should include at least two generations and all the family members. To improve accuracy, it should include miscarriages and stillborn infants. These members are represented by symbols in a genogram.
2. Relationships between members. Marriage, for example, is described by a solid line. Plus, emotional relationships should be covered, such as positive ones.
3. Recurring illnesses including medical and mental. Plus, it should show how members fit into the family tree.
4. Background information about each member, such as the wealth of the families represented.
There are 5 genogram symbols that you can use to describe the items above:
1. Squares indicate a male.
2. The circle indicates a female.
3. The triangle represents pregnancy.
4. Lines describe the relationships.
5. Dotted lines or dashes represent separation, mental illness, abuse, or infidelity.
6. A cross is used to indicate a deceased member.
The Benefits of Genograms
Much like the family tree, genograms are useful to understand the key members and relationships in a family. It displays the relationships and generational patterns that affect an individual.
A genogram can explain the circumstances in which someone grew up, and show the issues and concerns that might not be spoken about. Some young people, for example, are being abused. It is also a great tool for showing the changes and progress of someone's healing journey.
The genogram is also helpful when tracing the causes of some diseases, especially genetic diseases. Today, it is not limited to a specific therapeutic orientation.
Part 2: Genogram Examples
A genogram is a great way to map out and understand the dynamics of a family. This can be useful to identify patterns of behavior, health, wealth, and more that may have been passed down through generations. Here are some examples of genograms.
1. Basic genogram
A basic genogram displays a family relationship that clarifies who are grandparents, cousins, uncles, aunts, nieces, or nephews.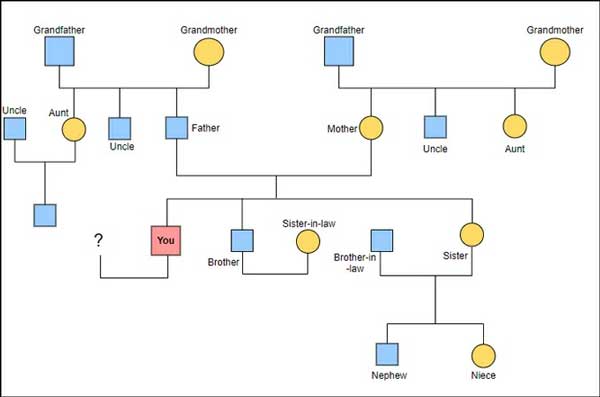 2. Emotional genogram
Compared to the basic genogram, this kind of chart is more complicated and includes more symbols. They tell the emotional relationships between family members, such as positive, conflict, harmony, etc.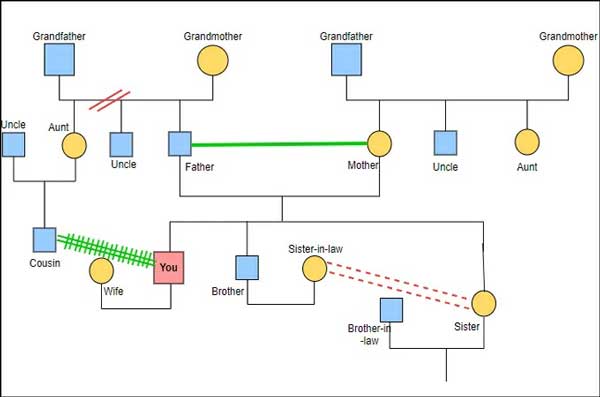 3. Medical genogram
The medical genogram continued the traditional use. It helps people to understand hereditary patterns. This family genogram example shows the heart disease carrier.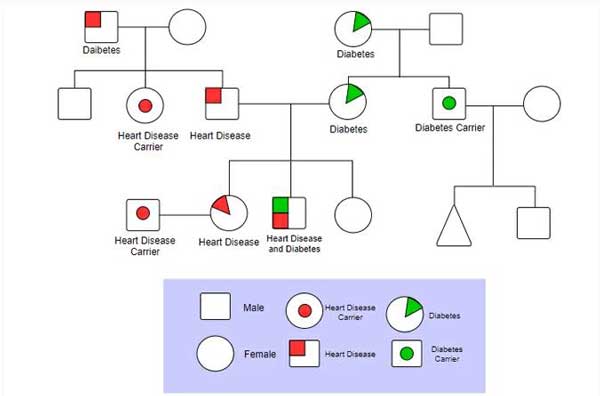 4. Cultural genogram
Cultural genograms are useful too. It maps out the cultural identity and helps you understand how a person's cultural background might impact the current behaviors.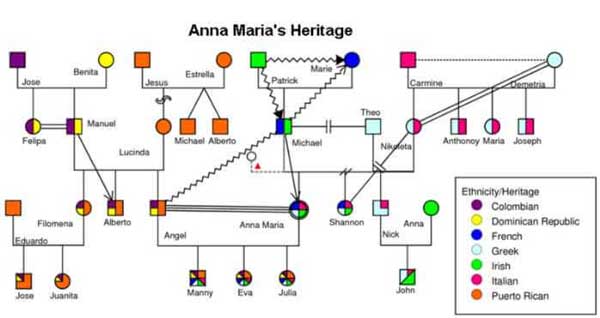 5. Social work genogram
Social work genograms are used to understand family dynamics and their influence on a member's mental health or social functioning.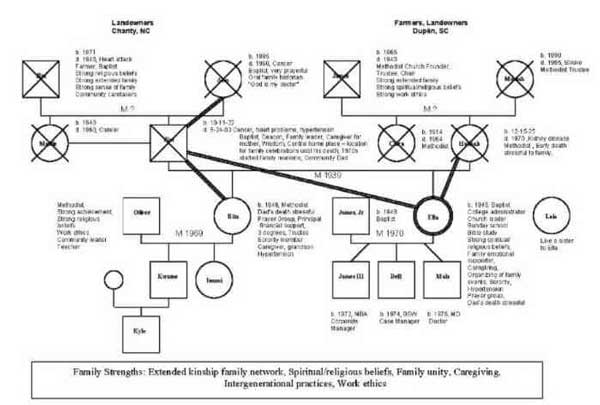 Part 3: Top 3 Genogram Makers
Top 1: MindOnMap
MindOnMap is one of the best genogram generators online. It does not ask users to pay for a penny or download any software. Alternatively, all features are free to use and it completely works online.

Key Features:
Make genograms online.
Free of charge.
Include lots of templates.
Support plentiful output formats.
How to Make a Genogram Online
Step 1 Visit https://www.mindonmap.com/ in a browser, log into your account and click the Create Your Mind Map button.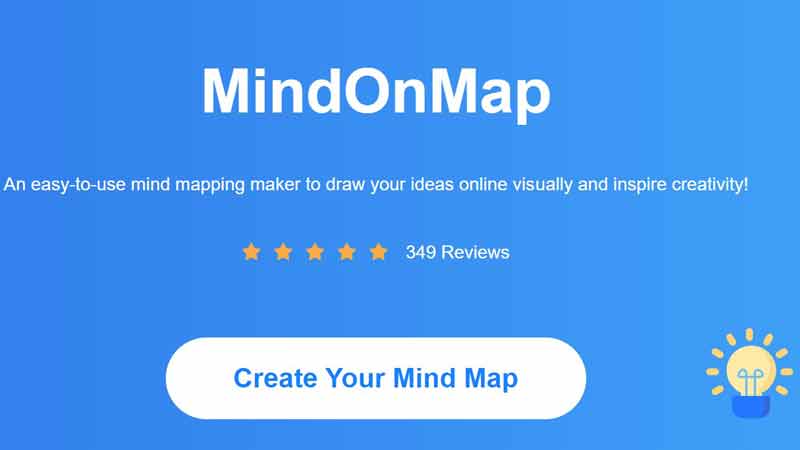 Step 2 Head to the New tab, and pick an appropriate template. Or create a blank chart.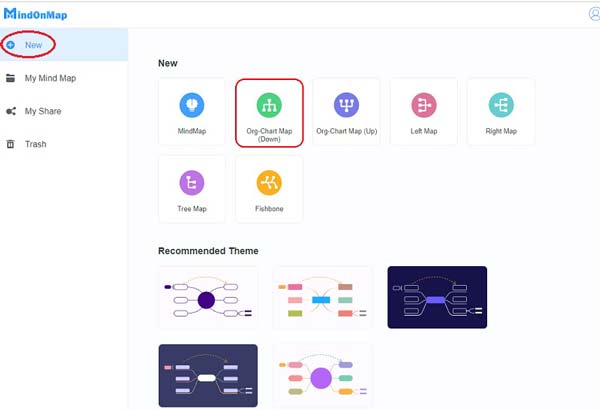 Step 3 Click the Node button on the top ribbon. Then open the right toolbar, select Style, and choose a proper shape from the Shape style area. Next, double-click the node, and enter the member name.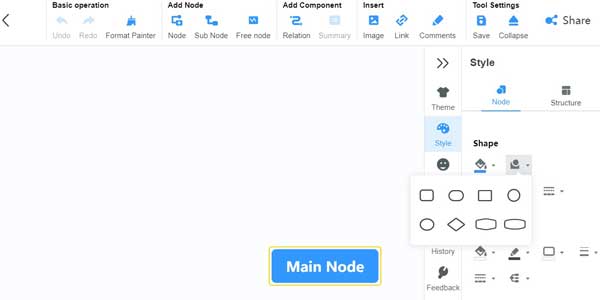 Step 4 Add other family members. Then click the Relation button to add relationships between members.
Step 5 At last, click the Export button, select a file format, and save your genogram. Or press the Share button to share it online.
Top 2: GenoPro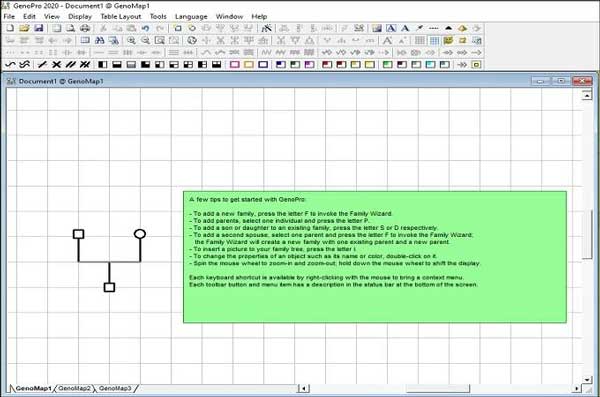 GenoPro is a genogram creator for PCs. According to the developer, a genogram maker for Mac is in the development stage, called GenoProX. The cost starts at $49.00 per user, but it provides a 30-day free trial.

Key Features:
Structure genogram of family members.
Analyze detailed statistics about ancestry.
Support multiple languages.
Create HTML reports for publishing online.
Top 3: Creately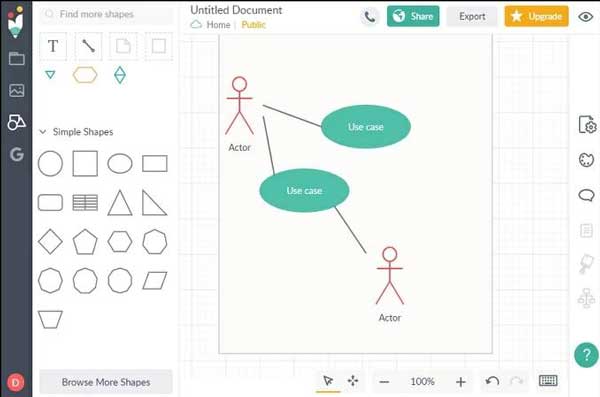 Creately is another online genogram maker. Besides, it supports lots of diagrams, flowcharts, mind maps, etc. One of the benefits is to let multiple users work at the same time on a single chart.

Key Features:
Make genograms online.
Support collaboration.
Include lots of shapes.
Share your genograms directly.
Further Reading:
3 Different Ways to Make Fishbone Diagrams
Affinity Diagram Definition and How to Create an Affinity Diagram
Part 4: FAQs about Genogram Example
What does a 3-generation genogram mean?
A 3-generation genogram should include three generations in a family.
Can I make a genogram using Word or PowerPoint?
Yes, the shapes and other features in Office Word and PowerPoint are available to create a genogram manually.
Why is a genogram important?
It helps depict the key people in an individual's life and their relationship with them.
Conclusion
Now, you should understand what is genogram, its history, why it is important, and its composition. We also identified the top 3 ways to make a genogram online, on Windows/Mac. All you need to do is follow our guide to draw your first graphic right now. If you have other relative questions, please write them down below.