Today, visualization is becoming more and more important. A flowchart, for example, is one of the visual diagrams widely used to describe the steps of a process in sequential order. It becomes popular since the flowchart makes it easier for users to communicate how they plan to implement business requirements for a new process. Therefore, this guide will share the information about this visual diagram including how to make a flowchart like professionals.

How to Make a Flowchart
Part 1: What Is a Flowchart
As mentioned previously, a flowchart is a visual diagram, which illustrates the steps, sequences, and decisions of a process or workflow. In brief, a flowchart is a form of a process map used in multiple fields for planning, visualizing, and improving processes.
The flowchart was first introduced by industrial engineers Frank and Lillian Gilbreth in 1921 and was called Process Flow Charts at first. Since then, it has been standardized to optimize processes across industries.
A flowchart includes different symbols. The most common symbol is the rectangle, which represents a process, operation, or task. Another basic symbol is the diamond, which means a decision. Other symbols include:
1. Terminal/Terminator. The rounded rectangle represents where your process begins or ends.
2. Data. The parallelogram refers to inputs and outputs from a process.
3. Document. The rectangle with a wave-like base is used to describe a document or report.
4. Direct Data. The cylindrical object represents information that can be accessed directly.
5. Internal Storage. This object is used to illustrate the information stored in memory.
6. Sequential Access. The object looks like a reel of tape that represents information stored in a sequence.
7. Manual Input. This object represents an action where a user must manually input information.
8. Predefined Process. This object means the flowchart for the predefined process has to be already drawn.
Types of Flowchart
There are five types of business flowcharts:
1. A decision flowchart to explain steps to justify a decision.
2. A logic flowchart refers to uncovering loopholes, bottlenecks, or constraints in the process.
3. A system flowchart is used to describe how data flows in a process.
4. A product flowchart visualizes the product creation process.
5. A process flowchart represents how a process will achieve a certain outcome.
Part 2: How to Make a Flowchart Online
For beginners, the easiest way to create a flowchart is using an online mind map tool, such as MindOnMap. It is a free flowchart maker online. Once you have an account, you can convert your process to visualized diagram without installing any software. More importantly, it makes flowchart sharing easier.
Step 1 Visit https://www.mindonmap.com/ in your browser. Click the Create Your Mind Map button, and sign in to your account.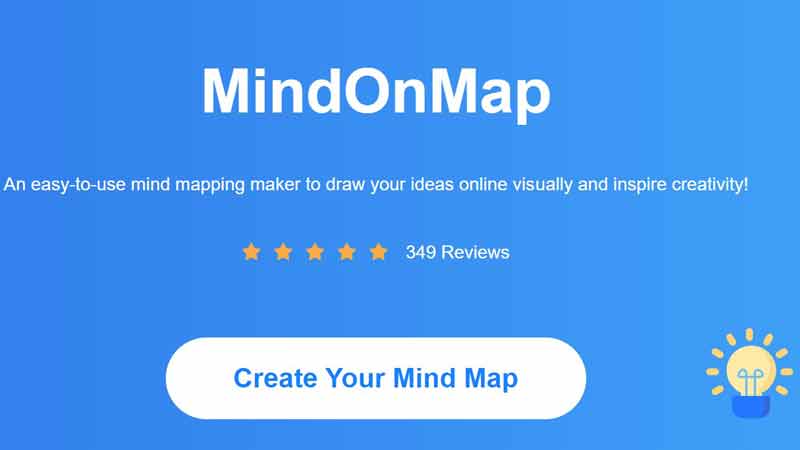 Step 2 Click the New tab on the left sidebar, and pick a template for making your flowchart.
Step 3 Then you will be presented with the main page. Here you can add nodes, change the template according to your need, adjust the shape of each node, and more.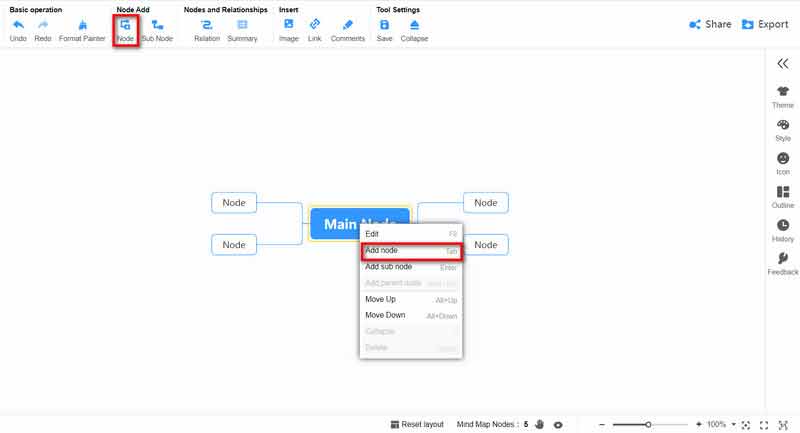 Step 4 When you finish flowchart creating, click the Share button at the top right corner, and share the flowchart by hitting the Copy Link and Password button. Or click the Export button to download the flowchart as an image, a PDF, or a document.
Note: No matter you share or download the made flowchart, it will be saved in your account too. It means that you can change and edit the flowchart online at any time. Additionally, you can use it to make a concept map.
Part 3: How to Create a Flowchart in MS Excel
MS Excel is a part of the Office suite. It comes with hundreds of functions and can help you speed up flowchart making. If you already have MS Excel on your desktop, follow the steps below to do it quickly.
Step 1 Open your Excel and create a new file for creating a flowchart.
Step 2 Go to the Insert tab, click the Illustration button, open the Shapes pane, and locate the Flowchart section. Choose a shape and add it to your flowchart. Repeat the procedure to add other shapes.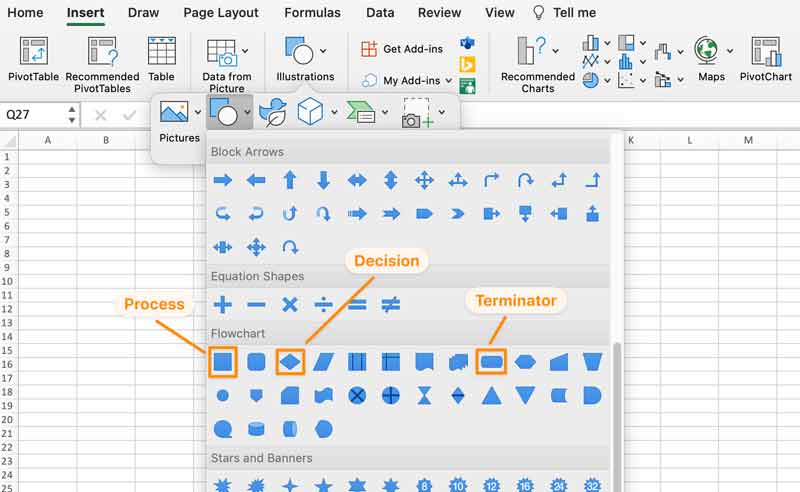 Step 3 Press the Ctrl + A button to select all shapes. Then drag and expand them until they are large enough.
Step 4 Double-click on one shape to reveal your cursor, and add the label. Do the same to other shapes in the flowchart.
Step 5 Next, click on one shape, head to the Shape Format tab on the top menu bar, and change the background color of each shape with the Shape Fill feature. You can also adjust the text color with the Text Fill option.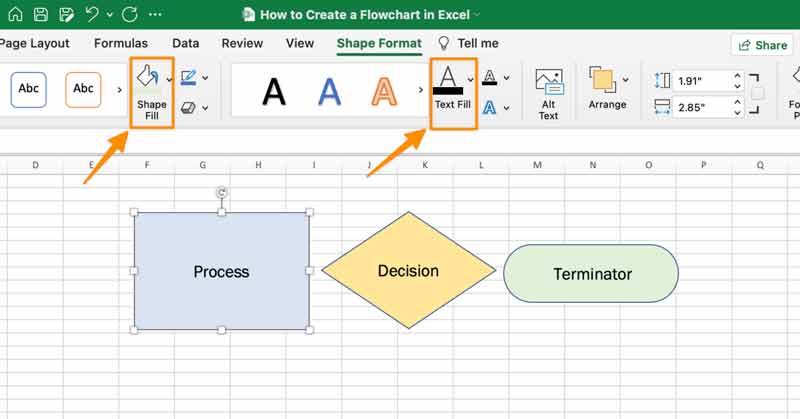 Tip :
To remove the shape outline, click
Shape Outline
and choose
No Outline
in the
Shape Format
tab.
Step 6 Place each shape in the right position. Then go to the Insert tab, click and expand the Shapes feature, and choose the Arrow icon in the Lines section. Draw the relationship between shapes.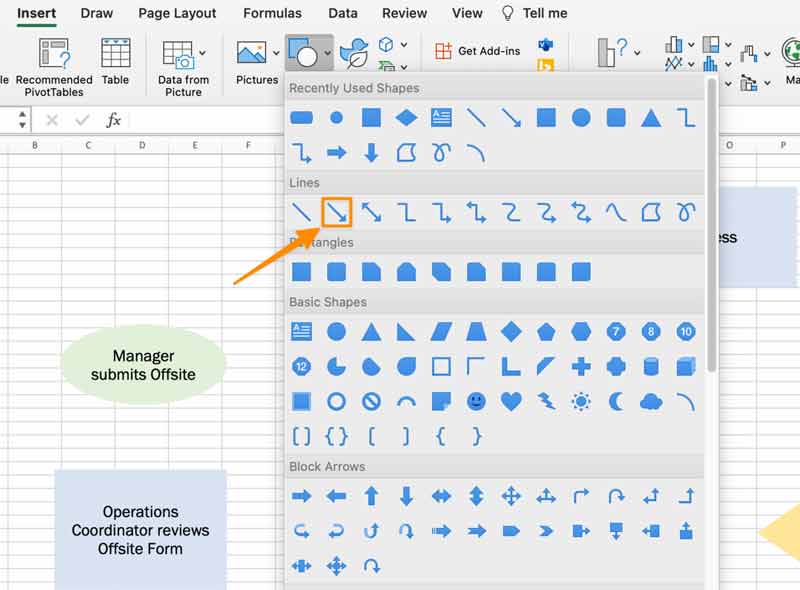 Step 7 Finally, add a title to the created flowchart and save it.
Part 4: FAQs about Making a Flowchart
What are the steps in developing a flowchart?
Step 1 Identify the problem.
Step 2 Brainstorm all the activities involved.
Step 3 Figure out boundaries.
Step 4 Determine and sequence the steps.
Step 5 Draw basic flowchart symbols.
Is there a flowchart template in Word?
No, MS Word does not come with a flowchart template. Alternatively, you can search for and download templates for Word on the internet.
Does MS Office have a flowchart program?
Yes. There is an application called Visio for Microsoft 365 commercial subscribers. It enables you to create professional diagrams including flowcharts. However, Excel has the ability to make flowcharts too.
Conclusion
This article talked about one of the most important visual diagrams, the flowchart. Following our introduction, you should know what is flowchart, why it is important, and how to make your flowcharts quickly. MS Excel allows you to create basic flowcharts. MindOnMap helps you to do the job online. If you have other questions about this topic, please feel free to contact us by leaving your message below this post.