What is a fishbone diagram used for? How to make a fishbone diagram?
For different reasons, you want to create a fishbone diagram. For instance, you need to brainstorm the causes of a problem, analyze a new design, or process improvement using a fishbone diagram. This post recommends the three best fishbone diagram makers for you to do fishbone diagrams.

Fishbone Diagram
Part 1. Best Way to Make a Fishbone Diagram Online
Suppose you want to directly make a cause and effect fishbone diagram without installing any third-party diagram-creating software. In that case, you can try using the all-featured online fishbone diagram maker, MindOnMap. It collects many commonly used fishbone diagram templates and examples for you to start your fishbone diagram quickly. Besides fishbone diagrams, it allows you to create flowcharts, tree diagrams, organizational charts, and more.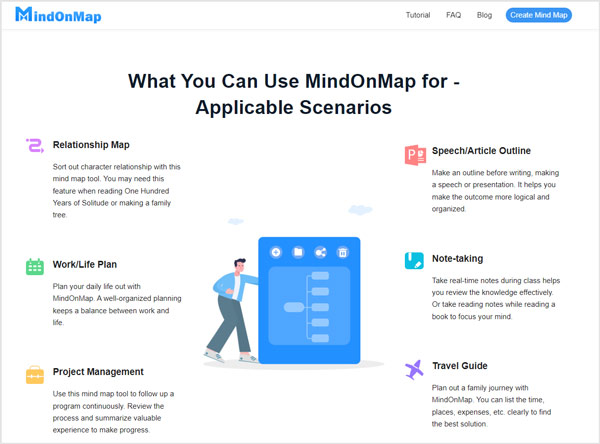 Step 1 When you need to do a fishbone diagram, you can navigate to the official website of MindOnMap. When you get there, click on the Create Your Mind Map button. You are prompted to sign in. Here you can sign in to your Google account.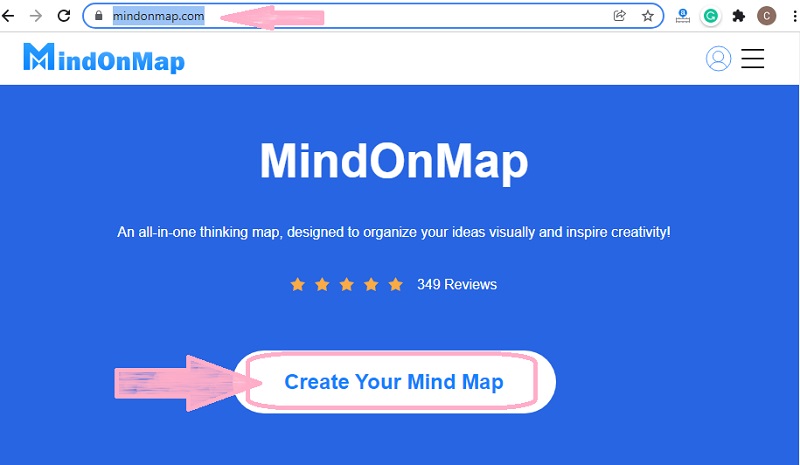 Step 2 This online fishbone diagram maker offers many popular diagram templates, examples, themes, and more. You can select the Fishbone to move on.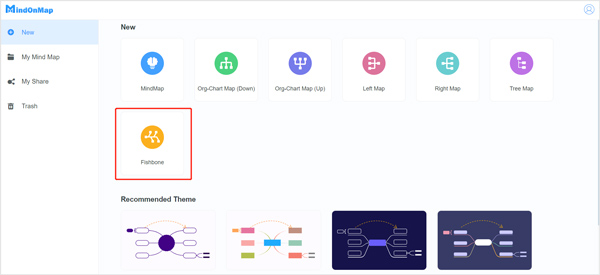 Step 3 When you enter the main fishbone diagram editing and creating page, you can freely make a fishbone diagram according to your need. During this step, you get various tools to customize its theme, style, icon, outline, history, and more. You can easily access different editing functions from the top toolbar.

Step 4 This fishbone diagram generator allows you to share and export your creation conveniently. You can click the Share or Export button in the upper-right corner to generate a sharing link or save your file as a JPG/PNG/SVG image, Word file, or PDF file.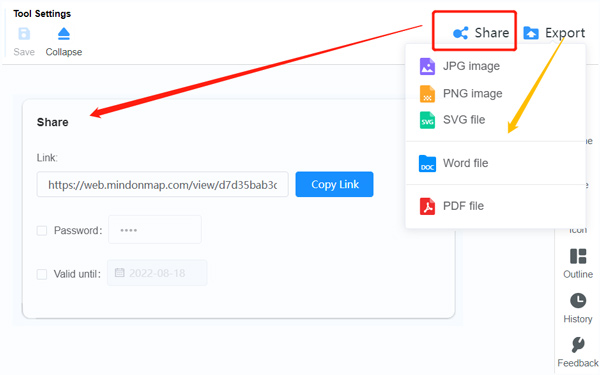 Part 2. How to Use Online Template to Make a Fishbone Diagram
Many fishbone diagram templates and examples are offered on the internet that can help you easily create diagrams. You can use the Miro ready-made templates to make a fishbone diagram more quickly and efficiently. It has a templates library of fishbone diagram templates, mind map templates, flowchart templates, meetings & workshops templates, and others. You can take the following guide to make your fishbone diagram using it.
Step 1 Go to the official Miro website. Click on the top Product tab and select the Templates from its dropdown. Then you will be taken to its Templates Library page.

Step 2 In the searching box, you can quickly input fishbone to locate the Fishbone Diagram Template. Click on it to enter the Fishbone Diagram Template page.
Step 3 Click on the Use template button. You need to sign up for an account or directly sign in to your Google account. After that, you will be guided to its fishbone diagram maker. You can get many useful instructions the first time you use it. You also can make and edit your fishbone diagram with ease. Many useful tools are listed on the left sidebar.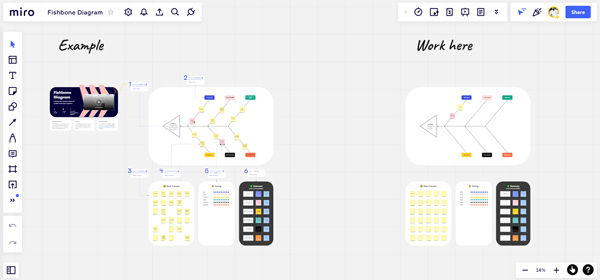 Step 4 After creating the fishbone diagram, you can simply click the Download button and select a suitable export method.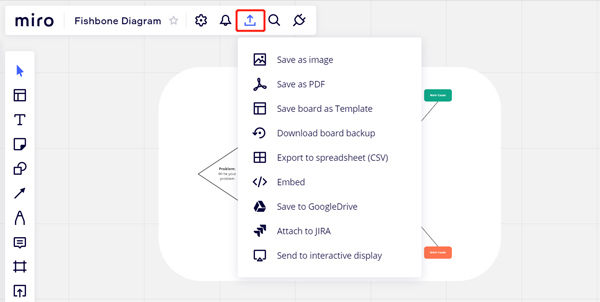 Note that Miro is not a totally free fishbone diagram maker. When you use its free plan, you will get many limitations. You need to upgrade to a paid plan to use all its features and break the limits.
Part 3. How to Free Create a Fishbone Diagram in Excel
To make a cause and effect fishbone diagram, you can also rely on Excel. You can change the Excel worksheet into a total blank fishbone diagram drawing page and follow the steps below to draw your fishbone structure.
Step 1 Open Excel and click on the View tab to display more options. Here you need to locate the Gridlines option and untick it. By doing so, the worksheet in Excel will turn into a blank drawing page for later fishbone diagram creation.

Step 2 Click on the top Insert tab, locate the click Shape, and then select the corresponding shapes from its drop-down list and add them to the worksheet.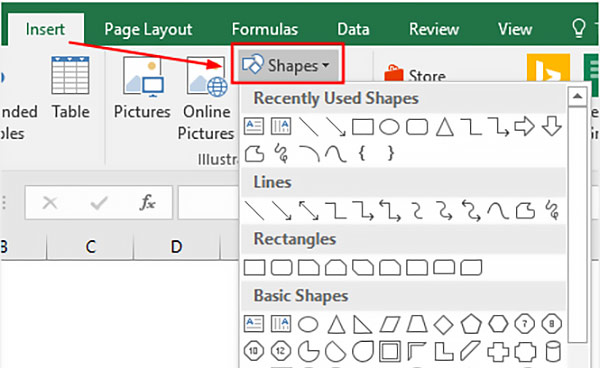 Step 3 When you want to add lines to your fishbone diagram, you can click on a shape, go to the Format tab, and then select Lines from the shape gallery. You can directly click the shape and type text to add text to a box.

Step 4 Excel is not a specially designed fishbone diagram maker. So, you may not be satisfied with the diagram's default colors and fonts. In that case, you can choose to customize your fishbone diagram and adjust its visual effects by formatting it. Click on the Format tab and modify the shape and WordArt styles based on your need.

Note that Excel does not offer any built-in fishbone diagram templates. So, when you create a fishbone diagram in Excel, you'd better find some suitable fishbone diagram examples on the internet as models. You can imitate your preferred diagram to make yours.
Related to:
5 Best Flowchart Makers of 2022
10 Brilliant Mind Map Examples – Get You Inspired
Part 4. FAQs of How to Make a Fishbone Diagram
Question 1. Can I make a fishbone diagram in PowerPoint?
Yes. Even though PowerPoint doesn't offer any fishbone diagram templates, it has a shape library for you to make a fishbone diagram. You can open PowerPoint, click on the Insert tab, and then go to Shapes. You can easily add a shape or line from the drop-down library to create your diagram.
Question 2. What is a fishbone diagram used for?
A fishbone diagram is mainly used for determining cause and effect. It can help to brainstorm and quickly identify the possible causes of a problem. Also, you can use a fishbone diagram to sort your ideas into functional categories.
Question 3. Does Microsoft have a fishbone diagram maker?
Microsoft doesn't bring any fishbone diagram maker. But you can create fishbone diagrams in Excel, PowerPoint, or Word using the Shapes tool.
Conclusion
A fishbone diagram is quite helpful for working out the root cause (s) of a problem. When it comes to creating cause and effect fishbone diagrams, there are many solutions to go about it. This post shares three different ways to help you make a fishbone diagram with ease. You can use your preferred fishbone diagram maker to do that.