Learning how to make a family tree is essential for a man who wants to know his family's history or development. Not only because a family tree is easy to draw, but it also has a clear and vivid structure that can visualize the relationships between the family members. Meanwhile, you can quickly know where you are from and how the family develops. The process of drawing a family tree is just like digging up your roots, which is exciting and meaningful. Therefore, before learning how to make a family tree with various tools, here also come the essential tips you need to know about a family tree.

Make A Family Tree
Part 1: What is a Family Tree
A family tree is a common infographic/chart that visually displays all family members, relationships, and generations. How much information you see in a family tree depends on its complexity. An individual's name is the basic information, while you may also see their birthdate, birthplace, or others in a detailed family tree. The family tree layout is like a pyramid, with the highest rank representing the earliest ancestry, while the boxes at the bottom indicate the latest offspring. What's more, it is also simple to read or understand a family tree chart. Typically, a horizontal that connects two boxes on the same level represents marriage, and the lower boxes beneath this couple stand for the children. Meanwhile, family members in boxes of the same level represent a generation. After grasping this, learning how to make a family tree will become much easier for you.
Part 2: Why Draw a Family Tree
Drawing a family tree helps you see the structure of your family, and you will feel much more connected to your ancestry. Besides, a rather complex family tree would increase various significant information, such as genetics, health information, etc. Meanwhile, this is also an excellent way to demonstrate the development of your family in a well-organized system/chart.
Part 3: How to Make a Family Tree [3 Methods]
How to make a family tree is not a problematic issue. You can easily do this with multiple methods. For example, you can take a picture of every family member and place them by order of generation. Or you can draw from scratch using your hands to draw a family tree in your notebook. But the following methods are more versatile, given the various elements you can add to your family tree. Quickly browse through the 4 best ways to draw a family tree on your Windows/Mac to see the details.
1. How to Make a Family Tree with MindOnMap
MindOnMap is an online free diagramming tool widely welcomed among amateurs and beginners. Starters often find it easy to operate while boasting a series of colorful icons, shapes, styles, etc. As a user-friendly mind map drawer, this online platform enables you quickly learn how to make a family tree with a straightforward layout.

Recommendation
Offer full features and functions for free.
Save every step you make automatically.
Export your family tree in different forms.
Possess various shapes, icons, and other elements.
Step 1Go to the official website of MindOnMap and create an account by clicking the profile icon in the right corner above. Once you have an account, use it to log in and click the Create Your Mind Map button on the main page to enter the dashboard.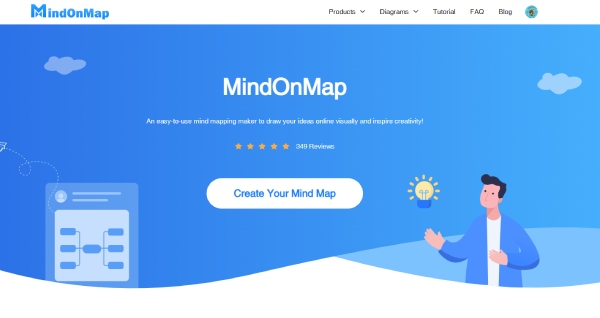 Step 2Click the New button on the left side. Then, you will see several mind-map structures and different themes. You can pick one or click the MindMap button to start from scratch. If you start from scratch, you will see only one main node on the editing page.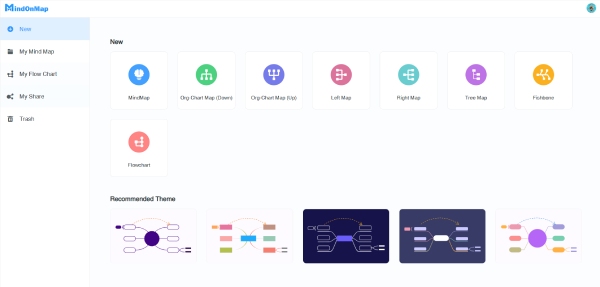 Step 3The main node can be the earliest ancestry in your family. To add more nodes for the next generations, you can click the Sub Node button to add one or click the Free Node button. You can also change the shape of the node to represent different gender. Click that node and click the Shape button on the right side to choose a new shape.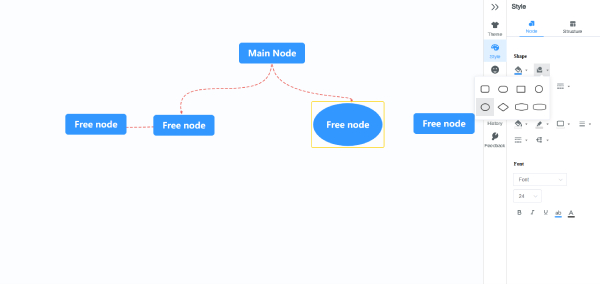 Step 4Next, you need to link these nodes to describe their relationships. To do this, click one node and click the Relations button above. Then, a line will appear, and you must drag it to another node to link them. Repeat these steps till your fill in all the family members. You can now click the Export button to save the family tree as a picture or document.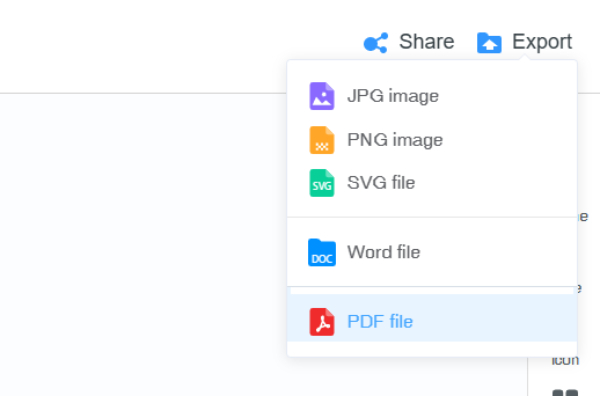 2. How to Make a Family Tree on Google Docs
Google Docs is also a free and comprehensive online tool for drawing a family tree quickly. The elements you can find on Google Docs are enough for a basic and simple family tree. The downside of drawing a family tree in Google Docs is that you can't find any pre-load templates. Except for a family tree, you can also draw a mind map, flow chart, or other diagrams on Google Docs.
Step 1Go to Google Docs on your browser and log in with your Google account. Click the blank sheet to start making a family tree.
Step 2Click the Drawing button from the Insert menu. Then, click the New button to enter the drawing window.
Step 3Click the Shape icon to add shapes representing the family members. You can drag the handles to adjust the shapes' size. Double-click the shape to enter the information about each family member.
Step 4Link these shapes by clicking the Select line icon above to connect them. There are many forms of lines for you. Once you finish drawing, click the Save and close button to insert the family tree into your docs.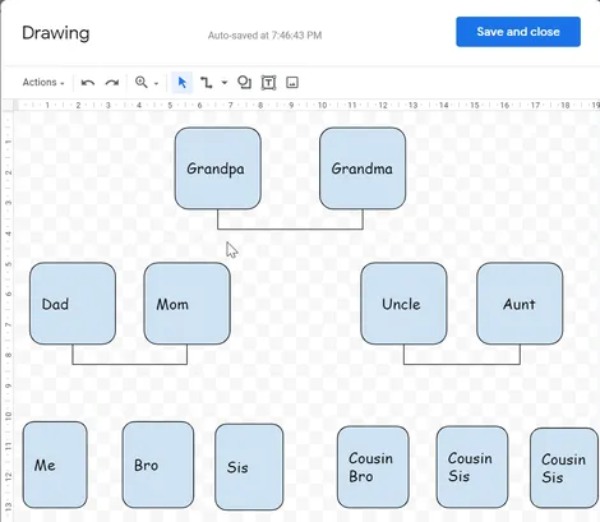 3. How to Make a Family Tree in Canva
Canva is a famous online platform that specializes in all kinds of design projects. Even the free trial of Canva offers numerous resources like icons, images, stickers, and shapes. You can also use these elements in your family tree or other charts for commercial uses without copyright issues. Meanwhile, the most helpful element for beginners who want to know how to make a family tree is the brilliant templates like family tree examples, mind map examples, chart examples, and so on.
Step 1Search the Canva family tree on your browser and go to the official result. There, create an account or use an existing account to log in.
Step 2Click the Start Designing a Family Tree button. On the editing page, you can click the Template button on the left side to search for family tree templates and apply one.
Step 3You can replace the pictures or texts on the template with your family members.
Step 4To start with a blank page, you can click the Element button on the left and choose the lines and shapes. Double-click the shape to type the text. Use the toolbar above to change the shape's color, size, form, etc.
Step 5After the family tree is done, you can click the Share button to download this family tree in various forms.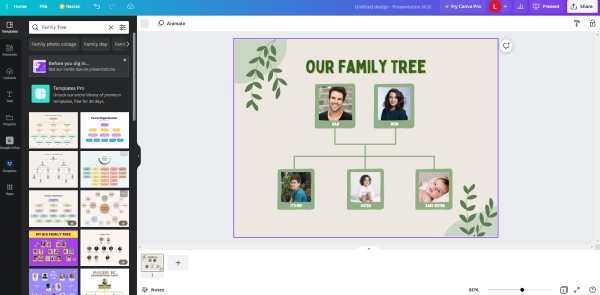 Part 4: FAQs about How to Make a Family Tree
Question 1. How to make a family tree in PowerPoint?
Set up a new PPT file and open it in PowerPoint. Add a new blank slide, click the Insert tab above, and click the Shapes dropdown button to choose shapes and lines. Draw a shape, and you can press Ctrl and C to copy it. Then, press Ctrl and V to paste it. You can repeat this step till all the boxes you need are drawn. Next, use the lines to connect these boxes.
Question 2. Can I make a family tree on Word?
Yes, you can. Many tools from Microsoft allow you to make a family tree quickly. You can follow the steps above on how to make a family tree in PowerPoint because the buttons in the two programs are the same.
Question 3. Where to find the free family tree templates?
You can find numerous free family tree examples from Lucidchart and Canva. These two are both online websites with high-quality templates.
Conclusion
All in all, how to make a family tree is a simple issue and can be solved quickly after you choose the right tool and follow the proper steps above. If you want more resources or elements for your family tree, Canva and MindOnMap are strongly recommended. But, if you wish to use the collaboration feature and prefer drawing with a family member, you may check the steps on how to make a family tree on Google Docs above.