To better introduce the company or an organization to the newbies, org charts are an excellent choice for they can present components and officials' relations graphically. Therefore, having diverse org chart templates and knowing some basic knowledge about this chart are both indispensable parts for you before drawing one on your own. Hence, the following post will tell you everything you need for drawing an org chart like the chart's functions and types, where to find the free org chart template, etc.

Org Chart Maker
Part 1: What is Org Chart and Where to Find Org Chart Template
An org chart or organizational chart displays the internal structure of an organization or a company. You can clearly see the employees' composition, departments, and hierarchy within a company through an org chart. Normally, the layout of an org chart is quite simple with a few straight or elbowed lines to indicate the relations between different staff. The simplest org chart may only show the names of the employees or personnel. Some sophisticated org chart examples may also show you photos, contact information, position, page links, and emails. You may see this kind of chart under different names like Org Charts, Organization Charts, Organigrams, etc. But they are all the same thing as mentioned before. The functions and types of the org chart can be diverse as you may see in the following content.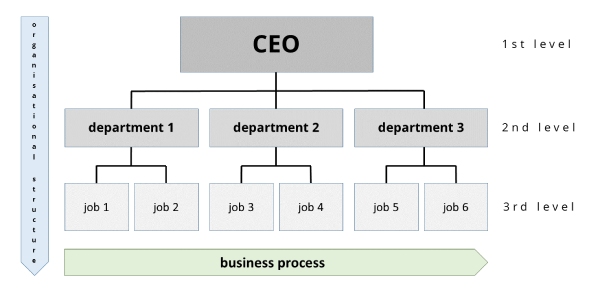 1.1: The function of the Org Chart
The function of an org chart is to vividly show the relation of one staff to another within a group or organization by means of graphics. Moreover, the org chart is not limited to only the employees' relations or officials', you may also see many org chart examples displaying the relationships between departments, functions, or others of a company, a group, or others. Through an org chart, viewers may also see the components within a company or organization.
1.2: Types of Org Chart
Totally, there are three types of org charts based on the chart's layout: Hierarchical, Matrix, and Flat/Horizontal, among which the hierarchical and flat org charts are widely seen.
Hierarchical org chart: Hierarchical org chart is the most common chart and has a pyramid layout. When indicating a company's personnel structure, a hierarchical org chart will put the CEO, the one with the greatest power, at the top of the chart in a circle or other shapes. The staff with less power are all beneath it one by one. Therefore, you may find the org chart examples of this kind has a straightforward outline and clear relations.
Matrix org chart: This kind of org chart represents a quite complex organizational structure, in which an employee sometimes may have more than one manager and need to report the work to a few people. Therefore, when you see such an org chart template, you will see that the relations are crossed.
Flat/Horizontal org chart: For flat org chart, the structure in such a chart is often flat and simple with little or no levels of middle management. So, normally in a horizontal org chart template for a company personnel structure consists of only two or three levels. Under the top power is the manager and staff. Sometimes, there might be only two levels.
1.3: Org Chart Examples
After getting the basic knowledge related to org chart, there is another importation issue, which is to find the free org chart examples. This is especially significant for beginners who just start to use such charts to indicate the company's relations and all workers. Here are 3 sources where you can find free org chart examples and can also edit these templates.
Microsoft PowerPoint
Many of you may only know PowerPoint for as presentation creator that enables you to make creative slides and reports in PPT. But, as a versatile tool, PowerPoint offers org chart templates and enables you to edit the charts in it. When drawing an org chart in PowerPoint, you can also get extra pre-installed resources like different shapes and can compress images in PowerPoint.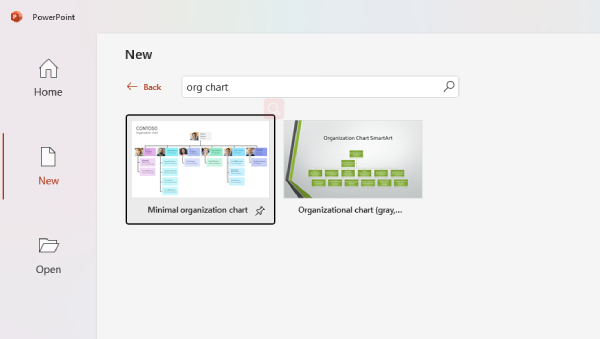 Creately [Online]
Creately has a wide range of templates for all kinds of documents, slides, mind maps, and org charts. You can freely download and edit the org chart templates online. Meanwhile, the toolbar from the editing function on Creately website allows you to quickly create your own shapes or templates, which offers you the greatest flexibility and customization.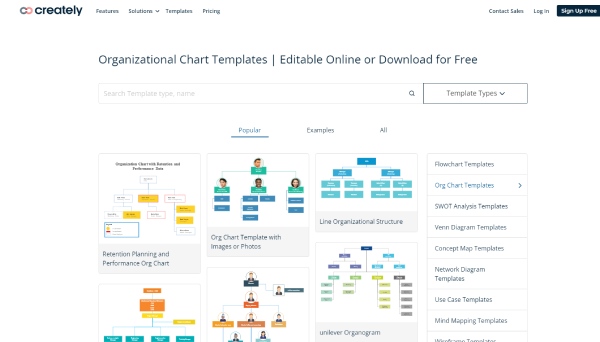 SmartDraw [Online]
SmartDraw is another online source for a wide collection of org chart templates. Based on different jobs, fields, and purposes, all the templates from the website are well-organized. The categories include business, school, college, team project, and so on. You may also export the templates to Office to continue editing or export them as image formats. Besides, if you want to access the complete features, SmartDraw also offers you subscription plans.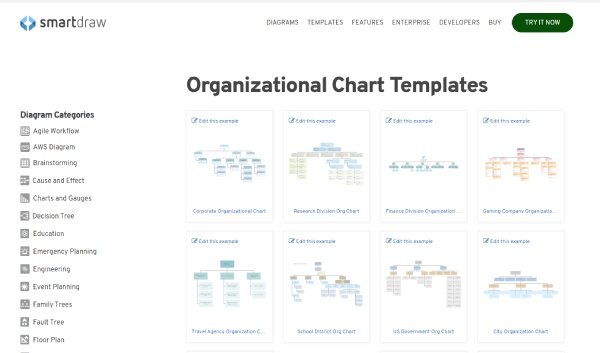 Part 2: How to Draw with Org Chart Templates
There are multiple ways to draw the chart with well-designed org chart templates. Microsoft PowerPoint, Word, and Excel are all handy tools for drawing an org chart. However, except for these paid tools, there is also another free option for you to let you fully use your imagination - MindOnMap. This is a web-based diagramming tool that offers several tools for beginners to draw up maps, charts, schedules, etc. Additionally, you can also create an individual template and store it online on MindOnMap for future use.

Recommendation
Save the changes you make in an org chart automatically.
Offer different styles of templates based on functions.
Apply various themes, icons, elements, and other resources.
Add a password to your share link to protect your privacy.
Step 1Go to the official website of MindOnMap on your browser. Then, click the Create Your Mind Map button on the main page. You may also create an account on the website before clicking the button, which will allow you to save the chart.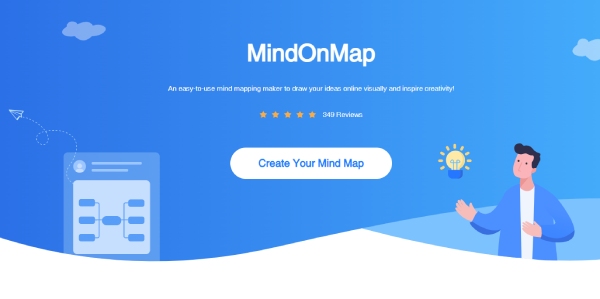 Step 2Now, you need to click the New button on the left side if the previous button does not direct you there. Then, you will see many map & chart styles as well as templates. To create a chart with an org chart template, click the Org-Chart Map Down or Up button to go on. Once you are on the editing page, click the main node and click the Sub Node button above to create a node under the main node to indicate a subsidiary branch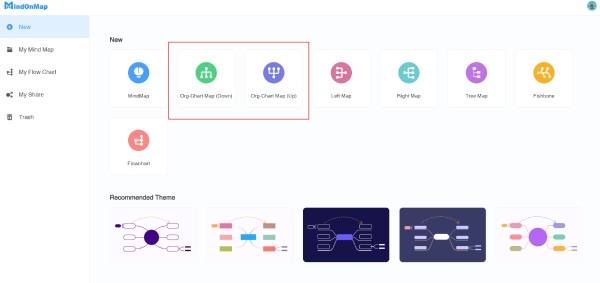 Step 3Next, you can also click the Node button to add a node at the same level. The Relation button is for you to draw a line between nodes to present their relations. After you set it up, you may click the Export button on the right corner above to save your org chart as a document or image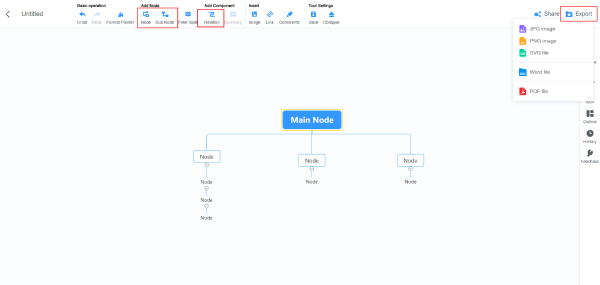 Part 3: FAQs about Org Chart Template
Are there any org chart templates in Word?
Yes, there are. Simply launch the Word app on your computer and go to the Insert tab. Then, click the SmartArt button on the Illustrations section. After that, choose the Hierarchy category in the pop-up and you will see many org chart templates.
Can I import an org chart template to Google Docs for editing?
Yes, you can. Plenty of free resources of org chart templates enable users to download the template in many formats such as Word, PPT, or images. You just need to download it and go to Google Drive on your computer. Upload the template and open Google Docs from Google Drive. Then, you can edit the template.
How to export the org chart template as an image in PowerPoint?
If you build up your own org chart template in PowerPoint, you may export it as an image to save it for future use as your inspiration. Simply click the File tab on PowerPoint. Then, click the Export button on the left side. After that, click the Change File Type button and choose an image format under Image File Types. Finally, click the Save As button to choose a folder
Conclusion
After obtaining a basic picture of an org chart and knowing where to find the free org chart examples, you will find it much easier to build up an org chart on your own by starting from scratch or with the help of creative templates. Meanwhile, next time when depicting your company's structure, you can better decide which type of org chart you should use based on the size and personnel composite of the company.