When you search for a good project management tool for keeping your team organized and improving efficiency on the internet, you may get the ClickUp app recommendation. ClickUp is a popular collaboration and productivity platform that aims to improve workflow and produce better results.

Review Clickup
This post gives a detailed ClickUp review to tell its key features, pros, cons, pricing, downloading, and other related information. Before you choose to use it, you can check the review first and then make your decision.
Part 1. ClickUp Overview, Features, Pricing, Download, and Product Details
As an all-in-one productivity platform, ClickUp is designed with all types of useful functions. From the official website, ClickUp claims that it comes with hundreds of free features for different work needs. Here in this post, we like to guide you to know the main product features of the ClickUp app, its pros and cons, pricing, downloading, and more.
What is ClickUp
ClickUp is equipped with many team collaboration and shared task-setting functions. It enables you to easily plan, organize, and collaborate on work using tasks, Docs, Chat, Goals, Whiteboards, and more. ClickUp offers you status alerts and project updates to better align workflows around goals. Whether you are small teams or enterprise companies, you can get more flexibility and control to organize everything at work.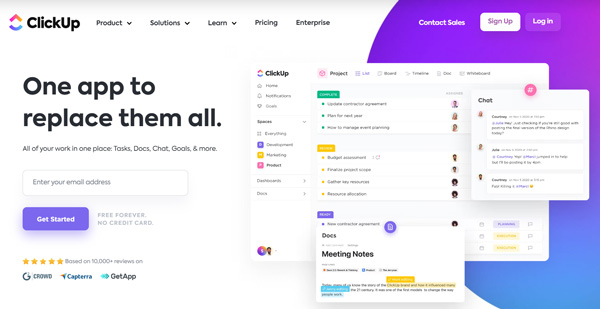 ClickUp features
As mentioned above, this all-in-one productivity platform provides you with a convenient way to create tasks, edit and update seamlessly, collaborate with others, view your to-dos in one list, track progress and goals, and do other operations to increase productivity. In general, all ClickUp features are divided into three main categories, Task Management, Complete Customization, and Team Collaboration.
You can easily find the specific feature you need from them. Besides, ClickUp can help you to set reminders, build and automate sprints, create recurring checklists and tasks, design milestones, set due dates and set up goals, establish estimates and track time, schedule, manage dependencies, and prioritize, integrate with hundreds of tools, automate routine work and processes, and many more.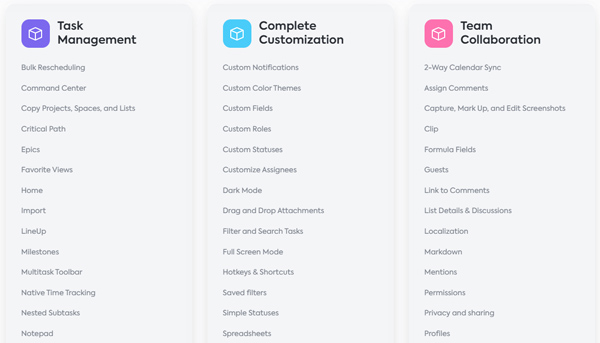 ClickUp allows you to tackle work from any angle with over 15 powerful views. You can switch from these views until you get a suitable one to better manage your project. Moreover, it gives you 35+ ClickApps to easily access different functionalities. You are allowed to customize everything in ClickUp to manage various projects, with no code or add-ons required. Compared with its competitors, ClickUp does have a slightly steeper learning curve.
ClickUp pricing
ClickUp has a free version for personal use. You can navigate to its official website, sign in to your account, and then access its various features for free. On the other hand, for businesses, ClickUp offers four plans to choose from, and the price starts at $5 per member and per month. These four paid plans are Unlimited, Business, Business Plus, and Enterprise. There are some different feature limits among them. When you enter the ClickUp website, you can click on the top Pricing tab to check the details.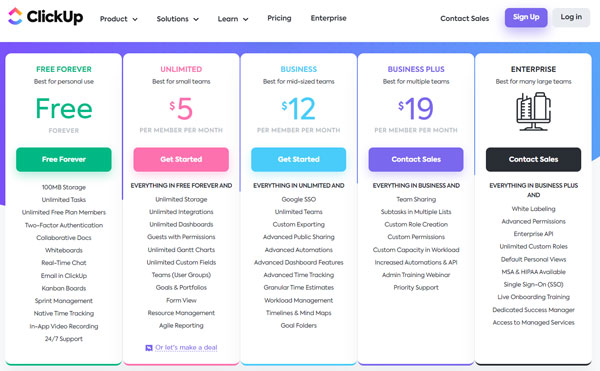 ClickUp app download
ClickUp is available on both desktop and mobile devices. You can access it on your Windows PC, Mac, Linux computers, iPhone, iPad, Android devices, voice assistants, Chrome extension, and more. You can use its web version on your device without downloading it. Also, you can go to the ClickUp download page to install a suitable ClickUp app. For instance, you can click the specific Download Mac, Download Mac M1, Download Windows, or Download Linux to quickly get the related version. Also, you can free install the ClickUp app from App Store or Google Play Store.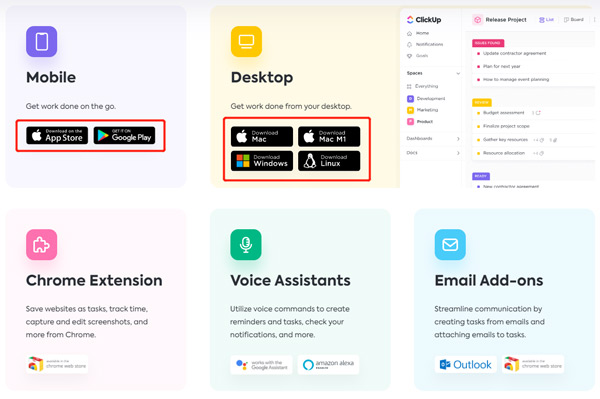 How to use ClickUp
As you can see from above, ClickUp offers different versions for you to use on different devices. So first, you should free download, install, and open the ClickUp app. If you want to quickly access its features, you can also directly go to its official site and start using its web version.
You need to enter your email and password to sign in to your account. Also, you can sign in with SSO to start using ClickUp. After that, choose your initial avatar and follow the instructions to customize other settings. Then you need to choose a Workspace and a Team Size. After you set the workspace name, you can send invitations to your team members. Enable which ClickApps you want to use in the ClickUp Space. After all these operations, you can click the Spaces, Notifications, Dashboards, Docs, or another section on the left panel and use it.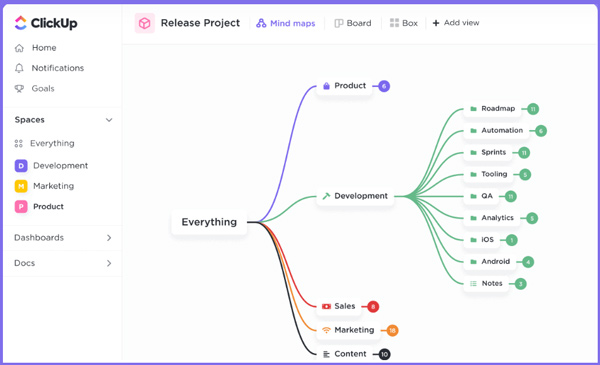 Part 2. Best ClickUp Alternative to Make Project Management
When you want to make a mind map, flowchart, organizational chart, or project management, besides the ClickUp app, you can also use the easy-to-use MindOnMap. As a popular online mind map maker, it allows you to easily create relationship maps, Gantt charts, organizational charts, fishbone diagrams, tree diagrams, and more. Many themes, templates, and objects are offered for you to make project management based on your need.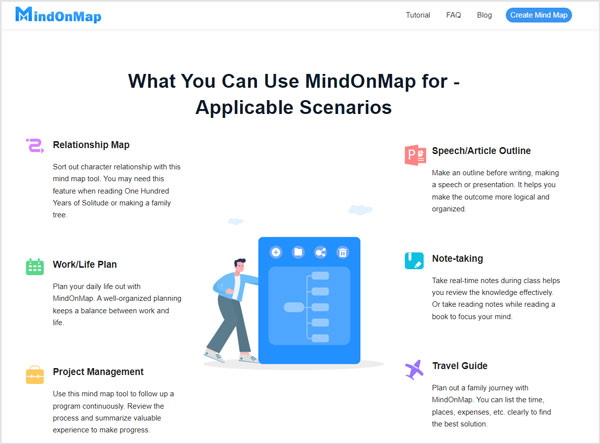 You can use this ClickUp alternative on any web browser like Chrome, IE, Firefox, Yahoo, or Safari. When you enter its official website, you can click the Create Your Mind Map button to start the project management. Here you are required to have an email or Google account to move on.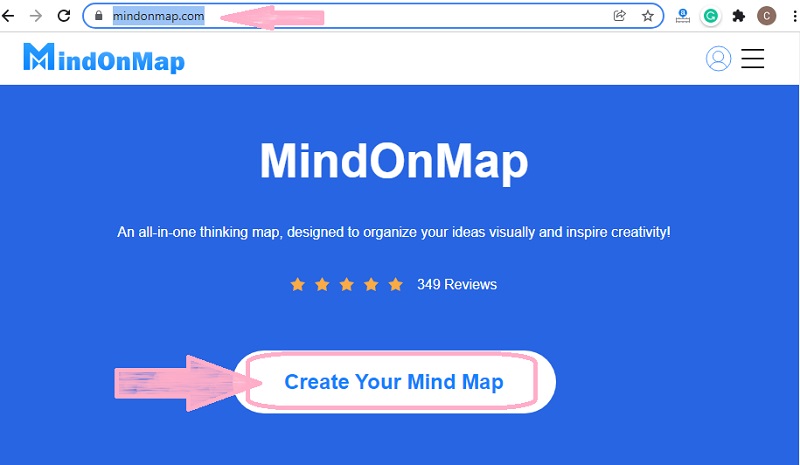 As mentioned above, this ClickUp app alternative carries many popular themes and templates for you to quickly start your diagram creation. As a new user, you can follow the on-screen instructions to know how to use it.

You can easily adjust the theme, style, icon, and outline, check history, and send feedback through the options on the right sidebar. Also, you can use the basic editing functions on the top part of the MindOnMap to make your project management. You also can use this tool to make a flowchart.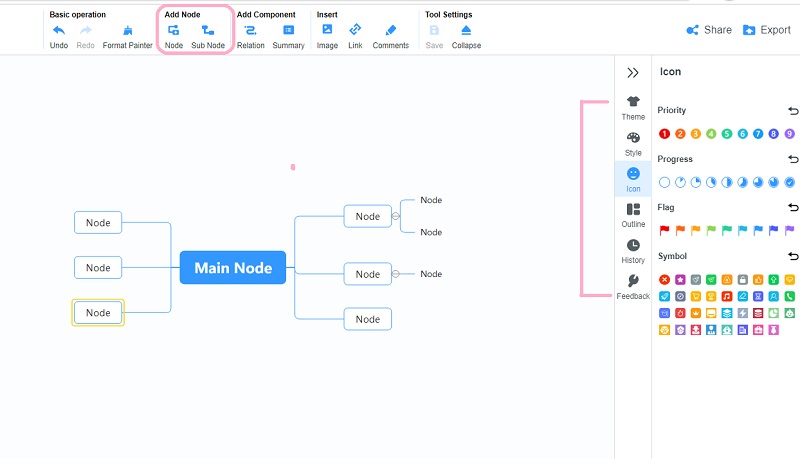 Part 3. FAQs of the ClickUp App
Question 1. How to create a mind map in ClickUp?
After you open ClickUp and sign in to your account, click Spaces on the left panel, and then click on the View tab. From its drop-down list, select the Mind Map option, and then click on the Add View button to start creating your mind map. Here you are allowed to directly generate a mind map from the existing content. Or you can create a mind map with a blank page.
Question 2. How can I enable the Email ClickApp in ClickUp?
The Email ClickApp allows you to send and receive emails directly within a task. With it, you can handily switch between sending a comment to internal teammates and an email to anyone outside of ClickUp. But you need to enable it in ClickUp first. To do that, you can click your profile avatar in the lower-left corner and then go to ClickApps. Search for and locate the Email ClickApp. Here you can easily toggle it on to enable and use it.
Question 3. Where to get help from ClickUp?
ClickUp gives you 24/7 real-time support. It has a dedicated ClickUp Help Center to give your help and answer almost any question you might have. You can go to the dedicated docs section to search for the related questions. Also, you can click on the contact icon in the bottom right to directly raise the chatbot.
Conclusion
ClickUp is a popular task management tool that can help you efficiently get work done. With the ClickUp review above, you can get to know its key features, some pros and cons, and how to download and use it. For more questions about the ClickUp app, you can leave us a message.