For anyone who needs to constantly deal with the diagrams, data, and flowcharts, you may also be familiar with Microsoft Visio – a diagramming tool for Windows which enables you to build all sorts of chars and diagrams. But before jumping to purchase, you also need to obtain more knowledge about Microsoft Visio. For example, are there any flaws in it? This post will briefly review Microsoft Visio and present to you its main features, pros, and cons. Besides, you may also check the best alternative, MindOnMap, if the Visio is not satisfying to you.

Review Microsoft Visio
Part 1: Review Microsoft Visio
To better walk you through Microsoft Visio and get a better understanding of it, this chapter will review Microsoft Visio from the following 4 aspects: a comprehensive introduction to Microsoft Visio, its major features, pros, and cons.
What is Microsoft Visio
Microsoft Visio is a diagramming tool designed by Microsoft for businesspeople. You may already have this software if you ever purchased Microsoft 365 Commercial and Educational plans. Microsoft Visio has both web and desktop apps. Besides the Microsoft 365 plans, you can also get this app alone by subscribing to Visio plans. Or try the one-month Microsoft Visio free trial before ordering. Visio enables you to make a flowchart, create Venn diagrams with templates, and share charts with colleagues.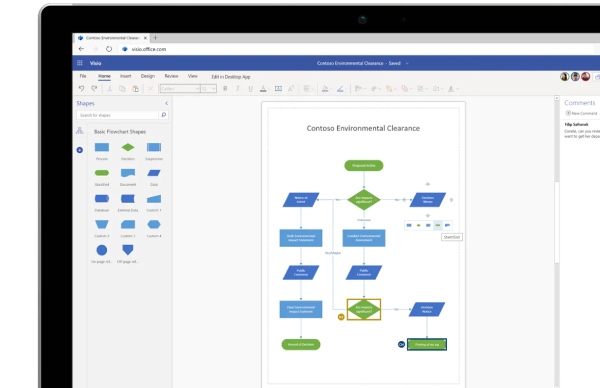 Microsoft Visio Brief Review
Besides building up diagrams and charts, there are more features you should see about Microsoft Visio. Meanwhile, the pros and cons below may also help you decide whether Microsoft Visio is worth purchasing.
1. Minimum Threshold for Beginners
Microsoft Visio has a similar layout to other apps from Microsoft Office. Therefore, it is easy for you to get started with it and create a chart. If you know how to use Excel or Word, Visio should not be a problem. Besides, all the functions you need are placed right under your eyes in a straightforward style. You can apply the effects you want with simple clicking.
2. Visualization for Different Scenarios
Whether you are making a mind map or basic network diagrams, Microsoft Visio offers you plenty of templates to visualize your ideas. You can create a professional diagram without being a pro yourself. Because there are multiple pre-designed templates for different purposes or scenarios like workflow diagrams, UML database notation, etc.
3. Great Collaboration Performance
As a diagramming tool frequently used in the workplace, Microsoft Visio also has great capability for collaboration and integration. For example, the Visio add-in in Excel allows you to draw a data-driven chart or diagram in Excel. Meanwhile, you can collaborate with your colleagues and coauthor for diagrams in Microsoft Visio online. Or join the Visio team created by your company to collaborate with other members.
PROS

Offers 2 GB of One Drive for business cloud storage.
Boost your innovation with the creative diagram presets.
Build an efficient workflow by coauthoring with colleagues.
Save your chart work in multiple different formats.
Import data for diagrams from other sources like Excel.
Autosave every step you make for the diagram.
CONS

Collaboration features aren't intuitive as other products like Miro
Lagging may occur when building diagrams in the web app.
Compatible with only the Windows system only.
Can't customize or crop the picture added in your diagram.
How Much Does Microsoft Visio Cost
Microsoft Visio price plans might be a little bit complex since it provides several different plans, and you can also get the program from Office 365. For a subscription, you can either pay 5$ per month for plan 1 or 15$ per month for plan 2 with more features. You may see the picture below to see more price plans.

How to Use Microsoft Visio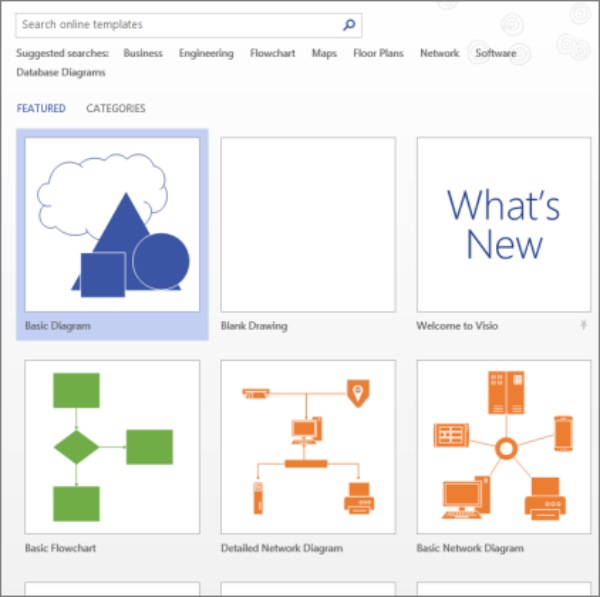 Step 1Get a free Microsoft Visio download and install it on your computer. Launch it and click the File and New button to create a new chart.
Step 2Select a template or click the Blank Drawing button to start with a blank canvas.
Step 3In the Shapes window, you can apply any shape you want by dragging it to the canvas. Hold your mouse over the shape till you see a crosshair and customize the shape.
Step 4Double-click on the shape to enter texts in it. Then select a connector to show the relations of the contexts in two shapes.
Step 5Once you finish, press Ctrl and S keys to save it, and a window will pop up to choose a destination folder.
If your company all uses Microsoft Visio in daily work, then it is worth purchasing. Especially when your job requires the extensive drawing of diagrams or charts to analyze the data. Otherwise, you may also rely on Microsoft Excel, which can also build up practical diagrams for you. Or check out the online free tool, MindOnMap, to create flowcharts out of charge.
Part 2: Best Alternative to Microsoft Visio
Microsoft Visio cost may be a large expense for some people and you may still want a workable program that can help you design a chart, build diagrams, or mind map. Therefore, this post has found you the best alternative to Microsoft Visio which helps you visualize ideas and thoughts for free. MindOnMap is exactly the diagramming tool you need. As a free tool online, you can access, create, and edit a char anytime anywhere you want.
Main Features:
Share your charts via links for colleagues to check.
Save your work automatically to prevent data loss.
Offer fanciful icons and decorating resources.
Apply various templates of diagrams and charts.
How to Use the Best Alternative to Microsoft Visio
Step 1Go to the MindOnMap website: https://www.mindonmap.com/ on any of your browsers. Click the Create Your Mind Map button. As a newbie, you need to create an account first.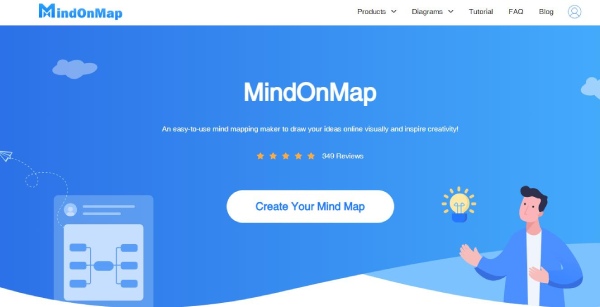 Step 2Use the account to sign in. On the left side of the new page, click the New button to see different types of diagrams. Click the Flowchart button to create a new blank sheet for drawing your new chart.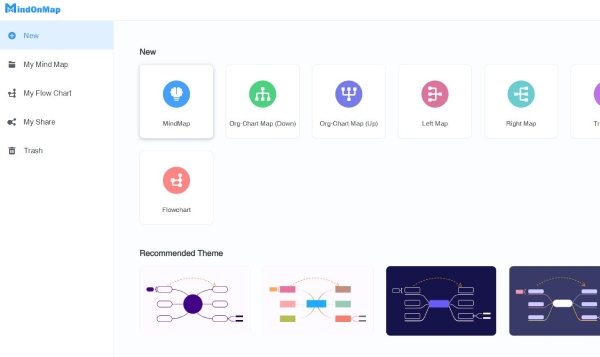 Step 3Drag the shape you want to the blank page to apply, and you can then type in that shape. If you want to change your text style, use the tool above. Once you've done this, click the Export button on the right corner to save your work to your device.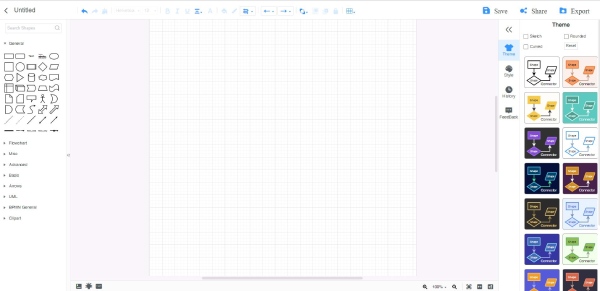 Part 3: FAQs about Microsoft Visio
Question 1. Which plans include the Microsoft Visio web app?
All the plans of Visio offer the web app. If you want to subscribe to the software, plan 1 and plan 2 can both meet your demand since they both include the desktop and web app.
Question 2. Is there a free trial for Microsoft Visio?
Yes, there is. If you choose from subscription plans, whether plan 1 or plan 2, you will both get a free trial for one month. But the accessible features in these two plans' free trials may vary.
Question 3. How to add a stencil to the template in Microsoft Visio?
In the Shapes window, click the More Shapes button. Then many stencils will appear, choose the one you want to add to the template. Click the File and Save As buttons, choose a folder and from the list, click the Visio Template button and enter a name for it. Finally, click the OK button to save.
Conclusion
You have now thoroughly understood the diagramming tool from Microsoft including what is Microsoft Visio used for, its major features, advantages, and disadvantages. Moreover, with the best alternative to it, you will be able to better decide whether to purchase the program or use the free online tool.