What Miro is? It is a web-based visual collaboration platform developed to unlock creativity and accelerate innovation among organizations of all kinds. In another word, it is an online solution to create, share, and present your word. However, there are still many problems around this application, such as what it can do exactly, how much it cost, and more. This review will answer these questions and provide more information about the platform.

Review Miro
Part 1: Miro Review
Unlike other mind map tools, Miro gives you a blank canvas online as well as a toolbox. So that you can make diagrams and flowcharts according to your need, and present the result quickly. More importantly, everything is collaborative.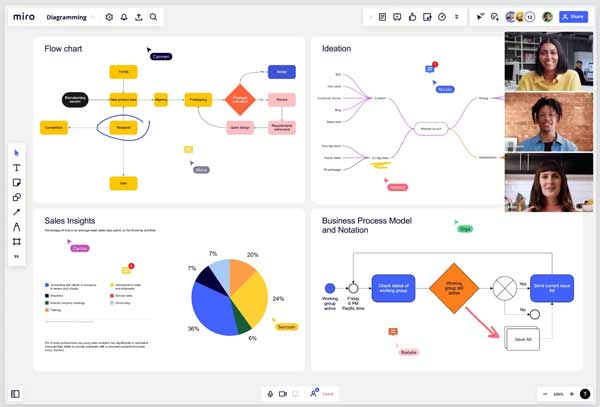 Main Features of Miro
1. Come with an infinite canvas to make flowcharts and diagrams.
2. Offer plentiful custom templates to simplify the workflow.
3. Perform screen sharing when presenting your project.
4. Make video conferences with colleagues or customers.
5. Support a wide range of diagrams and charts.
6. Include wireframing to run a remote design sprint.
7. Distribute projects, brainstorm, and information with mind maps.
8. Keep remote teams lean with agile workflows.
Brief Review of Miro
PROS

Miro comes with excellent collaboration and presentation tools.
The infinite canvas enables users to draw any ideas, plans, designs, and charts without any restrictions.
For beginners, custom templates are helpful.
It offers more features and useful tools than other diagram software.
The interface is straightforward and user-friendly.
Miro app also supports integration with other apps and services.
It provides flexible plans to meet a variety of needs.
Miro completely works online and does not ask you to install anything.
CONS

It requires a good internet connection and lacks offline functionality.
It is not easy to start developing on the Miro board.
The free plan is limited and users have to upgrade to a paid plan to unlock advanced features.
The online support is poor and responds slowly.
How Much Does Miro Cost?
Miro comes with a free plan. With a free account, you can make three boards and collaborate with a team. The custom templates are also available for free accounts along with other basic features.
There are four paid plans, Team, Consultant, Business, and Enterprise. They unlock the limit on the number of boards. Plus, users can get a few extra options and more tools for online meetings and presentations. The Team plan costs $10 per month per person or $96 per year per person. Consultant costs $15 per month per person or $144 per person annually. For a Business plan, the price is $192 per person annually. The Enterprise plan performs custom pricing.
Bottom Line
As one of the most widely used whiteboard solutions, Miro is a great option for collaborative work. With its infinite canvas, users can convert ideas and strategies into graphics and charts. That is essential to solving problems quickly and improving productivity.
Part 2: Top 5 Alternatives to Miro
Top 1: MindOnMap
MindOnMap is one of the best alternatives to Miro if you need a powerful tool to make diagrams and flowcharts. It is a full-featured diagram application online. More importantly, all features are free to use without any limits.
PROS

Make unlimited diagrams online.
Come with lots of customizable templates.
Stylize flowcharts with text, color, icons, etc.
Completely free of charge without watermarks.
Store your designs online for collaboration.
CONS

It lacks some features, like video conference and screen sharing.
How to Use the Miro Alternative
Step 1Access https://www.mindonmap.com/ in a browser to open the Miro alternative. Log in to your account. If you do not have one, create a new one for free.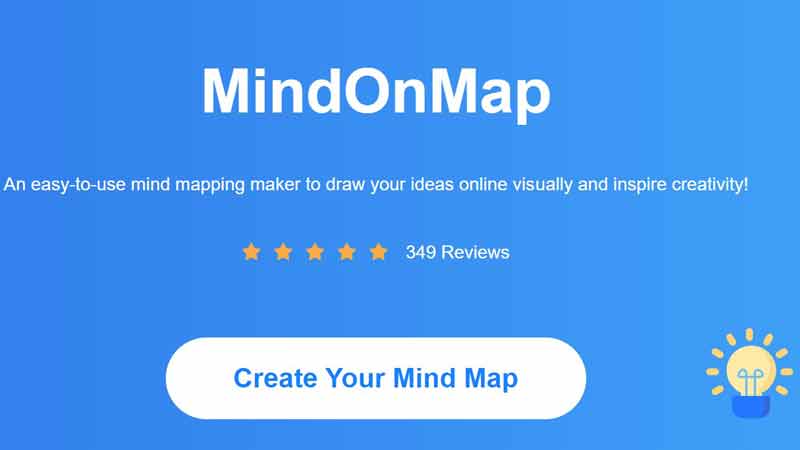 Step 2Click the Create Your Mind Map button to enter the home page. Hit the New tab and you will see the templates and themes. Choose an appropriate one to open the editor page.
Step 3Here you can draw your diagram or flowchart with nodes and sub-nodes from the top menu bar. The left toolbox enables you to add icons and text or stylize your graphic.

Step 4Finally, click the Export button to save the chart or hit the Share button to present it directly.
Top 2: ClickUp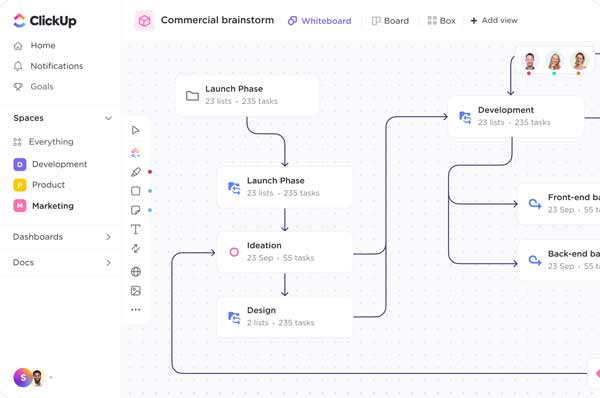 ClickUp is a project management tool and a free alternative to Miro. It allows users to visualize plans, organize ideas, and do more on the whiteboard online. The drag-and-drop feature makes graphic generation easier.
PROS

Free to all users.
Save projects automatically.
Send and receive emails within the app.
Integrate with Zoom for video conferences.
CONS

It can be a bit complex for beginners.
The mobile app lacks some features.
Top 3: WebBoard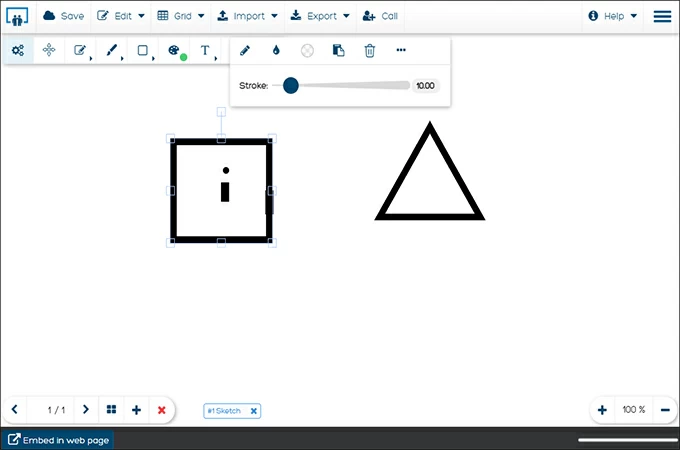 WebBoard is an online collaboration tool and an alternative to Miro. With it, you can draw diagrams and brainstorm with a team. Once access the application, you will be presented with a whiteboard that is accessible by multiple participants.
PROS

Integrate the call feature to work together.
Support lots of input and output formats.
Draw diagrams with colleagues.
Available to all major browsers.
CONS

It does not have templates.
The interface looks outdated.
Top 4: Microsoft Whiteboard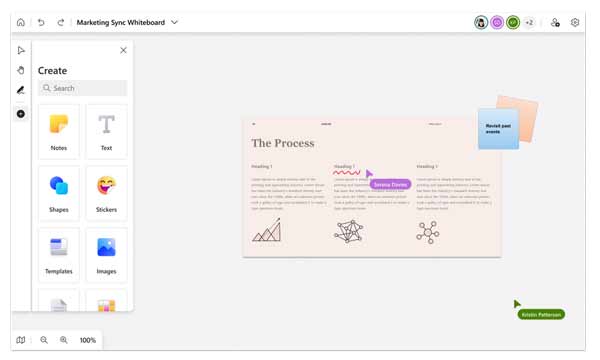 MS Whiteboard is the Miro alternative solution from Microsoft. It is an online collaboration application of the MS 365 suite. With inks, notes, stickers, and more features, idea presentations become easy.
PROS

Use with an Active pen.
Offer infinite space for collaboration.
Come with plentiful templates.
Work with other MS applications.
CONS

It requires an MS account to view and use boards.
This app is limited to some web browsers.
Top 5: Excalidraw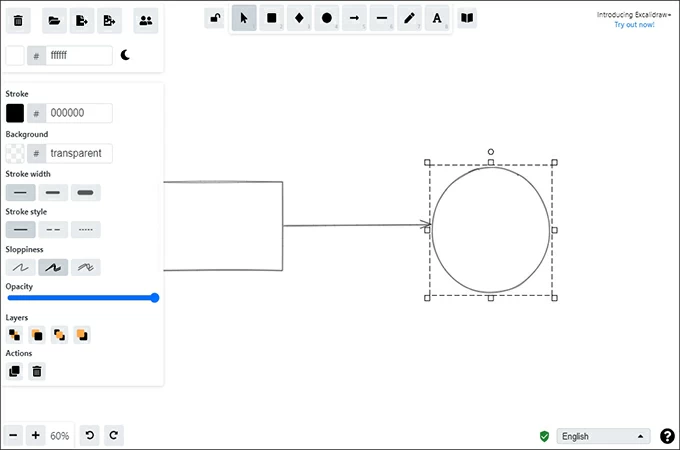 Excalidraw is a web-based alternative to Miro. It has the ability to produce diagram sketches with a hand-drawn appearance. With the online app, users can hold sessions with colleagues, students, or clients. 
PROS

Input and draw graphics easily.
Provide a free version.
Support collaboration in real-time.
Save graphics and charts locally.
CONS

The templates are limited.
Some features need to improve.
Part 3: FAQs about Miro Review
Who uses Miro?
The users of Miro are diverse including small businesses, individuals, organizations, and more. Now, hundreds of companies reportedly use Miro in their tech stacks.
Is Miro a Microsoft product?
Miro is a Microsoft product that is used by people for sharing their ideas as a team. It was introduced by Microsoft in 2011.
Does Google have a Miro equivalent?
Some people use Google Docs as a low-tech alternative, but Miro is more powerful. Moreover, Miro can integrate with Google applications, such as Calendar. That lets users attach boards to events and automatic access by teammates.
Conclusion
Following our introduction and review, you should understand what Miro is, its advantages and drawbacks, and the best alternative solutions. Now, you can make the best decision before opening your wallet. As a whiteboard tool, Miro is pretty flexible and can meet a variety of needs. If you have other questions about this tool, please feel free to contact us by leaving a message below and we will reply to it as soon as possible.