As a graphic designing platform, Venngage helps users to create graphics with built-in templates. For instance, teachers can use it to display information and pass infographics out to parents. Small and large businesses can create infographics to demonstrate their products and services. However, there are still a lot of questions about the software, like how to log in to the service, how much it cost, what types of graphics it can make, etc. This article will answer these questions and provide more information about Venngage.

Review Venngage
Part 1: Concrete Review of Venngage
Venngage is far more than a simple graphic application. It is also an important collaboration tool. Unfortunately, Venngage does not provide a free trial and you have to pay for the business plan to get full features.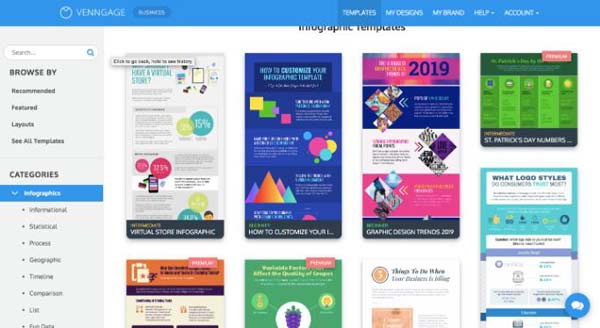 Main Features of Venngage
1. Make graphics using the built-in templates.
2. Save your designs as templates to use later.
3. Create a shared folder to work with partners remotely.
4. Add icons, charts, images, and more.
5. Offer engaging visual materials to customize graphics.
6. Transform data insights into visual content easily.
7. Provide external communications templates.
8. Control privacy and sharing activities.
9. Export your graphics in PDF, PNG, or Hi-Res PNG.
10. Support interactive PDF documents.
Unbiased Review of Venngage
PROS

Venngage integrates flexible templates for beginners and exports.
The friendly interface enables users to navigate easily.
There are a lot of items to make truly customized infographics.
Venngage completely works online and users do not need to install anything.
It is available in multiple languages, such as English, French, etc.
It enables you to create engagement graphics with interactive elements.
Users can make brand identities with logos, fonts, and more.
Venngage allows you to save over 20 hours of design time with templates.
CONS

It offers both a free and business plan, but the former needs more help features and suggestions.
It can only work with good internet connectivity.
If you want to have more than five infographics posted at the same time, you have to upgrade the subscription.
It lacks the plan of a one-time fee.
Users must log in to Venngage to access the features.
Some functionalities still need improvement.
Price of Venngage
Venngage does not offer a free trial, but users can try the free plan with limitations, such as posting up to 5 infographics at one time. To unlock the limitations, you can pay for the Premium plan, which costs $19 per month. There is a Business plan that costs $49 per month for full features.
How to Download Infographics from Venngage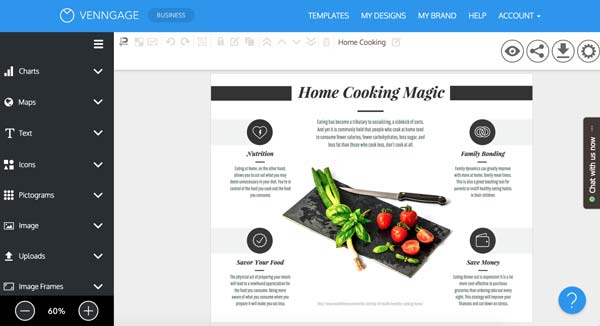 The workflow of making and downloading infographics on Venngage is pretty easy. Firstly, you need to visit the graphic maker in your browser. Then log in to your account. If you do not have one, sign up for a new one for free. Next, go to the Templates page from the navigation bar on the top. Here you can choose an appropriate template from the database.
The items on the left sidebar let you customize the template based on your need and preference. When you are done, click the Download button at the top right side. Follow the on-screen instructions to download your infographic from Venngage.
Part 2: Best Alternative to Venngage
Although Venngage provides a free plan, it is too simple for professionals. Is there any alternative to Venngage to make graphics for free? The answer is MindOnMap. It enables you to make mind maps, charts, graphics, and more online without paying a penny. Plus, there are oceans of high-level customizable templates for beginners to create diagrams, charts, infographics, and more. Users can add icons, nodes, images, logos, and other elements to their graphics easily. It supports interactive content too, such as links. More importantly, all of them are free to use and you cannot find any options related to payment on the site.
How to Use the Alternative to Venngage
Step 1Open your web browser, and visit https://www.mindonmap.com/ directly. Sign in to your account or make a new account for free right now.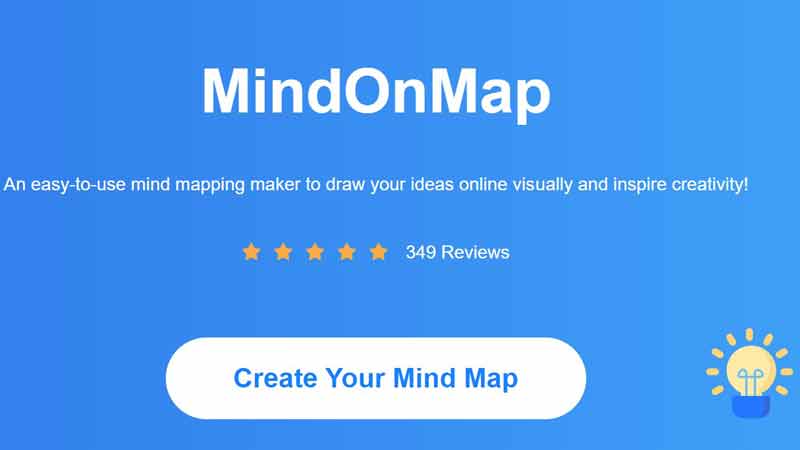 Step 2Press the Create Your Mind Map button on the home page to move on.
Step 3Go to the New tab from the left side, and you will see the templates on the right side. Select a proper one to enter the editor page.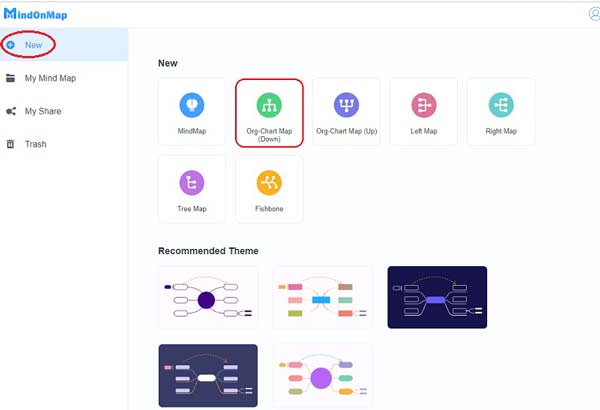 Step 4Next, edit the graphic with the top menu bar and the toolbar on the right side. Here you can add nodes, insert images and links, add icons, and more.

Step 5To download the infographic from Venngage alternative, click the Export button, and select the proper output format. It allows you to save graphics as images, PDFs, or Word documents. Or you hit the Share button to publish the graphic directly.
Further Reading:
Part 3: FAQs about Venngage Review
Is Venngage trusted?
Yes, Venngage is a platform used to convert processes and data into more accessible and engaging content. It is reliable and empowers users to easily make charts, graphics, and infographics with free and advanced features.
Which one is better, Venngage or Canva?
The answer is determined by your situation and we recommend you try both of them to find the right one. Canva is less expensive than Venngage, but the latter offers a free plan with more features than the former's free plan.
Is Venngage free for students?
No, the education plan is $29 per month or $99 per year for up to 35 students and instructors per classroom.
Conclusion
This post has viewed one of the best graphic applications, Venngage. It simplifies the workflow to make infographics using templates. There are also elements to help you customize your infographics. If you do not like it or it is not available to you, MindOnMap is one of the best alternatives. You can make unlimited mind maps and graphics for free. If you have other problems with this topic, please feel free to leave a message below this post and we will reply to it quickly.