Thinking maps can help students think through new information and process ideas. Thinking mapping provides an effective way to visualize thinking and abstract thoughts with concrete visuals.
This post covers thinking maps, the benefits of thinking mapping, and some thinking maps templates. What's more, you can learn how to create thinking maps.

Thinking Mapping
Part 1. Thinking Maps - What Is a Thinking Map
Thinking maps are a learning method that can correlate to specific cognitive processes. A thinking map is mainly used in primary and secondary education to offer a regular visual language to information structure. It can help students or learners to organize their ideas and information effectively.
Eight types of thinking maps
Thinking maps have eight visual patterns based on a fundamental thought process. These eight mapping types are Tree Map, Flow Map, Multi-flow Map, Circle Map, Bridge Map, Brace Map, Bubble Map, and Double Bubble Map.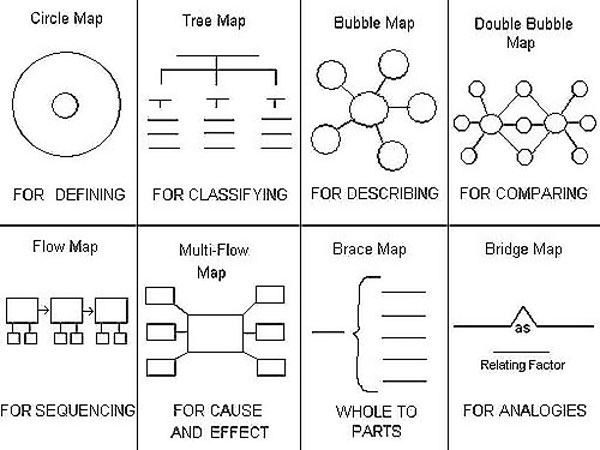 Tree Map thinking map is used for classifying, grouping, or supporting main ideas and details. It can help organize information and classify objects by connecting them with the main categories. Like other tree maps, it usually has a main topic on the top and the relevant information listed below.
Flow Map thinking maps can visualize a process and progression. They are mainly used to sequence and order events. This kind of thinking map can identify essential information and process steps. Multi-flow Map aims to analyze causes and effects. It focuses on the analysis of reason and results.
A Circle Map offers a simple way to understand a specific topic. It is used for defining in context, connecting the simple idea, or brainstorming. A circle map thinking map contains two circles. The inside circle is the main topic, and the larger circle responds with connections and definitions of the vital topic.
The Bridge Map thinking map can be used illustrating analogies. It can build a bridge between the new and the old things. Bridge Map helps quickly find the similarities and connections between objects through comparison.
Bubble Map can describe a subject with adjectives. This thinking map can also be used for setting goals. You can use it to break down the final goal into pieces. The Double Bubble Map places two bubble maps together for comparing and contrasting. With it, you can better compare the differences and similarities. Brace Map is used to identify the components or relationships. It displays the relationship between the parts and the whole subject. It aims to organize components of the whole topic, comparing with Tree Map.
Benefits of the thinking maps
Thinking maps can better empathize and synthesize your observations. It gives way to visualize thinking and build a concrete image of abstract thoughts. The primary purpose of using thinking maps is to organize ideas for students and teachers. They can also enhance learning. According to Dr. Hyerle, the main benefits are, Thinking Maps are reflective, consistent, integrative, flexible, and developmental.
Thinking maps templates
You can easily access many thinking map templates. Before you start to create a thinking map, you can browse thinking mapping examples and select your preferred templates to help you make your own map.
To quickly locate ready-made examples, you can directly search for the thinking maps templates on a web browser, such as Safari, Chrome, Firefox, Yahoo, or Edge. Go to the images tab to view various templates for Tree Map, Circle, Bubble, Flow, and others.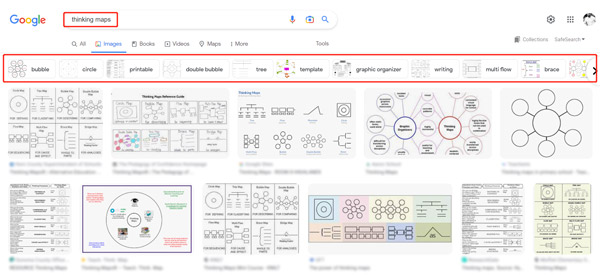 Part 2. How to Create Thinking Maps Online for Free
When you want to make a thinking map, you should first think of your main purpose and usage. Also, you need to select the correct thinking map to suit your purpose. Afterward, you can use a mapping tool to start with a thinking map template or draft and type the associated context.
To free create a thinking map, you can use the free online thinking mapping tool, MindOnMap. It has many ready-made templates, examples, and themes to create all maps. You can navigate to its official website and follow the steps below to make a thinking map quickly.
Step 1When you access this online thinking mapping tool, click the Create Your Mind Map button and sign in to your account.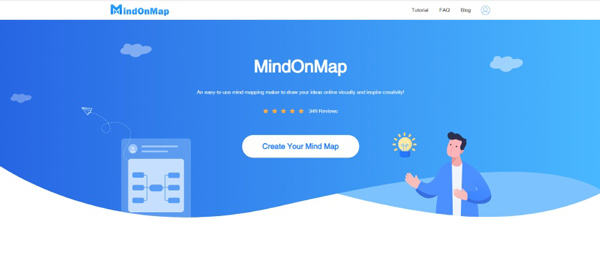 Step 2As mentioned above, MindOnMap collects many templates and examples to start your thinking mapping quickly. You can click New on the left panel to show them. You can choose a suitable template to make your thinking map.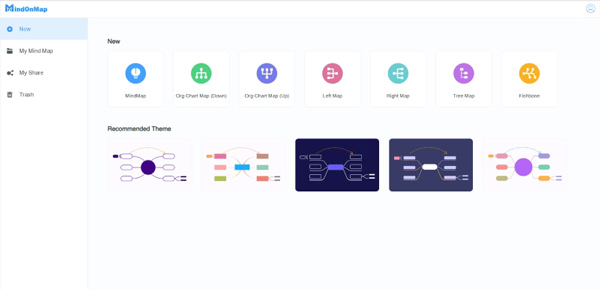 Step 3MindOnMap is equipped with many valuable tools for you to make your thinking map. You can click Theme, Style, Icon, or Outline to display more options and customize your thinking map. Some basic features are designed on the top menu bar. You can select the specific tool you need to edit your map.

Step 4After you create a thinking map, you can click the Export button to store it as an image file, Word document, or PDF file based on your need. Moreover, you are allowed to generate a sharing link by clicking the Share button. Besides thinking maps, you can also create mind maps, tree diagrams, flowcharts, organizational charts, and more using MindOnMap. You also can use this tool to create flowcharts.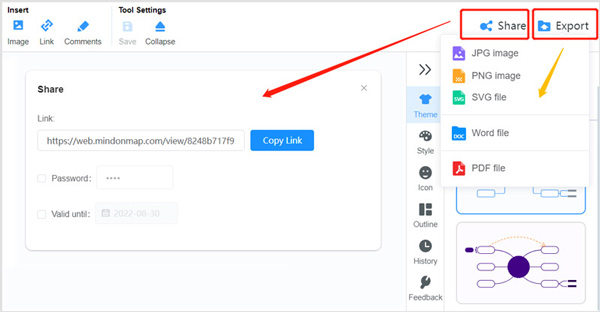 Part 3. FAQs of Thinking Mapping
Question 1. Is the thinking map the same as the mind map?
No. A thinking map usually connects many ideas or concepts. But a mind map usually has one main idea. Thinking maps have different structures and eight types. In contrast, mind maps have a radial configuration.
Question 2. Which thinking map type is used for brainstorming?
The Circle Map is mainly used for brainstorming. This thinking map type can structure the thinking of a group effectively. It can group different ideas into categories.
Question 3. Are there thinking map templates offered in PowerPoint?
No. PowerPoint does not have any ready-made templates for creating thinking maps. But it offers a shape library and many essential tools to create thinking maps manually.
Conclusion
This post gives you the basic definition of thinking maps. You can learn about a thinking map, its benefits, and thinking map templates. Moreover, we recommend an easy-to-use MindOnMap to create thinking maps quickly.