A tree diagram is usually used to represent a probability space. It gives a convenient way to display data or a sequence of events in various industries. With a tree diagram, you can handily draw your thinking step by step from generalities to specifics. This post explains what a tree diagram is and how to make your tree charts.

Tree Diagraming
Part 1. What Is a Tree Diagram
A tree diagram is a method to represent the hierarchy in a tree-like structure visually. It is also a new management planning tool depicting the hierarchy of tasks and sub-tasks needed to complete an objective. It is instrumental in probability because it can display all possible outcomes in a straightforward and uncomplicated manner.
A tree diagram, also called a hierarchy diagram, tree analysis, analytical tree, or systematic diagram, usually has essential elements like a root node and line connections. It starts with one item and branches into two or more branches. These branches represent the relationships and connections between the members. In a family tree diagram, leaf nodes are referred to the members with no children or child nodes.
Tree diagram probability
Tree diagrams can show a series of conditional probabilities. The tree diagram probability associated with a node refers to the chance of that event occurring. You know that the probability of a sequence of events leading up to a particular node is equal to the product of the probability of that node and its parent node.
What is a tree diagram used for
A tree diagram is mainly used for representing family relations and descent. As mentioned above, it can be used to represent a probability space in probability theory. A tree diagram can show the practice and science of classification in taxonomy. It can also show the origin of species in evolutionary science. Now tree diagrams are widely used in businesses and organizations for managerial purposes.
Tree diagram templates
Many tree diagram templates and examples are offered on the internet. To quickly find associated templates, you can directly search for tree diagram templates on a web browser. Then you can access different tree diagram templates for PowerPoint, Word, Excel, family, business, and other types. You can also get many blank and editable tree diagram templates.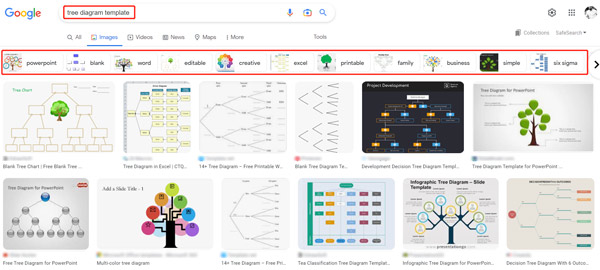 Part 2. How to Make a Tree Diagram
Before you start tree diagramming, you should collect all the associated information you need in more ways than one. Also, you'd better view some mature tree diagram examples. After that, you can make your tree diagram using Microsoft Word, PowerPoint, Excel, or some specially-designed diagramming tool.
We strongly recommend the powerful MindOnMap for you to create a tree diagram for free. It is an online tree diagram maker that works well on commonly-used web browsers, including Chrome, Safari, Firefox, and Edge. You can use it to make a tree diagram on a Mac, Windows PC, iPhone, iPad, or Android device. MindOnMap is equipped with ready-made tree diagram templates and the necessary tools to start your tree diagramming quickly.
Step 1Open a web browser, search for MindOnMap, and go to its official website. When you get to the page, you can click the Create Your Mind Map button and sign in to your account. Here you are allowed to go directly login it with an email or Google account.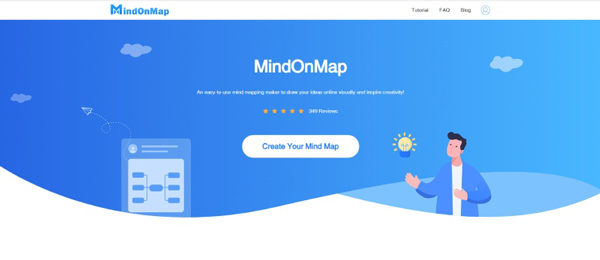 Step 2MindOnMap offers different diagram themes, templates, and examples. You can select the Tree Map option for an editable tree diagram template.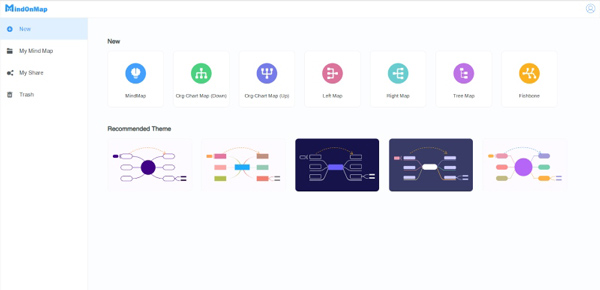 Step 3In its central tree diagram creating a page, you can add nodes, subnodes, and components to draw your tree diagram. Many basic editing features are designed on the top tools bar. You can freely insert pictures, links, comments, and others into the diagram according to your need. If you want to customize your tree diagram style, theme, icon, or outline, you can use the related options on the right side.

Step 4This free tree diagramming tool allows you to export or share your creation conveniently. You can click Export to save your tree diagram as an image, Word, or PDF file. You can click the Share button to generate a sharing link if you want to work with others for further editing.
Related to:
Part 3. FAQs of Tree Diagramming
Question 1. When to use a tree diagram?
Tree diagrams can be used in various industries for different purposes. For instance, when you want to analyze processes in detail, develop actions to solve a problem, build logical steps to achieve an objective, figure out the root cause of a problem, evaluate implementation issues, or create an interrelationship diagram, you will use a tree diagram.
Question 2. Can PowerPoint make a tree diagram?
Open PowerPoint, click the Insert tab, go to the Illustrations section, and then select the SmartArt option. Now you can choose your desired chart type from the pop-up window. After you get a suitable chart from hereditary, you can edit the chart and make your tree diagram in PowerPoint.
Question 3. How do you create a tree diagram in Office?
You can rely on its Block Diagram feature when you want to make a tree diagram in Office. Click the top File menu, choose the New option, go to Template Categories, and select General. Open Block Diagram and use various shapes to draw a tree diagram based on your need.
Conclusion
We have mainly talked about tree diagrams in this post. We explain what a tree diagram is and tell you the associated information. Moreover, you can learn how to make a tree diagram for free.