"I have got in hand a PDF document in an extremely large size with a super long text. When reading it with a PDF viewer, the image always gets stuck and distorts when I scroll up and down. It makes me painful and unable to go on reading. I guess it's due to its large size and the poor performance of my PC hardware. How can I read the PDF document more smoothly?"
The answer is easy. Convert the PDF to J2K! J2K is a good format for viewing large images and can contain losslessly compressed images. When viewing a large image on your screen, whatever the format is, you can convert it to J2K for a smooth viewing experience. This article will teach you how to convert PDF to J2K.

PDF to J2K
Part 1: What is a J2K File
A J2K file, also referred to as a JPEG 2000 Image file, is a bitmap image compressed using wavelet compression instead of DCT compression which is used in JPEG images. It stores metadata information of the image in XML. J2K image files support 16-bit color, lossless compression, and alpha transparency.
The most prominent feature of this format is its wavelet compression, which determines the quick displaying of a J2K picture in a viewer. When a viewer displays a J2K image, there are usually only relatively few pixels to be shown in the window. Thanks to the application of the wavelet compression, the image viewer can instantly fetch merely the required part of the image to fulfill the display pixels. Such a characteristic endows J2K an advantage in the viewing of data rather than the editing.
Part 2: Convert PDF to J2K in Highest Quality
Common PDF viewer programs usually do not support you to save a PDF document in image formats. To convert PDF to J2K, you need to pick a powerful PDF to J2K converter. Apeaksoft PDF Converter Ultimate could be your best choice. It enables you to convert PDF to J2K and dozens of other formats including PPT, DOC, JPG, etc.
Convert PDF to J2K and other formats like J2K, DOCX, XLSX, JPG, etc.
Input multiple PDF files in a time and convert them in a batch.
Set a desired resolution for the output J2K image at your will.
Select specific pages of a PDF to convert to J2K.
Download for Win
Steps to Convert PDF to J2K in Highest Quality
Step 1 Free download and install this PDF to J2K converter on your Windows or Mac. Then launch it and add your PDF (s) into the program by dragging and dropping them into the main interface.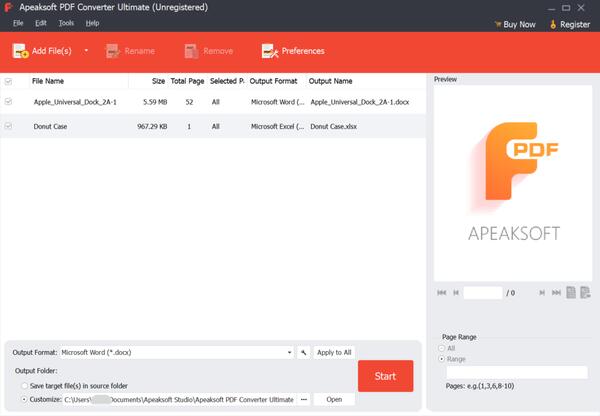 Step 2 Select the pages you want to convert from the PDF to a J2K. Then click on a file you just input and type in the page range at the bottom right of the interface.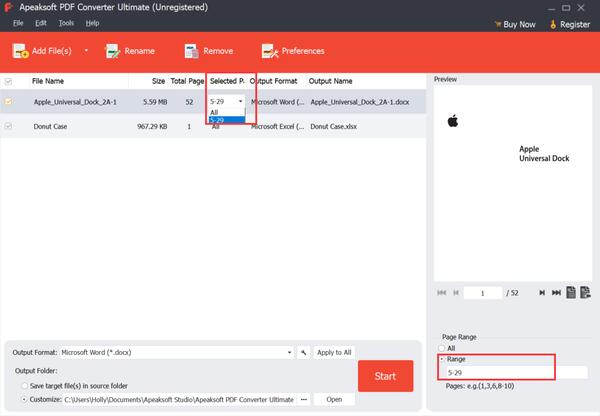 Step 3 Click the arrow to drop down the Output Format list. On the list, find JPEG 2000 and click to select it as the output format.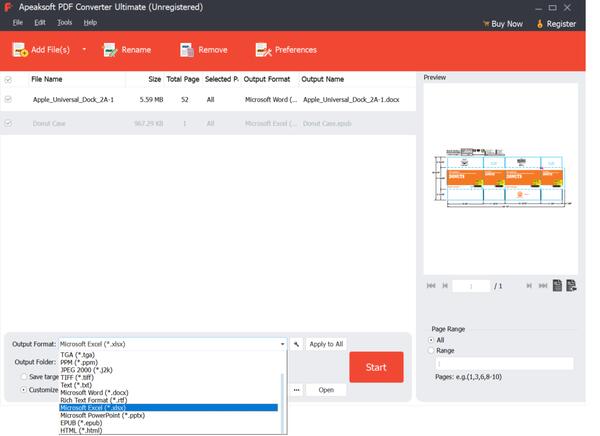 Step 4 You can click the Edit advanced output settings button (the spanner button) to set a desired size for the output image. We recommend you set the DPI to 300. Higher DPIs can get the output image quality closer to the original one.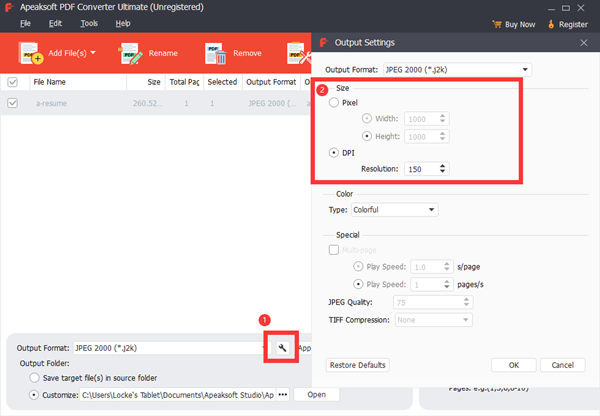 Step 5 At last, you can click the Start button to start the PDF to J2K conversion. The conversion will complete immediately.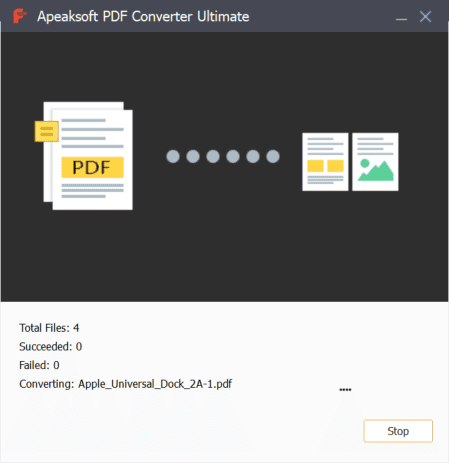 Part 3: Quickest Way to Convert PDF to J2K Online
If you do not care too much about the output image's quality, you can also use an online PDF to J2K converter for the task. Here we recommend Convertio File Converter which allows you to convert PDF to J2K easily and fast without downloading any desktop program. Here are the steps to convert PDF to J2K online:
Step 1 Go to https://convertio.co/pdf-jp2/ in your browser and you see the interface of the PDF to JP2 Converter (.JP2 extension and .J2K extension refers to the same format).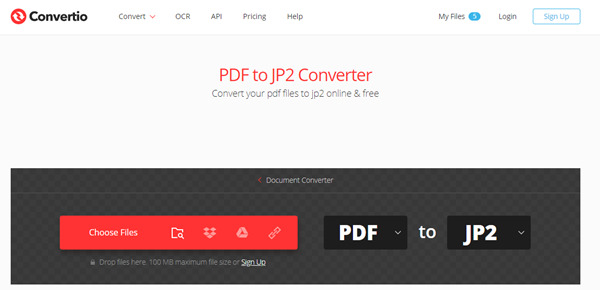 Step 2 You can click the Choose Files to upload your PDF (s), or directly drop them into the dark area of the interface.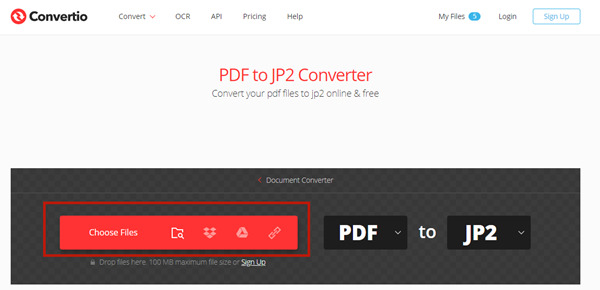 Step 3 After uploading the PDF file (s), you need to click the Convert button to start the PDF to J2K conversion.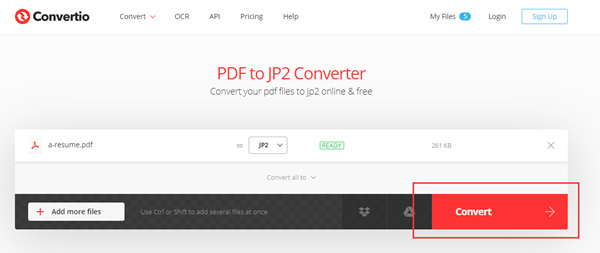 Step 4 When the conversion is completed, just click the Download button to retrieve the converted J2K image.

Although the online PDF to J2K converter is handy, you cannot make any setting for the conversion when using it.
You may need: How to restore deleted PDF files
Part 4: FAQs about PDF to J2K Converter
Will the PDF to J2K conversion reduce the image quality?
Yes, the loss in image quality is unavoidable. However, you can set a higher DPI to keep more details of the original image using Apeaksoft PDF Converter Ultimate.
Can I conversely convert a J2K to PDF?
Yes. You can use https://convertio.co/jp2-pdf/ to do so. The process is the same as told in Part 3.
How do I compress the converted J2K image?
Apeaksoft PDF Converter Ultimate allows you to indirectly control the size of the output J2K file. You just need to set a lower DPI in Step 4 in Part 2. See how to reduce PDF size on Mac.
Conclusion
This article talks about what a J2K file is and how to convert a PDF to a J2K in high quality on Windows and Mac. Apeaksoft PDF Converter Ultimate is recommended for high-quality PDF-to-J2K conversion. Using it, you can set a desired DPI or height and width before converting. A simpler and quicker method to convert PDF to J2K is to use Convertio File Converter. It works as an online PDF to J2K converter but does not give you a chance to change the settings for the conversion. If you are faced with any problem when converting PDF to J2K or find a better way to change PDF to J2K, please let us know by leaving a comment below.