As a technician, you might want to revise a locked PDF format without a track. Have you ever considered converting PDF to PPM, which is an image format encoded with ASCII?
Once you have converted PDF to PPM, you can edit the text to revise the PDF format within a TXT editor.
What is the best PDF to PPM converter to turn a PDF into an editable image format? Is it possible to extract the text from the PDF with OCR technology? Just learn more about the 2 efficient ways to convert PDF to PPM, as well as the related tips for editing PDF files from the article.

PDF to PPM
Part 1: Why Should You Convert PDF to PPM
PPM stands for Portable Pixmap Image File. It uses numbers (0 - 65536) to stores the pixels in ASCII text. Every number specifies the color of a pixel, which is an uncompressed but storage-consuming encoding method. In addition, a PPM file also contains the information of an image, such as height, width, maximum color value, and so on.
Once you have converted PDF to PPM, you can simply open the PPM image with a text editor to make some small changes without a trace. After that, you can view a PPM image with Corel PaintShop Pro, Adobe Photoshop, and GIMP on both Windows and Mac.
Part 2: 2 Efficient Methods to Convert PDF to PPM
Method 1: Convert PDF to PPM with Best Accuracy
Apeaksoft PDF Converter Ultimate is a versatile PDF to PPM converter with advanced technologies, such as PDF splitter, OCR technology, and more others. No matter how many PDF files you have, it can convert them with a batch process. The conversion speed is also peerless thanks to its advanced acceleration technology.
Apeaksoft PDF Converter Ultimate
Convert PDF to PPM and other formats like JPG, PPT, DOCX, etc.
Conveniently preview and select specific pages beforehand
Input multiple PDF documents and convert them in a batch process.
Leading OCR technology recognizes 190+ Languages accurately
Download for Win
Steps to convert PDF to PPM:
Step 1Add the PDF file(s) into the PDF converter
Free download, install and run Apeaksoft PDF Converter Ultimate on your computer. Click the Add File(s) button on the top left of the main interface. The file explorer will pop up and there you can select the PDF files you want to convert to PPM. Click the Open button to input it.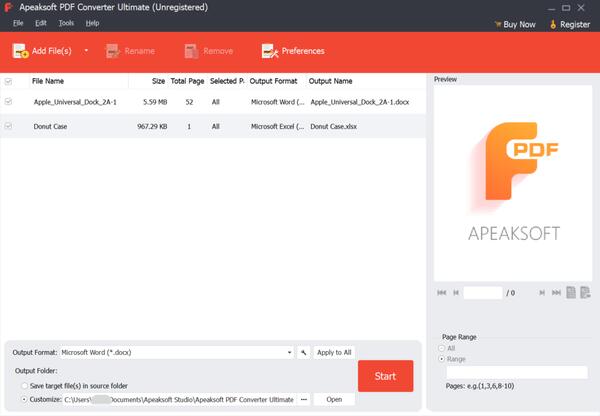 Step 2Set the PDF pages you want to convert to PPM
Click on an input PDF file. Then you can set the Page Range in the bottom right corner. You can choose to convert all pages or only selected pages from PDF to PPM.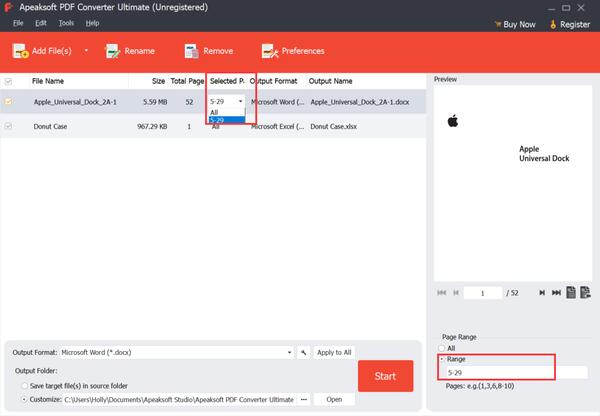 Step 3Select PPM as output format
Click on the right side of the Output Format to drop down the formats list. PPM is the 6th from the top of the list. Just click to select it.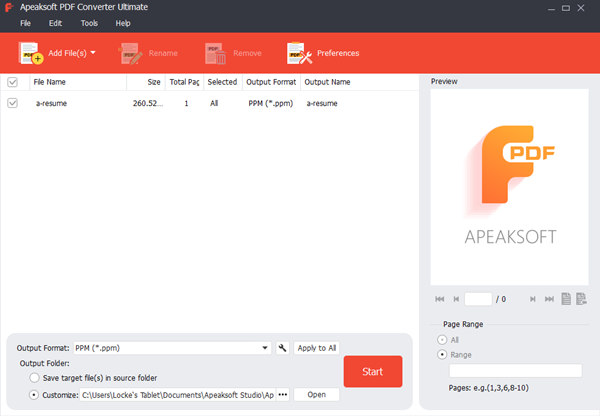 Step 4Customize the

Size

settings before converting PPT to PPM
Click the Edit advanced output settings button following the output format section (the wrench icon). If you have a specific width, height, or resolution requirement for the output PPM format, you can set it here. If not, leaving along the default settings can also convert the PDF to PPM in high quality.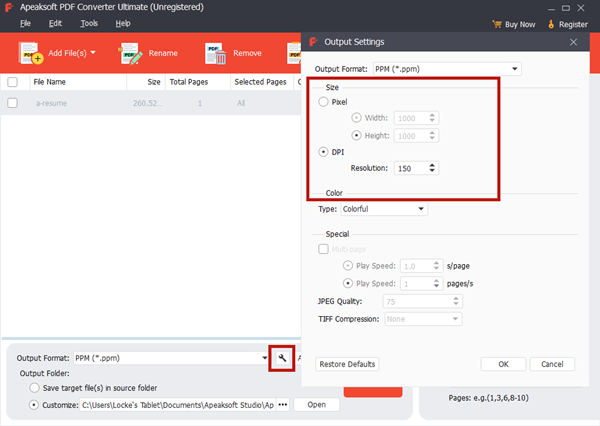 Step 5Start converting PPT to PPM
Select the output folder at the bottom of the main interface and then click the Start button to start the PPT-to-PPM conversion.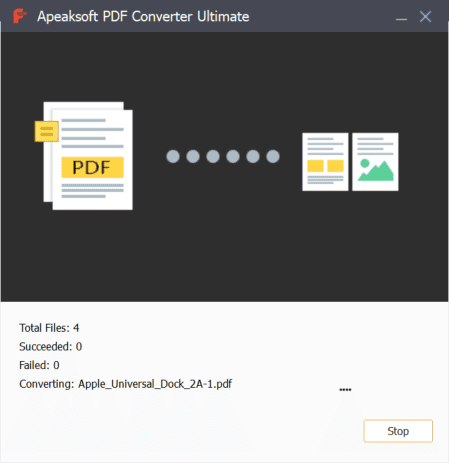 One of the greatest advantages of this PPT to PPM converter is that it allows you to convert the PDF to a PPM in your desired image quality. There is another good PDF-to-PPM method which is simpler but worse reduces the quality.
Do not forget to remove your PDF password, if you have encrypted it.
Method 2: Convert PPT to PPM Online
Convertio is an online platform providing PDF to PPM converting services. If you need to convert all pages of a PDF don't have any size requirement for the output PPM picture, it's also good for you to convert PPT to PPM with the Convertio PDF to PPM Converter online.
Step 1 Go to https://convertio.co/pdf-ppm/ in your browser. Click the Choose Files button and upload the PDF file in the pop-up file explorer.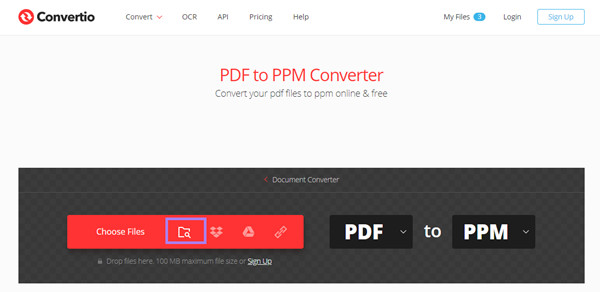 Step 2 When the PDF is uploaded, you need to click the Convert button. Then just wait patiently for the conversion to complete.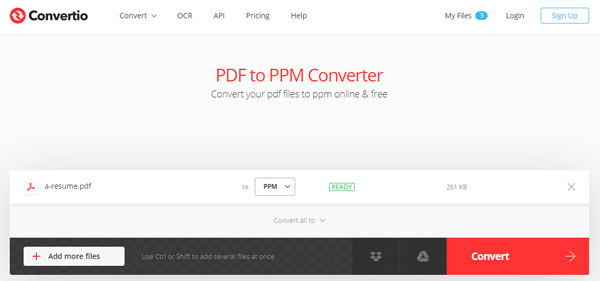 Step 3 When informed Conversion Completed, you can retrieve the PPM file by clicking the Download button on the right side of your screen.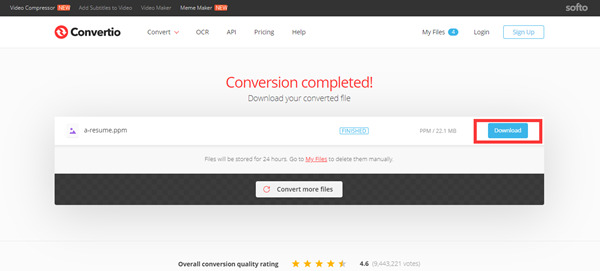 Note: Compared to Apeaksoft PDF Converter Ultimate, this online PDF to PPM converter does not support you to customize any setting for the conversion. Moreover, a free account only allows a concurrent conversion.
Part 3: FAQs about Converting PDF to PPM
1. Can I Convert a Large PDF to PPM for Editing?
No. PPM is an uncompressed and inefficient file format. When you convert a large PDF file to PPM, you can split it into several files beforehand. Of course, you can simply tweak the settings of PDF Converter Ultimate to get the desired PPM files.
2. How to Edit the Converted PPM from PDF without a Track?
Once you have converted PDF to PPM, you can open the image with a text editor. It provides the ASCII codec instead of an image file. You can change the height, width, maximum color value and more other information to change PDF without a track.
3. How Do I Compress The PPM Converted from PDF?
Before the PDF to PPM conversion on your computer, you could set a lower DPI or a combination of lower width and height. By doing so, you can get smaller output PPM files. Besides, you can use an image compressor to reduce image file size directly.
Conclusion
A PPM is an uncompressed format containing a 24-bit image. This tutorial talks about how to convert a PDF document to a PPM picture. Two methods are introduced above. One is to install and use Apeaksoft PDF Converter Ultimate, which can support you to decide how large the output PPM file is. The other method is to convert PDF to PPM online with the ConvertioPDF to PPM Converter. We would be glad to know if you found a better method to convert PDF to PPM. Just leave us a comment below.