As is known to us, PDF files are difficult to edit. Sometimes you may want to convert PDF to some more editable document formats. RTF is a good choice because of its excellent compatibility. You can learn from this article about when it is suitable to convert PDF to RTF, and 2 efficient methods to convert PDF to RTF using powerful converters.

PDF to RTF
Part 1: When Do You Need to Convert PDF to RTF
You have text only and don't want a fixed layout
If your document contains only text but not graphics or tables, RTF is quite enough for the task. More than that, you also need to consider the layout of the texts. If you want to make sure that the document you sent to others could be presented the same way it showed on your screen, PDF is more suitable. If you want to break the fixed layout, convert the PDF to RTF.
You want to edit the document more easily
Your PDF viewer cannot edit PDF files. Want to edit a PDF file? Just convert the PDF to RTF, which can be edited in MS Office Word and almost all text editor programs. If you just have to maintain the PDF format, you can also go ahead with expensive PDF editors like Adobe Acrobat Pro or its alternatives.
You hope everyone can open the document
Today, PDF viewer programs are universal. You may think PDF has excellent compatibility, right? However, the fact is that RTF does even better. RTF files are readable no matter what operating system you use, Windows, Mac, or Linux. Microsoft and Adobe created it jointly in 1985 for its cross-platform feature!
Part 2: Convert PDF to RTF with EasePDF - Online and for Free
EasePDF can help you convert PDF to RTF format online without charge. If you have multiple files, it is recommended that you upload all of them at a time, because this tool only allows you to upload and convert two batches of files per 24 hours. Its conversion effect is quite good in the same kind of online PDF converter. And you don't need to worry about security, for it will delete your uploaded files within 24 hours. Here are the steps to use this online PDF to RTF converter.
Step 1
Visit https://www.easepdf.com/pdf-to-rtf/ in your browser. You can see an Add File (s) button in the middle of the page. Then you can upload your PDF files in a batch.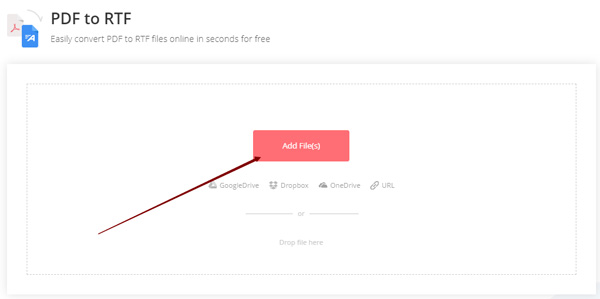 Step 2
Click the Convert button in the lower right.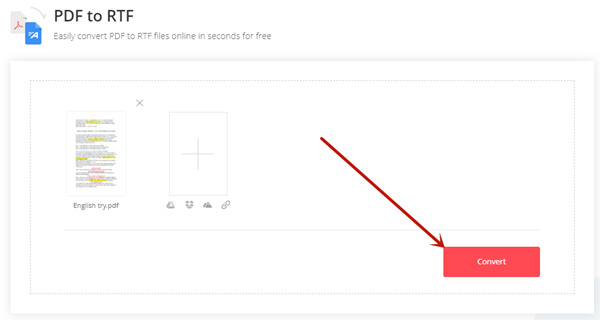 Step 3
Click the Download button to retrieve the RTF files converted from PDF.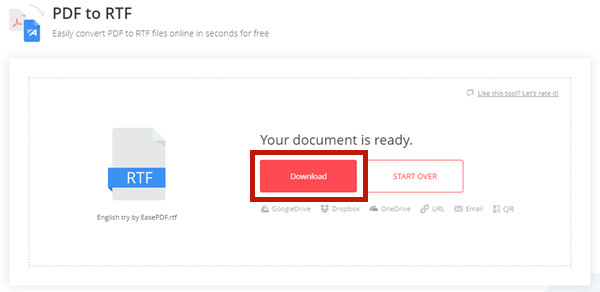 EasePDF is a convenient option. However, if you need to convert PDF to RTF frequently, or don't want to upload your confidential documents, you should consider installing a native program for the task.
Part 3: Ultimate PDF to RTF Converter - Leading OCR Technology
Apeaksoft PDF Converter Ultimate supports you to select specific pages of the PDF files to convert to RTF. It has the leading OCR technology which recognizes the PDF's language accurately and it even reads 190+ languages. Moreover, you can do the job natively, which is safer than uploading them for conversion.
Apeaksoft PDF Converter Ultimate
Convert PDF to RTF in batch without limitation on size or quantity.
Recognizes the language in your PDF files accurately.
Handle multilingual PDF documents without hassle.
Maintain the original layout in the output RTF file.
Download for Win
Steps to convert PDF to RTF via Apeaksoft PDF Converter Ultimate:
Step 1
Launch Apeaksoft PDF Converter Ultimate on your computer. Click the Add File (s) button to add your PDF files. After that, you can click on a file you just imported and then set the pages you want to convert in the bottom right corner.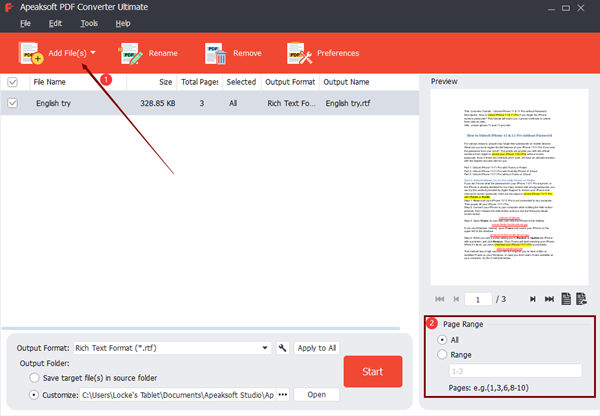 Step 2
(optional) If your PDF document is multilingual, you need to customize the OCR settings. Click the Preference button on the top of the main interface and head to the OCR tab. Then you can arrange the language (s) that the program will try to recognize during the PDF to RTF conversion.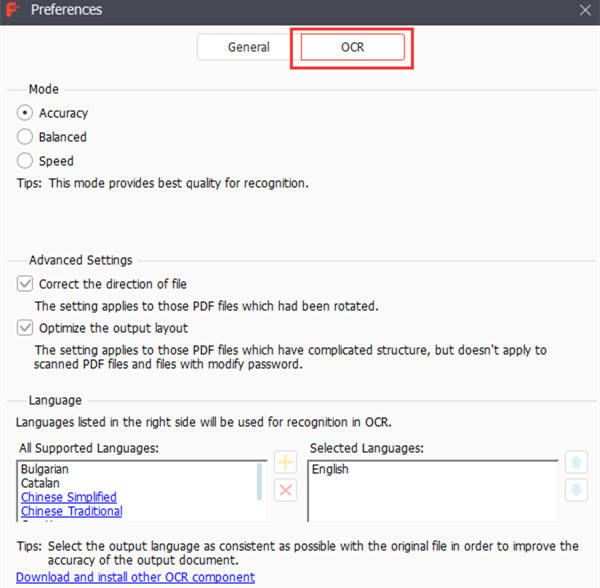 Step 3
In the lower part of the main interface, click the Output Format drop-down menu and select RTF on the list. Next, set your desired output folder or remain it as default. At last, click the Start button to let the program run the conversion.

When noticed that the conversion is completed successfully, your RTF file converted from PDF is saved to the destination folder you set.
Learn more: How to recover unsaved Word document.
Part 4: FAQs about PDF to RTF Conversion
1. What is an RTF file?
RTF, jointly developed by Microsoft and Adobe, stands for Rich Text Format. It was designed to be a universal format that can be opened and edited by all text processors. An RTF file can include font, images, etc. Convert PDF to image here.
2. How do I convert RTF to DOCX?
Launch your Microsoft Office Word and open the RTF file in it. Click File in the top left corner of the Word window and click Save as. Then select DOCX as the save format.
3. What is the difference between Word and RTF?
An RTF file is much simpler than a Word file. Plus, you can open an RTF file with any text editor, in which a Word file will show messy code. RTF files created on Windows can be directly opened on macOS without Microsoft Word.
Conclusion
This post provided two tools to convert PDF to RTF. EasePDF is the quickest solution but cannot do the job with excellent accuracy. Apeaksoft PDF Converter Ultimate requires you to download and install it but will work perfectly in all aspects.