Sometimes, you may want to edit a PDF file, or extract the texts from it and use them elsewhere like Word, PowerPoint, etc. PDF viewers cannot help you do it. So we'd like to provide you with two methods to convert PDF to editable TXT. One is an online tool that you can use conveniently without downloading any program but with some limitations. The other is a powerful PDF converter with peerless OCR technology. Hope you can convert PDF to TXT and get the desired result using the methods we provide.

PDF to TXT
Part 1: Convert PDF to TXT Safely, Online and for Free
If you have searched for PDF to TXT, you can find numerous online PDF to TXT converters on Google. Here we'd like to recommend EasePDF. You can know it from its name that it focuses on PDF conversion tasks, among which the PDF-to-TXT is the most essential. Let's go straight into the steps to use it:
Step 1
Visit https://www.easepdf.com/pdf-to-txt/ in your browser. Click the Add File (s) button in the middle of the webpage.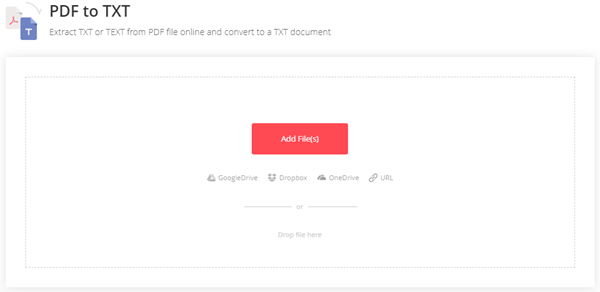 Step 2
Select your PDF file (s) to upload in the file explorer window. You can select multiple files in one time. Just press and hold Ctrl key and click the files in the same folder one by one.
Step 3
You can add more files using the "+" button. When you are ready to start, click the Convert button.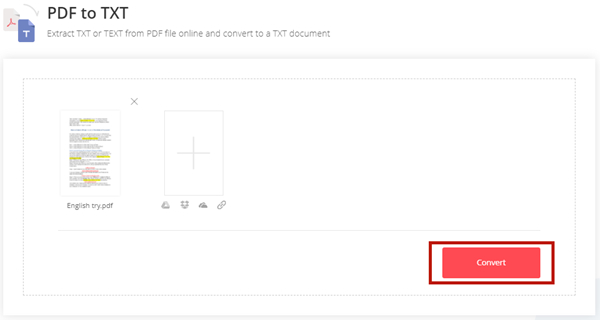 Note that this tool offers only 2 tasks per 24 hour for free users. Thus, if you have more than one PDF file to be converted, upload and convert them in one time instead of one file at a time. If you need to change your PDF to TXT frequently, EasePDF may not be suitable for you. We recommend you try the other method below.
Part 2: Convert PDF to TXT with Best Recognition Accuracy
Apeaksoft PDF Converter Ultimate can help you convert PDF to TXT with more advanced OCR technology than EasePDF's. You can convert as many PDF files as you want using this program and select the exact range of pages you want to convert. Here are several key features of the program:
Steps to convert PDF to TXT with best recognition accuracy:
Step 1
Free download, install and launch Apeaksoft PDF Converter Ultimate on your computer. Click the Add File (s) button and then add your PDF file (s) in the pop-up file explorer window. You can also directly drag your PDF files into the interface and drop them.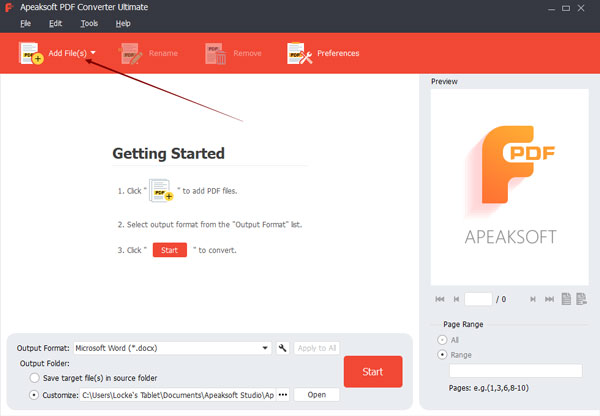 Step 2
(Optional) If you don't want to convert all the pages of a PDF file you imported, you can click on it and then select the pages you want to convert in the bottom-right corner of the interface.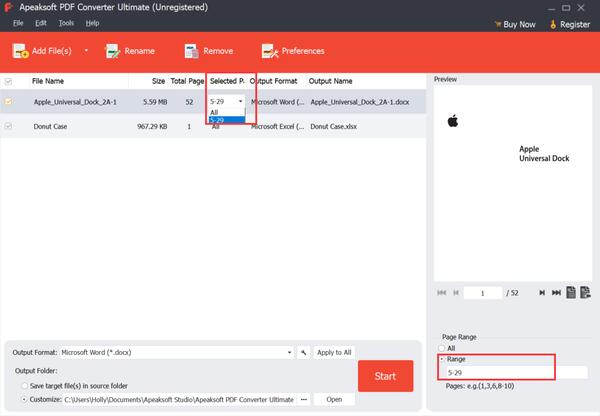 Step 3
Click on the Output Format area to dropdown the list and then select TXT as the output format.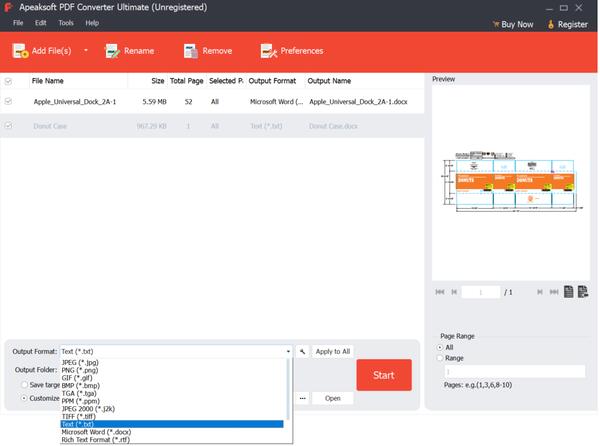 Step 4
To convert your PDF files to TXT with the best accuracy, you can select Accuracy Mode in the settings. You just need to enter the Preferences at the top of the main interface, shift to the OCR tag, and then select Accuracy in the Mode section. Here you can also add languages that can be recognized if your PDF file is multilingual.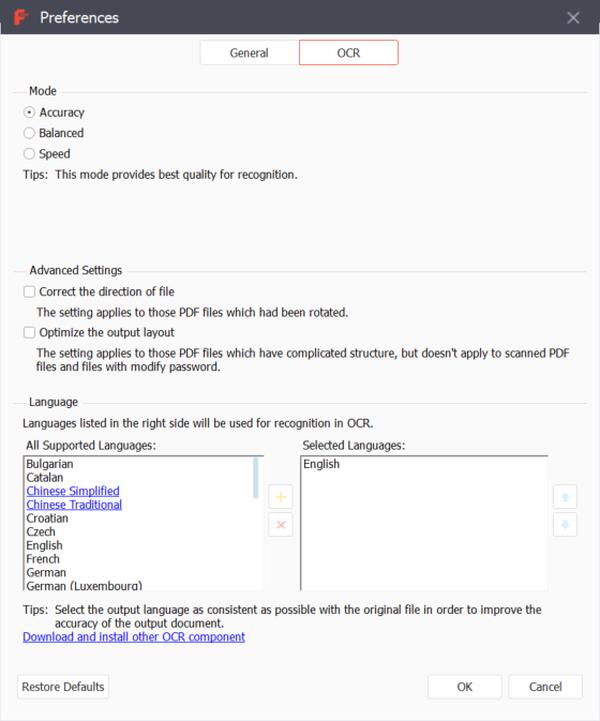 Step 5
Back on the main interface, you can decide the output folder and then click the Start button to start converting PDF to TXT.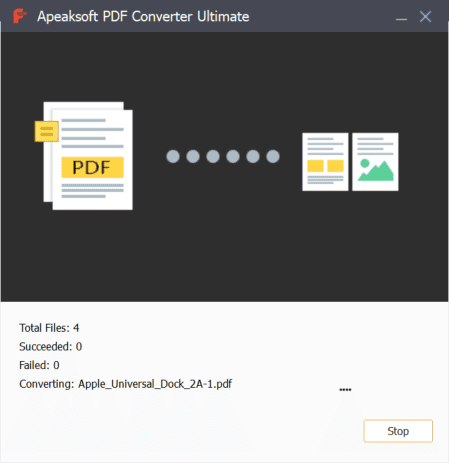 When the process is finished, you can click the Open button at the bottom of the main interface to go to the output folder to view the converted files.
Part 3: FAQs about PDF-to-TXT
1. How to convert TXT to PDF?
The easiest way is to use Microsoft Office Word. Open your TXT file, press Ctrl + A and press Ctrl + C to copy the whole text. Then create a new Word document, press Ctrl + V to paste the copied text and save it as PDF format.
2. Why do I get garbled codes in the output TXT?
This usually happens when the PDF file is multilingual but the PDF to TXT converter you use cannot support these languages. You can use Apeaksoft PDF Converter Ultimate which can recognize 190+ languages. Sometimes, this problem can also be caused by the existence of images in the PDF.
3. Can I copy text from a PDF?
Yes, you can. But you can only copy text from a PDF using a PDF viewer or PDF editor which has OCR software. Moreover, the text in the PDF file must be highly recognizable. You can try doing it via Adobe Acrobat Reader or Google Drive.
Conclusion
In this article, we introduced two methods to change PDF files into TXT. The most convenient way to do so is to use EasePDF, while the ultimate way is to use Apeaksoft PDF Converter Ultimate. EasePDF can support you to do the task without downloading any program. You just simply upload your PDF file (s) and give a click to convert them. Though convenient, it has some limitations. You can only use it twice per 24 hours and it cannot support multiple languages. To get rid of these restrictions, you may need Apeaksoft PDF Converter Ultimate, which can recognize 190+ languages and do the task more accurately. Do you have any query about PDF to TXT? Tell us in your comment.