PDF files are often created by the scanners to present a document or a book. When you output a PDF production, open it, and find a few pages upside down.
What should you do?
Scan those pages upside down, arrange them in order, and finally create a correct PDF file?
Of course, you should not.
You just need PDF page rotating software, which can help you permanently rotate your PDF pages upside down into the correct angle.
This is exactly what you achieve from the step-by-step guide in this post.

Rotate PDF
Part 1. How to Rotate PDF Pages Permanently with Adobe Acrobat Pro Permanently
Though Adobe Acrobat Pro is a paid service that can edit PDF files, it offers a free 7 days free trial on Windows and Mac. You can use its free trial feature to rotate sideways PDF pages into the correct angle.
Adobe Acrobat Pro offers a desktop version, which you can download and install on Windows and Mac computer. Moreover, it also offers an online Adobe Acrobat Pro version. Use whatever version you need, and here we will take the Adobe Acrobat Pro desktop version as an example to show the steps of rotating a PDF file.
Step 1
Open the sideways PDF file in Adobe Acrobat Pro on your computer.
Step 2
Choose Tools, find Organize Pages to open the toolset in the secondary toolbar.
Step 3
Specify the page range on which you want to apply the rotation.
Step 4
Select the rotating degrees as 90 clockwise or counterclockwise.
Then save the PDF file, and the PDF pages upside down will be rotated into the angle as you wish.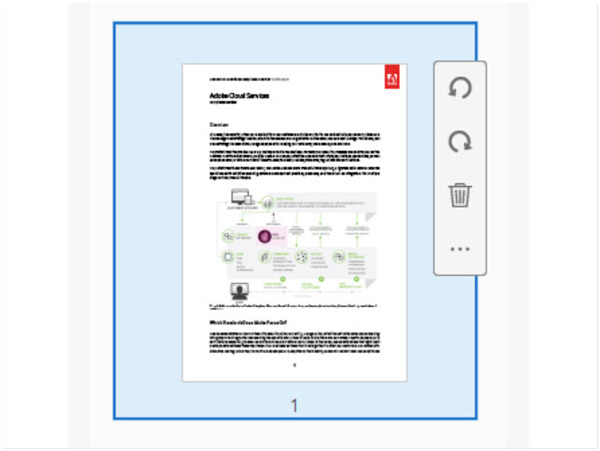 In this way, you can rotate a sideways PDF document file into a correct angle permanently.
However, if you just want to change your view of the PDF page, just open it on Adobe Reader DC, and choose View, then Rotate View, and finally click Clockwise or Counterclockwise.
With Adobe Acrobat Reader DC, you cannot save the rotated PDF file, and next time you open a PDF file, it will not be rotated and kept as its original sideways state.
If you only need to rotate the images in a PDF document separately, then you have to convert PDF to images, and then rotate the images individually.
Convert PDF to images like PNG, JPG, TIFF, GIF, and more for rotating.
Convert PDF to Word, Text, RTF, Excel, HTML, PowerPoint, ePub, and more.
Convert specific pages or all pages from a PDF document file.
Preview PDF document before starting a conversion.
Download for Win
Part 2. How to Free Rotate PDF Document Online Permanently
Though Adobe Acrobat Pro offers a free trial version, you are required to sign up to use it. Moreover, when the 7 days trial expired, you have to upgrade it to use its full features.
If you have no plan of money cost or do not want to sign up, a free online PDF rotating tool is exactly what can help you.
There is various free online PDF rotating software, and they work similarly. For the purpose of rotating a PDF document, they can meet your demands easily.
Smallpdf
Smallpdf is a free online PDF editing tool. It includes almost all PDF editing and converting features, like rotate a sideways PDF, compress large PDF files, split PDF pages, convert PDF, and more. With it, you can easily rotate all your PDF pages at once time or rotate a PDF page one by one.
All the PDF files you upload will be erased permanently from our servers 60 Minutes after processing. No one can access those files.
This free online tool has no limit of file size uploaded, but its free version only supports 2 tasks every day.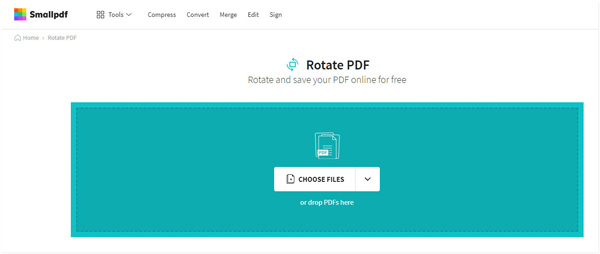 Sejda
Sejda is a Smallpdf similar tool online. It offers almost all editing and converting functions for PDF files, including rotating PDF pages permanently. Compared with Smallpdf, Sejda offers free services for PDF documents up to 200 pages or 50MB and 3 tasks per hour.
If your PDF file is the large size, then you have to compress it firstly.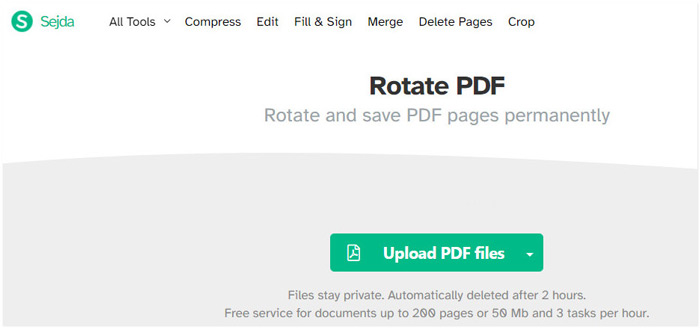 Here, we will take Smallpdf as an example to free rotate PDF pages online.
Step 1
Open this free online PDF rotating tool online on your Windows or Mac computer.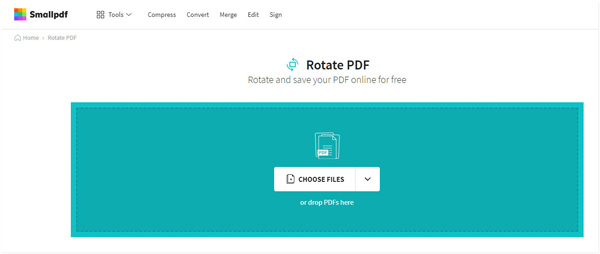 Step 2
Drag and drop your PDF files from your local drive to this software. Hover over one page of the uploaded PDF file, then you will see the rotate icons clockwise and counterclockwise. Click it to start rotating the page.
Step 3
If you want to convert all the pages in one direction, just click LEFT or Right at the bottom.
Step 4
Finally, click APPLY CHANGES to begin processing the PDF rotation. Then click the DOWNLOAD button to save the rotated PDF file on your computer.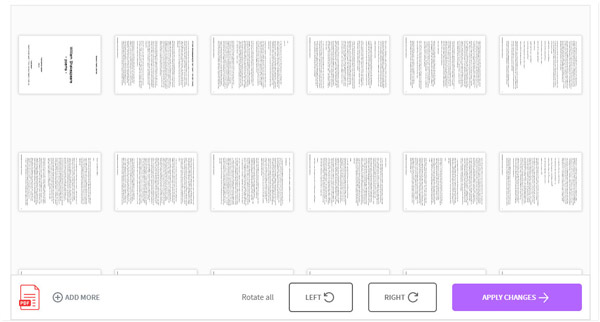 Part 3. FAQs of Rotating PDF Pages
Can I rotate pdf by a certain degree in Adobe Acrobat?
No, you cannot. Adobe Acrobat only supports PDF orientation rotation in 90 degrees, 180 degrees, and 270 degrees. If you want to rotate a PDF file in a few degrees, this software cannot do it.
Does a PDF take up less space?
Compared with Docs and images, a converted PDF file is a smaller size than Docs and images when taking the same content.
Are online PDF tools safe?
It seems not to be safe to upload a confidential PDF file online for rotating. But those online PDF tools claim that they will delete the uploaded PDF file within hours or minutes. You should think twice before rotating an important PDF file online.
Conclusion
It is troublesome to get a scanned sideways PDF file. But you still have options to change its orientation via the PDF rotating software. This post shares 2 ways to rotate a PDF upside down at correct angle via Adobe Acrobat Pro, and online tools.
Now it comes to your turn.
Which way is your preferred one?
Let me know by leaving your comments below.