When organizing the pictures in your album, you may accidentally delete some important pictures. Or you may find some of your photos missing for no reason. They may carry important memories or record important data text information. You may feel troubled. This article analyzes the causes of the mistaken deletion problem. Also, it provides you with 7 actionable methods to help you recover deleted and lost pictures on Android in time. Following our instructions, the lost pictures will be restored to their original state soon. Join us now to explore.

Photo Recovery Apps
Part 1: Reasons for Photo Loss on Android Devices
The reasons for your missing images can be varied. Figuring out how your images are lost can help you quickly find the most appropriate solution. Below we have listed three common causes.
User Accidentally Deleted
Mistaken deletion is probably the most common reason for this. Nowadays, our photo albums are always mixed up, filled with photos taken by cameras, various screenshots, pictures downloaded from the Internet, etc. Therefore, it is very likely that users will accidentally delete some important pictures while organizing them.
Phone or Screen Broken
When your phone system fails, or your screen is damaged, you may fail to control your phone, and your data and files will inevitably be damaged in this scenario. You need to take the means to repair and recover the photos stored on your Android phone in time. You can use other tools to back up the files on your phone first and then decide if you need professional help, depending on the extent of the damage.
Data Loss on SD Card
If your pictures are saved in your phone's SD card, you may have accidentally deleted them while batch processing the files. For example, when the system prompts that your phone's SD card is running out of memory, you format it to free up more space. In addition, if your SD card is damaged, the pictures stored in it will also be affected. At this point, you must repair the SD card to recover the deleted pictures on your phone.
System Updates
This is not a common situation compared to the above, but it is still possible. During the system update process, some unexplained bugs may cause some of your files to be lost. If this happens, you can retrieve deleted photos on Android with the help of backup or data recovery tools.
Part 2: How to Recover Photos on Android Phone with Computer
After discovering that the pictures in your phone have been deleted or lost by mistake, you need to take prompt action. Here we recommend the best data recovery expert to help retrieve deleted photos from Android devices. Apeaksoft Android Data Recovery is a powerful photo recovery App for Android and a professional tool to recover data from text messages, call logs, notes, WhatsApp, etc. It enables you to retrieve data lost in different scenarios safely and efficiently. Whether your device is intact or damaged, this tool has the confidence to recover your lost files. In addition, it can also repair the data on the SD card.
Below we will guide you through three scenarios to restore deleted photos on Android in detail.
First, download and install Apeaksoft Android Data Recovery on your computer.
After installing this software, please open it and follow us to retrieve your deleted pictures.
Recover Deleted Photos on Android Devices
Step 1Connect your phone to the computer via a USB cable
If your equipment can function, a window will jump out to let you enable USB debugging on your Android device so that Android Data Recovery can scan your Android device.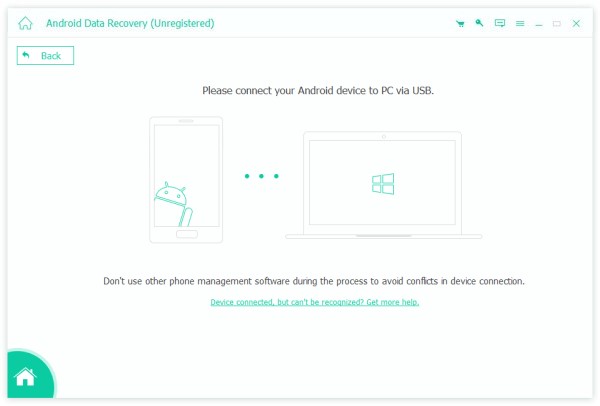 Step 2Select the photos
After finishing the scanning process, choose Gallery and Picture Library. Now, you can preview your photos on your computer and click Next.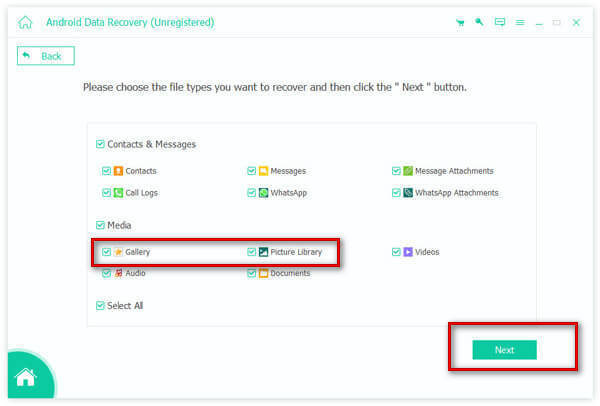 Step 3Let Android Data Recovery root your Android phone
Before scanning data, a pop window will appear and ask you to allow it to access your information. If you are sure, click Allow on your device.
Step 4Start to recover
Select the data type on the left sidebar, and choose the lost photos you want to recover. Or you can just click Only display the deleted items to recover deleted photos. Then click Recover.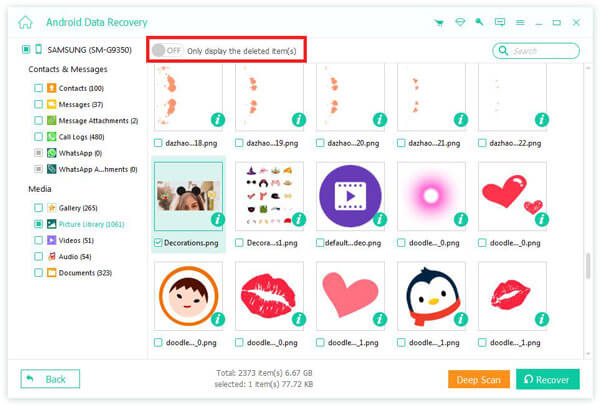 Step 5Choose a target folder
You can choose a folder for your data and then click Recover.
A new folder will pop up, and your deleted images will be found there.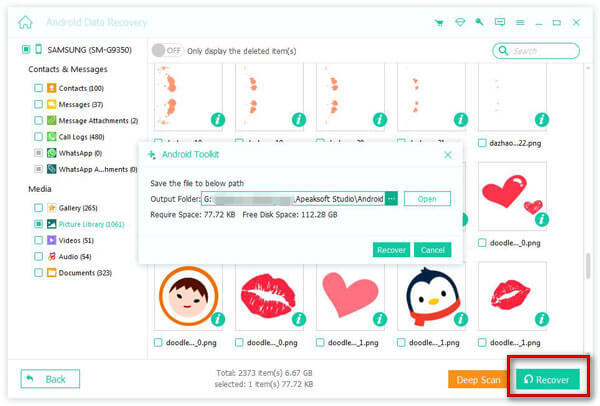 Tips : Sometimes Android phones don't have enough memory space, and people choose to store their pictures on SD cards. If you accidentally deleted some SD card files, Apeaksoft Android Data Recovery can also help you. You just need to insert the SD card into your device, and connect the device to your computer. Repeat the above operation, the deleted pictures will be recovered.
Recover Deleted Photos on Broken Android Devices
Sometimes you may encounter more troublesome situations. Your phone is malfunctioning to the point that you no longer have precise control over it. In such tricky situations, you need to backup and restore contacts, messages, pictures, videos, and other important information on your phone in time. This tool is still your strongest support. Please follow the step-by-step guide below.
Step 1Enter Broken Android Data Extraction mode
If your screen is broken, select Broken Android Data Extraction.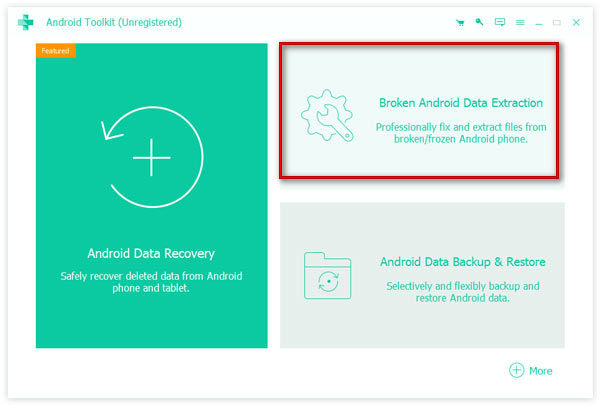 Step 2 Click Start on the left side of the interface.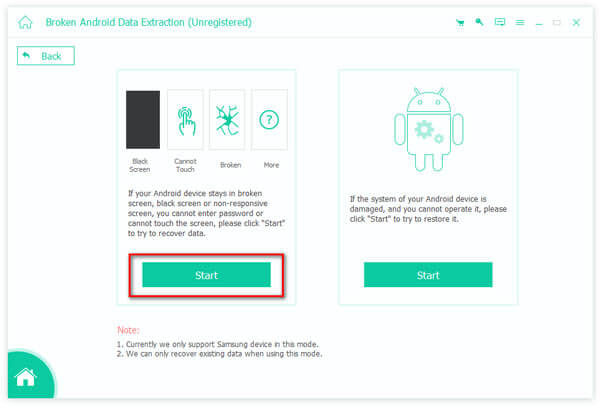 Step 3Select the model of your device.
Choose the Device Name and the Device Model on the interface, then click Confirm.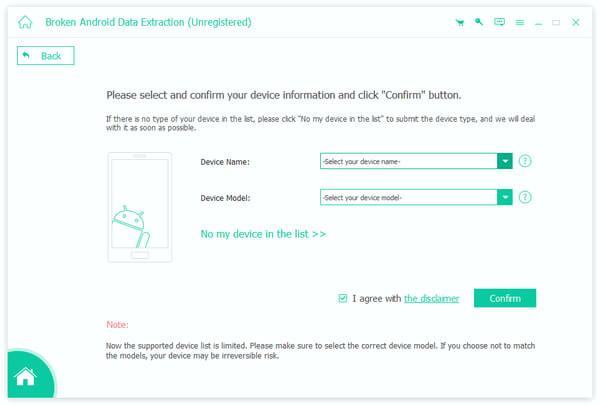 Step 4Enter Download Mode
Shut down your phone, then press and hold the Volume Down + Home + Power button. Next, press the Volume Up button to enter Download Mode. Click Start on the interface of your computer.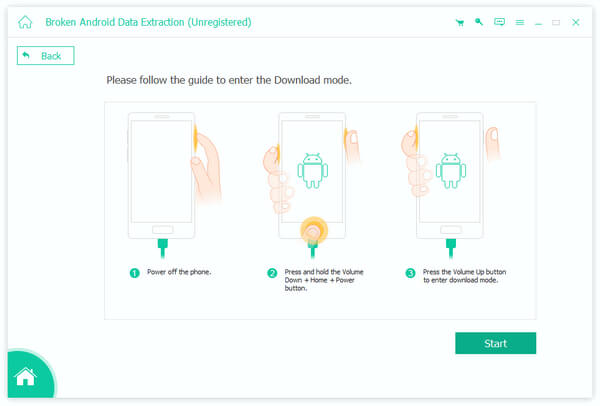 Step 5Select and recover files
Now the program will scan your phone. After finishing it, choose Gallery and Picture Library. Then click Recover.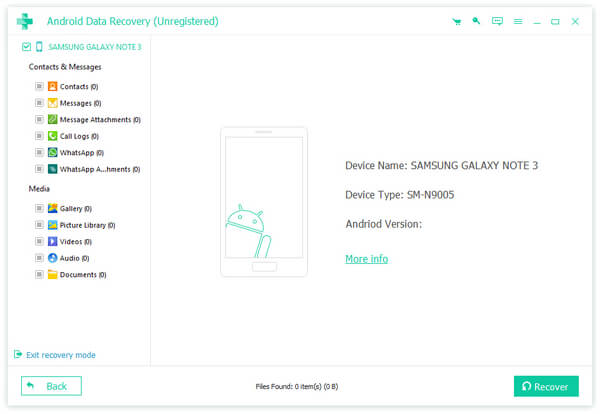 Part 3: Best Ways to Recover Photos on Android Phones
You can also try to recover deleted photos directly from Android. Here we recommend 3 common methods and 3 photo recovery Apps to help you.
Check Your Recycling Station
Most Android phones now have a recycle bin function. Your deleted photos here will be saved for 30 days. Any time within thirty days, you can restore them directly to their original position.
Step 1 Tap the Gallery icon on the home page, then come to Deleted Items.
Step 2 Select the photos, then tap Restore.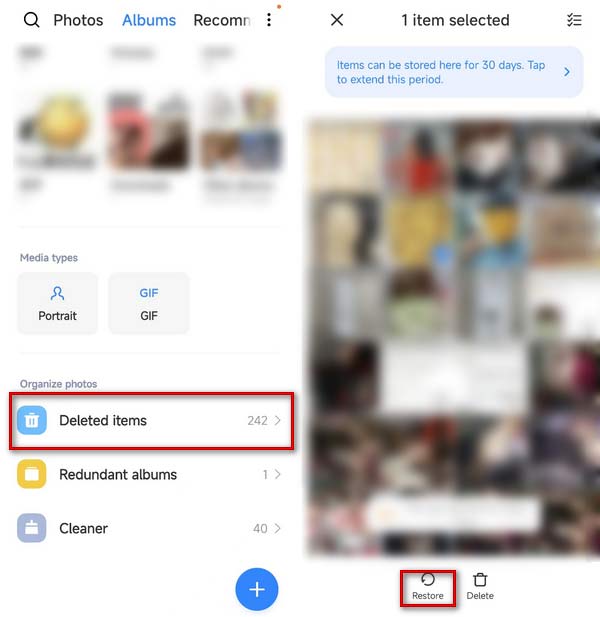 Check the iCloud Backup
You can check your iCloud when you can't find the deleted images locally. If you turn on the backup function, the pictures, videos, contacts and messages will also be stored in iCloud. Check it to see if the deleted images are saved there.
Step 1 Tap the Settings icon, and choose your account.
Step 2 Then you will see iCloud, tap it, and choose View items in the cloud.
Step 3 Now you can see the files stored in the cloud drive. Tap Gallery.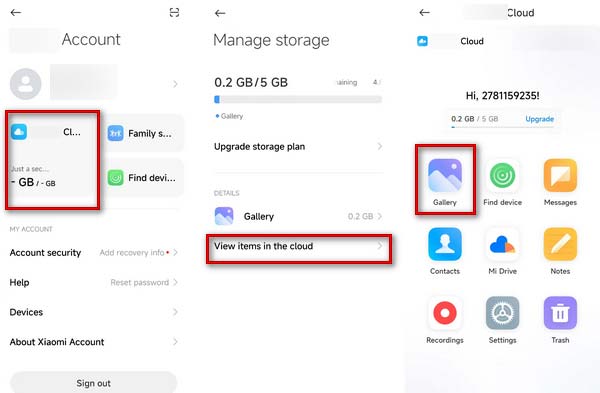 Check the File Manager
You can also check your file manager. Generally, all the files stored on your device can be found here.
Step 1 Tap the File Manager icon and choose Images.
Step 2 You can view and open them with other Apps or share all your photos on other platforms.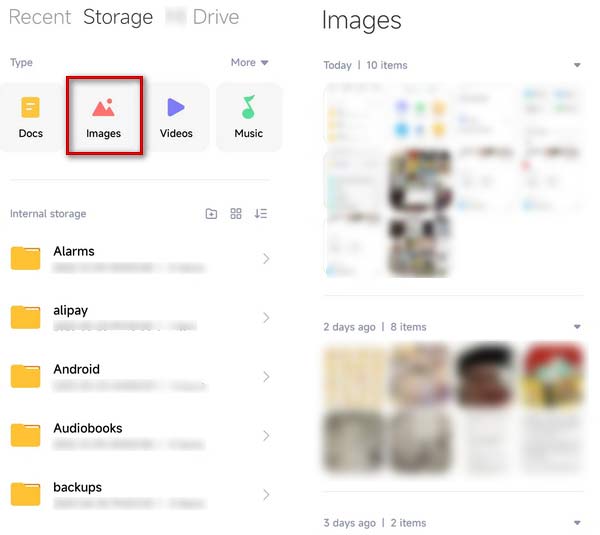 DiskDigger Photo Recovery
This tool performs a thorough scan of the files stored on your device. The scope of its search is so broad that every image will be noticed. After retrieval, your locally stored files will be presented to you in an organized manner. Your lost or mistakenly deleted photos will be retrieved, and some junk files will be removed to save you more storage space. However, this tool cannot scan storage media separately.
Photos Recovery
The most powerful thing about this software is that it uses advanced algorithms to trace and recover deleted pictures and videos. So it is more targeted. But this also means that the closer the deletion time is, the better it works, and conversely, the longer the deletion time has passed, the lower the success rate will be.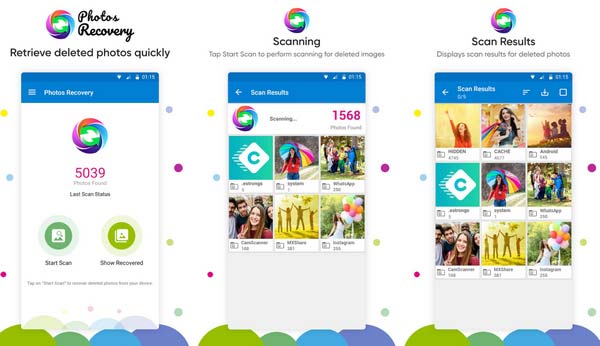 Dumpster
What makes this photo recovery software stand out is its superior repair speed. It has a high repair efficiency, which is higher than most competitors. You can restore pictures, audio, videos, or SMS, etc. with it. Dumpster also previews the recovered files, so you can visually choose which ones you need to keep, saving you a lot of time. However, this App is relatively power-hungry.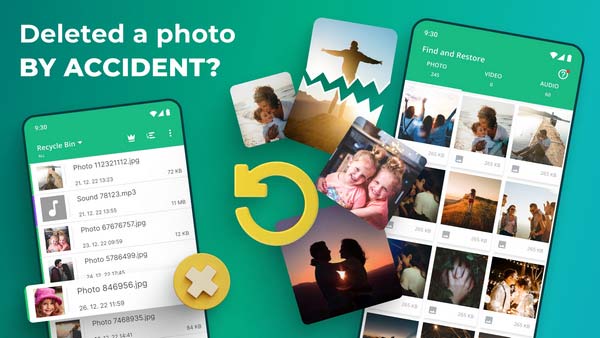 Part 4: FAQs of Android Photo Recovery
How long are deleted photos recoverable?
Deleted images are temporarily saved in the Recycle Bin for 30 days for most Android devices. You can choose to restore them at any time during these 30 days. Photos that are older than 30 days will be automatically erased. So if you want to restore them, some special tools are needed.
Are permanently deleted photos gone forever?
In a general sense, yes. When your phone or computer permanently deletes a file, you won't be able to find them anywhere on the device. But suppose it is especially important, or you have a special purpose. In that case, you can turn to professionals who can recover permanently deleted photos on Android for you, depending on the situation.
Do photos stay on iCloud forever?
If you don't touch the photos backed up in iCloud, your files will always be in good hands if you don't have problems with your account. If you delete your local photos, you can still retrieve them through iCloud. However, if you delete your photos from iCloud, you can recover them within 30 days. Otherwise, your pictures will be deleted permanently.
Conclusion
Above, we have summarized several reasons that may cause you to lose your photos. 7 solutions from different perspectives have also been provided to you. With the help of these solutions and tools, we believe you can apply photo recovery on Android device like Samsung, HuaWei, etc. soon. It is also important to note that it is better to make backups in time for some important pictures to eliminate the possibility of losing them from the root.