There are many unfortunate events could seamlessly lead to accidentally erasing texts on mobile phones. One wrong operation, for example, could clean up entire Android text messages immediately. Factory resetting or operating system crash could remove all Android data, including SMS, contacts, call logs and more. Actually, Android text recovery is feasible. Android stores deleted text in the virtual space temporarily. Although you cannot view them, they are still living on your mobile phone. In order to do Android text recovery, you will need a powerful application. In this tutorial, we are going to show you the easiest way to recover Android text and its detail.

When we talk about text, we mean not only text messages, but also contacts, notes, call logs, WhatsApp and other text format on Android devices. According to our research, though there are oceans of Android data recovery software on market, only a few supports to recover and restore all kinds of Android text data. So, if you want to regain lost contacts, call logs, SMS/MMS, notes and other data, you have to look for a professional application first. From this point, we recommend Apeaksoft Android Data Recovery. And we will use Apeaksoft Android Data Recovery as the example to show you how to achieve Android text recovery in one click under different situations.
1

. Achieve Android text recovery from mobile phone

When you accidentally deleted an important text message or contact, you should stop what you were doing immediately. This could prevent from new generated data overwrite the lost Android text. Android Text Recovery tool will help you do the rest of work.

Step 1. Install Android Data Recovery to PC

Download and install the latest version of Android text recovery tool to your computer. Launch it after installation.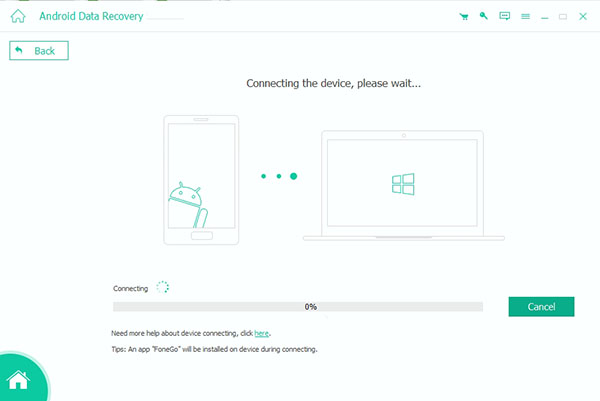 Step 2. Link Android phone to the software
Hook up your Android phone to your computer via USB cord. Once text recovery tool detect your Android phone model, it will show you how to open USB debugging mode. All you need to do is to follow the onscreen instruction to complete the connection.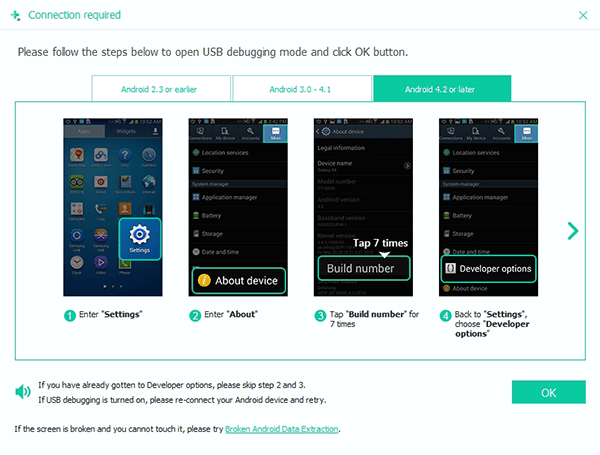 Step 3. Select Android text for recovery
On the detail window, you can select text types you want to recover on the left side bar, like "Messages", "Contacts", "Call Logs", or "WhatsApp", based on your requirements. For instance, if you select Messages, all recoverable text messages will appear on the right panel. There, you can select certain messages to retrieve by ticking checkboxes.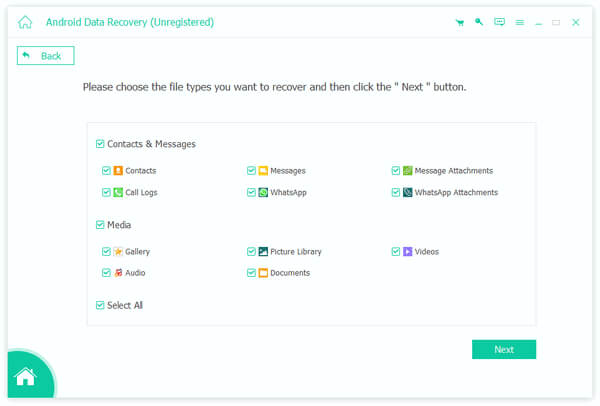 Step 4. Achieve Android text recovery
Click on the "Recover" button at bottom right corner to extract selected texts to your computer in CSV or HTML file. You can also use it to recover deleted audio files on Mac and PC with ease.
Note: This way is only available, when you mobile phone works as usual. If the mobile phone is crash or broken, you can skip to the next part.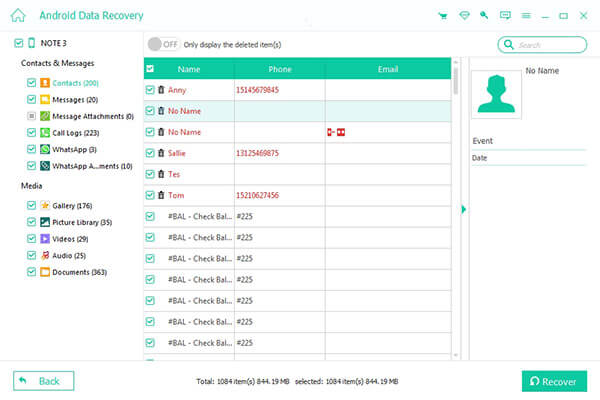 2

. Android text recovery on a broken phone

Though we often pray, bad things still happen. We found that more and more people search for how to extract text from broken Android phone, or how can I recovery Android text when my phone fell into the water. We will talk about how to recover and extract Android text from a broken device.

Step 1. Prepare software and hardware

Plug your Android phone to your computer using a USB cable. Open Android Data Recovery and switch to the "Broken Android Data Extraction" mode on the left side.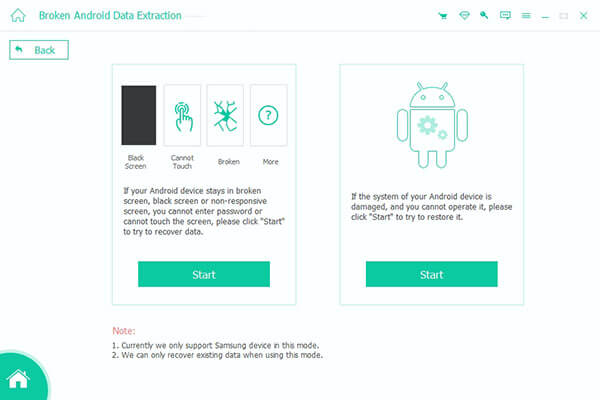 Step 2. Enter recovery mode of your phone
Follow the onscreen guide to turn recovery mode on your mobile phone. The application will display basic configurations about your phone. If they are right, press the Confirm button to continue. Otherwise, you have to correct it for Android text recovery.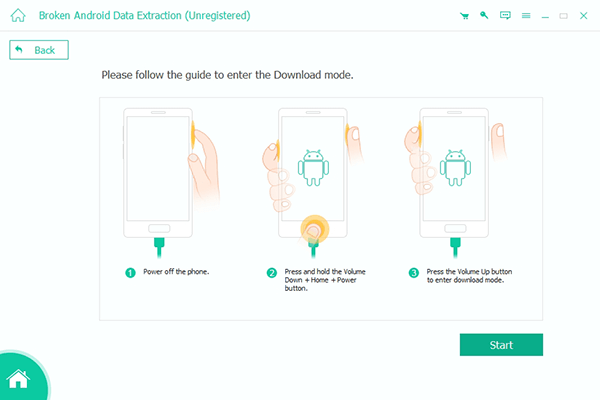 Step 3. Preview Android text
When go to the detail window, you can choose text data types on the left side, like Messages. Then you can preview and select certain text messages for recovery.
Step 4. Extract text messages from broken phone
Press the Recover button to recover and extract selected text messages to local hard drive. This way works, even though your Android phone screen broke.
3

. Implement Android text recovery from backup

Unlike iPhone, you cannot backup an Android phone without extra services. Apeaksoft Android Data Recovery is able to restore lost Android text from backup files. Moreover, it allows you to preview the backup file and select certain data for recovery.

Step 1. Open the Android Data Backup & Restore mode.

Run Android text recovery tool and make sure to you have connected your mobile phone to your computer. Click on the Android Data Backup & Restore tab on left side to open this mode.
Step 2. Select data type to restore
Choose Device Data Restore from the features windows to continue. Then you have to select data types you want to restore, like Messages.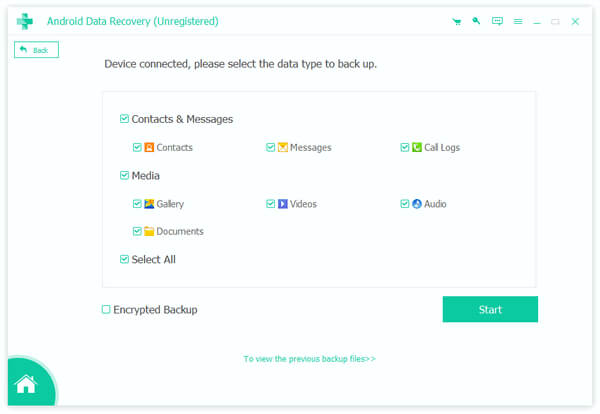 Step 3. Select Android text to retrieve
Choose On the detail screen, you can preview all text messages stored in the Android backup file. Then tick the checkbox in front of each text messages you'd like to get back.
Step 4. Restore text messages to your PC
Click on the Recover button. Then decide folder to store the recovered Android text on the pop-up dialog and press Recover again to finish it.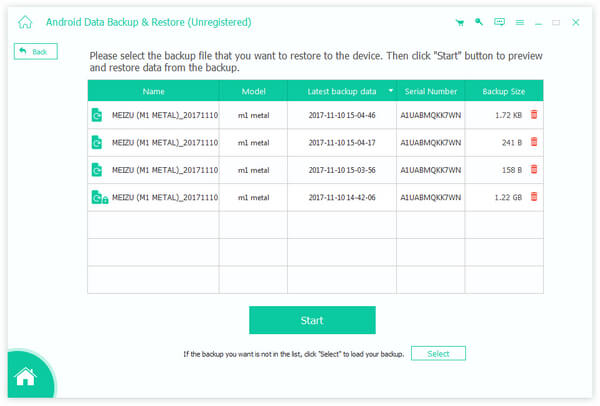 Conclusion
In this article, we have talked about how to achieve Android text recovery on your phone. Android Data Recovery is a powerful Android text recovering tool for text and other data types, because it offers multiple modes to help you regain text messages, contacts, call history or WhatsApp. The most commonly situation is accidentally deletion. And Android Data Recovery is able to show you step-by-step guides to help you finish this task. More importantly, even when your mobile phone is broken or you are locked out, this application also could get Android text recovery. Plus, it also has the capacity to extract text from Android backup.