"I was updating my Windows laptop, but it suddenly shut down, then I have to reinstall Windows operating system, the problem is that all my data was gone, how to recover computer data, please help."

To be honest, computer data recovery can be a tricky business, usually requiring the help of hard drive data recovery experts. But these services are expensive and you have to take the risk of data leakage. In this do it by yourself world, you have another option, computer data recover software. Why not save your money and follow our guides below to get what you want.
Part 1

: Overview of best computer data recovery

People usually want a cost-effective way to get computer data recovery. From this point, we recommend Apeaksoft Data Recovery, which is the best computer data recovery application with a lot of user-friendly features, such as:

1. Easy to use. This computer recovery tool is able to recover lost data from computer in one click, so even non-tech savvy could grasp it in a few seconds.

2. Data recovery in various situations. No matter your data is lost due to mistake operation, update failure, accidental deletion, virus attack, software corruption, or hard drive format, it could recover them easily.

3. Support a variety of data types and formats. It works for all image, video, audio, document, email, archive and other data types.

4. Lossless recovery. With the best computer data recovery application, you can restore lost data in original status, format and quality.

5. Preview for selectively recovery. Users are allowed to view all lost files organized after scanning and decide to recover all of them or specific items.

6. Quicker and lightweight. This computer recovery tool is lightweight and could restore lost data quickly and safely.

7. Moreover, Data Recovery is available to Windows 10/8.1/8/Vista/XP and a variety of file system, like NTFS, FAT16, FAT32, exFAT, EXT, etc. It also enables you to recover data from SSD, hard drive, flash drive, digital camera and more.

In short, the best computer data recovery software almost equips all features you are looking for.
Part 2

: How to recover lost files with computer data recovery

First of all, you may want to learn some knowledge about computer data recovery, like what causes data loss on computer. According to a recent survey, human error accounted for almost two-thirds of the incidents. The most common situations that need to recover data include:

1. Delete data with Shift + Delete unintentionally or empty the Recycle Bin after delete data accidentally.

2. Reinstall operating system and format the computer.

3. Suddenly interrupt when transferring data on your computer, like power outages.

4. Software corrupts when writing data on hard drive.

5. The computer is affected by malicious programs, such as virus, Trojan, malware, ransomware, and more.

Fortunately, the best computer recovery is able to deal with all these situations and get back your data simply.
Tips to increase the chances of computer data recovery
1. Stop what you are doing immediately. You can recover data from a computer before it is overwritten by new data.
2. Look your data in Recycle Bin first, though the lost data may be not in it.
3. Do not format or reform the disk that stored the lost data originally. Though data loss due to formatting is recoverable, in some cases, reformatting affects computer data recovery result and decrease the success rate.
4. Follow the steps below and try the best computer data recovery software. Sometimes, data recovery depends on the tool you use. If you choose the right option, you can get back your data easily.
How to recover lost files with the best computer data recovery
Step 1: Scan entire computer to look for lost data
Download and install the latest version of the best computer data recovery software on your computer.
When you need to recover data from your computer, launch Computer Data Recovery and you can see two parts on the home window, data type and location.
First, go to the data type section and select what types of data you want to recover, like Image, Audio, Video, Document, Email or Others. If not sure, check the box next to "Check all file types". Then move to the location section, and choose where you want to recover data. After that you can click on the "Scan" button to start extracting data from your computer.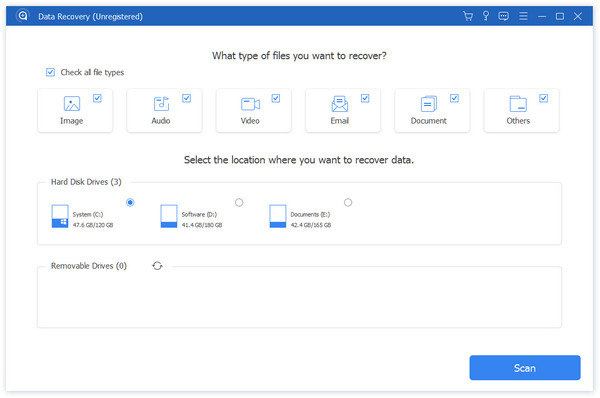 Step 2: Preview before computer data recovery
When the result screen pops up, the recoverable data will be ordered by types and formats. If you want to preview computer data, select a data type from left hand column, such as "Image". Then several folders named JPG, ICO, PNG, GIF and more will show up on right pane. You can go to each folder and look at the thumbnails.
To find a certain picture, enter the key word into the top box and click on the "Filter" button. If you cannot find the desired data in standard scanning result, the Deep Scan function at top right corner is able to find more lost data from your computer deep system.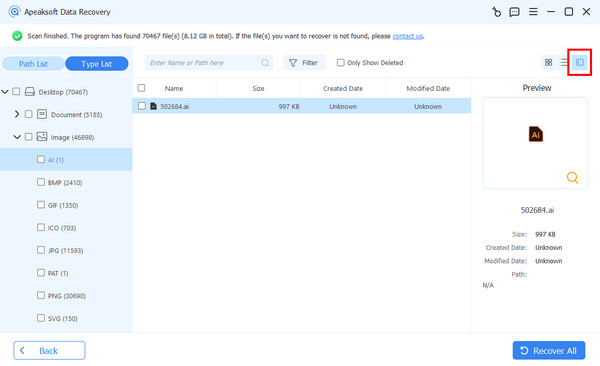 Step 3: Make computer data recovery in one click
Finally, select all desired data by ticking the corresponding checkboxes and click on the "Recover" button.
On the popup dialog, drop a destination that is different with original location, and initiate computer data recovery. When the process finishes, you can browse, move and edit your data as usual.
The best computer data recovery software does not have any limitations on how much data that you want to recover at one time.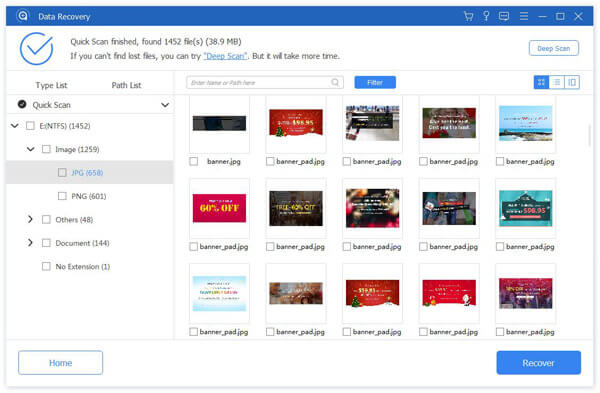 Conclusion
In this tutorial, we have discussed how to make computer data recovery in detail. As mentioned before, data recovery is a professional process to get back lost or missing data from storage. It deals with various scenarios, so you may need an all-in-one computer data recovery program.
That is why we recommended Apeaksoft Data Recovery. It is not only simple to use, but also able to recover as much data from your computer as possible. So, before ask help to technology services, you can try this program and save you money. We wish that our guides are useful to you.