"I had a little problem with an important message content, yesterday I received an email from a strange address in my Hotmail account, so I deleted it, but later I learned that it was my business partner's new mailbox, how to recover deleted emails Hotmail? Please help." According to recent survey, email is still a significant communication tool, especially in formal occasions. And accident deletion is still a problem that may cause important information loss. Therefore, we are going to talk about how to recover deleted Hotmail email inbox messages in this tutorial.

Part 1

: How to recover Hotmail account

Users cannot access their emails without Hotmail password. If you lost your emails since you forgot Hotmail password, follow the steps below to get back them.

Step 1: Go to Hotmail and press Enter key to open Hotmail login page. Click on the link of "Can't access your account?" under the "Sign in" button rather than enter your Hotmail username and password (Need to reset Hotmail password?).

Step 2: Then select "I forget my password" and click on "Next" to start Hotmail recovery. On next page, you will be prompted to enter your Hotmail username and the captcha code, and then hit the Next button to open the verification page. If you remember your security question and answer, select "Security Question" and answer it. If not, choose "I can't use any of these options".

Step 3: Enter your Hotmail account again, drop your contact email account and click "Next" to open the Account Info page. Then you have to fill out the details of your account and click "Submit".

Step 4: Once Microsoft verifies you are the owner, you will get a password reset link in the contact email. Drop a new password and confirm it. Then you can access your Hotmail account and make Hotmail email recovery immediately.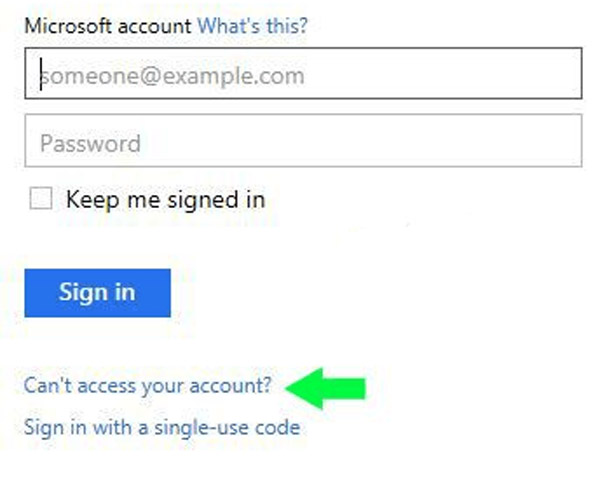 Part 2

: How to restore deleted Hotmail emails from the Deleted folder

It is well-known that Windows's Recycle Bin is able to recover deleted files easily. Hotmail has the similar design. When you delete an email in your Hotmail account, it goes to the Delete folder and stays there for 14 days. In other word, you can recover Hotmail deleted emails within the past 14 days from the trash folder.

Step 1: Access Outlook website in your browser, drop your username and password, click "Sign In" button to open the home page.

Step 2: Find "Delete Items" on the left side ribbon and click on it. Then all deleted emails recoverable will show up on right pane.

Step 3: Right-click on the email that you want to recover, select "Move" and then "More", choose a proper folder. Then go to the folder, you can view your email normally.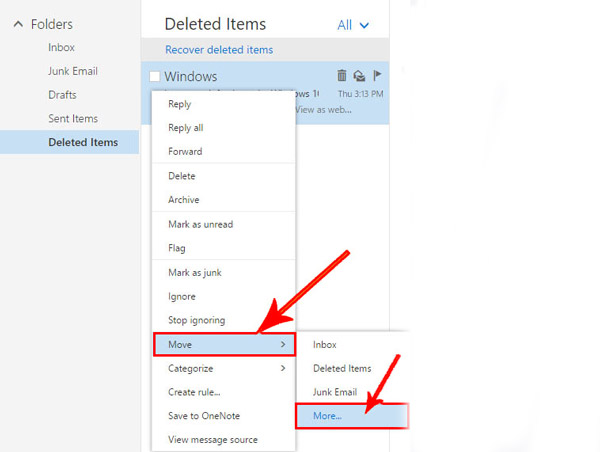 Part 3

: How to retrieve Hotmail emails with Data Recovery

If you have clean up the Delete folder in your Hotmail or you want to recover the email that has been deleted more than 14 days ago, you will need a professional Hotmail recovery tool, such as Apeaksoft Data Recovery. Its main features include:
Easy to use. This Hotmail email recovery application is able to get back deleted email messages in one click.
Recover emails in various situations, such as mistake operation, accidental deletion, virus attack, empty Delete folder and more.
Support a variety of email providers. In addition to Hotmail, it works for Gmail, Yahoo email, Outlook, etc.
Lossless recovery. With the best Hotmail recovery application, you can restore deleted emails in original conditions, including the messages and attachments.
Preview for selectively recovery. After scanning, you can look at all lost email messages organized by time and decide to recover all of them or specific items.
Quicker and lighter. This Hotmail recovery tool is lightweight and could restore lost emails quickly and safely.
Moreover, Data Recovery is compatible with Windows 10/8.1/8/7/Vista/XP, and a wider range of file systems, like NTFS, FAT16, FAT32, exFAT, EXT, etc.
Download for Win
Download for Mac
How to recover deleted Hotmail emails with Data Recovery
Step 1: Scan entire hard drive to look for lost email messages
Download and install the best Hotmail recovery software on your computer. Open Data Recovery when you found important emails disappeared from your Hotmail account. Go to the data type part on the home window, and make sure to check the box next to the "Email" option. Then move to the location area and select where you want to recover emails. After set up, you can click on the "Scan" button to start scanning your hard drive and looking for your emails.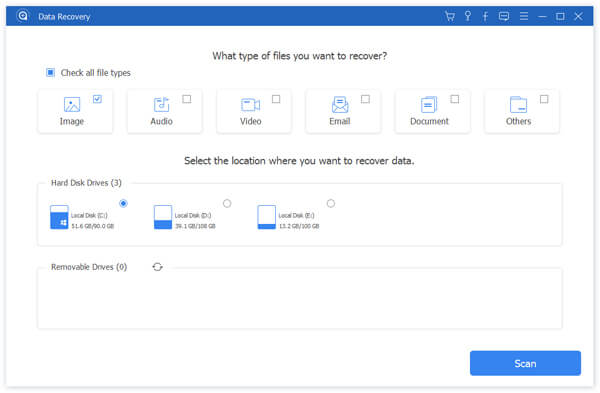 Step 2: Preview before recovering Hotmail deleted emails
When going into the result window, you can view all deleted emails arranged by time. Click on the "Email" option to open the detail window on right side. Then you can open each folder and look for the email you want to recover. If there are too many emails, enter key word related to the desired email in the box and click on "Filter" to quickly target it.
If you cannot find the desired emails, click on the "Deep Scan" button at upper right corner to recover more data.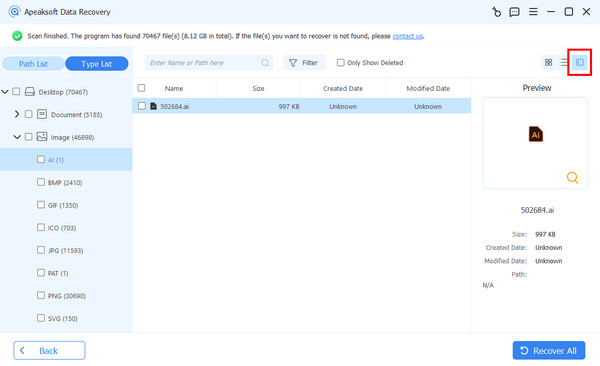 Step 3: Recover deleted emails Hotmail in one click
Finally, select all email messages you'd like to recover or entire folder, and click on the "Recover" button. On the popup dialog, choose another destination to save the recovered emails and trigger the Hotmail recovery process. When it is done, you can look at your information as usual.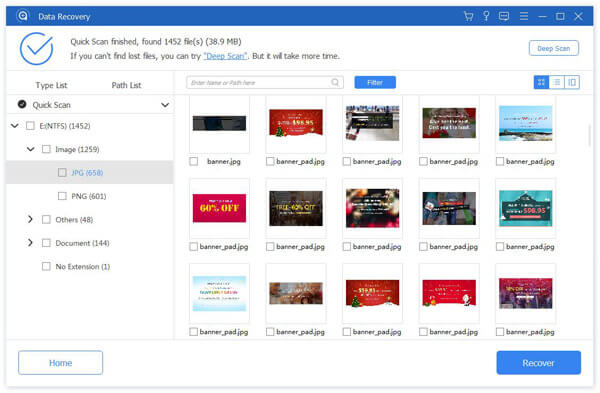 Conclusion
In this tutorial, we have shared multiple ways of Hotmail email recovery available in various situations. Firstly, if you cannot remember your Hotmail password, you can recover emails through Microsoft's password recovery process. And if you just delete your emails, it is possible to get them back from the Delete folder in Hotmail. On the other hand, we also recommended an all-in-one Hotmail recovery tool, Apeaksoft Data Recovery. It is able to restore all deleted emails due to different reasons. Now, you can pick your favorite way and retrieve the delete email messages from Hotmail effectively.