Lenovo, according to the authoritarian figures, it is the second largest computer sell company around the world. As a leading enterprise of computer technology, it insists on developing new technology and products.
Lenovo Recovery is one of the main improvements. Lenovo Recovery for Windows 10/8/7 is also known as Lenovo Digital Recovery Service, which is able to download the files need to create a Lenovo Recovery USB key.
When you need to recover files from Lenovo desktops, laptops and tablets, you can use Lenovo Recovery Media to get back the lost or deleted files.
If you need to know more about Lenovo Recovery and the usage, you can check out the detailed information from the article.

Part 1. Comprehensive guide of Lenovo Recovery
What is Lenovo Recovery?
Just in simple, Lenovo Recovery is a program to back up the system at a particular point for Lenovo devices. Usually you need a Lenovo Recovery media, which should be a DVD or USB containing a backup of the original factory condition of a computer.
Lenovo Recovery allows you to reformat the hard drive, reinstall the operation system or turn Lenovo devices into the factory condition. In order to achieve Lenovo Digital Download Recovery Service, you need to create a Lenovo Recovery USB key first.
What can Lenovo Recovery do?
Lenovo Recovery is a replacement for hard disk driver failure, which is also able to reboot the operation system due to operation system or software corruption. When you are not able to restart your Lenovo devices, get a blue screen or black screen, you can use Lenovo Recovery instead.
Conditions for using Lenovo Recovery
Available: Windows 7, Windows 8, Windows 8.1 and Windows 10.
Compatible: Lenovo desktop, laptops and tablets.
How to use Lenovo Recovery on Windows computer?
Just as mentioned, in order to use Lenovo Recovery, you should create a Lenovo Recovery USB key or choose the Digital download. Just learn the detailed process as below.
1. How to create a Recovery USB key
Method 1: Apply Lenovo Digital Recovery Service
Just send the Lenovo Recovery (https://support.lenovo.com/lenovorecovery). After that, follow the instructions to complete the application, you can receive the email for Lenovo Digital Recovery Service of Windows 10.
But Lenovo only provides a one time no charge recovery media for your ID, after that, you should order a copy of Lenovo Recovery media in order to restore computer from Windows 10.
Method 2: Create a Recovery USB Key
Step 1. Download Lenovo USB Recovery Creator
It is a professional Lenovo Recovery tool, which you should download for Windows 7/8. Just download the program to create a Lenovo Recovery USB Key. After that you can log in with Lenovo account.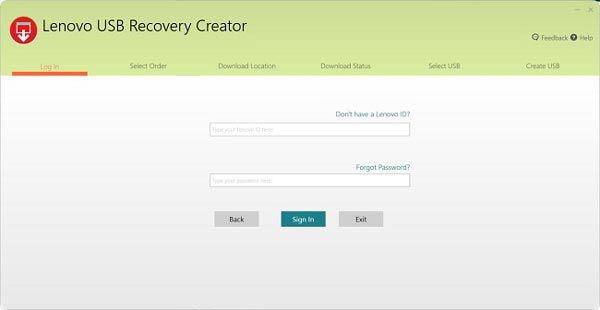 Step 2. Download the Recovery files
Select the "Download Recovery files and Create a Recovery USB Key" option. If you have already placed an order for digital download with your Lenovo account, you can download all the files within 72 hours for one time only.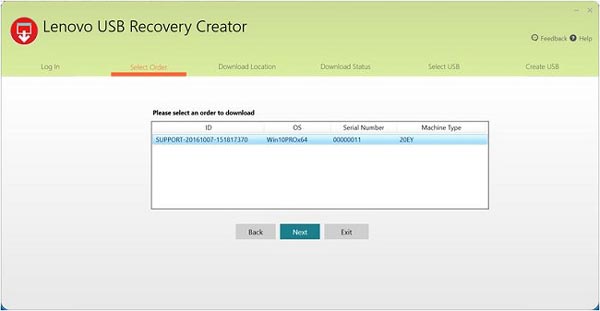 Step 3. Copy Lenovo Recovery to USB key
Insert a USB key that you can access it from Microsoft Windows, and your computer will detect it automatically. (USB drive is not recognized?)
Copy any file you want to keep onto the USB key. When the USB recovery key is ready, you can remove it from Lenovo computer.
2. How to Use Lenovo Recovery USB key
When creating the Lenovo Recovery USB key, the USB key can be used to reinstall Microsoft Windows 10 at any time on the computer models for which it was created. Do not alter the recovery files or recovery structure after you download the Lenovo Recovery media, or else it will after the process for creating USB recovery key.
Step 1. Insert the USB key to computer
To use the USB key, insert the USB key into the Lenovo computer on which you want to restore the operating system. Then, restart the computer to begin the recovery process.
Step 2. Reboot Lenovo computer
If your PC cannot power-on into Windows 10, keep the USB recovery drive inserted and then reboot your PC, press F12 consistently. After that, a boot menu will appear and then you can follow the next operation: Tap or click Troubleshoot -> "Refresh your PC" or "Reset your PC" and then follow on-screen instructions.
Step 3. Recovery Lenovo from USB
If your windows tablet does not have keyboard, just keep the USB recovery drive inserted and then press Volume up + power, select boot menu, select UEFI device, and waiting for your PC boot from the recovery drive. Then you will find your computer system is restored.
From the above description, it is very clear that Lenovo Recovery is the tool that helps you backup and restore system files. However, you need to bear two rules:
1. You need to create a recovery USK key.
2. The restored system files will wiped out all those existing data.
It is OK, if you can follow the two rules. If not, just get a Lenovo Recovery alternative, Apeaksoft Data Recovery is exactly what you need.
Part 2. Lenovo Recovery replacement - Data Recovery
Apeaksoft Data Recovery is the files recovery program for Lenovo computer users. Let's check the main features of this data recovery software.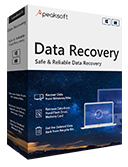 4,000,000+ Downloads
Restore computer system files without loss on Windows 10/8/7.
Restore data due to disk accident, re-partition, system re-installation, etc.
Recover data even if you did not create a backup file.
Retrieve data from Lenovo computer directly without creaitng backup.
Step 1. Scan Lenovo drive
Free download this Lenovo Recovery tool on your computer. In the main interface, you need to checkmark the following data type:
File types: Here you are given the option to scan and restore image, audio, video, email, documents and other data like system files, DLL, Temp files, etc.
Hard disk drive: You need to decide which hard disk for scanning and restoring. Here it supports hard drive, re-partition drive, RAW drive recovery.
Then click "Scan" to scan your Lenovo drive.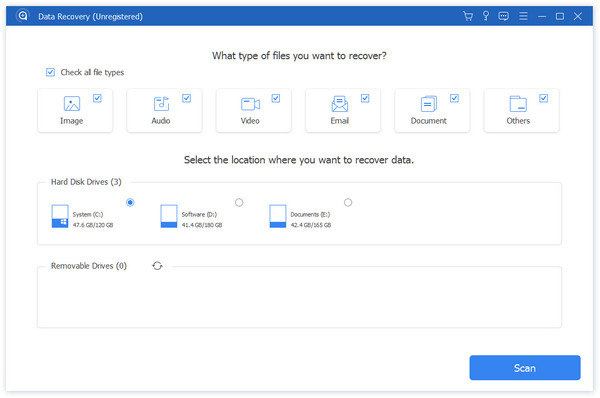 Step 2. Recover data from Lenovo
After the scan is complete, the result shows in type list or path list.
Click the data folder from the left sidebar, and view the detailed files on the right window.
Confirm those items you want, and click "Recover" to save the lost or deleted data to your computer safely.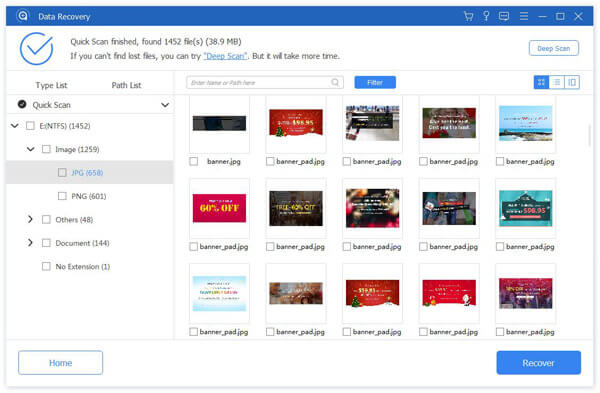 Do not miss this video tutorial to start a quick Lenovo recovery here: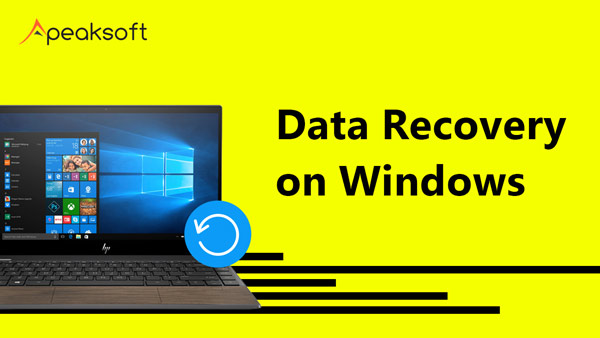 Conclusion
The fast development of computer technology gives us much convenience and security as well as gives us much challenge to learn them. And for Lenovo Recovery, you must need to learn its function and then basic way to use the Lenovo Recovery media or digital service. Surely, it is not perfect tool for everyone. If you seek for an alternative to Lenovo Recovery, Apeaksoft Data Recovery will be a good option. It requires no backup, but restore data directly from your Lenovo computer.
Any other queries about the Lenovo Recovery, you can share more information in the comments.