Since the internal storage space on Android is limited, removing cache and unnecessary device data would be a must on your to-do list. However, you may mistakenly swipe and lose some important and meaningful messages. But still, the deleted messages are recoverable with suitable solutions. This post pools all possible methods to help you easily find deleted messages on Android.

Recover Deleted Text Messages on Android
Part 1. Is It Possible to Retrieve Deleted Texts on Android
Can I recover deleted messages on Android? The answer is YES. Though most of Android phones don't have recycle bins or trashes, apart from some Samsung phones, you can restore your deleted text messages for your Android phones from backup or using third-party tools.
Where are messages stored after being deleted on Android?
Actually, your deleted messages won't be erased immediately from the storage space by your Android phone. And the space of deleted messages usually is changed as "unused". However, these deleted messages will be overwritten if you keep using the Android phone and create new data. Hence, you can recover your deleted texts before they are overwritten by new data.
How to find my deleted texts on Android?
You can't find or access the folder of deleted messages on your Android phone as normal because these messages are hidden in the storage of your phone.
Part 2. How to Recover Deleted Messages on Android without Backups
On most occasions, you have to say goodbye to a deleted file or message because there is no backup for recording at all. What's worse, you may be confused about where deleted messages are stored on different Android devices.
But is there really no way out? Can you get back the deleted messages quickly, regardless of the Android model? Apeaksoft Android Data Recovery will give you the answers, even without backup.
To best take care of your needs, Apeaksoft Android Data Recovery opens the gate to data recovery from all problematic Android phones and tablets. Whether it's an accidental deletion, rooting error, locked screen, device failure or system crash, you can access the ultimate solution here at a super fast speed.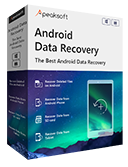 4,000,000+ Downloads
Enable users to retrieve deleted/lost messages, photos, videos, contacts, etc.
Workable even with broken, frozen, bricked and locked Android devices.
Compatible with more than 5,000 Android models.
Offer a preview window of the deleted messages before you start recovering.
Retrieve Deleted Text Messages via Apeaksoft Android Data Recovery
Step 1 Download and install this Android SMS recovery tool on your computer. Then enter the Android Data Recovery section. Connect your Android to the computer via a USB cable.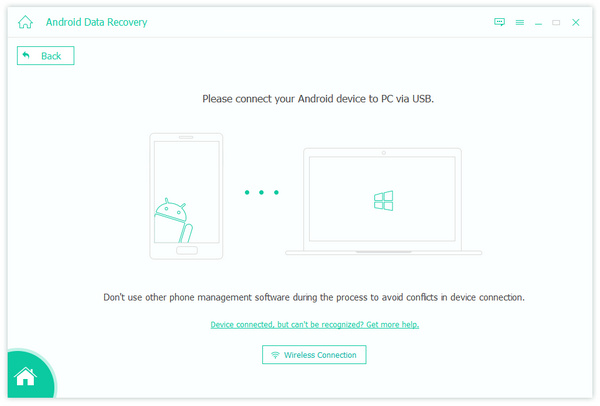 Step 2 After a successful connection, you can view all possible file types for recovery in the following window. Tick the Messages box. Click the Next button.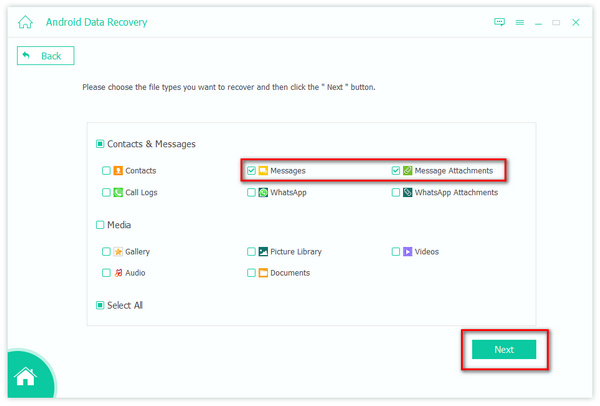 Step 3 Follow the on-screen instructions for authorization. Then tap Continue to scan authorized files. Then you can view all scanned data types and content. Here you can choose Only display the deleted items for deleted text messages only./p>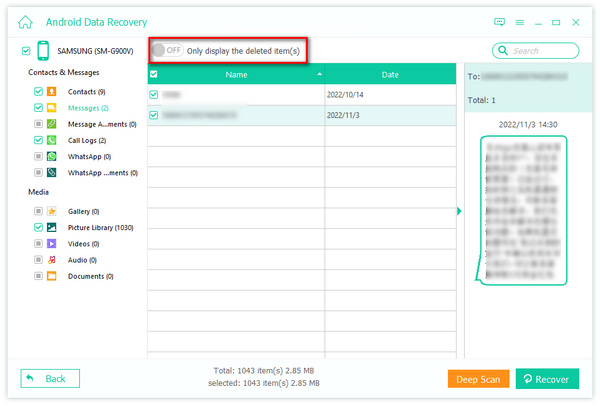 Step 4 Tick the wanted messages and click the Recover button to begin the process. You will automatically jump to the target folder for checking.
Part 3. How to Restore Deleted Android Text Messages without Computers
If you are not seeking deep scanning for the deleted Android text messages from your computer, you can go on with the recovery tools on your mobile. For Android and Samsung users, there are local backup and restore features without downloading. And you can also adopt third-party apps in case of any setting failure.
From Native Backup Feature
You can use the built-in feature on your Android phone and restore the message data by Google Cloud backup. Here is how to do that.
Step 1 Enter Settings and select Google >Backup on your Android phone.
Step 2 Click the Back up now button in the new window. For first-time users, you need to enable the Backup by Google One before you activate the backup feature.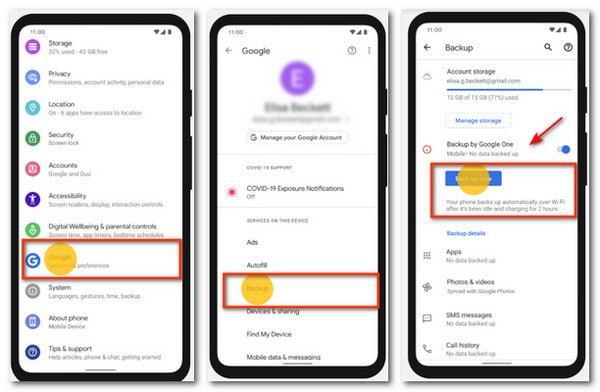 Step 3 With the deleted messages included in your backup, you can open Settings and enter the System section.
Step 4 Click Reset options >Erase all data. This will factory reset your Android phone.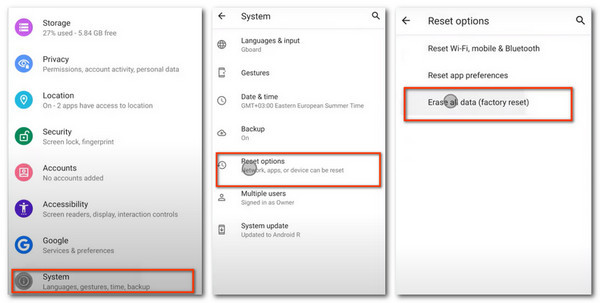 Then you can restart your Android and log in with the same Google account. You can restore the deleted text messages and other data backed up on the same Android again.
From Google Archive on Gmail
If you are retrieving text messages from Gmail on your Android phones, you can get back the deleted ones (that are actually hidden) through Archive even if you delete them within 30 days.
Step 1 Open the Gmail app and move to your target messages. Swipe it from the right to enter the Archive section. (You can Open Settings >General settings to change Archive to the Gmail default action).
Step 2 Tap the Three Lines button on the top left corner. Scroll down the menu list to open the All mails section. Here you can view the deleted or archived messages in the following list.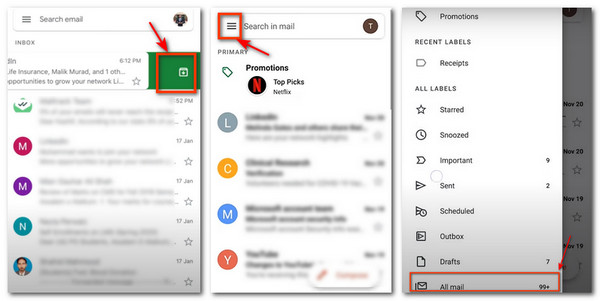 For Samsung Galaxy users:
Samsung Galaxy Series is also introduced with the Archive feature. You can view the archived messages with the following steps.
Step 1 Open the Messages app and click the Three Lines button next to the Search Box.
Step 2 Then enter the Archived section to view all hidden messages in the following list.
Step 3 Press the wanted messages and click the Unarchived button to restore the deleted text messages.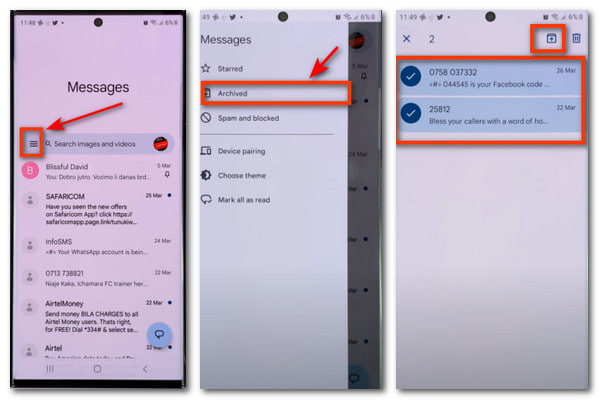 From Messages Recycling Bin on Samsung Galaxy
Unlike the Archive feature, the Trash section gathers all deleted messages for Samsung Galaxy users within 30 days. If you want to recover the deleted ones from recycling bins, here is what you need to do.
Step 1 Open the Messages app on your Samsung Galaxy phone. Then click the Three Dots button on the top right corner to find the Trash section.
Step 2 Then you can view all deleted messages in the next interface. Choose the wanted one by long pressing it and clicking the Restore button.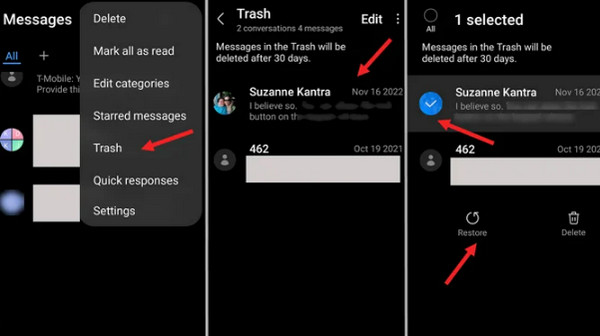 Tips :
If you can't find the deleted messages in the
Trash
section, switch to
Settings
>
Accounts and backup
>
Samsung cloud
. Then enter the
Restore data
and tick the
Messages
box to recover the removed messages.
From Android Apps
Third-party apps will be of help if all the ways above fail to work. You can visit the Google Play store and download Android SMS recovery tools like SMS Backup & Restore, All Deleted Messages Recovery, etc. Then follow the instructions to recover your deleted messages.
Part 4. Tips to Avoid Losing Messages on Android
After gaining all methods above to recover deleted Android messages, you are believed to raise awareness of data management on your phone. Instead of squeezing out the storage space on your Android phones from time to time, you can do as follows to safeguard message data.
1. Select a trustworthy data manager on your computer to back up all crucial Android data.
If you don't want to debug or factory reset your Android to impair the phone's performance, getting a reliable data manager tool on your device is a top choice. You can access Apeaksoft Android Data Backup & Restore on your Mac or Windows to back up all files and protect personal information.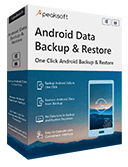 4,000,000+ Downloads
Back up, manage and restore lost/deleted/damaged/crashed files without data loss.
Offer standard and encrypted backup modes with solid protection.
Match over 8,000 Android devices, including Samsung, Sony, LG, XIAOMI, HTC, HUAWEI, etc.
Quick to start and easy to follow.
2. Remove all caches and malware.
Overloaded caches and malware may cause you to suffer data loss and errors. So, you had better clear all caches through Settings >Apps >Messages on your Android to avoid losing messages accidentally.
3. Turn to other official Message apps on your Android devices.
You can download and install other Message apps like Messages by Google, Messenger, Verizon Messages and so on from the Google Play store. Then change the settings on your preference and get the message recording from the app.
4. Check the update of your Android OS and Messages version.
The newest version of the Android system and Messages app will protect users against hacking, data loss and other problems. So, you can visit Settings >About phone >System updates to get the latest OS and check the software update through Apps.
Part 5. FAQs of Text Messages Recovery on Android
How to recover deleted text messages on Android without apps?
You can restore the deleted text messages through Google Backup, the Archive feature on Gmail or Messages to restore your wanted messages.
Can I recover deleted text messages on Android for free?
Sure. You can free download Apeaksoft Android Data Recovery on your PC and retrieve the deleted text messages on Android phones. Or you can get the messages from Google/Samsung backup or free phone recovery apps.
Where is Recycle Bin on an Android phone?
Recycle Bin is a unique feature only for desktop users. But you can see deleted messages with a Google account on Settings. Or you can directly view the deleted messages in the Trash list on Samsung Messages app.
Conclusion
This post has introduced five ways to you on how to retrieve deleted text messages. Here are useful tips as well to assist you in better managing your messages. We sincerely hope you can gain something useful here.