Photoshop suddenly lost?
Photoshop is a popular photo editor among professionals. You need to pay a period of time to make a wonderful artwork. As for the case, it is quite necessary to know how to recover Photoshop files on Windows.
Often working in Photoshop, many designers have encountered the problem that forgot to save their file or other sudden interruptions. Considering that, we shows multiple ways to get back your designs in this post.

Part 1

: Photoshop Background Save and Auto Save

"I am a designer and used to create posters within Photoshop, yesterday I closed the Photoshop without clicking on the Save button; in result, my hours of hardworking was gone, is there any way to recover Photoshop file?"

Photoshop CS6 is a milestone since Adobe introduced some useful features into the new version, such as Background Save and Auto Save.

The most daunting aspect of Photoshop is slow. Every time when saving your work, you have to wait for the process to complete. It usually spends a few minutes to half an hour. The Background Save feature allows you to continue doing your work, at the same time when Photoshop save the file in the background. Users can check the process in percentage at the top name bar or the bottom status bar.

Similar to Office, Adobe finally included the Auto Save feature for Photoshop. It will save a backup of the file that you are editing at regular intervals. So, when something unfortunate happens, you can recover your work without data loss.

You also want to read: Top 10 Photo Recovery Tools.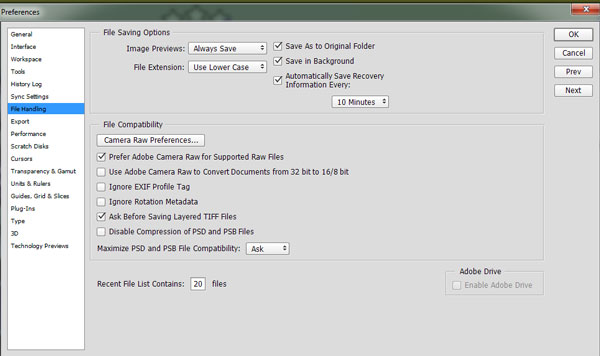 Part 2

: Recover Photoshop file with Photoshop Auto Recovery

By default, the Auto Save feature is disabled. And to avoid data loss, you'd better configure it now. Open your Photoshop CS6 or later version, click on the "Edit" menu on top ribbon and go to "Preference" > "File Handling". Make sure to tick the checkbox next to "Automatically Save Recovery Information Every" and select a proper interval from the dropdown list. When you need to recover file with the Photoshop Autosave feature, follow the steps below.

Step 1: Go to the AutoRecover folder of Photoshop on your computer.

For Windows: C:\Users\YourUserName\AppData\Roaming\Adobe\Adobe Photoshop\AutoRecover.

For Mac OS: ~/Library/Application Support/Adobe/Adobe Photoshop/AutoRecover.

Step 2: The file you did not save even once will be saved as Untitled files in the AutoRecover Folder. Copy and paste them to another location, then open Photoshop and drag and drop them into it. Now, you can continue.

Note: If you open Photoshop and close it again after a sudden interruption, the Photoshop Autosave files are gone forever.

Reading more: How to recover deleted video
How to recover deleted audio files on Mac and PC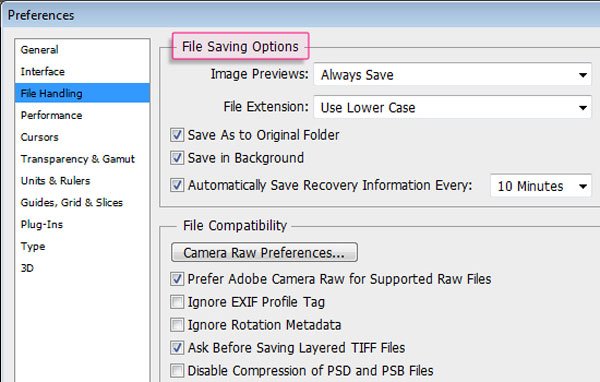 Part 3

: Best Photoshop recovery to recover lost PSD files

If you use the old version or did not turn on the Photoshop Autosave feature, there are still chances to recover files. Apeaksoft Data Recovery is the best Photoshop recovery software with a lot of useful features, like:
Easy to use. This digital recovery application is able to get back lost images in one click, so even novices could grasp it in a few seconds.
Photoshop recovery in various situations, such accidental deletion, virus attack, software crash, or hard drive format.
Support a variety of image formats. It works for all image formats, including PSD, JPG, ICO, PNG, BMP, GIF, TIFF, RAW, etc.
Lossless recovery. With the best data recovery application, you can restore lost pictures in original format and quality even without backup.
Preview for selectively recovery. After scanning, you can look at all lost pictures organized by formats and decide to recover all of them or several specific pictures.
Quicker and lighter. This digital photo recovery tool is lightweight and could restore lost pictures quickly and safely.
Moreover, Data Recovery is compatible with Windows 10/8.1/8/7/Vista/XP on HDD, SSD and other storage medium.
Download for Win
Download for Mac
How to recover lost PSD files with Data Recovery
Step 1: Scan entire hard drive to look for lost PSDs
Download and install the latest version of Photo Recovery on your PC. Launch the best Photoshop recovery application once you discover your work disappeared. On the home interface, you will get two sections, data type and location. Make sure to check the box on the "Image" option. And then choose the location where your design saved originally, for example Local Disk C. Next, click on the "Scan" button, Data Recovery will work automatically.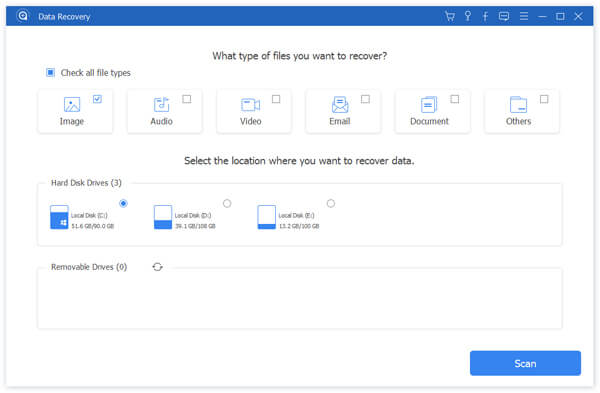 Step 2: Preview before Photoshop recovery
When scanning is complete, you will be taken to the detail window. Go to the "Image" tap from left hand column, folders titled PSD, JPG, PNG, GIF and more show up on the right panel. Open the PSD folder to look at the thumbnails before recovery. If there are too many PSD files, enter key words related to the file that you want to recover and click on the "Filter" button. It is able to quickly locate the desired file. Moreover, the "Deep Scan" feature at upper right corner of the window could scan your drive deeply and get back more data.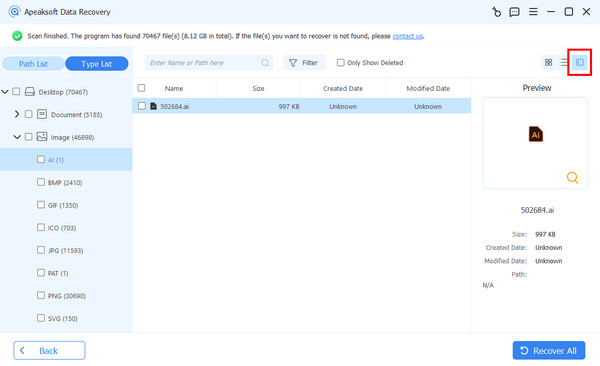 Step 3: Recover Photoshop file in one click
To recover pictures without Photoshop Autosave, you can check the box next to each desired PSD file or select the entire PSD folder. If you are ready, click on the "Recover" button to start recovering Photoshop files. When it is done, hit the "Open Folder" button on Recovery Finished window to open the destination folder. Then you can browse, copy and paste, or edit your pictures as usual.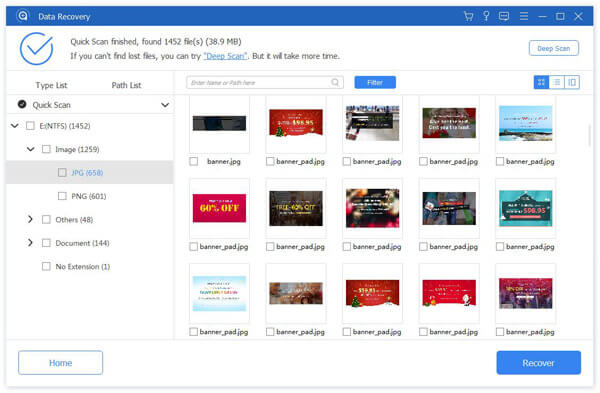 Conclusion:
As a professional photo editor, Photoshop is still not perfect. According to our research, some users complained that Photoshop crashed suddenly and their designs were gone permanently. Luckily, Adobe finally released the Photoshop AutoSave feature in new versions. To get back pictures using the Auto Recovery feature, you have to set it up in your Photoshop first. And it is only available in new versions of Photoshop.
Therefore, we also shared an all-in-one Photoshop recovery application, Apeaksoft Data Recovery. The biggest advantage of Data Recovery is to retrieve PSD files without any backup. And it works on a wider range of image formats. Now, you can choose the proper tool and get back your work. Anyway we hope that our guides are helpful to you. If you have more questions related to Photoshop recovery, feel free to leave a message below.