Most of you must have faced the situation that you deleted purchased or default Apps by accident. In most cases, some important messages, data are lost with the Apps too. What are you going to do if you are confronted with this situation? You should be cautious for once you take a wrong step, your data and messages will be in danger or missing forever.
So, finding a suitable and reliable method is the ultimate solution. The passage explains you the ways about how to restore Apps on iPhone in details. Just check out the professional programs to help you restore iPhone Apps data and even backup iPhone data as profession.

Part 1

. How to Restore Apps on iPhone from App Store

Many of you who are new users of iPhone may feel panic when accidentally delete your important applications from your iPhone. Actually, there are various kinds of methods helping you restore Apps on iPhone, among them, App Store offers two easy and quick ways to deal with this situation.
Method 1

. Restore Deleted iPhone Apps from App Store

As a matter of fact, you can download the lost App again in the App Store to restore Apps on iPhone, which must be the easiest way. Remember to use the same iTunes account when restoring, because only in this way you will not be charged again if your deleted App is a paid one. Here is the detailed process to restore deleted iPhone Apps from App Store for iOS 11.

Step 1. Click the "App Store" icon, and then in the "Today" menu, you can login your account for the purchased iPhone Apps.

Step 2. When you access to your account, you can click the "Purchased" menu to check all the purchased Apps.

Step 3. Check the Apps you have purchased, and then click download button to restore deleted iPhone App from App Store.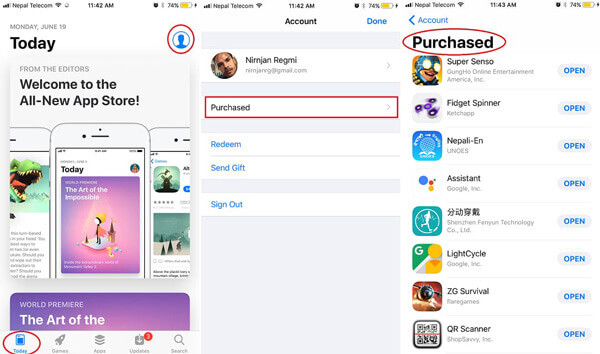 Method 2

. Search and Restore Purchased App on iPhone

Apart from reinstalling the lost Apps from App Store, there is another way to recover it through App Store. If you know the name of the purchased App, you can simply search and restore App on iPhone as below.

Step 1. Turn on your iPhone and launch the "App Store". And then go into the "Search" menu to search for the deleted App.

Step 2. And then you can enter the name of the deleted App, or simply enter the key word to find the purchased App on iPhone from Apple Store.

Step 3. Once you locate the deleted App, you can find the download button to restore App on iPhone. Finally you can get back the App for your iPhone again.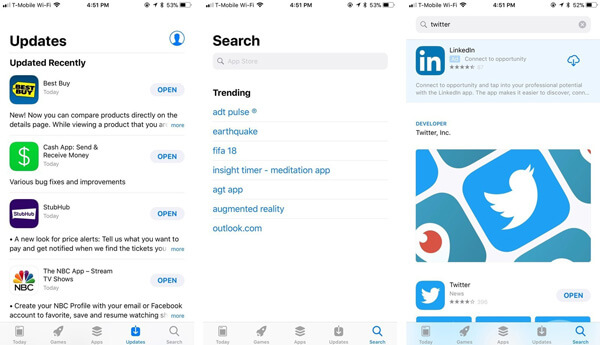 Part 2

. How to Restore Default iPhone Apps like Safari or Camera

The former method of how to restore Apps on iPhone applies to those apps that are not the default ones. But what if you delete your default Apps, such as Safari, incidentally? When you find everywhere you can think out, and still cannot restore it, the chances are that your lost Apps have been restricted. Here I provide the way of how to restore default Apps on your iPhone:

Step 1. Turn on your iPhone, and direct into the "Settings" area. Drop down until the button "General" appears, click it and go into another page.

Step 2. Slide down and click "Restrictions", and get into this page. You will find all the default applications are in this area.

Step 3. Then turn your lost Apps into ON, which will restore default iPhone Apps, such as Safari, Camera, FaceTime and more.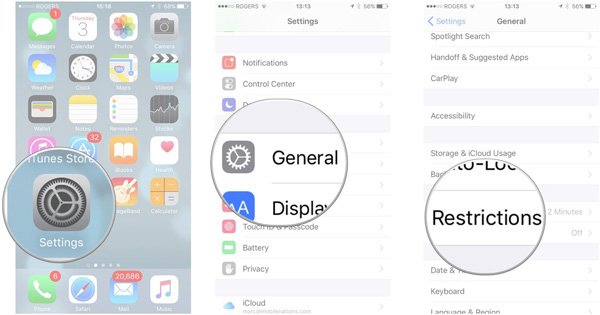 If you have ever backed up iPhone to iCloud, you can here restore apps from iCloud backup easily.
Part 3

. How to Backup and Restore WhatsApp Data on iPhone

Nowadays, Smartphone plays more and more important in our life. And some data you saved on your iPhone, such as photos, text messages, App data, etc. should be carefully backed up and restored in case of being deleted or getting lost. To avoid the trouble, you are supposed to find a powerful and reliable method to backup Apps on iPhone in a correct way. iOS Data Backup & Restore is a highly recommended program for you.

The iOS Data Backup & Restore allows you to back up the part or the whole data from your iPhone and restore data you want back to your iDevice. It's convenient for all of you for the steps are easy to follow. In the process of backing up and restoring iPhone App, the software promises no loss of all data. So, it is very trustworthy. Don't worry about how to backup and restore App data on your iPhone, the part takes WhatsApp for example and give detailed steps to help you understand.
How to Backup WhatsApp Data on iPhone
Step 1. Download and install iOS Data Backup & Restore on your computer. At the same time, connect you iPhone. Launch the iOS Data Backup & Restore, and click "iOS Data Backup" button.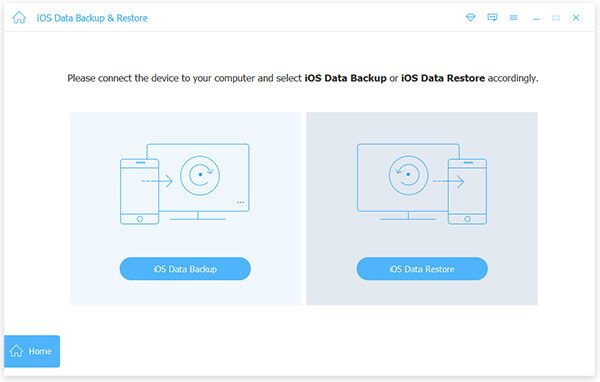 Step 2. To back up the data, you have to select the data of WhatsApp, including photos, messages, videos and files. It will take a few minutes to finish the whole process to backup all Whatsapp data.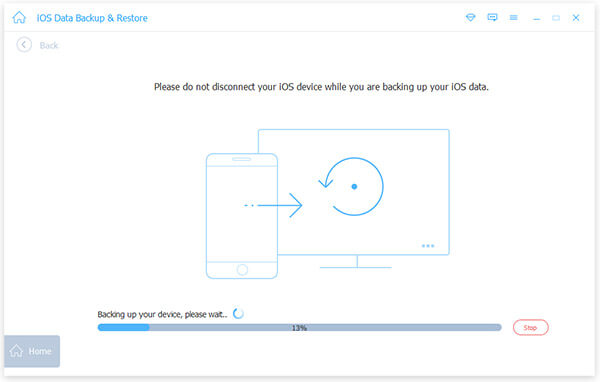 Step 3. After finishing, the program will tell you the result. Click "View Now" to look at your files. Then, all the backup files will be listed on the screen and you are free to click and view it.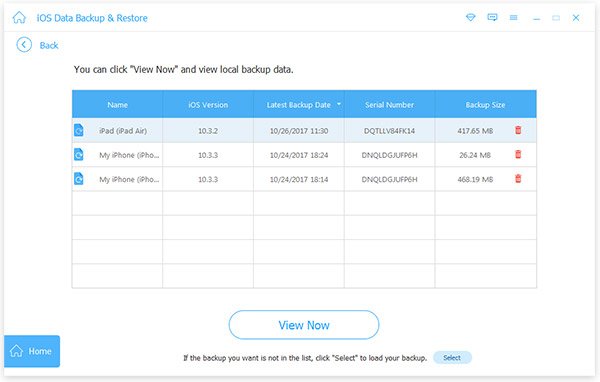 How to Restore WhatsApp Data on iPhone
Step 1. If you have already backed up the files for WhatsApp Data, you can connect your devices and click "iOS Data Restore" this time. And then you can restore app for WhatsApp from iPhone.
Step 2. You are allowed to view and choose the data of WhatsApp you want to restore first, have more details about the files you want to extract from the backup, and then tap "Restore" to start restoring.
Step 3. After finishing, check the Whatsapp Data you have just restored on iPhone. You can save the files to you computer and transfer the files back to iPhone with AirDrop or Bluetooth accordingly. You can also rely on it to recover deleted notes on iPhone.
Conclusion
In case of losing important information and useful Apps, you'd better back up your data ahead of time. But if you get your data deleted, don't worry and follow the steps and methods of how to backup and restore Apps or data on your iPhone in this article, which will help you solve the problem completely.