The iPad screen mirroring feature lets you easily mirror the screen onto a larger display, such as an Apple TV or a computer monitor. However, this feature may sometimes experience glitches or fail to work. This post will explore why iPad screen mirroring is not working and provide potential solutions to help you troubleshoot the issue.

iPad Screen Mirroring Not Working
Part 1. Why Screen Mirroring iPad to Apple TV Not Working
There can be various reasons why iPad screen mirroring is not working. Before telling how to solve the problem, we would like to discuss some of the main factors that can lead to this issue.
Wi-Fi Connectivity Issues
An unstable or weak Wi-Fi connection may be the most common reason for iPad screen mirroring not working. Screen mirroring relies on a robust and consistent network connection to transmit the data accurately. If your iPad is not connected to a stable Wi-Fi network, it may result in screen mirroring issues. Moreover, your iPad and the mirrored device should be connected to the same network.
Hardware Compatibility Issues
Another common reason screen mirroring is not working on your iPad is compatibility issues between your iPad and the device you are trying to mirror. Certain older televisions, monitors, or projector models may not support screen mirroring or require specific settings or software updates.
Incorrect Settings or Configuration
Sometimes, incorrect settings or misconfigured options can prevent your iPad from screen mirroring to Apple TV successfully. This can include incorrect display resolution settings, disabled screen mirroring options, or restrictions set by parental controls.
Outdated iOS Version
An outdated software could also be why iPad screen mirroring is not working. Apple regularly releases iOS updates, including bug fixes, optimizations, and compatibility enhancements. If your iOS is outdated, it may result in screen mirroring problems.
Third-party Apps or VPN Interference
Sometimes, third-party apps or VPNs on your iPad may interfere with screen mirroring functionality. These apps might disrupt the network connection required for successful iPad screen mirroring.
Part 2. Five Tips to Fix Screen Mirroring Not Working on iPad Issues
You should check and ensure that both devices are compatible with screen mirroring. If the iPad screen mirroring feature does not work as expected, you can follow the five troubleshooting steps to fix it.
Restart iPad and Apple TV
Try restarting both your iPad and the mirroring device. Power them off completely, wait a few seconds, and then power them back on. This simple step can often fix minor software glitches that may be causing issues.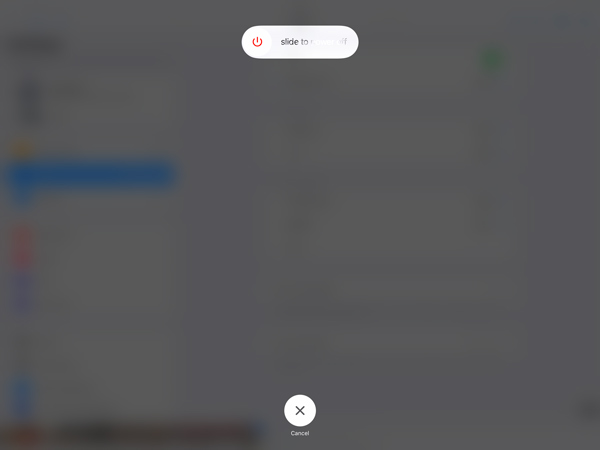 Verify Wi-Fi Connection
To resolve the iPad screen mirroring not working issue, ensure that your iPad is connected to a stable network. Move closer to the Wi-Fi router, or consider resetting the router to ensure you have a strong and uninterrupted connection. Additionally, you can try disabling and re-enabling Wi-Fi on your iPad or forget the Wi-Fi network and reconnect to it. Double-check the Wi-Fi settings on both devices and make sure they are connected to the same network.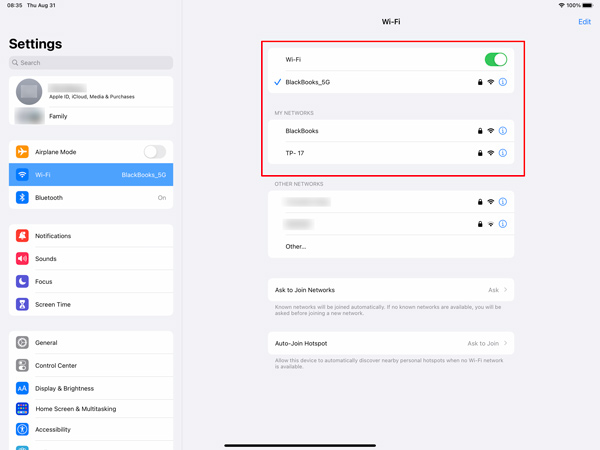 Update Software
Ensure that your iPad and the mirroring device have the latest system updates installed. Outdated software can lead to compatibility issues. To update your iPad, go to Settings > General > Software Update. For the mirroring device, go to Settings or check the manufacturer's website for any available firmware updates.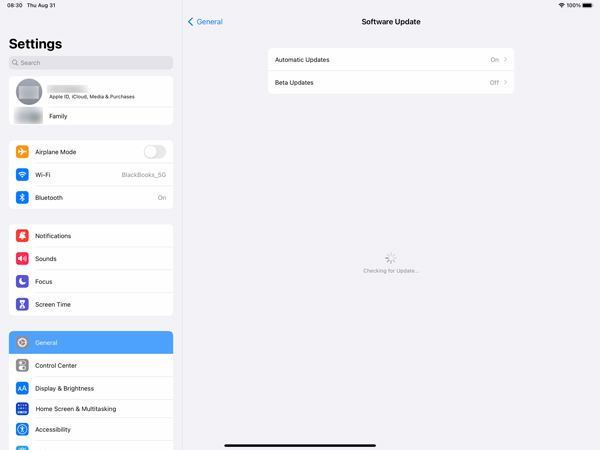 Disable VPN or Proxy
If you have a VPN connection enabled on your iPad, try disabling it temporarily. Some network configurations can interfere with screen mirroring. Go to Settings > General >VPN & Device Management to turn off these features.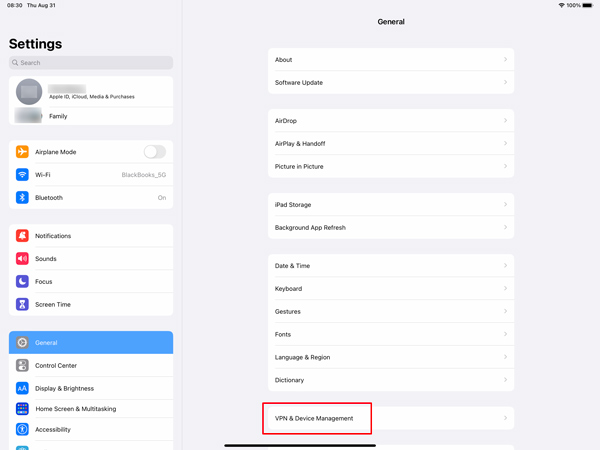 Use Third-party Apps to Mirror Your iPad Screen
Besides the default AirPlay screen mirroring feature, you can use third-party apps to cast your iPad content to a larger screen. The availability and functionality of these apps may vary, so you should check their respective websites or app stores for detailed information and compatibility with your specific iPad model.
Some popular screen mirroring apps include Apeaksoft Phone Mirror, AirServer, Reflector, ApowerMirror, X-Mirage, Mirroring Assist, Mirroring 360, and LetsView. Use your preferred one to start the screen mirroring from iPad to smart TV or computer.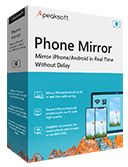 4,000,000+ Downloads
Mirror your iPad or iPhone screen to a Windows 11/10/8/7 computer.
Screen mirroring from iPad, iPhone, and Android through Wi-Fi and USB.
Record iPhone and iPad screen content while mirroring.
Support screen mirroring on iOS/Android devices and laptops.
Related Posts:
Part 3. FAQs of iPad Screen Mirroring Not Working
Why is the iPad mirroring Apple TV not full screen?
If you are experiencing issues with the iPad mirroring not being displayed in full screen on your Apple TV, check and ensure both devices are running the latest software updates. Restart both your iPad and Apple TV and try again.
How do you mirror your iPad to a TV without an Apple TV?
You can try using an HDMI cable and an adapter to mirror your iPad to a TV without Apple TV. Connect the HDMI cable to your TV and the adapter to your iPad's charging port. Turn on your TV and switch to the appropriate HDMI input. Tap the Screen Mirroring or AirPlay option on your iPad and choose your TV from the available devices.
Can I mirror my Mac screen to my iPad Pro?
Yes, you can mirror your Mac to iPad Pro using a feature called Sidecar. Sidecar allows you to extend or mirror your Mac's display to your iPad, providing you with a larger workspace or an additional screen. To use Sidecar, ensure your iPad Pro and Mac are updated to the latest operating systems. Then, on your Mac, click AirPlay in the top menu bar and select your iPad Pro from the list.
Conclusion
There are several possible reasons why iPad screen mirroring may not be working. It is advisable to ensure a stable Wi-Fi connection, keep your devices up-to-date, verify correct settings, address network congestion or interference, manage network security measures, and check hardware compatibility. By carefully examining these factors and taking appropriate steps, most screen mirroring problems can be resolved.