Have you also heard the expression that the way others see you in their eyes and the way you see yourself in the front camera or mirror are mirror images? You may wonder how you look like to others. To answer this query, you can mirror your iPhone front camera to get a different perspective of how your photos look like.
In case you don't know how to do this on your device, we will give you a detailed description of how to mirror front camera on your iPhone in this article. In addition to that, we will also recommend one of the most useful software to fulfill your mirroring iPhone needs. Follow us to find out!

How to Mirror iPhone Front Camera
Part 1. How to Mirror Front Camera on iPhone
Apple offers the ability to set up an iPhone front-facing camera mirror, which you can do directly in your device's Settings. After setting it, the photo you get from taking a picture will be mirrored with the image shown on the front camera.
Below we will show you the detailed steps to do so.
Step 1 Go to the Settings of your iPhone. Find the Camera in the list and tap on it.
Step 2 Scroll down to find the Mirror Front Camera option under the section named Composition.
Step 3 Adjust the slider button to enable your device's iPhone mirror front camera.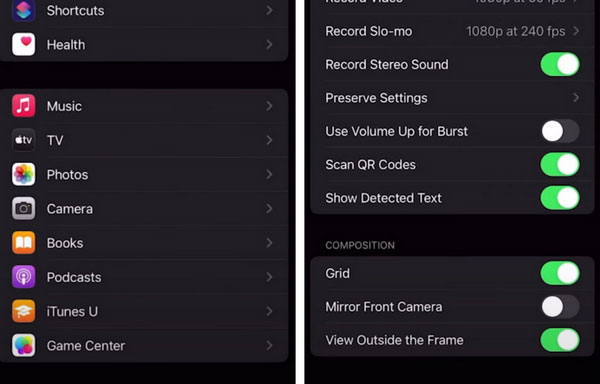 If you want to turn iPhone front camera mirror off, tap the slider next to Mirror Front Camera again to disable it. In addition to setting the front camera to mirror the image directly, you can also choose to edit the acquired photo after taking it to convert it to mirror image status.
Sometimes a lag in the system or Camera app can cause your iPhone front camera to not mirror your photos as you expected. Facing this situation, you can try to close all the running apps and restart your camera to see if the problem is solved.
Part 2. Best Tool to Mirror iPhone to PC
We have mentioned changing the iPhone front camera mirroring directly on your Apple device. When you need to mirror your iPhone, we believe Apeaksoft Phone Mirror will be your best choice. With its help, you can smoothly mirror your iPhone in real-time to a bigger and better audio-visual device with a bigger screen. The whole mirroring process will not have any delay. While mirroring your device, this multifunctional program also supports you to record and take screenshots of what is being played. The multimedia files you get will not be watermarked. You are also allowed to control your phone directly from your computer. Apeaksoft Phone Mirror is compatible with the latest iOS and Android devices, so there's no chance your device won't be compatible. Apart from these, there are many more features to be discovered. Download it on your computer and start trying it out!
Here are the detailed steps to help you apply iPhone mirroring with Apeaksoft Phone Mirror.
Step 1 Download and install Apeaksoft Phone Mirror on your computer. Open this software on your computer, and choose iOS Mirror on the interface.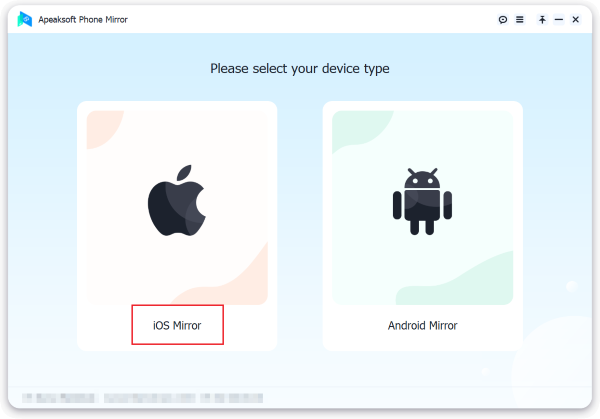 Step 2 Link your device to the computer following the instruction on the screen. Open Control Center on your device, and tap Screen Mirroring. Choose Apeaksoft Phone Mirror from the list.
Before doing that, you must ensure that your iPhone connects to the same Wi-Fi as the computer. Do not forget to let your iPhone trust the computer.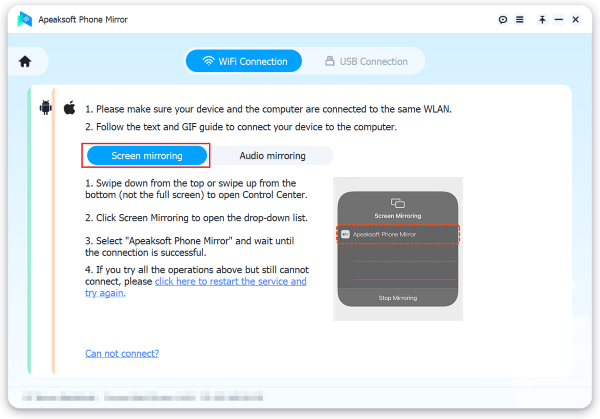 Step 3 After successfully connecting your iPhone to the computer, you can mirror your iPhone to your computer and do screen controlling, recording, or snapshot smoothly.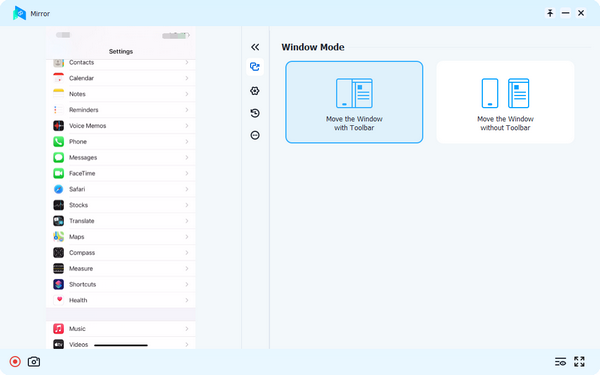 In addition to mirroring iOS devices, you can use the Android Mirror mode of Apeaksoft Phone Mirror to do Android screen mirroring. You don't need to worry about not knowing how to use it. Detailed steps will be provided on the interface inside the app. You just need to follow the guide to complete the operation.
Part 3. FAQs About Mirroring Front Camera on iPhone
How to mirror my iPhone to a TV?
If you want to mirror your iPhone to a smart TV, let the AirPlay feature help you. Open the Control Center of your iPhone by swiping down from the top part of the screen, then tap Screen Mirroring. AirPlay will recognize the device surrounding you. Tap the name of your TV. Now you can open the app you want to mirror.
How to mirror a photo on my iPhone?
You can do this directly with the help of the photo editing feature that comes with your iPhone. Come to Photos and find the photo you want to mirror. Tap Edit on the top right corner of your screen, then choose Crop > Flip. After mirroring the photo, tap Done to save the edited photo.
Why is my iPhone's front camera blurry?
The most immediate reason could be that your camera has stains on it. You can gently wipe your lens with a soft, dry cloth. Or you can reboot your Camera and see if the problem is fixed.
Does screen mirroring reduce quality?
This happens. The clarity that comes out of the cast screen depends largely on your device's resolution. Even if the content being screened mirror is in high definition, the quality of your video or audio will be reduced to some extent by the device's conduction. If you want to improve this problem, you can use a professional screen mirror tool, such as Apeaksoft Phone Mirror, to help you mirror the content on your iPhone to a PC, Mac, smart TV, or other devices with a bigger screen.
Can someone mirror my phone without me knowing?
If a hacker or malware has compromised your device, they can mirror your device's screen without you knowing it. It is important to note that if this happens, your device will increase the amount of traffic consumed. You can fix this problem by resetting your device or borrowing specialized software.
Conclusion
In this article, we describe how to mirror your iPhone's front camera and introduce you to a utility to mirror an iPhone to the computer. Some common questions about iPhone mirroring also have been answered by us. We hope that, under our guidance, you can cast your device smoothly. Welcome to leave a message to discuss with us further.