In today's digital age, the ability to seamlessly stream and share content across various devices has become necessary. If you own an iPhone and an Amazon Firestick, you might have wondered how to mirror iPhone to Firestick. So that you can effortlessly display your favorite videos, photos, or apps on the big screen; fortunately, several methods are available to mirror your iPhone to a Firestick, enabling you to enjoy your multimedia content with family and friends more immersive manner. This article will explore step-by-step instructions on achieving this, making your entertainment experience even more enjoyable.

Mirror iPhone to Firestick
Part 1. How to Mirror iPhone to Firestick
There is no native support for mirroring an iPhone directly to a Firestick without using third-party apps or additional hardware. One standard method to mirror an iPhone to a Firestick was to use third-party apps available on the Firestick App Store, like AirScreen. Here's a general outline of how you might mirror your iPhone to a Firestick using these apps:
Step 1 Connect your Firestick to the TV and ensure it's on your iPhone's Wi-Fi network.
Step 2 On your Firestick, search the App Store for an app like AirScreen. Install the app on your Firestick.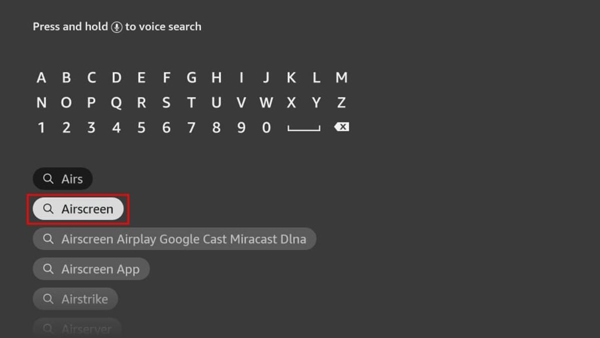 Step 3 Open the Control Center on your iPhone and tap "Screen Mirroring." A list of available devices for screen mirroring should appear.
Step 4 Find your Firestick device name and tap it from the list. Your iPhone screen should now be mirrored on your TV through the Firestick.
Step 5 You can play videos, show photos, or use apps, and the content will be displayed on the TV.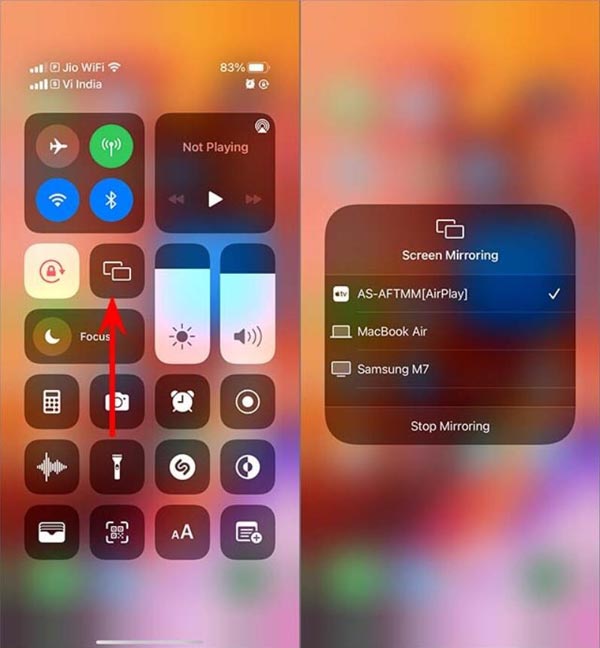 Part 2. Mirror iPhone to PC as Firestick Alternative
What happens if you cannot mirror your iPhone to Firestick but want to enjoy the big screen? You can mirror your iPhone to a PC for a large-screen visual experience. And Apeaksoft Phone Mirror could help you do that easily. This software supports you to cast your iPhone screen without a USB cable. Moreover, this software can mirror your screen and support you in controlling your phone from a computer effortlessly while casting.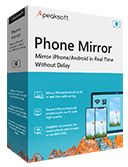 4,000,000+ Downloads
Compatible with all iOS devices to cast on Windows.
Record your phone screen and audio on PC directly.
Support controlling your phone from a PC with no lag.
Mirror your phone to a PC with flexible options.
Part 3. FAQs about Mirroring iPhone to Firestick
Is there a built-in method to mirror my iPhone to a Firestick?
No. There was no native support for direct iPhone-to-Firestick mirroring. However, third-party apps like Air Screen or AirPlay/DLNA Receiver on the Firestick App Store allow you to achieve this functionality.
How do I find and install mirroring apps on my Firestick?
To find mirroring apps, navigate to the Firestick App Store and search for terms like AirScreen or AirPlay/DLNA Receiver. Once you find the desired app, click the "Install" button to add it to your Firestick.
Can I mirror copyrighted content from my iPhone to the Firestick?
Most video streaming apps have copyright protection measures that prevent screen mirroring iPhones to external devices. However, apps like YouTube and certain media stored locally on your iPhone can be mirrored on the Firestick.
Are there additional accessories required for mirroring iPhone to Firestick?
In most cases, mirroring can be achieved solely through the installed Firestick and iPhone apps. It also happens to many other devices, like mirroring iPhones on Samsung TV, LG TVs, or other devices.
Can I control the mirrored content on the Firestick using my iPhone?
Yes. You can control some essential functions using your iPhone, such as play, pause, and volume. However, for more advanced controls or navigating through apps, you may need to use the Firestick remote or a compatible app on your smartphone.
Conclusion
With the increasing integration of smart devices into our daily lives, the ability to mirror an iPhone to a Firestick is a valuable feature, enhancing our entertainment options and fostering a seamless multimedia experience. Whether you want to stream videos, display photos, or showcase your favorite apps, the methods to mirror iPhone to Firestick outlined in this guide open up a world of possibilities for entertainment on the big screen. As technology evolves, we can expect even more streamlined and user-friendly solutions for mirroring and sharing content between devices. That's why you can use Apeaksoft Phone Mirror to cast your iPhone screen when you cannot mirror your iPhone to Firestick.