Can Samsung Galaxy Tab be used as a phone? How can I use my tablet as a phone? Is there any easy way to mirror Android phone to another phone or tablet?
Are you searching for the answers?
In fact, there are different solutions offered to meet your different needs. Whether you want to share phone screen to another phone/tablet, or use Samsung Galaxy tablet as a phone and make calls, you can find effective ways here.

Part 1

: How to mirror phone to another phone or tablet

For various reasons, you will have the need to share your phone screen to another Android device. Sometimes, simply, you just want to watch a movie or check a file on a bigger screen. First part will show you how to mirror phone to phone/tablet.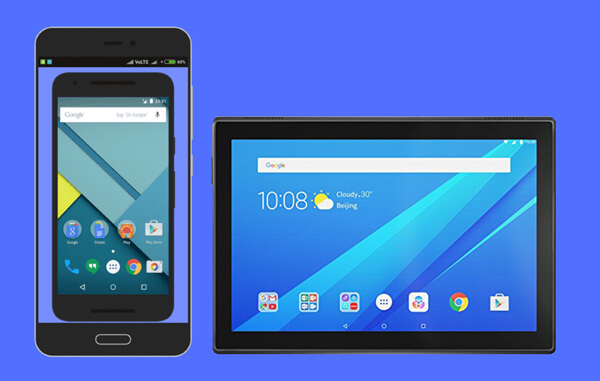 To make the Android to Android screen sharing, you can rely on the phone to phone/tablet screen share app, ApowerMirror. You can easily find and install it from Google Store.
Step 1: Install ApowerMirror app on both Android devices (phone or tablet). Here you are required to put two devices under the same Wi-Fi network.
Step 2: Run the ApowerMirror app on both devices and tap the "WiFi Connection" option.
Step 3: Tap the blue mirror icon on the bottom part to make the screen sharing. It will automatically search for the device. Then you will find the target Android phone or tablet is listed in the interface.
Step 4: Tap the target Android device and then tap on "START NOW" button to easily mirror your Android phone to another phone or tablet.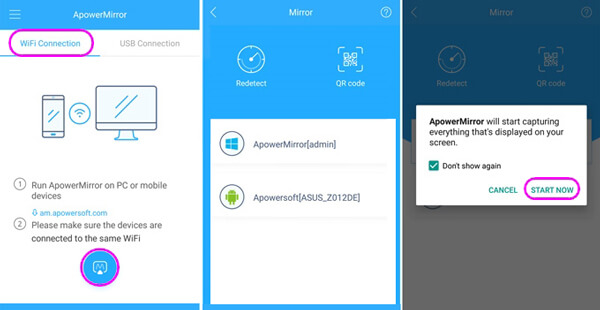 Surely, there are other screen sharing apps like Teamviewer, Inkwire, ScreenShare, etc. on the market can help you get the job done. If you are also an iOS user and want to share iPhone screen on computer, you can check the powerful software below.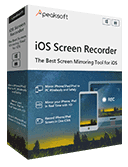 4,000,000+ Downloads
Mirror iPhone, iPad or iPod content to computer in real time with no lag.
One click to record the screen of iOS device on computer.
Customize the recording settings according to different requirements.
Output HD videos in MP4 after recording.
Fully support all modes of iPhone, iPad and iPod.
Part 2

: How to use tablet as a phone and make calls

Want to send messages or make voice and video calls on Android tablet? You may think tablet is quite different from the normal Android phone and you can't use it to text or call somebody. Actually, it's quite easy to use tablet as a phone, especially for some Samsung Galaxy Tab devices.
Use Samsung Galaxy Tab as a phone
Step 1. Unlock your Samsung Galaxy Tab device and open "Phone" app.
Step 2. Dial the number you want to call and tap the "CALL" button.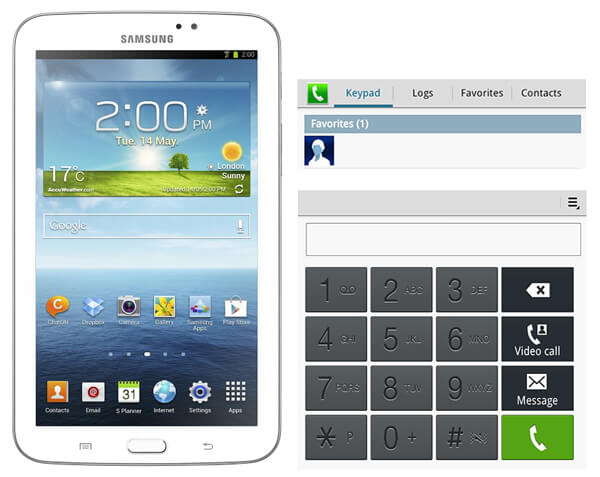 Many Samsung tablets enable you to insert a SIM card to connect network, send messages and make calls. In that case, you can directly use tablet as a phone.
Use Android table as a phone to make calls
Most Android tablets don't allow you to insert a SIM card and make phone calls. You have to rely on some app to make tablet function as a smart phone. Here we recommend the Google Hangouts for you. It has the capability to message and make calls to anyone who has a Google account.
Step 1. First, you need to install Google Hangouts on your tablet. The Android version of the tablet should be Android 4.1 or higher.
Step 2. Open "Hangouts Dialer" app and then type specific contact or phone number.
Step 3. Tap "Call" button to make phone call on tablet. When making a call with Hangouts, you should put your Android device under a good network connection.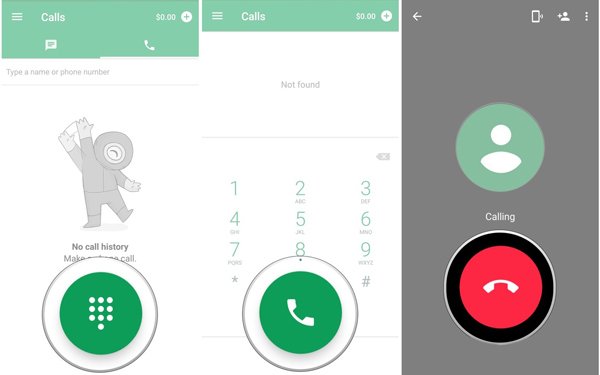 Various social apps connect you with your families and friends. You can also make calls and text messages on them. For instance, you can use Facebook, Verizon Messages, Tango, Skype and more to communicate with others.
If you want to sync phone data to another phone or tablet, you can check the software below. It can help you copy various Android data from phone to phone/tablet with ease.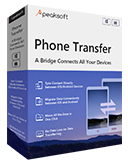 4,000,000+ Downloads
Best phone data transfer to sync files between Android phones and tablets.
Transfer data like contacts, photos and more between iPhone and Android.
Backup and restore your data when iPhone/Android device is dead or damaged.
Support any frequently-used data type and Android/iOS device.
Conclusion:
We have talked about how to mirror phone to phone/tablet and use Android tablet as a phone in this post. After reading this page, you can handily share your Android phone screen on a tablet or use tablet to make calls. You can also find suitable tool even all you need is to sync Android phone data to another phone or tablet. Leave us a message if you still get any question.