Facebook is the most popular social platform around the world. At the same time, it has surpassed social media. According to recent survey, a lot of people search for information, news, and research products on Facebook. However, some people found that all their search history will be recorded. That makes people concerned about their privacy. And this problem not only happens on computer, but also occurs on iPhone and Android phones.

Is there any way to clear Facebook search history? The answer is simple, yes, and we are going to show you the best solution on how to clear Facebook search history on PC/Mac, iPhone and Android. Just read on the article to learn more detailed information from the article.
Part 1

: How to clear Facebook search history on PC/Mac

Facebook is great for interacting with your friends, family and followers, but it is also creating a database in the background of anything you search for in Facebook Search. If you want to prevent Facebook from tracking you or remove irrelevant search items, you can follow the steps below to clear Facebook search history on computer.

Step 1. To begin, visitFacebook.com in the address bar of your browser, and sign in your username and password. When going into the Home page, you will be presented the search bar.

Step 2. Put your cursor into the search bar to activate the menu bar. If it does not appear automatically, press the downward key to get it. Then click on the "Edit" button at upper right corner of the bar to open the search history page.

Step 3. Next, scroll down to find the Facebook search item that you want to delete from your computer. To delete an item, unfold the button next to the lock icon, and click on the "Delete" button.

Step 4. When prompted whether to remove this search, hit "Remove Search" button on the pop-up dialog to confirm it.
If you want to delete all Facebook search history, locate to top right corner on the search history page and click "Clear Searches".
You have to understand that Facebook search history is not only saved on your computer, but also stored in Facebook server. Therefore, even though you can clear search history on Facebookin your web browser, such as Chrome, Safari, Firefox and more, Facebook search history still show up if you do not delete it separately.
Part 2

: How to clear search history on Facebook app

Clearing Facebook search history one by one is a waste of time, especially for someone how has accumulated hundreds of items. From this point, we suggest you to try Apeaksoft iPhone Eraser, which is a professional erasing application for iPhone. Its key features include:
It has the capacity to permanently clear Facebook search history along with other caches in one click.
In addition to Facebook search history, iPhone Eraser is able to clear a wider range of data categories, like contacts, call history, SMS, custom settings, photos, music, videos, app data and other files from iPhone.
It relies on advanced technology to erase all data on iPhone, and anyone cannot recover them.
The iPhone erasing tool allows you to decide the level to clear data on iPhone.
iPhone Eraser supports all iOS models, like iPhone X/8/7/6/6s/5/5s/5c/4, and iPad.
It is available to Windows 10/8/8.1/7/XP and Mac OS.
How to clear Facebook search history on iPhone in one click
Step 1. Install iPhone Eraser to your computer
Download and install the best Facebook search history eraser to your computer. And plug your iPhone to your computer via Apple Lightning cable. Start iPhone Eraser and wait for it to scan your device automatically.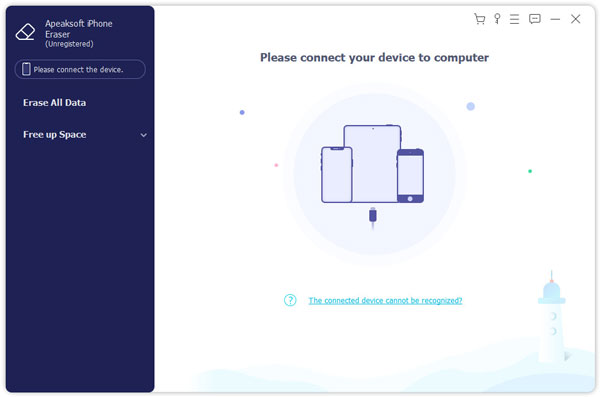 Step 2. Pick an erasing level
Click the link under Erasing Level, then you will face three options related to erasing level, Low, Medium and High. If select Low, it will overwrite your device one time. Medium does it twice and High level repeats overwriting for three times. Select an appropriate option according to your situations.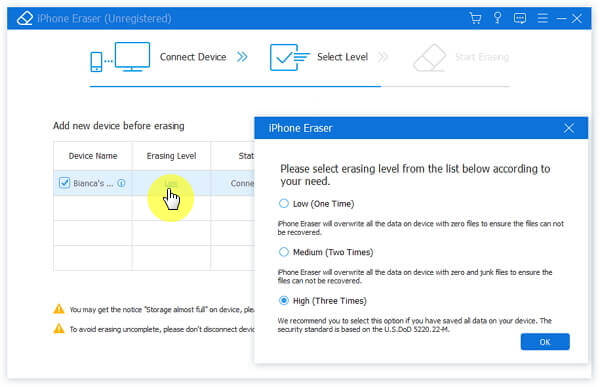 Step 3. Clear all Facebook search history on iPhone
If you are ready, click the "Start" button on the interface to initiate clearing Facebook search history on iPhone. A few seconds later when it is done, disconnect your iPhone from your computer.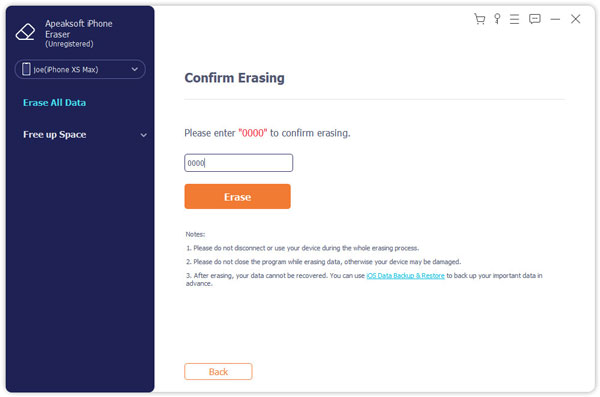 Part 3

: How to clear Facebook search history on Android

Though Android permits users to delete cache data and documents, it has nothing to do with Facebook search history. As said before, your search inquiries are stored on Facebook server. In this part, we will show you how to clear Facebook search history on Android phone, such as Samsung Galaxy S7.

Step 1. Turn on your Android phone, go to the App Tray and open the Facebook app. Also, log in your account. Make sure that your smartphone is online through cellular data or Wi-Fi network.

Step 2. Head to the "News Feed" page, tap on the "Search" button with a magnifying glass icon on top of the screen. Then hit the "EDIT" button next to the search bar to open the "Activity Log" screen.

Step 3. Facebook organizes your search items by date. Find the unwanted or irrelevant search history and tap on the "Delete" icon next to it to delete the Facebook search history. If you plan to delete all Facebook search history at one time, tap on "Clear Searches" to get rid them of your account.

As you can see, deleting search history in Facebook is not as difficult as you thought. And we suggest you to do it regularly since Facebook may use your search history to track your online activities and post you more ads.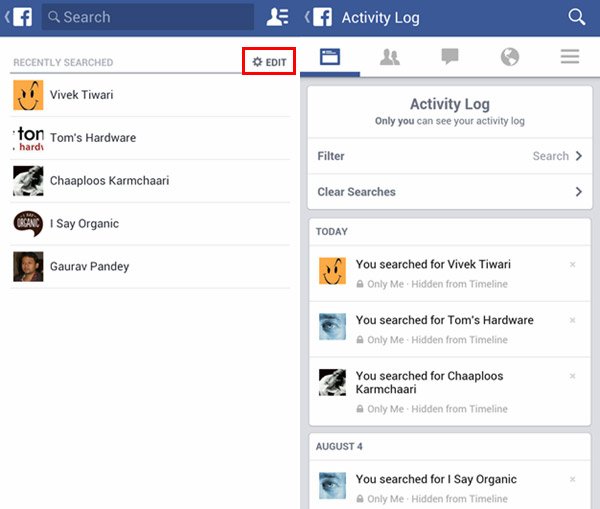 Conclusion
Though Facebook is the most popular social network, there are some negative titles around it, for example track users' online activities by record their search history. Fortunately, there are several approaches to clear Facebook search history. After reading our post, you might understand how to clear Facebook search history on PC, Mac, iPhone and Android. If you have an iPhone, you are lucky, because the professional iPhone erasing application, Apeaksoft iPhone Eraser, is able to wipe all search history out of your iPhone with one click. Anyway, no matter you have searched in Facebook on computer or smartphone, you can find the best way to get rid of Facebook search history on your device simply, following our guides.